Commentary
NFL's five best improvisational QBs of all time
Tony Romo and Brett Favre are known for their improv skills. Who are the best improvising QBs of all time? Greg Garber breaks down the top five.
Originally Published:
November 28, 2007
By
Greg Garber
| ESPN.com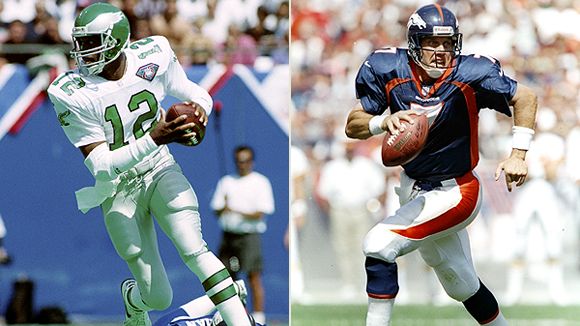 Getty ImagesRandall Cunningham, left, and John Elway could beat teams with their arms and legs. Cunningham is the NFL's all-time leading rusher among quarterbacks with 4,928 yards. Elway rushed for 3,417 yards during his career to rank No. 6 among QBs.
Playing quarterback in the NFL is one of the most meticulously orchestrated and regimented jobs in football. There are dozens of excruciatingly specific plays, often with various permutations and variables.
Like Tony Romo and Brett Favre, there have been quarterbacks in NFL history who have broken out of the usual box and made things up on the fly. Here are five fantastic football improvisers who sometimes seemed as if they were playing a scaled-down sandlot version of the game:
Cunningham
Randall Cunningham
The all-time leading rusher among NFL quarterbacks, with 4,928 yards (and 35 touchdowns). … Played for the Philadelphia Eagles from 1985 to '96 and threw for 407 yards in the "Fog Bowl" playoff game at Chicago. … Commanded NFL's highest-scoring offense (556 points) at Minnesota in 1998. … Named to four Pro Bowls.
Signature improv play(s):
(1) In a "Monday Night Football" game in 1988, Eagles versus Giants, Cunningham was crushed by linebacker Carl Banks. Cunningham somehow defied gravity, twisted his body in midair, touched his hand to the ground for balance and then threw a touchdown pass to tight end Jimmie Giles. (2) Throwing from his end zone in 1990, Cunningham eluded Bills defensive end Bruce Smith and, off his back foot, heaved the ball 60 yards (into the wind) to wideout Fred Barnett, who took it in for a 95-yard touchdown.
Elway
John Elway
With 3,417 yards, ranks sixth in rushing among quarterbacks. … Enshrined in the Hall of Fame in 2004. … Named to nine Pro Bowls. … Led the Denver Broncos to wins in Super Bowls XXXII and XXXIII (MVP). … Holds the NFL record for 47 game-winning or game-tying drives in the fourth quarter.
Signature improv play:
With the score of Super Bowl XXXII tied at 17, Elway faced a critical third-and-6 at the Packers' 12-yard line. Flushed from the pocket, he scrambled, was hit by Green Bay safety LeRoy Butler and was sent spinning like a helicopter. Elway got the first down, which set up the go-ahead touchdown.

Staubach
Roger Staubach
Roger "The Dodger" led the Dallas Cowboys to four NFC titles and victories in Super Bowls VI (MVP) and XII. … Winner of the 1963 Heisman Trophy at the Naval Academy. … Named to six Pro Bowls. … Led the NFL in passer rating in four seasons. … Rushed for 2,264 yards and 20 touchdowns. … Led Dallas to 23 comeback victories.
Signature improv play:
In a 1975 divisional playoff game at Metropolitan Stadium, Staubach launched a 50-yard touchdown pass to receiver Drew Pearson to lift the Cowboys to a last-minute, 17-14 victory over the Vikings. Afterward, Staubach told reporters he had said a "Hail Mary" before throwing the pass and the phrase entered the football lexicon.

Tarkenton
Fran Tarkenton
The original scrambling quarterback, "Scramblin' Fran" or "Frantic Fran" bought time with his feet and consistently made spectacular plays down the field. … Fourth in career rushing yards (3,674) for a quarterback. … Named to play in nine Pro Bowls. … Led Minnesota to three Super Bowls in the 1970s. … Named NFL MVP in 1975.
Signature improv play:
In a 1964 regular-season game, the Vikings trailed Green Bay, 23-21, with less than a minute left. In the huddle, Tarkenton instructed his receivers to run 25 yards downfield, adding, "I'll scramble around until I find one of you open." It might have been the first time Tarkenton -- or probably any quarterback -- actually called a scramble play. It worked when Tarkenton found Gordie Smith for a first down. Fred Cox later kicked a field goal to give Minnesota a 24-23 victory.

Young
Steve Young
The only left-handed quarterback enshrined in the Pro Football Hall of Fame (2005). … Played with the San Francisco 49ers from 1987 to '99. … Holds the record for the highest career passer rating, 96.8. … Led the NFL in passing a record-tying six times. … Named to seven Pro Bowls. … Second among quarterbacks in career rushing and holds the record for most rushing TDs, with 43. … MVP of Super Bowl XXIX.
Signature improv play:
In a 1988 regular-season game against the Vikings, Young replaced injured Joe Montana and scrambled for a spectacular, zigzagging 49-yard touchdown, eluding seven would-be Minnesota tacklers. His dive into the end zone with 1:58 left gave the 49ers a 24-21 lead that held up for the victory.
Greg Garber is a senior writer for ESPN.com.
Writer, Reporter
Greg Garber joined ESPN in 1991 and provides reports for NFL Countdown and SportsCenter. He is also a regular contributor to Outside the Lines and a senior writer for ESPN.com.
SPONSORED HEADLINES
MORE NFL HEADLINES
MOST SENT STORIES ON ESPN.COM
PACKERS AT COWBOYS (Thursday, 8:15 ET)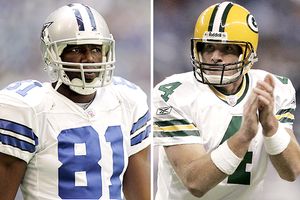 Terrell Owens and the Dallas Cowboys (10-1) play host to Brett Favre and the Green Bay Packers (10-1) on Thursday night in a game that could determine homefield advantage in the NFC playoffs. Only about a third of the homes in the U.S. will be able to watch the game on TV. Here's why

| Discuss the game.

Commentary/features
•
Power rankings: Dallas second, Green Bay third
•
Garber: Romo, Favre are improvising masters
•
Garber: Five improvising QB masters
•
Snoop Dogg raps Tony Romo
•
Clayton: First and 10
•&nbsp
Grant's run to glory
•
Wickersham: Best of weak NFC
•
Packers or Cowboys? Experts make their picks
•
Page 2: Inside Favre's brain
•
Cowboys-Packers through the years
News
•
Clayton: Injury report

ZOOM galleries
•
Top 5 NFL improvisational QBs
•
Top 5 NFL improvisational QBs ever
•
Top 5 college improvisational QBs
Video
•
Steve Young: QB improvisation about awareness
•
Brett Favre: "Play loose but be ready to play"
•
Dissecting Brett Favre's renaissance
•
Keyshawn Johnson's advice for Tony Romo
•
Field Pass: Green Bay vs. Dallas
•
Phillips and McCarthy surprising many
Simulation
•
EA Simulation: The winner in OT is...
Scouts Inc.
•
Tale of the tape: Too close to call
•
Offenses are in high gear
•
Improved Packers' O-line benefits Grant
•
Packers' terrific cornerback tandem
•
Packers' coaches are the key
•
Game could be decided by trench warfare
•
Horton: Notes from the film room
ESPN FAN SHOP