Commentary
Patriots simply undergoing a market correction
Just a few weeks ago, the Patriots were whipping opponents. Now they're just trying to take care of business, writes Greg Garber.
Originally Published:
December 7, 2007
By
Greg Garber
| ESPN.com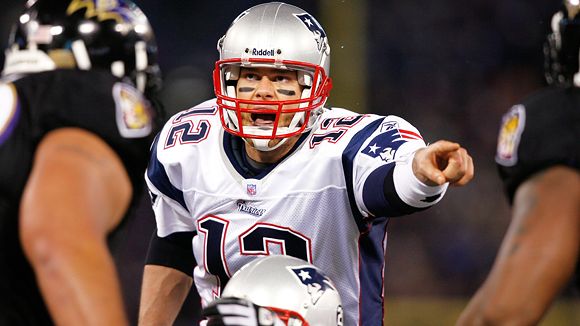 Joe Robbins/Getty ImagesTom Brady had not thrown less than three TD passes in a game this season ... until the last two weeks.
FOXBOROUGH, Mass. -- Bill Belichick, the dour face of the
New England Patriots
, winced ever so slightly.
The overriding question, concerning the team's less-than-scintillating run defense, had just come wafting out of the Thursday morning news conference crowd.
"Yeah," the head coach said in characteristic monotone, "we're done with the Ravens game. We're on to Pittsburgh."
More Steelers-Patriots
GUARANTEED WIN: Steelers safety Anthony Smith said his team will definitely hand the Pats their first loss. Story
• Smith makes his prediction


• Patriots offer their response


• Guarantee a wise move?



ANIMATION: It's going to be another close game for the Pats. Madden Simulation

PERFECT CHASE: The Patriots are trying to join the 1972 Dolphins in producing a perfect season. Pursuit of Perfection

SCOUTS INC.

If the Steelers are going to win, what must they do? Take 2 | Take 1
• Green: Steelers will blitz
• Maalouf: Use spread offense
• Kidd: Pats' D will adjust

VIDEO


• Field Pass: Steelers-Patriots
• Warren on Pats' perfect run
• Pats worried about Moss?

FANTASY
• Berry: Gotta love Big Ben
• The Breakdown's analysis
• Hoge's Tape Room thoughts


And so, the discourse moved safely to the Steelers' consistently sound defense and, particularly, the omnipresence of safety Troy Polamalu.
The Patriots, as the sports world well knows, have won all 12 of their games, matching just five other teams in the history of the NFL and putting them within four wins of an unprecedented 16-0 season.
The 9-3 Steelers -- the most formidable challenge remaining on the schedule -- visit Gillette Stadium on Sunday. How important is it to the Patriots to go undefeated?
"It's not what motivates us," linebacker Mike Vrabel said. "We're trying just like everybody else to get ourselves in a position for the playoffs. Obviously, the more games you win, the better opportunity you have to get the home-field advantage.
"We won our division, we have to just keep trying to check off goals."
After defeating the Washington Redskins 52-7 on Oct. 28, the Patriots' only viable opponent appeared to be history. They were 8-0 and beating teams by nearly three touchdowns per game. Quarterback Tom Brady was producing passing numbers never before seen.
And then, as they say on Wall Street, there was a market correction.
New England escaped with a 24-20 victory in Indianapolis and, after a blowout at Buffalo, wriggled past Philadelphia (31-28) and Baltimore (27-24) the last two weeks.
After throwing at least three touchdown passes in each of the season's first 10 games, Brady managed just three in the past two. And while he is still on pace to break Peyton Manning's touchdown pass and passer rating records of 49 and 121.1 set in 2004 -- Brady is projected to throw 54 TDs and his rating is 123.4 -- the combination of the Eagles' and Ravens' clever and physical defenses and deteriorating weather in the Northeast has brought the Patriots' offense back to the field.
With the last four December games to be played in typically blustery, wind-chilled Foxborough (three) and East Rutherford, N.J. (against the Giants in the season finale), there could be more statistical shrinkage.
The surprisingly narrow Monday night win in Baltimore revealed some stress fractures in the defense that had been obscured by New England's run-up-the-score offense.
Although the Patriots downplayed the season's loss of outside linebacker Rosevelt Colvin to a foot injury before the Ravens game, it drastically affects their flexibility and ability to pressure the passer.
New England opened in a 4-3, using Jarvis Green in the starting front line, but with Ravens running back Willis McGahee finding creases to run, the Patriots shifted into a 3-4, subtracting Green and adding Junior Seau.
[+] Enlarge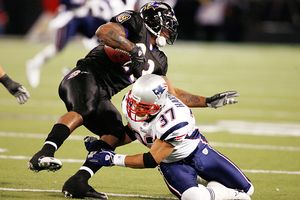 Joe Robbins/Getty ImagesRodney Harrison the Patriots defense have looked vulnerable against the run.
In that configuration, the four Patriots linebackers averaged more than 12 years of experience. Outside of wide receiver Randy Moss, Adalius Thomas may be the league's most important offseason free-agent acquisition. He is a relatively spry 30, but is flanked by Vrabel (32), Tedy Bruschi (34) and Seau (38). Throw in safety Rodney Harrison, who turns 35 next week, and you have an aging defense that sometimes looked a step slow against the Ravens.
"We can't allow teams to come in and say, 'You know what, this is mano a mano, and we're going to knock you in the face and run the ball,'" Harrison told reporters after the game. "And that's what they did.
"I felt like this was the first time all year that we got bullied."
McGahee carried 30 times for 138 yards and the Ravens averaged 4.5 yards per carry. And this was no drive-by aberration. Of the league's 15 teams with a .500 record or better, a dozen have allowed a lower average per carry on defense than the Patriots' fleshy 4.1.
Officially, the Patriots are ranked sixth against the run, but that is more due to teams falling behind early and abandoning the ground game. The Patriots have the league's second-fewest run attempts against them (22.5 per game) and the second-best time of possession (33 minutes, 4 seconds).
Coincidentally, the Patriots will get an up-close-and-personal look Sunday at the team ahead of them in both categories: the Steelers. With games also remaining against the Dolphins, Jets and Giants, this is the one they fear. Remember, this is the same Steelers outfit that ended the longest winning streak in pro football history (21 New England victories from early in the 2003 regular season, through Super Bowl XXXVIII and six games into the 2004 season).
With the much-discussed "blueprint" laid out by the Eagles and Ravens on both sides of the ball and a short week of preparation for the Patriots, an upset could happen.
Certainly, Steelers second-year safety
Anthony Smith
thinks so. The big discussion in the Patriots locker room Thursday was Smith's bold guarantee of victory.
"We heard about it," Brady said. "Coach always says we do our talking on Sundays. I'm glad they feel that way. I hope they feel that way. We'll see who comes out ahead on Sunday."
Belichick, whose quotes always seem to be in lockstep with Brady, added, "I would expect when Pittsburgh walks out there, they're going to expect a win. I can't imagine they would approach it any differently. "We expect to win, they expect to win. Both teams will play hard [and] we'll see who's better on Sunday. I don't know what else there is."
Greg Garber is a senior writer for ESPN.com.
Writer, Reporter
Greg Garber joined ESPN in 1991 and provides reports for NFL Countdown and SportsCenter. He is also a regular contributor to Outside the Lines and a senior writer for ESPN.com.
SPONSORED HEADLINES
MORE NFL HEADLINES
MOST SENT STORIES ON ESPN.COM
EDITORS' PICKS
Viewer's Guide: Can Detroit's defense overcome Green Bay's Lambeau advantage? Here are the Week 17 trends to track.
Graphic »

Eric Berry has received an outpouring of support since being diagnosed with cancer.
Ashley Fox »

John Clayton's mailbag: Give Jerry Jones his due for the Cowboys' success. Plus: Russell Wilson's value and more.
Mailbag »