Commentary
Peppers pulls improbable disappearing act
Add Julius Peppers' unexpected and precipitous decline to the list of the world's greatest unexplained megalithic mysteries, writes Greg Garber.
Originally Published:
December 27, 2007
By
Greg Garber
| ESPN.com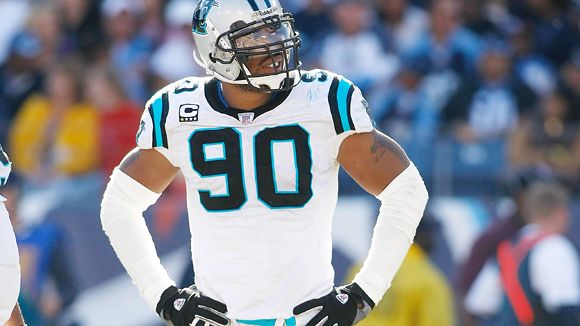 Scott Boehm/Getty ImagesJulius Peppers' sudden drop-off has befuddled a lot of people, including Peppers himself.
Unexplained megalithic mysteries of the world: • Who built Stonehenge in Wiltshire, England?
• What was the purpose behind the construction of the Great Pyramid of Giza in Cairo, Egypt?
• How (and why) did
Carolina Panthers
defensive end
Julius Peppers
disappear? It was only a single play in the Panthers' gruesome 37-6 loss at Jacksonville on Dec. 9, but it underlined what has gone terribly wrong with Carolina's season and Peppers' sudden and astonishing lack of production.
The Jaguars ran a pass play with a blocking scheme that left the 6-foot-7, 283-pound Peppers one-on-one with running back Maurice Jones-Drew, who stands 5-foot-7 and may (or may not) weigh 212 pounds. Peppers did not lay a finger on quarterback David Garrard.
This is, theoretically, the same pass-rushing terror who demanded double- and sometimes even triple-teams in producing 56½ sacks in the first 76 games of his career. The same defensive end who was the second overall pick in the 2002 NFL draft and looked to be in line for the richest contract ever for a defensive player -- better than
Dwight Freeney
's six-year, $72 million deal.
But now, all bets are off.
Peppers, 27, started each of the Panthers' first 15 games before a sprained knee sidelined him Saturday against the Cowboys, but has managed only 2.5 sacks -- tied with 19 other players. A staggering 126 players have more sacks than Peppers, whose disappointing season officially came to an end on Wednesday when Carolina placed him on injured reserve.
OTHER UNDERACHIEVERS
Carolina defensive end Julius Peppers isn't the only high-profile player who has drastically underachieved this season. Here is a handful of stars who have disappointed their fantasy fans and seen their reputations tarnished in 2007: Jevon Kearse, DE, Eagles: After a total of 36 sacks in his first three seasons in Tennessee, "The Freak" never seemed to produce at the level the sum of his parts would suggest, managing only 33½ in the subsequent six seasons. Kearse missed all but two games after a knee injury in 2006 and was benched by the Eagles in Week 11 in favor of Juqua Thomas. Still only 31, Kearse hasn't recorded a tackle since Nov. 11 and hasn't been listed on the injury report. Shaun Alexander, RB, Seahawks: Once a touchdown machine (he scored 107 in his first 106 games), Alexander has scored a total of three in 12 games this season. The 30-year-old Alexander, who missed three games in November with a knee injury and has also been bothered by a wrist injury, has gained only 685 yards; his 3.4 yards-per-carry average is the lowest of his career. Chad Pennington, QB, Jets: He came into the season as the No. 6-ranked passer among active quarterbacks (ahead of Tom Brady, Brett Favre and Ben Roethlisberger) with a rating of 89.3. Then he presided over New York's horrific 1-7 start and was benched for Kellen Clemens. Pennington had good statistics against the Patriots in Week 15 (25-for-38) but couldn't lead the Jets to a touchdown. Cedric Benson, RB, Bears: A season ago, Chicago was headed to the Super Bowl and had one of the league's best running back tandems in Thomas Jones (1,210 yards) and Benson (647 yards). The Bears traded Jones to the Jets, where he has rushed for 1,021 yards in 15 games. Benson? He gained only 674 yards in 11 games for Chicago before a leg injury sent him to the injured reserve list. Reggie Bush, RB, Saints: He was taken with the second overall pick in the 2006 draft, but he will finish with fewer rushing yards (581) this season than these other running backs taken after him: the Patriots' Laurence Maroney (No. 21 overall, 789 yards); Indianapolis' Joseph Addai (No. 30, 1,045 yards, 12 TDs); Tennessee's LenDale White (No. 45, 1,065 yards, 7 TDs); Jacksonville's Maurice Jones-Drew (No. 60, 768 yards, 9 TDs). Bush is likely done for the season after tearing the posterior cruciate ligament in his left knee and, in his place, teammate Aaron Stecker has run for 244 yards and four touchdowns in the past three games. -- Greg Garber
The Panthers, who once employed one of the league's most-feared defensive fronts, have a mere 19 sacks as a team, last in the NFL. Keep in mind that this was the team that reached Super Bowl XXXVIII four seasons ago on the strength of its defense. It's tough enough to try to win in this league with a 44-year-old quarterback (Vinny Testaverde), but when your trademark pressure vanishes into thin air, winning is almost impossible.
What's going on?
"I'm still the same guy," Peppers insisted to a small group of reporters two weeks ago. "The numbers are just not the same. It's in the books, so I'm not going to sit around and dwell on it."
Peppers insists that there are no hidden injuries hampering him and that the unnamed illness he suffered in training camp is not a factor in his performance. Peppers' knee injury, suffered in Week 15 against Seattle, doesn't begin to explain his sack drought. When a high-profile player suffers a dramatic loss in production, there often is a physical, if underpublicized underlying reason. San Francisco quarterback
Alex Smith
played in five games during the team's seven-game losing streak and later disclosed that a forearm injury was largely responsible for his erratic passing. Likewise, New Orleans running back
Reggie Bush
may have played a month with a torn knee ligament, which clearly limited his effectiveness.
No one saw Peppers' decline coming.
He had 13 sacks last season and was named to play in his third consecutive Pro Bowl. He was only the eighth player since the sack statistic became official to record double-digit sacks in four of the first five seasons of his career. Peppers went sackless in eight of this season's first nine games and the 6-9 Panthers' anemic pass rush was seen as a factor in the team's five-game losing streak that featured an 0-for-November.
"Things haven't been going the way we would hope for, or that I would hope for," Peppers told a handful of reporters in mid-November. "Am I playing as bad as people make it seem? No. But am I playing as good as I have in the past? No."
In Peppers' defense, his projected tackle total of 44 heading into Week 16 was not drastically lower than his career average of 50. And the Panthers' offense -- ranked No. 29 in yards and averaging only 15.7 points per game -- has allowed opponents to get out to early leads and consistently run the ball, leaving fewer opportunities for sacks. Opposing offenses have typically thrown more short passing routes than in years past, which has slowed down the Carolina pass rush.
Truth be told, the entire Panthers line -- from left to right, Peppers,
Ma'ake Kemoeatu
,
Kris Jenkins
and
Mike Rucker
-- has been disappointing. Rucker, the right-side bookend to Peppers, had 52½ sacks in eight seasons, but has only three in 2007. Teams aren't double-teaming Peppers as often as they used to and Peppers says that most offensive tackles are taking a deep drop to prevent him from going clean around the corner, steering him back to the inside, into the congested mayhem of the middle of the line. "You have to take the good with the bad when you are a person in the position like myself," Peppers said in November. "Sometimes you get looked at harder than other people. I can take the criticism and I can take the heat. But there's no excuses for my play or for this team's play."
Some critics in Carolina point to the fact that Peppers doesn't participate in the offseason conditioning program. Others wonder whether he truly enjoys football. There have been times on the field when he seems genuinely disinterested.
Peppers, who is under contract through 2008, will carry a monstrous salary-cap number next season: more than $16 million. Previously, Peppers has twice agreed to restructure his contract, but based on this season's meager returns, will the Panthers extend him into Freeney territory? The sack numbers are down, but Peppers plays the run far better than Freeney.
"If I come back next year and have 25 sacks, then it'll be a different story," Peppers said. "I don't think it's affected anything.
"I know I can do it. It's been done, five years in a row. Even before that, at [North] Carolina, it's been done [30½ sacks in 34 games]. I know I can do it. I'm just not doing it right now."
Greg Garber is a senior writer for ESPN.com.
Writer, Reporter
Greg Garber joined ESPN in 1991 and provides reports for NFL Countdown and SportsCenter. He is also a regular contributor to Outside the Lines and a senior writer for ESPN.com.
SPONSORED HEADLINES
MORE NFL HEADLINES
MOST SENT STORIES ON ESPN.COM
EDITORS' PICKS
Antonio Brown was clutch as the Steelers won the AFC North, and they'll need to keep leaning on him.
Scott Brown »

In a win over Detroit, a hobbled Aaron Rodgers once again proved why he's MVP-worthy.
Demovsky »

The AFC playoff field is loaded with big-name QBs. What's in store for Peyton Manning and the Broncos?
Chadiha »
ESPN FAN SHOP