Commentary
Derek Anderson: From humble beginnings to budding star
At the start of the season, Derek Anderson seemed destined for backup quarterback obscurity. Now he's a budding star largely responsible for the Browns' unexpected rise, writes Greg Garber.
Originally Published:
December 27, 2007
By
Greg Garber
| ESPN.com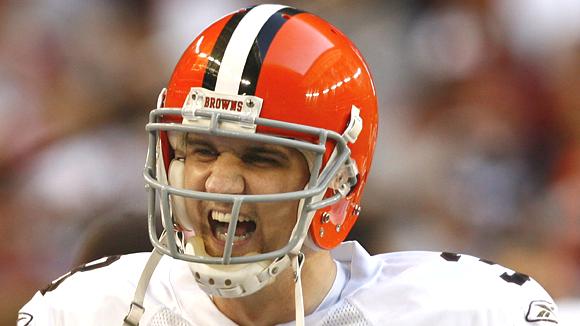 Kevin Terrell/Getty ImagesDerek Anderson has emerged as one of the NFL's most productive QBs. Who saw that coming?
BEREA, Ohio --
Derek Anderson
, all 6-foot-6 of him, walked into the Cleveland Browns' television studio a few weeks ago wearing one of those "Fargo"-esque, fur-lined aviator hats, the kind with the big ear flaps. Browns communication manager Amy Palcic -- just this side of mortified -- groaned.
Anderson, who also had a bit of a beard going, bears a striking resemblance to -- and there is no way around this -- the cartoon character Goofy. This is the single word that comes up most often when folks discuss the Browns' transcendent quarterback.
"If you're going to name a Disney character after him," said wide receiver Joe Jurevicius, "it's definitely Goofy."
And Anderson not only looks the part, it's his world view.
"I just try to keep it loose," Anderson said. "If you get tight then you start second-guessing things. I've realized that I play better when I play loose."
Said Browns general manager Phil Savage: "The tighter the game gets, the looser he is. That's a great quality to have."
Before the 2007 season there wasn't much empirical evidence that Anderson was such a cool customer. He had played in only five games in three NFL seasons and seemed destined to sit behind Charlie Frye and first-round draft choice Brady Quinn.
Guess again.
OTHER SURPRISES
Perhaps no one in the NFL exceeded expectations more this season than Cleveland quarterback Derek Anderson. Here is a quintet of similar surprise players, who delivered more than their fans ever dared to imagine: Ryan Grant, RB, Packers: A year ago, after severing a tendon and slicing an artery in his left forearm in a fall on a dance floor, Grant spent the season on injured reserve and helped out as an assistant coach at Queen of Peace High School in North Arlington, N.J. When rookies Brandon Jackson and DeShawn Wynn weren't getting it done, Grant finally got his chance in Week 8 against the Broncos, when he carried 22 times for 104 yards. After gaining only 27 yards in the first six games, he ran for a total of 872 in the next nine games. Jacksonville Jaguars: They lost their last three 2006 regular-season games to finish a disappointing 8-8, but came back this season to go 11-4, winning six of the last seven to secure a wild-card berth. Quarterback David Garrard (10 TDs, 9 INTs a year ago) has been a revelation. He's completed 64 percent of his passes, thrown 18 TDs versus only 3 INTs, and has the league's third-best passer rating (102.2) after Tom Brady and Ben Roethlisberger. Antonio Cromartie, DB, Chargers: Yes, he was a first-round draft choice last year (No. 19 overall), but as a rookie he played in all 16 games and had zero interceptions. This season, Cromartie celebrated his first career start in Week 10 against Indianapolis with three interceptions of Peyton Manning. At 6-foot-2, Cromartie is taller than most DBs and has terrific instincts for the ball; he has 10 interceptions and ran one back 70 yards for a touchdown against Houston. Kevin Walter, WR, Texans: Wes Welker of New England may have better numbers (101 catches for 1,053 yards), but he had 67 catches a year ago in Miami. Consider Walter, who caught a total of 47 balls in four previous seasons in Cincinnati and Houston. He pulled in 41 alone in the seven-game stretch when Andre Johnson was out with a knee injury. Walter has started 14 games and has 65 catches for 800 yards and four TDs. O.J. Atogwe, FS, Rams: Before: four interceptions in two previous seasons. After: seven interceptions in 15 games for Atogwe. A third-round draft choice in 2005, the free safety also has 70 tackles. He intercepted Green Bay's Brett Favre twice in Week 15. -- Greg Garber
Anderson, who came on in relief of Frye in the opener against Pittsburgh, started the next week versus the Bengals -- and promptly threw five consecutive incomplete passes. The Cleveland crowd booed lustily and called for Quinn. Completing 20 of his 28 remaining passes, Anderson won the fans over, throwing for 328 yards and leading the Browns to a manic 51-45 victory.
Despite his dreadful performance in Week 16, when he threw four interceptions in a 19-14 loss to the Bengals, Anderson remains in the fans' good graces. He's 9-5 as the starter, and the Browns have a legitimate chance to make the playoffs, something that has happened only once in the past dozen seasons. Anderson, improbably, has thrown for 28 touchdowns -- good enough for fifth in the NFL and two touchdowns better than Green Bay's venerable Brett Favre.
Favre has produced a stirring comeback, but he is a first-ballot Hall of Fame player. Considering where he was and what he's achieved, Anderson might be the biggest (positive) surprise in this cathartic NFL season. A sixth-round draft choice in 2005 who was waived by the Ravens -- think they could use a quarterback? -- Anderson has the Browns on pace to break their all-time scoring record.
It all goes back to where he comes from: Scappoose, Ore.
"The community has always been supportive, and kind of just laid-back, too," Anderson said. "[That's] just how I am. It's a little bit of a spitting image."
Browns head coach Romeo Crennel, observing Anderson's casual dress and standard-equipment flip-flops, called him a "hippie."
"Interesting," Anderson said. "No," he added, smiling. "I don't partake in those activities." Scappoose is a town of fewer than 6,000, about 25 miles outside of Portland. It was discovered by the Chinook Indians, who named it for its gravelly plains overlooking the Columbia River.
"If you go to the Varsity Bar and Grill and eat dinner, you're going to see everybody there that you know," said Anderson's father, Glenn. "It's just good country living."
"I was his elementary PE teacher," said Sean McNabb, the varsity football coach at Scappoose High School, which won a state title when Anderson was a senior. "I got a fortunate opportunity to watch him grow into the man he is today."
Said Sara Jean Underwood, a childhood friend: "It's just a little highway town, very close-knit. Derek was a grade older than me. He started dating one of my good friends, Lisa, who he ended up marrying."
There must be something in the water in Scappoose, because in the span of one year in the mid-'80s it produced an NFL quarterback and Underwood -- the 2007 Playboy Playmate of the Year. What are the odds of that?
When Underwood got her first big break, she was featured on the Oct. 2005 cover of Playboy wearing what appeared to be an Oregon State football jersey, a tribute to her fellow Beaver, Anderson. He wore No. 14 in Corvallis, but magazine officials didn't think Underwood could pull off double digits, so she went with No. 7 -- which was literally painted on, in memorable fashion.
If you saw the Monday night game between Minnesota and Chicago (Week 15), you know that premium quarterbacks are tough to find in the NFL. The Browns suddenly find themselves with two legitimate starters in Anderson and Quinn. Savage said last month he is leaning toward giving Anderson the highest contract tender after the season. That would constitute a raise from Anderson's current NFL minimum of $435,000 to $2.562 million. It would also guarantee the Browns first- and third-round draft choices if a franchise such as the Dolphins, Falcons or Panthers offered Anderson a long-term contract.
Anderson's success this year puts Cleveland in an intriguing predicament. For the short term, the Browns could well keep both quarterbacks, since Quinn is guaranteed less than $8 million of the five-year, $20 million contract he signed.
Before the season, Underwood clearly had a higher profile than her childhood friend, but now who is the more famous Scappoosian?
"I don't think that I'm famous, so I have to say Derek," Underwood said. "It's a lot of work trying to look good, but Derek, to me, is the real star."
A recent Google search for "Derek Anderson" and "Sara Underwood" came back in favor of the quarterback, 555,000 links to 269,000.
Anderson, on the other hand, thinks Underwood is more famous.
"Nobody," he said, laughing, "wants to look at me in that magazine."
Greg Garber is a senior writer for ESPN.com.
Writer, Reporter
Greg Garber joined ESPN in 1991 and provides reports for NFL Countdown and SportsCenter. He is also a regular contributor to Outside the Lines and a senior writer for ESPN.com.
EDITORS' PICKS
Nick Foles showed the kind of toughness under pressure that could define his future.
Sheridan »

Russell Wilson led the Seahawks' winning drive in OT, outdoing Peyton Manning.
Blount »

The 49ers imploded in the second half again as the Cards rallied to stay unbeaten.
Gutierrez »
ESPN FAN SHOP