Commentary
Nose tackles fill a massive role
Originally Published:
December 1, 2009
By
Greg Garber
| ESPN.com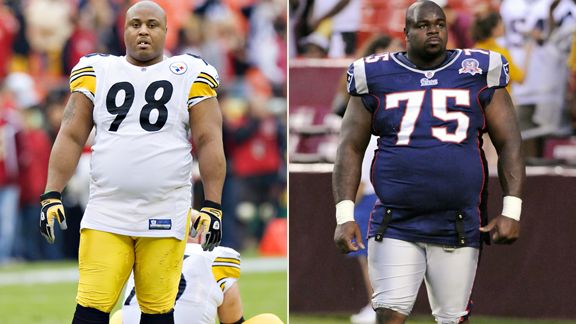 Getty ImagesLeft, heavyweights Casey Hampton of the Steelers and Vince Wilfork of the Patriots are among the best nose tackles in the NFL.
The subject of size was broached delicately.
"You are listed at 6-foot-1..." the reporter began.
"...and change," finished Steelers nose tackle Casey Hampton. "You've got to respect the change."
"And three-and-a-quarter," the reporter continued. "Is there change involved there, too?"
NFL's best nose tackles
Matt Williamson of Scouts Inc. lists his top five nose tackles.
1. Shaun Rogers, Cleveland: Choosing between the top several on this list is difficult. All are physical freaks of nature who have no business moving their incredible mass as well as they do. Each has incredible power. Rogers is a cut above since he also contributes as a pass-rusher.
2. Haloti Ngata, Baltimore: He often lines up at end in the Ravens' 3-4 defense. There isn't a man in the league with his combination of size (6-4, 345 pounds), speed and ability to change directions and accelerate.
3. Kris Jenkins, New York Jets: Out for the season with an injury, Jenkins is sorely missed by the Jets. He is similar to Rogers in that he can collapse the pocket as an interior pass-rusher and consistently eat up double-teams in the run game.
4. Vince Wilfork, New England: He gets my vote for the best run-stuffer of this group. Double-teams do not phase him and he manhandles most centers one-on-one. Don't overlook Wilfork's ability to make plays in pursuit.
5. Jay Ratliff, Dallas: Ratliff (6-4, 295) has nowhere near the bulk or power of the others on this list, but he fits the Cowboys' penetrating scheme well. He is extremely quick off the snap and is disruptive.
A frown flashed across Hampton's face -- although it might well be a product of the reporter's slightly stressed imagination.
"There might be a little change in there," Hampton allowed. "I can say that I was 325 [pounds] before. A while back. It wasn't too long ago."
James Farrior, Pittsburgh's fine linebacker, didn't buy it.
"If you've got big pockets," he said, laughing, "you've got room for a lot of change there."
Shaun Rogers, Hampton's good friend and the Cleveland Browns' nose tackle, is listed at 350 but stopped short of confirming the actual number.
"That's the key to being a great nose tackle," said Rogers, who was sidelined for the season Monday because of a leg injury. "Never tell anyone how much you weigh."
In the aftermath of all those Thanksgiving celebrations, when most of us are carrying a few extra calories, it is an appropriate time to pause and appreciate the glorious girth of the NFL's men in the middle.
This season, the offensive flavor of the month is the Wildcat formation popularized by the Miami Dolphins. On defense, it's the back-to-the-future 3-4 defense. The Cardinals, 49ers and Packers all made the switch this season, and now 13 teams employ the 3-4 as a base defense.
But to do it right, you need a gifted nose tackle. Poll the scouts and you get a short list: Rogers and Hampton, Haloti Ngata of the Ravens, Vince Wilfork of the Patriots and the Cowboys' Jay Ratliff. When they're healthy, the Jets' Kris Jenkins and Jamal Williams of the Chargers are in that group.
Invariably, they refer to themselves as space eaters.
"Basically," said Ngata, who stands 6-4 and weighs 345 pounds, "you're trying to eat up as much space, as many guys as you can. Two, three -- whatever you can do to make a running back bounce, or move them to another area where you don't want him to go."
How important is a good nose tackle? The Jets were 3-3, but without Jenkins, who suffered a season-ending knee injury, the defense has been soft in the middle.
But because nose tackles are so often lost in the vortex of the trenches, they are not widely appreciated by folks outside the game. Most nose tackles interviewed agreed they could be featured on Discovery Channel's "Dirty Jobs." (Most also noted, with all due respect, that host Mike Rowe would have a difficult time playing the position.)
They are so used to being anonymous beyond the film room that they aren't always comfortable talking about themselves.
"This is really the first time anyone has asked me what a nose tackle does," Ratliff said at the Cowboys' Valley Ranch facility. "It's weird to sit here and be answering this question."
Disruptive forces
Dick LeBeau, the Steelers' defensive coordinator, is 72 years old but bristles with the energy of a man three decades younger.
Asked if his nose tackle's listed playing weight was close, LeBeau deadpanned, "Yeah, his right leg probably weighs about 325."
[+] Enlarge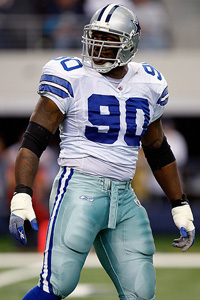 Ronald Martinez/Getty ImagesLighter than most nose tackles, the Cowboys' Jay Ratliff is also a good pass-rusher. He has 11.5 sacks the past two seasons.
LeBeau, an NFL coordinator for 20 seasons now, makes his living orchestrating the Steelers' 3-4. Hampton is the biggest piece on his chessboard, and he allows all the others -- particularly safety Troy Polamalu and linebackers James Harrison, LaMarr Woodley and Farrior -- to run free and make plays. Pittsburgh has won two Super Bowls in the past four years and has been a fixture in the top five against the run.
"Casey's job," explained LeBeau as he broke down film, "is to disrupt the flow of the play. If two guys have to block one, that means somebody should be free someplace."
This is the simple math of the successful nose tackle: If he can engage the center (his primary adversary) and one of the guards, that reduces 11-on-11 to 10-on-9. Usually, that's not a fair fight.
The nose tackle occupies the most lucrative real estate in football, patrolling the swath of ground -- gaps "Left A" and "Right A" on either side of the center -- that are the most direct path offenses must choose if they want to reach the end zone. If a nose tackle can stand his ground, take on two and sometimes three blockers (tight ends and fullbacks sometimes try to take him out), he can force the play outside.
"If they stay on me in that double-team," Wilfork said, "I know my guy is free and he should make the play. If you don't make the play, don't come back to the huddle."
Linebacker Tedy Bruschi made a lot of those plays. He played behind Wilfork, a first-round draft choice in 2004, before retiring before this season. The fan at home might see a bulky, 6-1, 325-pound fireplug, but Bruschi sees an athlete.
"Seeing him play basketball, throw a football, he is quick and an incredible athlete," said Bruschi, now an ESPN analyst. "Now, his quickness might be in a 7-by-7 box, but that's all he needs. He has great hands, so he can place them on offensive linemen before they can get position on him, and he can keep separation and slide down that line."
[+] Enlarge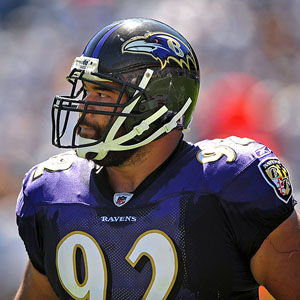 Mark J. Rebilas/US PresswireHaloti Ngata of the Ravens is considered an excellent all-round athlete.
Wilfork, like his peers at nose tackle, was a distinguished athlete growing up. He attended Santaluces High School in Palm Beach County, Fla., and won the state 4A titles in the shot put and discus. To this day, Wilfork said, he has "three 16-pound balls running around my house."
At Highland High School in Salt Lake City, Utah, Ngata played rugby. He actually ran the ball -- a fearsome sight to this day on video tape -- and led his team to the national championship.
"I think that helped me a bunch with my athleticism, speed and quickness, carrying the ball," Ngata said. "And also with open-field tackling, because there's no blocking in rugby."
Ngata was even used as a blocking back with devastating effect in the Ravens' OT win over the Steelers on Sunday.
Ratliff, who is not cut from the prototypical nose tackle mold, plays at 295 pounds and is charged with penetrating more. As a result, he has produced 11.5 sacks over the last two seasons.
"I don't get sacks," Wilfork said. "I don't get tackles for losses. A 2-yard gain, for me, I like that." This is the self-deprecating attitude found in even the best nose tackles. Maybe it's because in a big man's game they are almost always the biggest. Casey Hampton answers to the nickname "Big Snack." Shaun Rogers is "Big Baby." Sometimes, Wilfork is called "Big V" -- or worse.
"A lot of the guys call me now 'Fat Boy,'" Wilfork said, smiling. "I mean, it's how you say it.
"We're all big guys. But we take pride in what we do."
Greg Garber is a senior writer for ESPN.com.
Writer, Reporter
Greg Garber joined ESPN in 1991 and provides reports for NFL Countdown and SportsCenter. He is also a regular contributor to Outside the Lines and a senior writer for ESPN.com.
NFL WEEK 13 PREVIEW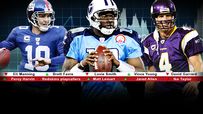 PICKS
FINAL WORD
POWER RANKINGS
MICHAEL VICK: Return to Atlanta
HOT READ
COLUMNS/BLOG POSTS
COLTS, SAINTS: PERFECTION?
PAGE 2
SCOUTS INC.
FANTASY


MOST SENT STORIES ON ESPN.COM