Commentary
Can Colts avoid 'Super' letdown?
The pain of a Super Bowl loss often reflects itself in the next season
Originally Published:
September 10, 2010
By
Greg Garber
| ESPN.com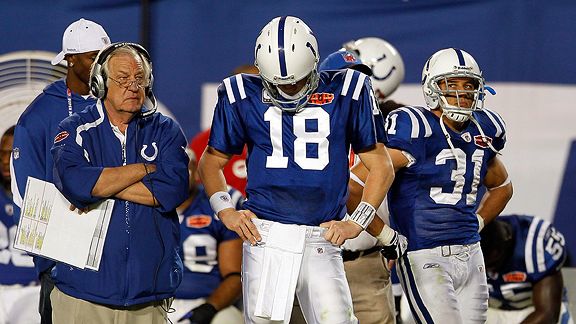 Donald Miralle/Getty ImagesCan Peyton Manning and the Indianapolis Colts avoid the Super Bowl losers' bender?
The Super Bowl is, quite naturally, intoxicating. It is the pinnacle of a career for an NFL player. "You dream about it as a kid, you think about it all season long -- that's your goal coming in -- and you finally you get there," said
Chicago Bears
linebacker
Brian Urlacher
, who played in Miami's Super Bowl XLI. "So it was an all-time high getting there -- and an all-time low when we lost." Ah, the dreaded Super Bowl hangover.
Watch Sunday NFL Countdown
See Greg Garber's report on the SB hangover on "ESPN's Sunday NFL Countdown" (11 a.m.-1 p.m.) Sept. 12.
The Bears scored two touchdowns in the first quarter but ultimately fell to the
Indianapolis Colts
29-17. And there was clearly a carryover the following season. The Bears, who were 13-3 over the 2006 regular season, finished 7-9, fourth in the four-team NFC North. Pain. A sensitivity to light and noise. Nausea. Remorse -- all symptoms of too much, uh, fun. "In a matter of hours you're going from thinking you're going to win to [being] at the bottom of the barrel," Urlacher said. "It's disheartening. You got there and you're kind of expected to get back to the next year and you don't." Urlacher still has some mementos from the game, including the cleats he wore. They are covered with flakes of the confetti that was released when the Colts won. Historically speaking, the Bears are not alone. Far from it. No fewer than seven of the past nine Super Bowl losers couldn't even make the playoffs a season later -- and six of those teams failed to reach .500. and combined for a record of 38-58. Only two teams in the Super Bowl era lost the championship game and returned a year later to win it -- the 1971
Dallas Cowboys
and the 1972
Miami Dolphins
. This is really just a long-winded way of saying: Watch out, Colts. Indianapolis and
Peyton Manning
, you may remember, lost Super Bowl XLIV to the Saints in Miami -- the very place where they won three years earlier. There may be some enduring effects when the Colts kick off their 2010 regular season against the
Houston Texans
. "You see your opponent on TV and all the different commercials and everything they're doing or receiving their Super Bowl trophy and getting their rings and everything," Colts defensive back
Melvin Bullitt
said. "It's like you missed the whole season. I don't want to say it was for nothing, but you know we have one goal and you know we just didn't accomplish it. It kind of lingers with you." Said Colts pass-rusher
Dwight Freeney
: "Losing in the Super Bowl is very painful. I think this is something that you never really ever forget. You're anxious, next season, [to] move on with it, but I think it kind of stays with you."
DEALING WITH SB HANGOVERS
We'll have to wait until at least January to know how the Indianapolis Colts, who lost Super Bowl XLIV, will handle the aftermath. How Super Bowl-losing teams since 2000 have handled the next season:
| Year | Team | SB season W-L | Next year W-L |
| --- | --- | --- | --- |
| 2008 | Cardinals | 9-7 | 10-6, playoffs |
| 2007 | Patriots | 16-0 | 11-5, no playoffs |
| 2006 | Bears | 13-3 | 7-9, no playoffs |
| 2005 | Seahawks | 13-3 | 9-7, playoffs |
| 2004 | Eagles | 13-3 | 6-10, no playoffs |
| 2003 | Panthers | 11-5 | 7-9, no playoffs |
| 2002 | Raiders | 11-5 | 4-12, no playoffs |
| 2001 | Rams | 14-2 | 7-9, no playoffs |
| 2000 | Giants | 12-4 | 7-9, no playoffs |
The Colts will be a good test for the Hangover Theory, because they have been ludicrously and consistently competitive, making the playoffs for eight straight years. Bill Polian, architect of the Colts, recently told the Indianapolis Star emphatically, "There's no hangover. There's no carryover." The ESPN.com Power Rankings are on board; the Colts are the No. 1-ranked team for Week 1 -- ahead of the team that beat them in Miami. But if history means anything, the Colts -- who won 14 straight games a year ago -- will be swimming upstream. Take the New England Patriots, for example. They went 16-0 over the 2007 season, but after losing to the New York Giants 17-14 in Arizona, they were 11-5 and failed to make the playoffs. The first five Super Bowl losers of the millennium (Giants, Rams, Raiders, Panthers and Eagles) all had losing records the next season. Why? There are myriad reasons. Perhaps the most important is the NFL's egalitarian approach to scheduling. The biggest winners get the toughest schedule. This alone can account for a drop-off. But factor in two more things: Opponents are more fired up to beat you. "You're already a target after that year, you know, when the power rankings come out," Bears linebacker
Lance Briggs
said. "Everyone knows who the top teams are and it's not easy, not easy. ... And maybe, just maybe there isn't quite the sense of urgency for the team that's been there [and done that]." "I don't know if the expectations are so high that you can't live up to them, or if there's so much pressure on you -- but we didn't play well the next year," Urlacher said. "I mean, guys just expect to be there, maybe take a little bit easier next year." There are often contract squabbles in the wake of a Super Bowl run, a scramble to get paid. Sometimes there is finger-pointing over what went wrong. This can only hurt team chemistry. Playing into February can also put you four or five weeks behind other teams when it comes to postseason surgeries and injury rehabilitation. The other thing the Colts must keep an eye on is the health of Peyton Manning. Five of the recent Super Bowl also-rans lost their quarterback in the next season's campaign, four of them to injury. Indianapolis has been bullish on protecting Manning, who has started all 16 games for 12 consecutive seasons; he's started 192 straight regular-season games, second to
Brett Favre
's mark of 286 regular-season consecutive quarterback starts. (The NFL does not count postseason games in official records.) It's been well more than three years since the Bears lost to the Colts in Miami, but Chicago head coach Lovie Smith has yet to sit through a replay of the entire game. "I know the ending," Smith said. "You're not really interested in the ending. It's been three years since we've been in the playoffs. You take for granted that each year you'll be back there. But now looking at it, you see how hard it really was, and how hard it is of course to get back. "To come back after you lost … I've heard about the Super Bowl jinx hang[ing] over for the team that lost and all of that. I just know that we talked about it and said that we were going to be the ones to be another part of that statistic, but [for] some reason it happened." Colts linebacker
Gary Brackett
said he hoped that losing in Miami will make the Colts stronger. "Winning the Super Bowl would have been nice," he said, "but we still got there and, honestly, it's going to drive us more this season. No one expected the Saints to ever win a Super Bowl. The Colts, we've always won and we've always been one of the best teams. "We put that aside, and we move forward."
Greg Garber is a senior writer for ESPN.com.
Writer, Reporter
Greg Garber joined ESPN in 1991 and provides reports for NFL Countdown and SportsCenter. He is also a regular contributor to Outside the Lines and a senior writer for ESPN.com.
SPONSORED HEADLINES
MORE NFL HEADLINES
MOST SENT STORIES ON ESPN.COM
2010 NFL PREVIEW
WEEK 1 PREVIEW
THE PIGSKIN PANEL
POWER RANKINGS
EXPERTS' PREDICTIONS
TEAM PREVIEWS
EIGHT GREAT DEBATES
JOHN CLAYTON QB RANKINGS
FOLLOW US ON TWITTER
NFL BLOG NETWORK
INSIDER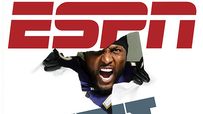 ESPN THE MAGAZINE
Nike Men's Alternate Game Jersey Denver Broncos Peyton Manning #18 Shop »