Commentary
Pressure is on Vikings' secondary and Saints' front four
Gary Horton knows what to pay attention to in the Vikings-Saints MNF game.
Originally Published:
October 3, 2008
By
Gary Horton
| Scouts Inc.
This week's "Monday Night Football" game (ESPN, 8:30 p.m. ET) features the Vikings on the road versus the Saints. Scouts Inc. has all the story lines to watch in this NFC matchup.

Touchdowns instead of field goals
The Vikings must get better production from their offense in the red zone. They have scored just two touchdowns in nine red zone possessions, and they don't take a lot of chances or make creative calls close to the goal line. Part of the problem is lack of execution (mental mistakes and penalties), and the other part is that they don't have a quarterback who can make critical plays when the field shrinks. This is not an explosive offense by nature, but the Vikings cannot afford to come away with field goals instead of touchdowns in the red zone -- especially this week versus the high-scoring Saints.
Move Allen around
Vikings RDE Jared Allen has played well thus far, but he doesn't have the statistics to show for it (11 tackles and two sacks). He does play against good left tackles every week, but that is not an excuse. Teams seem to be rolling their protection to his side by using a back or tight end to either stay in and block or chip on Allen. He is the only explosive pass-rusher the Vikings have, and it seems that it would be a good strategy to move Allen around the defensive front to get better matchups against inferior athletes.
More MNF Breakdowns
Check out Gary Horton's Animated Plays and full preview for the N.Y. Giants-Cleveland matchup.
• Plays: Giants' Play-Action Deep Post and Browns' TE Option Route
• Preview: Giants-Browns

Take away Brees' passing lanes
The Vikings won't blitz Saints QB
Drew Brees
a lot, so the pressure falls on the Vikings' front four to disrupt him. However, Brees does a great job of getting the ball out quickly and making good decisions, and he has underrated mobility in the pocket. If they can't get to him, the Vikings' down linemen need to at least clog the run lanes, keep the Saints' passing plays in front of them and, most importantly, get their hands up to take away Brees' passing lanes. One knock on Brees is that he does have some trouble throwing over defenders, so he tries to find throwing lanes between defenders to avoid his passes being tipped.
Keep the score close
The Vikings have proved they are not a team that can play from behind. When they fell behind Tennessee 10-0 early in last week's game, they started throwing the ball and finished the game with only 20 rushing attempts. That is not what this team is built for. New Orleans is Minnesota's worst nightmare because with Brees, the Saints' offense is very explosive and capable of scoring quickly. If that happens, the Vikings are in trouble, because they are ill-equipped to get into a high-scoring affair. Minnesota must control the clock early with the run game and keep the New Orleans offense off the field. If this game is low-scoring and close at halftime, the Vikings have a chance.

Don't let Peterson get to the second level
There is a lot of pressure on the Saints' defensive front seven to tackle well versus Vikings RB Adrian Peterson. And it's going to have to do it without rookie DT Sedrick Ellis, who is out two to four weeks with a knee injury. Peterson has a great combination of size and speed, and he is one of the best backs in the league at gaining yards after contact. The Saints' defensive line not only must play with good gap discipline but also must hold up the Vikings' offensive line at the line of scrimmage to keep the linebackers clean. The Vikings love to run left behind LT Bryant McKinnie, LG Steve Hutchinson and C Matt Birk, and if those guys can get Peterson to the second level, the Saints are in trouble. This week, the Saints should bring some run blitzes and hope that their secondary doesn't face Peterson one-on-one in the open field.
[+] Enlarge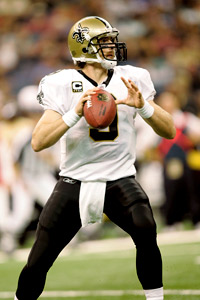 Dilip Vishwanat/Getty ImagesDrew Brees is No. 1 in the NFL in completion percentage (72.3).
Pick on the Vikings' secondary
Brees will be able attack the Vikings' secondary, but he must be patient and hit the tight windows in the Cover 2 defense. He can make plays on the intermediate perimeter (over the cornerback and underneath the safety), or he can exploit the deep middle of the field (over the linebackers and between the safeties) where the Vikings' safeties tend to struggle in coverage because of their lack of range. Brees should have time to throw the ball, but he might have to put together long drives. If Brees targets one guy, it will be CB
Cedric Griffin
because he has struggled in his first four games. If the Vikings' front four can't pressure Brees, their secondary will be exposed -- especially in man coverage.
Put pressure on Frerotte
The Saints' front four must pressure Minnesota QB Gus Frerotte early in the game without a lot of help from the back end. Frerotte might be no better than a game manager at this stage of his career, but he is a veteran who can get into an early groove. However, he tends to make mistakes when he is pressured, so the Saints must prevent him from getting comfortable in the pocket.
Give it to McAllister
Even though the Vikings' defense is very solid versus the run, the Saints can't completely abandon it. RB Deuce McAllister is back, and he is a legitimate between-the-tackles runner. Even if he keeps getting stuffed and can't break off any big runs, it will set up play-action and force the Vikings to stay in base personnel packages. Plus, when defenses account for McAllister, it takes pressure off RB Reggie Bush.
Gary Horton, a pro scout for Scouts Inc., has been a football talent evaluator for more than 30 years. He spent 10 years in the NFL and 10 years at the college level before launching a private scouting firm, The War Room.
Scouts Inc.
Gary Horton spent 10 years in the NFL as a scout and another 10 years at the college level as an assistant coach and recruiter. He is the founder and most seasoned member of the Scouts Inc. staff, and his extensive experience at all levels of football make him an excellent talent evaluator.
EDITORS' PICKS
Is Houston for real? How about Detroit? Here's how our experts view the six teams at 3-1.
Power Rankings »

Tom Brady is off to the worst start of his career. Our panel probes the cause of his woes.
Roundtable »

Draft-day trades are bold. But rarely does the capital gained match the price paid.
TMQ »