Commentary
Twenty things that jumped out in the film room
After looking at the film, Gary Horton tells you 20 things you might not have picked up on.
Originally Published:
October 21, 2008
By
Gary Horton
| Scouts Inc.
After breaking down film, Scouts Inc. runs down what jumped out at us, including Gaines Adams' big day, Drew Brees' ability to manipulate defenders and what the Cowboys' secondary is vulnerable to.
[+] Enlarge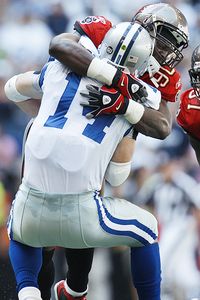 AP Photo/LM OteroDespite the loss, Gaines Adams made his presence felt.
• Tampa Bay is getting good production from DE
Gaines Adams
as an edge pass-rusher. He has great speed, can move around the formation and he is a tough matchup for most offensive tackles. He had two sacks versus the Cowboys' tackles because they lacked quickness.
• Even though the Steelers' offensive line isn't great, a lot of Ben Roethlisberger's sacks come from him holding on to the ball too long and waiting for his receivers to separate. Because he is so physical, he is willing to take a hit to make a big play.
• Titans RBs LenDale White and Chris Johnson spent too much time running laterally and not enough time going north and south in the first half versus the Colts.
• The Giants' defensive tackles do an underrated job of getting inside pressure and pass-rushing the A- and B-gaps.
• Philadelphia's defense is excellent on the edges with their pass rush and cover schemes, but the Eagles are vulnerable inside -- especially when you attack the safeties. Offenses that throw to their tight ends can have success over the middle.
• Baltimore offensive coordinator Cam Cameron is trying to help his young quarterback in a variety of ways. He will run a lot of shotgun to allow Joe Flacco time to see the whole defense, he will show some pre-snap shifts or motion to let him get a handle on what the defense is going to do, and Cameron will even use some unbalanced formations with two offensive tackles on the same side to assist the power run game.
• Seattle has the thinnest receiver corps in the NFL, so the Seahawks decided to make FB Leonard Weaver their main target. He responded with four catches for 116 yards and two touchdowns versus the 49ers
• The Bengals played pretty hard in the first half versus the Texans, and they even used a no-huddle scheme to provide better tempo. But in the second half they played with little emotion and seemed to throw in the towel. This team has a shot to go 0-16 because they will put less and less effort in each week.
• San Diego's secondary is really struggling, despite the fact that it has good individual players. The Chargers played too loose versus the Saints in zone coverages, and they still struggle to recognize routes or break quickly to cover receivers. Plus, in man coverage they are undisciplined and sloppy, which results in too many big plays. This group is too good to be this bad.
• Look for the Cowboys to send WR Terrell Owens in motion more often, so he can get away from the jam and find easier matchups.
• The Steelers' run defense was great versus the Giants' vaunted run game. Pittsburgh controlled the line of scrimmage by using a lot of penetration and two-gap techniques. The Steelers' speed along the front seven allows them to fly to the ball, and it is tough to run outside on them. When this unit is fully healthy, it will be tough for anybody to run the ball on them.
• Baltimore used the Wildcat formation with backup QB Troy Smith -- who threw a touchdown pass to QB Joe Flacco.
[+] Enlarge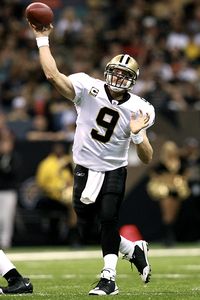 Marvin Gentry/US PresswireDrew Brees leads all quarterbacks in completions (210) and yards (2,563).
• Saints QB
Drew Brees
continues to be almost unstoppable. He spreads the ball around to all of his weapons, never gets greedy or forces the ball and uses his eyes well to manipulate the defender.
• The Steelers can't establish the run and control the clock, which has been their trademark. They continue to be marginal in pass protection, and they were 1-for-10 on third-down conversions and 0-for-4 on fourth down.
• Dallas LT Flozell Adams is really having a bad year. He looks sluggish, not overly motivated and he really struggles with speed rushers off the edge. Ironically, he received a huge new contract in the offseason.
• The Buccaneers' passing game continues not to include a vertical component. They don't stretch the field, which hurts the run game because defenses are able to creep up and play closer to the line of scrimmage. This is how the Cowboys held the Bucs to 2.5 yards per carry.
• A big key to the Jets' offense is QB Brett Favre's ability to read the blitz and attack the area vacated. But to be successful the receivers must read the same thing as Favre and adjust their routes -- which is not always happening.
• Dallas has a makeshift secondary right now, and the coaches don't seem to have any confidence in their ability to cover, especially the corners. Although Tampa Bay does not have really explosive receivers, the Cowboys chose to play off coverages and they gave the Bucs' receivers a lot of room to work underneath routes. Dallas is very vulnerable right now to slants, quick screens and hitches.
• Philadelphia brought a lot of run blitzes versus Atlanta rookie QB Matt Ryan, and it really hindered the Falcons' ability to run the ball with RB Michael Turner between the tackles. The Eagles' linebackers filled the gaps and made it really tough for the Falcons' offensive line to get good angles on their run blocks.
• The Giants used a very conservative offensive game plan versus a great Steelers defense. Their power run game was conservative, and QB Eli Manning threw mostly safe short-to-intermediate passes. By doing this, the Giants stayed in manageable third-down situations and had good field position all day. They seemed to sense that this would be a close defensive game without a lot of scoring.
Gary Horton, a pro scout for Scouts Inc., has been a football talent evaluator for more than 30 years. He spent 10 years in the NFL and 10 years at the college level before launching a private scouting firm, The War Room.
Scouts Inc.
Gary Horton spent 10 years in the NFL as a scout and another 10 years at the college level as an assistant coach and recruiter. He is the founder and most seasoned member of the Scouts Inc. staff, and his extensive experience at all levels of football make him an excellent talent evaluator.
SPONSORED HEADLINES
MORE NFL HEADLINES
MOST SENT STORIES ON ESPN.COM
EDITORS' PICKS
How has the rookie QB class fared so far in camp?
NFL Nation »

Patrick Peterson is worth the money Arizona will dole out.
Weinfuss »

Mark Sanchez embraces his backup role in Philly.
Fox »