Mariucci returns with a smile
Steve Mariucci's Lions are 1-3. But it's a much different 1-3 record than the one his former team finds itself stuck with.
Updated:
October 3, 2003, 10:55 AM ET
By
Mark Kreidler
| Special to ESPN.com
Right, let's do the math. The Detroit Lions, coached by Steve Mariucci, are 1-3 at the quarter-turn of the NFL season. The San Francisco 49ers, the team that wanted any coach not named Mariucci by the end of last season, are 1-3 as well.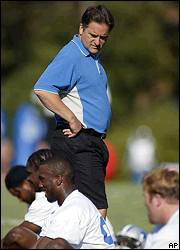 Steve Mariucci got a five-year, $25 million deal to coach the Lions.
Adding it up and carrying the zeroes, we find that Sunday's Lions-49ers meeting at Candlestick Park does not necessarily shape up as your all-time grudge match. But that doesn't answer the question: Which 1-3 is it that you want?
If you're Mariucci, the answer by now is crystalline. Thrown over the side last January in the 49ers' headlong rush into the next chapter of their collective lives, the 47-year-old coach has found peace and a fair rack of challenge in being handed the keys to a Detroit franchise that's just begging to be taken out for a spin.
And if you're the 49ers, well, hell. Let's do the wrath.
This is an organization whose owner, John York, punted Mariucci without much of a second thought after San Francisco's playoffs ended in a desultory second-round defeat by Tampa Bay. The Bucs, as it turned out, specialized in desultory last January, dispatching teams pretty much with equal ease while knifing through to the NFL championship.
But York desired change, and change he got. The Mariucci who coached the 49ers through the post-Steve Young, post-Jerry Rice era, an era of injury depletion and a hideous salary cap constriction -- who coached them from the depths of 4-12 during Jeff Garcia's emergency first season on the job to back-to-back playoff entries the last two years -- simply wasn't wanted around the Santa Clara training complex anymore.
Result: The 49ers lumbered around in their coaching search -- swinging and missing at Mike Holmgren, flying in the ubiquitous Rick Neuheisel for a few pearls of wisdom -- before finally reaching to Oregon State for Dennis Erickson, a certifiably decent coach who nevertheless got pushed out in Seattle after going 31-33 in four seasons with the Seahawks.
Three defeats later, San Francisco GM Terry Donahue is preaching patience, the fans are trying to figure out when Erickson's pledge to open up the offense is going to begin paying a dividend, Terrell Owens is fairly certain that it's the rest of the world and not him causing the trouble, and, in general, things just ain't so hot.
But, of course, that's the weight of expectation. That is the particular burden that accompanies any franchise used to winning and winning a fair bunch.
For Mariucci, that burden no longer is his. Put it this way: When you're coaching for a franchise that went 5-27 over the past two seasons combined, you can be 1-3 at the first turn and never have anyone say anything stronger to you than, "How 'bout them Tigers?"
They call what Mariucci did in accepting the Detroit job "going home," but in reality, it's not just completely that. For one, the peripatetic coach, a native of Iron Mountain, Mich., has spent 17 of his 25 professional years in California. His wife is from California. Mariucci and his family so love the place that they won't be selling their Bay Area home, and his oldest son is a freshman on the football team at Cal Poly in San Luis Obispo. That's a lot of West Coast stuff on the resumé.
But what Mariucci did do is to accept a home-town challenge. He is a Michigander who took on the task of rebuilding a roster (and, along with GM Matt Millen and the owning Ford family, a franchise) that has been down so long, 1-3 in a coach's first month of real games means nothing. When the Lions take the long view, they don't kid around: Mariucci was blessed with a five-year, $25 million contract to make this thing work.
It is a work in progress. The Lions start second-year quarterback Joey Harrington and pure rookie Charles Rogers at wide receiver. They're sending out an injury-thinned lineup currently devoid of most of their best defensive backs. Even at full strength, they're no match for the NFL's upper crust. It'll be a while.
Then again, Steve Mariucci suddenly is a man who has a while, which might explain the smile that has been more or less affixed on his face since the day he discovered it's actually possible to be gotten rid of by one NFL team and fully embraced by another. He'll walk back into Candlestick Park on Sunday with that smile. And why not? He's the only 1-3 coach on the field who doesn't need to make things better yesterday.
Mark Kreidler is a columnist with the Sacramento Bee and a regular contributor to ESPN.com
Page 2
Regular contributor to ESPN.com
Author of "The Voodoo Wave" and "Six Good Innings"
Radio co-host, "The Rise Guys Show" San Francisco
SPONSORED HEADLINES
MORE NFL HEADLINES
MOST SENT STORIES ON ESPN.COM
EDITORS' PICKS
Only a handful of contenders look truly super.
Seifert »

Detroit fans are asking hard questions about Matthew Stafford.
Jeffri Chadiha »

Arizona's confidence has blossomed under Bruce Arians.
Weinfuss »