Round up the usual suspects ...
Updated:
January 3, 2006, 12:32 PM ET
By
Mark Kreidler
| Special to ESPN.com
As a preposterously drunk Blue Oyster Cult once hopefully sang, don't fear the retread. And if you already do, the next few weeks in the NFL stack up as just a wonderful time to get over it.
Here they come, every old name that ever was laid gently upon the Great Dusty Shelf of Head Coaching Candidates: Some guys who aren't currently in top jobs for very good reasons; some coordinators who continually get thrown into the mix for conversational purposes; the flavor of the month at the college level; the GM's best friend from 10 years ago, and so on.
You're going to hear some names you haven't heard in a while, but which, upon further review, you realize you're used to hearing almost every time the NFL decides to change the sheets in more than a few cities at the same time. This week certainly qualifies, what with Dick Vermeil's retirement becoming official and five -- I said five -- other coaches chewing dust just one day after the season's end, and more to come.
(How about Mike Tice, blown out in Minnesota while his players were still changing clothes after beating Chicago to close out a 7-2 stretch run? I'm with Vikings kick returner Koren Robinson on this one: "Right after a game you just won? Give the man respect enough to wait until Monday to enjoy the win, at least.")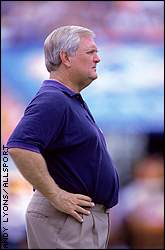 Chargers defensive coordinator (and former NFL head coach) Wade Phillips is back in the candidate loop.
Put it this way: There already have been a couple of Wade Phillips name-drops. You're hearing Al Saunders in the conversation in Kansas City. Divorced from the Saints, Jim Haslett thinks he'll land another head spot pretty quickly, and Mike Martz, just cut loose by the Rams, is being mentioned as a good fit in Oakland.
I'll raise you a Dennis Erickson, one Dave Wannstedt and two Jimmy Johnson wild-card rumors, but otherwise I'd say they're right on track around Tha League.
Some of this repeat cycle is understandable. Some coaches are constantly mentioned as candidates because they're good coaches. Some are the product of an NFL system that never really wants anyone to leave the fraternity once he's been initiated. Some recycling is either generational or geographical, which is to say you shouldn't be surprised to hear Iron Mountain, Mich., native and kid-Packers-fan Steve Mariucci's name in connection with the Green Bay job.
But another factor is to be pondered, and that is the growing reluctance of the really good college coaches to walk away from what they already have. I'm not entirely sure what it means, but it suggests a few things.
It suggests, for example, that a person like Pete Carroll understands pretty clearly that he's got it good. The talk among the pro-leaguers is that Carroll quietly studied the Houston Texans' situation over the past several weeks before ultimately signing a contract extension at USC. If so, this represents on almost every level an exercise in clearheadedness, especially given Carroll's previous, unsatisfying experience running teams in the NFL.
Carroll
So Carroll wouldn't go, and the hottest college coaching prospect for the NFL before him, Bob Stoops, also refused to budge. Nick Saban did take off for the Dolphins, but only in a situation in which he had substantial control -- and, as Steve Spurrier could tell you, even substantial control isn't always enough.
Now the talk around the edges tends to deal with Iowa's Kirk Ferentz, who is sort of this year's model in terms of a college coach being deemed NFL "material," and you almost wonder how great the situation would have to be for Ferentz to make a move. He'd have to want it pretty badly.
The NFL always has been the devil's handshake for head coaches, with really sizable salaries on the one hand and virtually no job security on the other. Veterans of the game still will chase down every opening around the league -- who can make that kind of money anywhere else? -- but it's a tough row.
The college programs figured out a while back that they were going to have to bump up the salaries and side-money deals for their football coaches if they wanted to keep them, and while it's no perfect system to continually rearm the coach with a new contract, it probably is eminently preferable to seeing the man get picked off by an NFL team offering so many dollars that its other problems could appear obscured.
Anecdotally, anyway, so many good college coaches have failed in the NFL that it stacks up as a daunting move. Or, to stick the other end of the telescope in one's eye for a moment, many of those coaches have gone on to realize success at the college level that almost precludes doing something as self-defeating as returning to the pros.
Spurrier, Carroll, Erickson, Butch Davis -- it isn't hard to compile a list of guys who didn't taste lasting NFL success but have had good and even great times in the college game. June Jones, Mike Riley, Bill Callahan ... it's easier to build that list than to come up with a roster of former college guys who successfully transitioned to a top job in the pros.
It's one reason why you'll see so many NFL assistants mentioned in the coming days, and that's uniformly a good thing. If it means Ted Cottrell gets a look, or Gary Kubiak, or Ron Rivera, so much the better.
But along with that, brace yourself for a full dose of the usual suspects, a rasher of the old guard come back around for another run through the mill. It won't be in the least inspiring, but it'll sure feel familiar.
Mark Kreidler is a columnist for the Sacramento Bee and a regular contributor to ESPN.com. Reach him at mkreidler@sacbee.com.
Page 2
Regular contributor to ESPN.com
Author of "The Voodoo Wave" and "Six Good Innings"
Radio co-host, "The Rise Guys Show" San Francisco
SPONSORED HEADLINES
MORE NFL HEADLINES
MOST SENT STORIES ON ESPN.COM
ON THE MOVE
• Track the coaching changes

On Tuesday:
• Raiders cut ties with Turner

Black Monday:
• Len Pasquarelli: Busy firing-and-hiring season

• Packers ax Sherman after first losing season
... Watch press conference


• Saints, Haslett agree to part ways

• Heart of the matter: Rams fire Martz

• Texans fire Capers; GM Casserly to stay

• Vikings owner defends Tice firing
... Cottrell in wings?

On Sunday:
• Vikings toss Tice after 9-7 season | More


SportsNation:
• NFL coach approval ratings: Vote now