Commentary
Running games, coaching stability give AFC South the edge
The AFC South will be hard-pressed to repeat its .656 winning percentage from '07, but it remains the toughest division in the NFL, writes Paul Kuharsky.
Originally Published:
September 4, 2008
By
Paul Kuharsky
| ESPN.com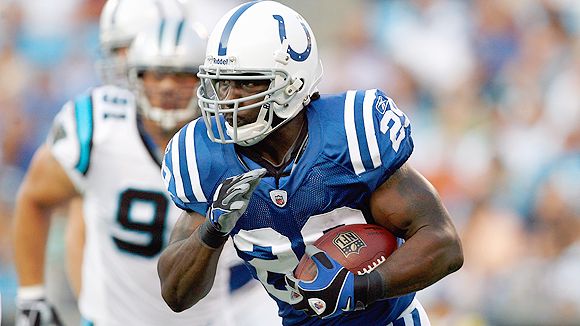 Kevin C. Cox/Getty ImagesThe Colts are known for their passing game, but RB Joseph Addai scored 12 TDs last season.
The NFC East can certainly make a reasonable claim
, but heading into the 2008 season there are still many reasons to expect the AFC South to be the NFL's toughest division.
Last year's collective 42-22 record produced a .656 winning percentage, the best for a division in NFL history. Indianapolis, Jacksonville and Tennessee all went to the playoffs, and last-place Houston finished 8-8.
Can they match that this year? Probably not.
But look for them to outperform the NFC East in the regular season again.
While it shouldn't necessarily be part of the equation, the AFC South includes two expansion teams and two teams that relocated. They hardly have the roots of the storied Cowboys, Giants, Redskins and Eagles.
"I think those teams are better known around the country -- more publicized teams -- with Dallas and New York," Houston tight end Owen Daniels said. "The AFC South is more of a newer division, newer teams, and we're just trying to make a name for ourselves. I think we've started to do that very well."
The Colts have won the division five years running, which means the other three teams haven't been chasing a moving target -- they've known exactly what to aim for. The Jaguars, Titans and Texans have all worked hard to find pass rushers who might disrupt Peyton Manning's timing; they've all tried to build physical rushing attacks that can be successful against Indianapolis' quick defense.
Fan's blog
"AFC South will compete with NFC East for NFL's toughest division." Blog
That blueprint may not have produced many wins over Indianapolis, but it has proven effective against plenty of other teams.
"I think with the Colts' having won the division for five straight years, as a GM or a head coach, you have to build your team for that, like, 'We have to knock these guys off because they're on the top,'" Houston middle linebacker DeMeco Ryans said. "You're going to build around your defense first, get some pass rushers in to get after Peyton Manning. And then you add your pieces here and there; a couple running backs, you have to run the ball against Indy. We've added those pieces to go out and compete with them and beat them."
"Outside the division, it still works. If you're running the ball and your front seven is playing well stopping the run and you've got those guys pass rushing coming off on third down, that recipe will beat anybody."
Here are the three other major reasons I give the AFC South the edge:
1) Steady rushing attacks
The Titans and Jaguars are dead-set on running the ball and have the patience and personnel to do it well and consistently. They ranked first and second in the league in rush attempts last season. Everyone thinks of Indianapolis' offense and thinks of Manning and the Colts' passing game, but Joseph Addai tied for the second-most rushing touchdowns in the league with 12 last season. Houston is positioned to make a big jump in the run game. Every time Alex Gibbs has installed his zone-blocking scheme with an emphasis on cutting down defenders, his team's rushing offense has taken off quickly.
2) Coaching stability
The only possibility of a change in the division after this season is in Indianapolis, where the Colts will push for Tony Dungy to stick around. Even if he decides to leave, his replacement, Jim Caldwell, is in place. Jeff Fisher, Jack Del Rio and Gary Kubiak have plans in place and solid backing from ownership. They are going nowhere. In the NFC East, many are considering Wade Phillips a lame duck, and the successor who's lined up, Jason Garrett, has zero experience as a head coach. If the Redskins are bad, Jim Zorn could fall under immediate pressure. And while Andy Reid should be able to coach the Eagles as long as he likes, it's not inconceivable he could walk away if he feels he has not been able to devote enough time to family matters.
3) Fred Taylor says so
Anyone who has had a chance to sit with the Jaguars running back likes him and comes to value his big-picture thinking. The super-productive Taylor is a straight shooter who has good friends spread all around the league. He scoffed when I suggested the NFC East might be better than the AFC South, and his position on the debate deserves some weight, even if his evidence is a little dated.
"[The] NFC East is overrated," he said. "We drubbed those guys a year ago. Not last season, but when we played those guys. I just really feel like they're overrated. The NFC can't really hang with that. The Giants saved the NFC, actually, by winning the Super Bowl. With the exception of the Redskins two years ago, we kind of just ran through that division.
"Our division is the best. We come, we play smash-mouth. We've got offenses that can light it up. The Texans, they're a team that shows they can play with the best of the best in this league. The record speaks for itself. Every team went .500 or better last year. With that being said, I really believe we have the best division."
Paul Kuharsky covers the NFL for ESPN.com.
ESPN Tennessee Titans reporter
Covered AFC South for five years for ESPN.com
Covered Oilers/Titans for The Tennessean
New Jersey native and Columbia graduate lives in Nashville with his wife and son
SPONSORED HEADLINES
MORE NFL HEADLINES
MOST SENT STORIES ON ESPN.COM
NFL PREVIEW 2008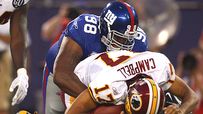 The Giants defeated the Redskins, 16-7, in the NFL opener Thursday night. Which teams will complete the journey to Tampa for Super Bowl XLIII?
NFL preview index
|
Playoff dates
Predictions/Power rankings
•
Power rankings: Champs start season No. 8
•
Gene Wojciechowski: Another run at perfection?
•
Bristol's picks: We love Bolts-'Boys
AFC emerging stars
•
Williamson: Broncos' Cutler ready for stardom
•
Kuharsky: Titans' Finnegan never satisfied
•
Walker: Steelers' Holmes has lofty goals
•
Graham: Bills' Whitner maturing on, off field
•
Scouts Inc.: More emerging AFC stars
NFC emerging stars
•
Seifert: Lions' Johnson poised for monster year
•
Sando: Seahawks' Hill seeking consistency
•
Mosley: Giants' Tuck no longer under radar
•
Yasinskas: Beason takes lead in Carolina
•
Scouts Inc.: More emerging NFC stars
Commentary/features
•
Chadiha: Replacing big names
•
Clayton: NFC East reigns supreme
•
Kuharsky: AFC South is toughest division
•
Chadiha: Merriman a marked man
•
Clayton: Gonzalez is a Chief asset
•
Football Outsiders: Under-the-radar prospects
•
Clayton: Cards' James likes latest trends
•
Joyner: Brady among true big-game players

SportsNation
•
Vote: How will your team fare?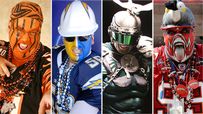 NFL fan base rankings
Best fans in the NFL? We think they wear black and gold. So who's Nos. 2-32? And was there a method to our ranking madness? Matt Mosley explains.
ESPN.com fan base rankings
•
Yasinskas: The Panthers' garage band
•
ZOOM gallery: Carolina's Garage Mahal
•
32 NFL fans you need to know
AFC team previews
•
North:
Balt.
|
Cincinnati
|
Cleve.
|
Pittsburgh
•
South:
Houston
|
Indy
|
Jax
|
Tennessee
•
East:
Buffalo
|
Miami
|
New England
|
NY Jets
•
West:
Denver
|
K.C.
|
Oakland
|
San Diego
Scouts Inc.
From Boldin's best crossing route to Addai's bread-and-butter running play to Washington's pressure defense, watch the signature plays unfold for every NFL team.
Play animations
|
Team schemes
NFC team previews
•
North:
Chicago
|
Detroit
|
Green Bay
|
Minnesota
•
South:
Atlanta
|
Carolina
|
New Orleans
|
Tampa
•
East:
Dallas
|
NY Giants
|
Philly
|
Washington
•
West:
Arizona
|
St. Louis
|
San Fran.
|
Seattle
NFL blog network
•
NFL Nation blog
|
Contact our bloggers
•
AFC
:
North
|
South
|
East
|
West
•
NFC:
North
|
South
|
East
|
West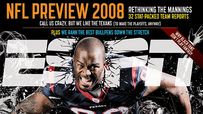 ESPN The Magazine
•
On newsstands Aug. 29:
How control-freak Peyton Manning and laid-back little bro Eli channeled each other to become the NFL's biggest winners. Plus, our experts join NFL scouts and players for a 3-D preview of all 32 teams.
•
The Mag
:
Season preview
|
The 'It' Team 2008
•
Mannings:
Madmen
|
Watch:
Sklars
|
Williams
•
Injuries:
We're all just day-to-day
|
Fitzgerald
•
Watch:
Mario Williams
|
Matt Hasselbeck
•
More:
Marion The Barbarian
|
Colleges vs. Pros
•
NEXT:
Five NFL rookies to watch
Nike Men's Home Game Jersey Tennessee Titans Jake Locker #10 Shop »