Commentary
With TO on fire, Cowboys hold off Redskins
Terrell Owens decided it was time to bring back fiery TO, and the results were stunning in the Cowboys' win over the Redskins.
Originally Published:
November 18, 2007
By
Matt Mosley
| ESPN.com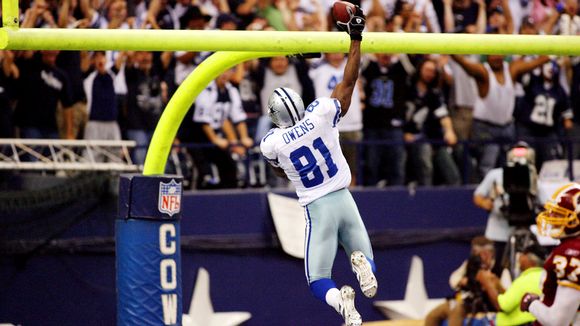 Nelson Chenault-US PRESSWIRETerrell Owens added a slam dunk to his career-high four-TD effort in the Cowboys' win on Sunday.
IRVING, Texas --
Terrell Owens
fielded a phone call a couple of weeks ago from his concerned mom. She wanted to know if something was bothering him since he wasn't screaming at anyone on the sideline.
On Sunday, Owens decided it was time to bring back fiery TO, and the results were stunning. He tied Bob Hayes' franchise record of four touchdowns in leading the Dallas Cowboys to a 28-23 victory over a Washington Redskins team that refused to go away. With the victory, the Cowboys ran their record to 4-0 against the NFC East and moved to 9-1 overall for the first since 1983.
Dallas will host the 2-8 Jets on Thanksgiving Day, then prepare for an NFC showdown with the 9-1 Packers on Nov. 29. Cowboys coach Wade Phillips joked he didn't even know the date of the Packers game. He was too busy marveling at his star receiver's day.
As if scoring a career-high four times wasn't enough, Owens was on the field to swat away Redskins quarterback Jason Campbell's Hail Mary in the end zone as time expired.
"I was playing with a chip on my shoulder," he said. "People still don't want to give me any credit."
Owens helped jump-start a mistake-riddled Cowboys offense when he caught a 23-yard pass from Tony Romo on third-and-15, then followed it with a 4-yard touchdown to tie the score at 7-7 with 1:21 left in the first half.
All-Time TD Receptions
With four TD catches Sunday, Cowboys wide receiver Terrell Owens moved into third place on the NFL's career list.
| | |
| --- | --- |
| Player | TD catches |
| 1. Jerry Rice | 197 |
| 2. Cris Carter | 130 |
| 3. Terrell Owens | 126 |
| 4. Marvin Harrison | 123 |
Earlier in the half, Owens had admonished center Andre Gurode for snapping the ball off Romo's helmet when the quarterback wasn't ready and then sending two more snaps flying over Romo's head.
"Hey, we're a family," Gurode said. "He came over and said, 'We need you,' and 'I know you can play, so start doing it.' "
Even though the Redskins were playing without Pro Bowl safety Sean Taylor and cornerback Carlos Rogers, Cowboys offensive coordinator Jason Garrett came out with a conservative game plan that sought to feed the ball early to tight end Jason Witten.
One of the few times in the first half that Romo threw deep came when he chased down one of Gurode's errant snaps and heaved a ball downfield that was intercepted by London Fletcher.
"I just needed a little more on it," Romo said.
The Redskins tried to cover the loss of Taylor by having rookie safety LaRon Landry line up near the line of scrimmage and retreat just before the snap. The strategy was effective in the first half, but Garrett and offensive line/running-game coach Tony Sparano changed their approach at halftime.
In addition to lining up Owens in different spots, Garrett sent in two different plays to Romo on almost every down. Romo took advantage of the extra option, hooking up with Owens to burn Redskins cornerback Shawn Springs for a 31-yard touchdown to give the Cowboys a 14-10 lead late in the third quarter.
Springs, who had a hand in allowing three of Owens' four touchdowns, was playing with a heavy heart. His father, Ron, a former Cowboys fullback, is in a vegetative state in a hospital 20 minutes away from Texas Stadium after what was supposed to be a routine surgery last month.
"It was tough because I have memories of being a little boy and coming to this stadium with my father to watch him play teams like the Redskins," Springs said. "Today, when I went to warm up, it was pretty tough, so I went back in the locker room and just kind of waited."
When the Redskins went into zone coverage, Owens split the middle of the defense with a 46-yard touchdown on which the safeties never broke on the ball.
"It was an unbelievable route," Sparano said. "He put a double-move on them, and no one was close."
After the play, television cameras caught Romo slapping Phillips' hand so hard that the coach winced and had to shake it off.
"He busted me," Phillips said. "I can't believe they got that on camera."
Owens finished off his record-breaking day with a 52-yard touchdown to give the Cowboys a 28-16 lead.
After Phillips presented Owens with the game ball in the postgame locker room, the receiver delivered what owner Jerry Jones described as an "eloquent" speech. Instead of talking about his amazing day, Owens singled out rookie safety Courtney Brown, who tackled Antwaan Randle El for no gain on a Redskins punt return with 43 seconds left.
Doing his best Jim Valvano imitation, Jones raced up and down the sideline looking for someone to hug at the end of the game, before finally settling on one of the team's orthopedists. Later in the locker room, Jones talked about how gratifying it was to watch Owens succeed after spending so much time defending his decision to sign the receiver last season.
In a not-so-veiled reference to the Bill Parcells era, Jones told ESPN.com, "From the coaches on down, all of us wanted to use [Owens] more than he was used last year. Everyone on this staff felt that way. And [receivers coach] Ray Sherman has been a difference-maker with him."
And how is Sherman, a former offensive coordinator with Minnesota, making a difference? By staying in constant contact with Owens. When the receiver has sideline eruptions, Sherman is quick to address the situation. TO, who didn't think former receivers coach Todd Haley respected him, has credited Sherman with "treating me like a man."
Moments after Jones' comment, Owens interrupted the conversation to ask if the Cowboys owner could help him with transportation home.
After Sunday's performance, it wasn't a problem.
Matt Mosley covers the NFL for ESPN.com.
SPONSORED HEADLINES
MORE NFL HEADLINES
MOST SENT STORIES ON ESPN.COM
EDITORS' PICKS
Before earning Seattle's reverence, Pete Carroll endured New England's scorn while trying to replace a legend.
Ashley Fox »

Bill Belichick denied any team wrongdoings and offered other potential reasons for the deflated footballs.
Story »

Interviews with nearly 20 Browns sources revealed that Johnny Manziel was a turbulent presence in '14.
Fowler/McManamon »