Commentary
Beware of Ware: LB appears poised for big season
Linebacker DeMarcus Ware, not the headline-grabbing Adam Jones, will have the biggest impact on the Cowboys' defense this season, writes Matt Mosley.
Originally Published:
June 26, 2008
By
Matt Mosley
| ESPN.com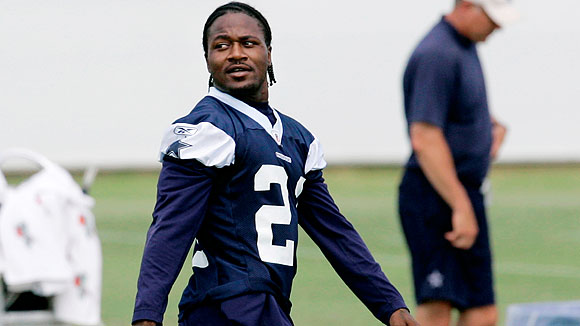 AP Photo/Tony GutierrezAdam "Pacman" Jones satisfied Dallas owner Jerry Jones' urge to make a major offseason splash.
The Cowboys don't do quiet offseasons. Owner Jerry Jones didn't get the "wow" player he wanted to play across from
Terrell Owens
, but he did eventually trade for the most notorious player in the NFL, Adam "Don't call me Pacman" Jones. It was vintage Jerry Jones because the entire process kept the Cowboys in the spotlight for two months.
Fantasy Update
Eric Karabell breaks down the fantasy prospects for the Cowboys. Story
The talented cornerback (assuming he's fully reinstated) will replace starter Anthony Henry at some point this season, and it will happen sooner than most people think. In addition to adding Jones, the Cowboys were able to break in two first-round picks, running back Felix Jones and cornerback Mike Jenkins. But the player who will make the biggest impact on defense is linebacker DeMarcus Ware. The Cowboys believe Ware is poised to have a monster season. Ware has worked hard in the offseason to redistribute some of his weight and should be a dominating force.
What we learned in minicamp
Quarterback Tony Romo and offensive coordinator Jason Garrett have spent a lot of time working together on fundamentals. Garrett believes Romo can become an even more accurate passer. He's walked a fine line with Romo because he doesn't want to take away any of the quarterback's well-documented improvisational skills.
Backup wide receiver Miles Austin may not be a "wow" player, but he did turn a few heads during recent workouts. A week after Adam Jones was lauded on "SportsCenter" for picking off a third-string quarterback twice in practice, Austin burned him for an acrobatic 45-yard touchdown pass. Austin's always had the size and athleticism, but now it looks as though he's improved his hands.
Still unresolved
The Terry Glenn saga continues. After spending the offseason talking about how Glenn could be an important piece in 2008, Jerry Jones tried to get him to sign a waiver that he wouldn't receive his full salary if he re-injured his knee. The two have reached an impasse, which tells you Jones wasn't as sure about Glenn as he earlier said.
The Cowboys are prepared to move on without Glenn, who was a nonfactor last season after missing the first 15 regular-season games. Romo is still holding out hope for Glenn because he believes Glenn's still one of the best route runners in football, but at this point, neither side is budging.
Safety Ken Hamlin did not participate in workouts because he was franchised and is still hoping to sign a lucrative extension. The Cowboys will eventually sign Hamlin to something similar to what Gibril Wilson received in Oakland (six years, $39 million). It's hard to imagine Hamlin holding out of training camp and we're told he's in excellent shape.
Starting DE Chris Canty is also hoping for a new contract, but the Cowboys aren't in a huge hurry with him. He's not the type of person who will let a contract issue affect his play and the Cowboys are well aware of that.
Injury analysis
Glenn is the only significant issue heading into training camp. Head coach Wade Phillips will go out of his way to rest veterans such as Owens and linebacker Zach Thomas, who both suffered injuries last season. Thomas' season ended early because of a concussion and T.O. wasn't effective in the divisional playoff game against the Giants because of an ankle injury.
Roy's last hurrah?
Roy Williams has become a lightning rod for Cowboys fans. Once among the most feared players in the game, Williams is now a sitting duck for tight ends looking for big gains. Phillips and defensive coordinator Brian Stewart have rushed to the safety's defense, but it's no secret that this could be his final season with the team if he doesn't show improvement.
Training camp start date: July 25
Matt Mosley covers the NFL for ESPN.com
SPONSORED HEADLINES
MORE NFL HEADLINES
MOST SENT STORIES ON ESPN.COM
DIVISION CHECKUP
With the draft way back in the rearview mirror and minicamps over, ESPN.com takes a division-by-division look at every team before training camps begin next month. Training camp dates

•
Arizona: All eyes on quarterback
•
San Francisco: Can Martz rejuvenate offense?
•
Seattle: Hawks hope young WRs emerge
•
St. Louis: Shortcomings at wide receiver
•

Scouts' NFC West roundtable
•
SportsNation:
Vote on who will win West, more
•
Denver: Who's the featured back?
•
Kansas City: Instant impact from picks?
•
Oakland: Turning the corner?
•
San Diego: Runaway train?
•

Scouts' AFC West roundtable
•
SportsNation:
Vote on who will win West, more
•
Atlanta: New beginning
•
Carolina: Fox in the crosshairs
•
New Orleans: Defensive overhaul
•
Tampa Bay: Gruden weathering storm
•

Scouts' NFC South roundtable
•
SportsNation:
Vote on who will win South, more
•
Houston: In the running?
•
Indianapolis: Depth perception
•
Jacksonville: O-line is cause for concern
•
Tennessee: Young saddled with shaky WRs
•

Scouts' AFC South roundtable
•
SportsNation:
Vote on who will win South, more
•
Chicago: Many pressing questions
•
Detroit: Blue-collar mentality
•
Green Bay: Great expectations
•
Minnesota: Meshing new with old
•

Scouts' NFC North roundtable
•
SportsNation:
Vote on who will win North, more
•
Baltimore: Change in the air
•
Cincinnati: Johnson in eye of storm
•
Cleveland: Riding the momentum
•
Pittsburgh: Big Ben armed and ready
•

Scouts' AFC North roundtable
•
SportsNation:
Vote on who will win North, more
•
Dallas: Beware of Ware
•
New York: Will Super Bowl affect focus?
•
Philadelphia: Counting on McNabb
•
Washington: Campbell adapting to Zorn
•

Scouts' NFC East roundtable
•
SportsNation:
Vote on who will win East, more
•
Buffalo: Edwards taking control
•
Miami: Parcells turning up the heat
•
New England: Veterans still hungry
•
New York Jets: Pennington or Clemens?
•

Scouts' AFC East roundtable
•
SportsNation:
Vote on who will win East, more
ESPN FAN SHOP