Commentary
When Upshaw spoke, everyone -- including owners -- listened
Originally Published:
August 22, 2008
By
Lester Munson
| ESPN.com
Nearly 26 years ago, shortly after Gene Upshaw was elected president of the NFL Players Association, he walked into his first bargaining session with NFL owners, and everything changed.
At the time, despite valiant and imaginative attempts to gain leverage for NFL players, the union had accomplished little and was struggling for survival. It was up against a group of owners who operated a cartel that was the most powerful engine of commerce in all of sports. The owners were tough, they enjoyed splendid leadership, and they were unanimous in their resistance to any attempt by players to gain a measure of respect.
Seated beside Ed Garvey, the union's founder and executive director, Upshaw and the union suggested that the players were entitled to a percentage of the NFL's gross revenues. Although it is now the foundation of a partnership that has been a bonanza for both players and owners, that was a radical idea in 1982. It had never been suggested anywhere in sports.
The owners' negotiators reacted in disbelief and fury. Their macho posturing turned ugly when Vince Lombardi Jr., one of the negotiators for the owners, shook a fist at Garvey and shouted, "I ought to come across the table and take a shot at you."
[+] Enlarge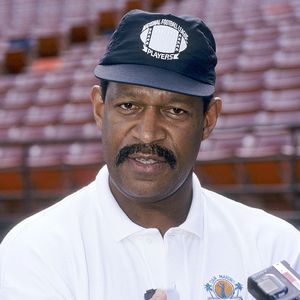 NFL/Getty ImagesGene Upshaw, shown here at the 1993 Pro Bowl, wasn't afraid to take risks, and he made them pay off more often than not.
Without raising his voice, Upshaw told Lombardi, "I'm here. Why don't you take a shot at me?"
In an instant, the posturing came to an end. Upshaw's presence set the tone in the room, and there were no more threats or macho antics. Serious talks about a serious idea began. The discussions were not easy. Upshaw and Garvey remained firm, led the players through a nasty strike and obtained a breakthrough contract.
Garvey later cracked that "If Lombardi actually hit Gene and Gene found out about it, Junior would have been in real trouble."
As player president, Upshaw came after John Mackey and Kermit Alexander, and he soon succeeded Garvey as executive director, as well, inaugurating a quarter-century of leadership that transformed the world of NFL players and gave them bonuses, salaries and benefits that seemed beyond reach in those first negotiations in 1982.
The centerpiece of Upshaw's success for NFL players was his leadership of the battle for free agency that began with a disastrous strike in 1987 and continued through a series of antitrust cases into the early '90s. It was an achievement that rivals, at least, the successes of Marvin Miller for baseball players in the '60s and '70s; and in important ways, it was even more impressive than Miller's accomplishments. Miller outsmarted a group of owners who underestimated him, who were incapable of making a good decision, who could not find lawyers who knew how to help them and who were surprised at what a union could accomplish under American laws.
By the time Upshaw began his battle for free agency, NFL owners knew what Miller had done to their brethren in baseball. They knew the importance of good decisions on labor issues. They knew what a union could accomplish under American law. And, perhaps most important, they enjoyed great leadership under commissioner Pete Rozelle and brilliant legal representation from the firm of Covington and Burling.
Upshaw and the players did not face a clubby group of uninformed and bumbling owners; they faced a tightly organized and brilliantly led group that knew how to make -- and keep -- money.
When the 1987 strike collapsed, Upshaw could easily have made an agreement with the owners with the hope that he could do better in a few years. But knowing that only free agency would compensate NFL players fairly, Upshaw turned in a vastly more difficult direction: He decertified the union to allow the players to seek free agency in antitrust litigation.
It was a strategy of extraordinary risk. Most labor experts would have recommended against it. Too complicated. Too risky. Too expensive.
And too dangerous.
If you lose, you literally face the end of your union.
By decertifying, Upshaw gave up all the legal protections that had been so beneficial to baseball players. In antitrust litigation, he knew he would be up against Covington lawyers who were brilliant and who specialized in scorched-earth wars of attrition.
There is no field of law or litigation where intellectual firepower is more important than it is in antitrust litigation. It involves a complex intersection of antitrust and labor laws, and it relies on concepts of economics that can baffle people with doctorates in economics. Unlike the players' union and Upshaw, who was not a lawyer, the Covington attorneys had been demonstrating their mastery of these issues for decades, and they had represented the NFL since its earliest days.
It took extraordinary vision and fortitude for Upshaw to undertake the battle, and even more to push it through to triumph.
[+] Enlarge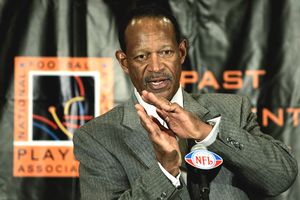 AP Photo/Chris O'MearaIt will be a strange experience for players to enter their next bargaining sessions without Upshaw to lead them.
I have been around courts and lawyers on a daily basis for more than 40 years, and I have not seen a more impressive performance than I watched as Upshaw led his players to free agency. As expected, the Covington firm and the NFL played hard. Upshaw and his lawyers, Jeff Kessler and Jim Quinn, played just as hard, fighting off attacks both petty and important. The legal papers quickly filled entire file cabinets as the NFL tried to drive the union out of existence.
The NFL was splitting the legal bills among 32 owners. It was not a big expense to an individual owner. The union was paying for everything. The NFL lawyers outnumbered the union lawyers on any given day by two or three to one. The issues grew more and more complex. Upshaw found himself explaining the Sherman Act, the nation's basic antitrust law, and its years-long litigation process to a group of football players with an average playing career of fewer than four years. At one point in the corridor of the federal court in Minneapolis, he was explaining the differences between monopoly and monopsony to me, and how that difference led to free agency.
I am a graduate of the University of Chicago Law School. I studied this stuff. And I could barely keep up with him.
Watching Upshaw and his lawyers work, I often wondered when they would give up the fight and try to settle. Things went wrong again and again. The NFL seemed to spring a surprise legal maneuver at least twice each week, all of them brilliant. But through it all, Upshaw sat in the second row of Judge David Doty's courtroom without a glimmer of doubt on his face, somehow knowing that the facts and the law were on his side.
Somehow, a group of Upshaw's players convinced a jury of six women that the NFL was a monopoly, that the league had violated American antitrust laws by trying to restrict player salaries and that it was liable to all players for triple the salaries they had been unable to earn. It was a stunning and breathtaking victory.
Although Upshaw and his lawyers clearly were pleased with their triumph, it was also clear in the moments after the jury verdict that they were ready, under Upshaw's leadership, to take the next step.
The next step was a series of lawsuits and negotiating sessions that ultimately led to a whole new system for the NFL and its players, a collective bargaining agreement that has led to incredible benefits for players and has pushed the owners to the point that they already have stated officially that they want to end it at the earliest opportunity and try for a better deal. After 25 years of Upshaw's leadership, the owners -- rather than the players -- find themselves pleading for more.
In addition to what he gained for active players, Upshaw also established pension and disability benefits that rank with the best in all of American industry. Although Mike Ditka and other older players continue to complain about the plan, the facts are that most older players have benefited enormously from Upshaw's leadership in that area.
Secure in the knowledge that he had established benefits for older players that Ditka and others had never been able to extract from owners, Upshaw did not offer much resistance to the shots that came his way. Most players, both retired and active, understand what Upshaw accomplished for them.
It will be a difficult adjustment for them now to know that when they next face a bargaining session with owners who are demanding concessions, they will have to walk into the room without the leader who changed everything.
Lester Munson, a Chicago lawyer and journalist who reports on investigative and legal issues in the sports industry, is a senior writer for ESPN.com.
Legal Analyst
Senior Writer and Legal Analyst, ESPN.com
13 years as investigative reporter at Sports Illustrated
Adjunct Instructor, Northwestern's Medill School of Journalism
SPONSORED HEADLINES
MORE NFL HEADLINES
MOST SENT STORIES ON ESPN.COM
Gene Upshaw (1945-2008)

Hall of Fame guard (Raiders, 1967-81) and NFL Players Association executive director Gene Upshaw has died of pancreatic cancer at the age of 63. Story | Watch
• Reaction to Upshaw's death | Gallery


News
•
Family, friends celebrate Upshaw at memorial
•
Upshaw to be honored at all weekend games
•
Players to wear uniform patch to honor Upshaw
•
Public memorial to be held Sept. 2
•
Upshaw to be remembered at preseason games
Commentary/features
•
Munson: Gene Upshaw remembered
•
Chadiha: Upshaw's legacy a stronger union
•
Clayton: Upshaw played game hard on, off field
•
Clayton: What's next for NFLPA?
•
Clayton: Who might succeed Upshaw?
•
Garber: Upshaw's achievements (from 2006)
NFL blog network
•
NFL Nation blog: Upshaw
•
Upshaw has on-field legacy too
•
Bitter rival recalls Upshaw
Audio
•
Mike Ditka on Mike & Mike
•
Former NFL executive Ernie Accorsi
•
Former NFL player Robert Smith