Commentary
A tale of two troubled wideouts
When they faced serious legal trouble, two NFL wideouts -- Donte Stallworth and Plaxico Burress -- ran radically different routes.
Driving across the MacArthur Causeway in Miami a few blocks from home in the early morning hours in mid-March, Stallworth was drunk. But nonetheless, he knew what to do when he felt a terrible thud on the front end of his Bentley. He pulled over, tried to help the dying man he'd hit, told the police exactly what happened, and agreed to a blood test.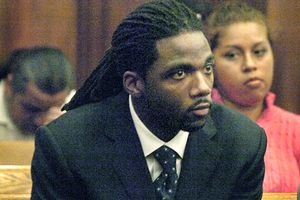 AP Photo/Marice Cohn BandDonte Stallworth said and did all the right things in the wake of a drunk driving incident that killed a pedestrian.
That was the beginning of Stallworth's unconditional acceptance of responsibility for the incident, which led on Tuesday to settlements with the victim's family and with Miami prosecutors, agreements that include a jail term that will end as soon as July 12. With brilliant work from attorney Christopher Lyons added to his own painful acts of integrity and citizenship, Stallworth made the best of a tragic situation. Except for the possibility of further discipline from NFL commissioner Roger Goodell concerning his playing status, he resolved everything in a remarkable three months. He is still a member of the Cleveland Browns, although the team issued a statement this week to the effect that it will continue to evaluate Stallworth's situation.
Burress ran a different pattern. After a few drinks one night late last November, he accidentally shot himself in the leg in a New York nightclub with an unlicensed gun. But instead of calling the police, Burress tried to outsmart them with a clumsy cover-up. Rather than call 911, he had teammate Antonio Pierce phone the Giants' team trainer. He allegedly attempted to hide the gun. He avoided using an ambulance. He gave emergency room personnel a false name. He reportedly persuaded emergency workers at New York-Presbyterian Hospital not to report the bullet wound to the police, as they are required to do.
In the end, he didn't outsmart anyone. After learning on the television news about the gunshot in a crowded nightclub, New York police officers pursued and arrested Burress. A wrathful Mayor Michael Bloomberg ripped into him and the hospital workers publicly, and demanded jail time. The Giants released him in early April.
And now, seven months after the incident, Burress still refuses to consider a guilty plea, ignoring the advice of the estimable Benjamin Brafman, his attorney. As a result, a Super Bowl hero who once had a $35 million contract has no plea bargain with prosecutors, no team and no NFL contract. He faces an almost-certain indictment, a trial in the spring of 2010, and a possible prison sentence that could be significantly longer than Stallworth's 30 days in the Dade County Jail.
[+] Enlarge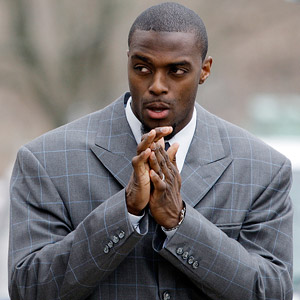 AP Photo/Carolyn KasterPlaxico Burress is using delaying tactics that could allow him to play this fall but could cost him in the long run.
Both Stallworth and Burress were first-round draft picks. Both are blessed with the talent, the speed, the hands and the size to succeed as wide receivers in the NFL. Both are represented by the same agent, Drew Rosenhaus. Both were represented in their legal troubles by expensive, top-of-the-line lawyers. But that's where the similarities end. Stallworth made good decisions again and again; Burress went in the opposite direction.
Goodell obviously will take into account what happened in the New York nightclub and on the Miami causeway when he considers what punishment to levy against the two players under the league's personal conduct policy. But the commissioner will also assess what Stallworth and Burress have done in the months since those incidents occurred. Burress' denials and delays might allow him to play football in the coming season, as several teams apparently are interested in signing him; but he is likely to pay a hefty price with a league-imposed suspension next year when the legal process reaches a conclusion. Stallworth's acceptance of responsibility and expeditious settlement of his legal issues should result in a minimal suspension, if any is levied at all, and his long-term prospects for continuing to play professional football are excellent.
At the beginning of NFL training camps each summer, league officials and the NFL Players Association conduct seminars for rookies, warning them of the pitfalls of NFL life and trying to prepare them for the things that can happen.
If they're looking for new examples on how to respond to trouble, they need look no further than the cases of Stallworth and Burress. Stallworth's actions in the three months after the tragedy on MacArthur Causeway are a clinic on the right things to do. Burress' actions after the gunshot in New York's Latin Quarter are a clinic on what not to do.
Stallworth made a bad situation better. Burress made a bad situation worse.
Lester Munson, a Chicago lawyer and journalist who reports on investigative and legal issues in the sports industry, is a senior writer for ESPN.com.

Legal Analyst
Senior Writer and Legal Analyst, ESPN.com
13 years as investigative reporter at Sports Illustrated
Adjunct Instructor, Northwestern's Medill School of Journalism
SPONSORED HEADLINES
MORE NFL HEADLINES
MOST SENT STORIES ON ESPN.COM
DONTE' STALLWORTH SUSPENDED BY NFL

Browns receiver Donte' Stallworth was suspended by the NFL without pay for the 2009 season following his guilty plea to DUI manslaughter.


NEWS
ANALYSIS/FEATURES
SPORTSNATION
VIDEO
AUDIO
ESPN FAN SHOP