Golden boy has quickly become bad Chucky
Just two years removed from winning the Super Bowl, Bucs coach Jon Gruden is feeling the pressure.
TAMPA, Fla. -- Perhaps no one in the NFL understands the power of American pop culture more than Bucs head coach Jon Gruden.
After all, this is the guy whose gruesome sideline faces are reminiscent of a horror movie icon. You can buy Chucky dolls all over the Tampa area. Conversely, Gruden once made People Magazine's 50 Most Beautiful People list.
So, it was fitting late one afternoon in a meeting of coaches and scouts last month that seeped into the ninth or 10th hour, that Gruden popped in a homemade video highlight reel of Auburn running back Carnell "Cadillac" Williams.
There was Williams doing spin moves, moving the pile and sprinting to the house -- again and again -- with Bruce Springsteen's "Cadillac Ranch" playing in the background.
The boss was using the Boss to make a point.
"I told them, 'Hey, we're getting a really good player,'" said Gruden, who remembered how the room erupted into high fives. "It lightened the load around here."
The Bucs, after flirting with trading up to take quarterback Alex Smith, selected Williams with the fifth overall pick. And Gruden plans to hand him the rock and ask the rookie running back to carry the franchise back to prominence.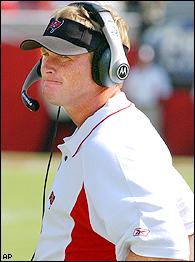 The Bucs have followed up a Super Bowl season with two straight losing years.
And Gruden knows it's a heavy load, too. After winning Super Bowl XXXVII in his first year as the Bucs' head coach, Gruden has barely kept the pirate ship afloat. Since beating Gruden's old team, the
Oakland Raiders
, to capture the Lombardi Trophy after the 2002 season, the Bucs have a record of 12-20, a .375 winning percentage. That's the worst record of any team in the two years after winning the Super Bowl.
Of course, there have been the predictable cries that Gruden didn't actually win the Super Bowl -- that Tony Dungy's players won it and Gruden was just along for the ride. Well, of course, you could say that about nearly every head coach. Nevertheless, Gruden wears the ring. But he is also aware of the criticism. And he also hears the footsteps and understands the notoriously short attention span of the Glazers, who own the Buccaneers but were so sidetracked recently by their pursuit of international soccer giant Manchester United that they failed to send one of the family members to a news conference announcing Tampa's plans to bring the Super Bowl back to the city.
"I got to figure this out or before long I'll be hosting Inside the Huddle," said Gruden, referencing a SportsCenter segment by ESPN.com's John Clayton.
And if you think the Glazers wouldn't fire Gruden just because he brought them the hardware, remember this: They were talking to Bill Parcells about replacing Dungy as Dungy was preparing to play the Eagles in the playoffs three years ago. The Bucs lost 31-9, Dungy was gone and Gruden eventually was hired.
We all know the story of what the Glazers mortgaged to get Gruden from Al Davis, but it's worth repeating. The price was a boatload of draft picks. Add to that the two first-round picks former general manager Rich McKay gave Parcells to get long-gone Keyshawn Johnson in 2000 and you have a cupboard that had been raided for a long period of time.
The deals McKay cut with Johnson and defensive end Simeon Rice (his $11 million-plus cap charge is one of the highest in the league) and the Bucs are also in salary-cap purgatory.
All offseason, Gruden yearned for a third wide receiver, a veteran to complement 2004 rookie sensation Michael Clayton and oft-injured Joey Galloway. Former Steeler Plaxico Burress was hanging out there for a while.
"But I have no money," Gruden said. "I got Ike Hilliard and Freddie Mitchell calling me for a job. What am I going to do?"
He did sign Hilliard last week for what amounts to the glorified league minimum, but he has added a wide receiver who did not catch a touchdown pass last season.
The Bucs have only one player on offense who is a Pro Bowler -- Mike Alstott, who has been voted to the all-star squad as a fullback, a position he doesn't even play. Nevertheless, Alstott was one of 10 Pro Bowlers the Bucs drafted in the 1990s. Since the year 2000, they have not drafted a single player who has gone to Hawaii. Only three other teams have had such a poor drafting record.
And Gruden has had a hand in four of those Bucs drafts. In the last two -- after McKay was happy to leave for the general manager's job in Atlanta -- Gruden has had more control in conjunction with his new partner, general manager Bruce Allen, who worked with Gruden in Oakland.
Allen was the front man for the purge of Warren Sapp, John Lynch and others, which left the fans wondering where this team was headed. The answer was a 5-11 finish last season, good enough for last place in the NFC South, one of the league's weaker divisions.
Return to Yucksville
It's safe to say that when he won the Super Bowl, Gruden finally emblazoned Tampa on the big time professional sports map. He made the Tampa Bay Yucs label a distant memory. But lately the endurance of that turnaround has been a hard sell -- even among the faithful in this town.
The major-league baseball team, the Devil Rays -- although they beat up on the Yankees last week -- are an annual joke. The NHL club, the Lightning, was the last team to win the Stanley Cup. But a lockout has deprived the city of the team and a year's worth of reverie.
Even the NFL slapped the not-ready-for-primetime label back on Tampa. For the first time in eight years, the Bucs will not play in prime time -- a far cry from two seasons ago, when they opened Philadelphia's new stadium, Lincoln Financial Field, by dominating the Eagles under the lights on Monday night. And that's what this city is afraid of -- a trip back to Yucksville.
2004 SEASON STATISTICS

Att
Comp
PaTD
RuTD
Int
Rat
336
233
20
0
12
97.5
All that said, the Bucs' 2004 season contained several bright spots. Quarterback
Brian Griese
, much maligned for late-game brain lock, did complete a league-high 69 percent of his passes, the best completion rate of any quarterback since Steve Young connected on 70 percent of his passes in 1994. His quarterback rating was 97.5, but his yards-per-attempt was a lowly 7.83. So, he threw a lot of high-percentage passes. Translation: The Bucs were efficient on offense, but not terribly effective. They only scored 18.8 points per game -- a total of 301 points last season, or fewest in their division.
Coincidentally, they scored 301 points in 2003, too. For an offensive-centric head coach such as Gruden, this is no minor embarrassment. Thus, put simply, Gruden is looking for more touchdowns.
This is where the new draft picks come in. Williams must bring some instant offense, or he simply won't justify being picked so high. The other potential impact player is tight end Alex Smith of Stanford. He wasn't brought in for his blocking, although he will have to be taught to chip the defensive ends because Gruden plays a lot of two tight end sets to offset the weak pass-blocking of his tackles. But look for Smith (please don't call him "the other Alex Smith"; he doesn't like it) to be set free down the middle of the field.
Another continuing bright spot was the defense. In 2004, the Bucs allowed only 304 points, also fewest in the division. That works out to 19 points a game on the nose. So, defensive coordinator Monte Kiffin is still working his magic. The Bucs are still the toughest team in the league to throw on. Apologies to New England's Bill Belichick, but last season Tampa led the NFL in pass defense.
But do the math. The Bucs scored 18.8 points a game last season. And gave up 19. That's very little margin for error, putting a lot of pressure on the defense to win games -- the same old story with this franchise.
| | | |
| --- | --- | --- |
| | " | I got to figure this out or before long I'll be hosting Inside the Huddle." |
| | | —Jon Gruden |
Gruden desperately wants to break the vicious cycle by putting more pressure on his offense to be more responsive in a crisis – and more productive in the end. It might be the only way to save his job.
And, as usual, he's grinding it out, trying to find an answer. Take last week. On a rainy late spring day in Tampa, Gruden was hunkered down in his office, waiting to do Jim Rome's radio show.
The lights were turned off, and he was staring into a TV screen. Now playing: the Bucs' offense against the Carolina Panthers' pass defense.
"What are you working on, coach?"
"Blitz pickup in the nickel package," he said, his eyes a bit bleary.
Guess who has to learn blitz pickup in nickel situations?
Cadillac Williams.
Sal Paolantonio, who wrote about the Eagles for the Philadelphia Inquirer during 1993-94, covers the NFL for ESPN.
SportsCenter correspondent / NFL reporter
Sal Paolantonio joined ESPN as a SportsCenter correspondent in August 1995, primarily reporting on the NFL. Beginning in 2004, he also served as host of NFL Match-Up, a weekly "Xs and Os" football show produced by NFL Films.
EDITORS' PICKS
Nick Foles showed the kind of toughness under pressure that could define his future.
Sheridan »

Russell Wilson led the Seahawks' winning drive in OT, outdoing Peyton Manning.
Blount »

The 49ers imploded in the second half again as the Cards rallied to stay unbeaten.
Gutierrez »