Commentary
Overhyped: Favre didn't deliver in second half of career
No matter how many dumb passes he threw and how many playoff games he lost, Brett Favre remained immune to criticism in the second half of his career, writes Sal Paolantonio.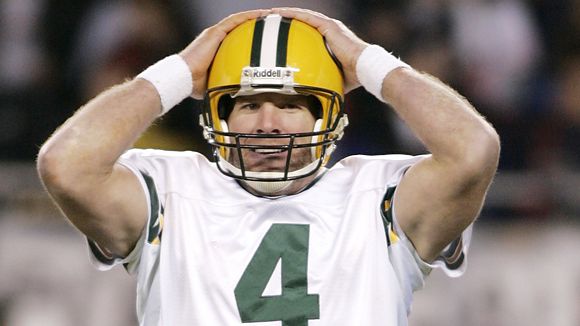 Scott Boehm/Getty ImagesIn the playoffs, Brett Favre was 3-5 with 14 touchdown passes and 16 interceptions.
We interrupt the continued deification of
Brett Favre
-- a first-ballot Hall of Famer and the most durable player in NFL history -- with the following reality check.
Yes, Favre played long enough to throw the most touchdown passes and collect the most wins by an NFL quarterback. But let's examine the second half of No. 4's career. The truth is, Favre did little over the past decade to earn the gushing praise heaped upon him by our fawning brethren in the media.
Best-Ever Debate

In his 17 seasons, Brett Favre set numerous NFL records, including most yards passing (61,655) and most touchdowns (442).
But do those numbers, combined with Favre's three MVP awards and one Super Bowl victory, put him among the top 10 quarterbacks of all time?
Recently, ESPN.com's Mike Sando and Football Outsiders' Aaron Schatz examined the best-ever debate.

After beating the San Francisco 49ers in the 1997 NFC Championship Game, Favre won just three of his last 10 playoff games. Eli Manning had more postseason wins in a 29-day span this past season than Favre had in his last decade with the Green Bay Packers.
Yes, Favre won a Super Bowl -- 11 years ago! But as his career arc spiraled downward, the blind adulation only got worse.
Favre's passer rating in his last 12 postseason games was a pedestrian 77.8. In his last five wild-card games, he went 2-3 with more interceptions (nine) than touchdown passes (seven). In his last three divisional playoff games, he went 1-2 with seven TDs and seven interceptions. That's a 3-5 record with 14 touchdown passes and 16 picks.
In two of his last four postseason appearances, Favre threw two of the most unthinkable playoff interceptions in NFL history, both in overtime -- to Brian Dawkins of the Philadelphia Eagles in 2003 and to Corey Webster of the New York Giants in January. In fact, Favre is the only quarterback in NFL history to throw overtime interceptions in two playoff games. In his last nine playoff games, Favre threw 18 interceptions.
[+] Enlarge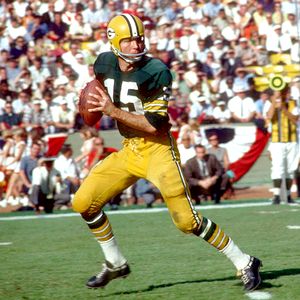 Malcolm Emmons/US PresswireBrett Favre's career playoff record was 12-10. Fellow Packer star quarterback Bart Starr, above, was 9-1.
In the first 81 years of the Green Bay franchise, the most hallowed in all of pro football, the Packers were 13-0 at home in the postseason. But since 2002, the Packers have gone 2-3 in playoff games at Lambeau Field, with Favre losing to three not-quite Hall of Fame quarterbacks:
Michael Vick
,
Daunte Culpepper
and Manning.
If Manning had a decade like that, he'd be run out of New York. If Philip Rivers kept chucking ridiculous overtime interceptions in the postseason, he would be branded a first-round bust. If Drew Brees came up short in three out of five home playoff games, he'd be mocked.
But no matter how many dumb passes he threw and how many playoff games he lost, Favre remains immune to criticism.
Favre isn't even the greatest quarterback in the history of the Packers. It's not even close. Bart Starr won five NFL championships -- four more than Favre -- and retired as the NFL's most accurate passer.
Oh, you say Starr was surrounded by a Hall of Fame roster with a legendary coach. But Starr still is the NFL record holder with a 104.8 career playoff passer rating, nearly 20 points higher than Favre's. That wasn't Vince Lombardi or Ray Nitschke throwing those passes for Starr, whose career postseason passer rating, by the way, is 38 points higher than Johnny Unitas'.
Favre's career playoff record was 12-10. Starr's was 9-1 -- without the benefit of wild-card games. Favre threw 28 interceptions in 22 playoff games. Starr threw three in 10. Think about that -- just three picks in 213 postseason attempts.
But Bart Starr gets the Ringo Starr treatment -- underappreciated and overlooked. Favre gets put on a pedestal. Yes, he had a Pro Bowl season in 2007 with the youngest roster in the NFL. But his final moment on Lambeau Field was a wildly errant pass that turned into the NFC title for the Giants.
Indeed, a decade after his last moments of glory, the football hype machine continues to paint Favre as a hallowed icon of Americana, a symbol of all that is right with sports, a Wild West gun-slinging good ol' boy. There's Brett on the farm! There's Brett with his family! There's Brett on the cover of Sports Illustrated! There's Brett throwing another overtime interception!
Favre was among the best in the game, once upon a time. Those days are long gone. Only the idolatry remains.
This is adapted from the best-selling book "The Paolantonio Report: The Most Overrated and Underrated Players, Teams, Coaches and Moments in NFL History" by Sal Paolantonio with Reuben Frank, which is available in local bookstores and at Amazon.com.
SportsCenter correspondent / NFL reporter
Sal Paolantonio joined ESPN as a SportsCenter correspondent in August 1995, primarily reporting on the NFL. Beginning in 2004, he also served as host of NFL Match-Up, a weekly "Xs and Os" football show produced by NFL Films.
BRETT FAVRE SAGA: OVER
After pushing and pushing to keep playing either in Green Bay or elsewhere, Brett Favre's storied career will continue in 2008. The unretired quarterback has been traded by the Packers to the Jets.
NFC North blog | AFC East blog
News
•
Favre on offseason saga: 'I knew I wanted to play'
•
Favre unlikely to play in Jets' preseason finale
•
Report: Pack's Favre deal included souvenirs, blog
•
On Day 5 with Jets, Favre says arm feels 'fatigued'
•
Favre finally arrives in New York, meets mayor
•
Rodgers: 'Still following Brett's legacy'
•
Jets introduce Favre in Cleveland
•
Favre era ends in Green Bay with trade to Jets
•
Favre leaves Green Bay, destination unknown
•
Favre: 'This probably isn't going to work'
•
Favre flying under radar in Green Bay
•
Favre: Reinstatement done, Green Bay flight set
•
Favre mulling offer; NFL ruling put off again
•
Favre actively weighing Packers' offer
•
Report: Packers mull dealing Favre in division
•
Team president meeting with Favre, agent
•
Source: Favre files for reinstatement
•
Rodgers takes over as starting QB
•
Favre signs reinstatement letter, waits to send
•
Favre won't report to Packers camp Sunday
•
Sources: Favre, Packers talk trade destinations
•
Favre support muted at shareholders meeting
•
Report: Favre doesn't have team-issued phone
•
Report: NFL security visits Vikings
•
Favre questions likely from shareholders
•
Packers reportedly weigh trade offers for Favre
•
Favre returns to Lambeau Field
•
Packers president supports GM, coach
•
What they're saying about Favre
•
Favre won't apply for reinstatement right away
•
Sources: Packers claim Vikings tampered
•
Favre may show up at camp
•
Favre 'clears it up' in interview with Fox
•
Few fans attend Favre rally in Milwaukee
•
Pack fans rally, calling for Favre reinstatement
•
Pack won't release Favre
•
Sources: Favre seeks unconditional release
•
Favre itching to return to field
Trade Commentary/Features
•
Clayton: History doesn't favor Favre, Jets
•
Chadiha: Packers will be fine without Favre
•
Wojciechowski: Divorce cause? Lack of trust
•
Clayton: Deal is a downer for Favre
•
Scouts Inc.: Jets now a playoff contender

•
Clayton: Questions, answers on Favre trade
•
Fantasy spin: Deal boosts value of many Jets
Other Commentary/Features
•
Clayton: 5 reasons Favre would start for Pack
•
Mosley: Favre is QB turned ringmaster
•
Wojciechowski: Favre and away the best solution
•
Clayton: Favre wins ugly duel
•
Clayton: It's a painful divorce
•
Chadiha: Rodgers unfazed by Favre circus
•
Yasinskas: Favre makes sense for Bucs
•
Wojciechowski: Packers can't win this game
•
Clayton: It's a delicate situation
•
Wright Thompson: Catching Favre's fastballs
•
Wojciechowski: What's the answer, Packers?
•
Williamson: Where could he end up?
•
Seifert: What happens after HOF QBs move on
•
Paolantonio: Favre is overhyped
•
Kiper: 2005 analysis of prospect Rodgers
•
Madden '09 cover boy Favre to stay retired
•
Thompson: Brett, we miss you already
•
Wojciechowski: Worth the price of admission
•
Price of signed Favre items to go up
•
Yasinskas: Rodgers ready to take the reins
•
FB Outsiders: Measuring Favre's greatness
•
Sando: Gunslinger mentality defined Favre
•
Yasinskas: Majkowski on Favre's legacy
•
Clayton: Questions surrounding Favre
•
Clayton: Packers will miss Favre's magic
•
Chadiha: Favre will regret decision
•
Keating: Favre just getting started
•
Hashmarks: Favre fun-loving guy
•
Burning Questions: Is Rodgers ready?
•
Experts: Is Favre the best, or among them?
•
Favre's top 10 moments
•
Forde: Favre's flair for dramatic started in college
•
Favre's rating in Mel Kiper's '91 draft guide
•
Favre's hometown quiet on day of his retirement
•
Sadness, shock envelops Green Bay
•
Wounded Army officer has last ball thrown
•
Around sports: What they're saying
•
Fantasy spin: Rodgers not top-20 QB
•
Scouts: Rodgers has talent to succeed

•
Packers local: Complete hometown coverage
Video
•
Favre traded to Jets for conditional pick
•
Jets GM on trade for Favre, imminent release of Pennington
•
Steve Young on Favre's Jets future
•
Cris Carter on what trade means to Jets?
•
Schlereth: Exciting news for Jets
•
Sal Pal on Favre's move to AFC
•
Rachel Nichols on Favre's pre-trade mindset
•
Favre interview: Part 3
|
2
|
1
SportsNation
•
How will Jets do with Favre behind center?
•
Fans react to Favre's retirement
Photo Galleries
•
Favre flashback
•
Top TD guns
•
Top TD targets

MOST SENT STORIES ON ESPN.COM