Commentary
If Goodell asks tough questions, Spygate could finally die
As much as many people would like to dismiss Spygate, several questions remain. It's Roger Goodell's job to seek answers to those questions when he meets with Matt Walsh on Tuesday, writes Sal Paolantonio.
In the days since former New England Patriots video assistant Matt Walsh emerged from his Maui hideaway and surrendered eight tapes to the NFL, there has been a hasty conclusion that the whole sordid Spygate affair is finally finished -- a judgment reached by some of the media before NFL commissioner Roger Goodell has had the chance to depose Walsh by asking some tough, pointed questions.
That's a bad idea. The world of pro football has waited since February for Walsh to step before Goodell -- and hopefully this time the commissioner won't be in a rush to dismiss the possible implications.
Instead, on Tuesday in New York, Goodell should grill Walsh and sort out some still unresolved issues regarding Bill Belichick's now-documented system of cheating, which is clear from Walsh's tapes that go back seven years.
As far as we know, Walsh is the first person currently with no ties to the Patriots organization with direct knowledge of Belichick's videotaping shenanigans who will be answering the commissioner's questions, and Walsh can provide some much-needed context, background and intent.
Intent is critical. Why? Well, when Belichick was first punished by Goodell in September 2007 for illegally taping the defensive signals of the New York Jets at the Meadowlands, the Patriots' head coach said he had no idea he was doing anything illicit.
[+] Enlarge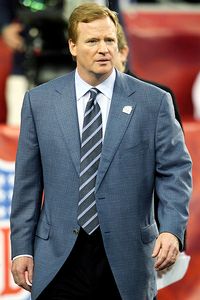 Paul Spinelli/Getty ImagesWill Roger Goodell finally get to the bottom of Spygate? Only if he puts Matt Walsh on the spot, Sal Paolantonio writes.
So, Goodell should pursue a very simple line of questioning to test Belichick's original contention that he was ignorant of the league rules: When Walsh was taping the opponents' sidelines, how much was he told to conceal his activities? What measures were taken to conceal his taping? How concerned were his superiors that what Walsh was doing would be uncovered by a member of the opposing team? Was Walsh worried about getting caught? Why?
What kind of instruction did Walsh get in how to tape the opposition's sideline? Who gave Walsh those instructions? Whom did he report to?
What happened to the tapes? Where did they go? Who analyzed the tapes of the defensive signals? Were there written reports based on the tapes? Who wrote those reports? And, more important, who saw the reports or was told what was in them? Did Tom Brady? Or Charlie Weis, when he was offensive coordinator during the Patriots' run of Super Bowl titles?
What was Walsh told about why this widespread practice of taping the opponents' defensive signals was vital to how the Patriots prepared for an opponent?
These will be difficult questions for Goodell to ask. Why? Because the commissioner has already said publicly many times, dating to September, that he believed the Patriots derived "minimal" benefit from their secret, illegal taping system. Questioning Walsh along those lines may reveal information that contradicts Goodell's earlier conclusions. Nevertheless, Goodell should have the courage to ask them.
Who knows what kind of credibility Walsh will exhibit when he speaks with Goodell -- after all, Walsh was fired by the Patriots for, according to the team, secretly taping telephone conversations.
But Walsh has already provided some valuable context. In September, the Patriots handed over what Goodell described as "six tapes … from the preseason in 2007 and the rest were primarily late in the 2006 season." Goodell said this at the Super Bowl in Arizona, on Feb. 1, 2008, answering a direct question about how far back the illegal taping went.
Now, it's clear from Walsh's tapes that the illegal taping went back to 2000. When Goodell punished Belichick and the Patriots, did he know the illegal taping went back to 2000? If not, would the punishment have been more severe?
The league clearly wants Walsh's appearance on Tuesday to end the Spygate nightmare. The Patriots certainly do.
Patriots owner Robert Kraft and Belichick have already apologized both publicly and to their colleagues -- the latter happening at the NFL owners meeting in Florida in March. The affected teams -- the Jets and the Steelers, in particular -- have all moved on, perhaps because there is a well-worn tradition of skirting the rules in pro football.
Goodell has already announced that he will hold a press briefing after his meeting with Walsh. A room at a swanky midtown Manhattan hotel has already been booked. Clearly, the commissioner wants to put a nice, neat bow on the affair after Walsh leaves town.
Walsh's videotapes did not include the so-called smoking gun, proof that the Patriots taped the St. Louis Rams' walk-through the night before the Super Bowl in 2002. Last week, Michael N. Levy, Walsh's attorney, said Walsh never claimed to have such a tape, never was a source of speculation that a tape existed, and was not the source of the Boston Herald story on Feb. 2, 2008 that said the Patriots taped the Rams walk-through.
So, here's another question the commissioner should ask Walsh: Why didn't he come forward weeks and weeks ago and say that he did not have a tape of the Rams' walk-through?
Why did Walsh let his former employer twist in the wind so long?
We probably know the answer to that question.
Sal Paolantonio covers the NFL for ESPN.
SportsCenter correspondent / NFL reporter
Sal Paolantonio joined ESPN as a SportsCenter correspondent in August 1995, primarily reporting on the NFL. Beginning in 2004, he also served as host of NFL Match-Up, a weekly "Xs and Os" football show produced by NFL Films.
SPONSORED HEADLINES
MORE NFL HEADLINES
MOST SENT STORIES ON ESPN.COM
SPY GAMES
Former Patriots employee Matt Walsh met with NFL commissioner Roger Goodell and Sen. Arlen Specter to discuss Patriots' illegal videotaping.
Story
More News
•
Belichick says he made 'mistake'
•
Herald reporter: Sources never saw tape
•
Walsh admits he knew it was wrong
•
Senator wants inquiry
|
Read it (pdf)
•
Fish: Would Congress investigate Pats?
•
Boston Herald apologizes for false report
•
Clayton: Five things we learned from Spygate
•
Walsh sends eight tapes to NFL
•
Fish: Pats stole offensive signs
|
Timeline
•
Clayton: Spygate will expire quietly
•
Former Pats employee sends tapes to league
•
Fish: NFL faces serious questions
•
Goodell to punish Pats, depending on evidence
•
Walsh, NFL to finally talk
|
Agreement
•
Goodell growing impatient with Walsh stalemate
•
Kraft, Belichick apologize to owners
•
Walsh still working on deal for testimony
•
Rams player, fans withdraw lawsuit
•
Spygate revelations might not be imminent
•
NFL, Walsh close to deal to turn over tapes
•
Report: Specter calls on Goodell to release letters
•
Report: Goodell proposes crackdown on cheating
•
Specter says Pats 'stonewalling' Spygate probe
•
Committee lauds Goodell's handling of Spygate
•
Goodell hoping deal to talk to Walsh close to done
•
Report: Belichick denies Pats taped Rams' drills
•
Walsh's attorney: NFL indemnity offer falls short
•
Specter prepared to extend Spygate investigation
•
Goodell has no regrets about destroying tapes
•
Source: Specter wants NFL indemnity for witness
•
Goodell, Specter to discuss Spygate Wednesday
Commentary
•
Mortensen: What were Rams thinking?
•
Yasinskas: Spygate stench won't go away
•
Paolantonio: Goodell's Spygate responsibility
•
Clayton: Spygate closing with a whimper
At The Pro Bowl
News
•
Ex-Pats video assistant mum on Spygate probe
At The Super Bowl
News
•
Goodell willing to give Pats' Walsh indemnification
•
Goodell, Specter won't meet until after Pro Bowl
•
Vermeil doubts spying made difference for Pats
•&nbsp
Goodell to meet with Sen. Specter about Spygate
•&nbsp
Report: N.E. taped Rams before XXXVI
•
Fish: Ex-Ram Warner suspicious of Pats
•
Specter to Goodell: Let's talk
•
Fish: Possible 'Spygate' witness surfaces
Commentary
•
Once burned, Goodell turns fireman
•
Munson: Congressional interest is serious business
•
Pasquarelli: Specter should stick with politics
•
Clayton: Spy saga won't distract Patriots
•
Hashmarks at Goodell's news conference
Letters
•&nbsp
Specter to Goodell (.pdf)
•&nbsp
Goodell to Specter (.pdf)
From September
News
•
NFL has all materials from Pats in spying scandal
•
NFL reviews how tape leaked to Fox
•
Belichick to turn over materials in spying probe
•
Pats owner perturbed by Belichick's spy games
•
Goodell orders Pats to turn over all video
•
Sources: Patriots give Belichick extension
•
Wilson spies inconsistencies in Belichick case
•
NFL fines Belichick $500K, Pats $250K for spying
•
Bill Belichick's apology to Patriots community
•
Clayton Q&A: Patriots can survive this penalty
•
Two days later, Belichick still won't comment
•
Some Eagles question Pats' tactics in Super Bowl
•
Belichick issues apology amid accusations
•
Sources: Goodell determines Patriots broke rules
Commentary
•
Clayton: NFL penalty for Belichick, Pats too light
•
Mosley: Pats lose first-rounder? Roger that
•
Scouts Inc.: What the Pats will miss in '08 draft
•
Chadiha: Legal spying widespread in NFL
•
Sando: What's legal, what's not in spy game
•
What they're saying: Players, coaches, pundits
•
Luksa: Spy stories once had comedic value
•
Bryant: Belichick deserves two-week banishment
•
Clayton: Goodell to treat breech seriously
•
Simmons: The camera doesn't lie
•
Simmons: Cheating not necessary to win opener
Video

•
What should happen to the Pats?
•
Belichick deflects videotape-related questions
•
Former Patriot thinks team should be punished
•
Reactions from around the league
Audio

•
Mike Vrabel, Pats linebacker: Don't criticize the players

•
Chris Mortensen: Situation might motivate the Patriots

•
Keyshawn: It was 'scouting,' not cheating

•
Salisbury: Story blown out of proportion

SportsNation
•
Vote: Was New England's punishment fair?
•
Mixed reader results on NFL spying