Teams reserve judgment after Week 1
Regardless of how good or bad offseason additions performed in Week 1, emphasis has been placed on keeping things in perspective.
Updated:
September 11, 2003, 8:32 AM ET
By
Len Pasquarelli
| ESPN.com
Since his family tree includes a grandfather who was once governor of Pennsylvania, it was hardly surprising that Buffalo Bills general manager Tom Donahoe offered a political assessment of his club's opening game performance, as he bounded from the press box on Sunday afternoon following a shutout victory over the New England Patriots.
"Nice way to start, huh?" said Donahoe, the architect of a refurbishing plan that appears to have nudged the Bills back toward the top of the league's feeding chain, and has the team's loyal fans stoked again. "But, then, it's only … ."
Yeah, yeah, yeah. We know the drill, Tom, and the rhetoric, too. It's the opening day mantra, win or lose, of every NFL head coach and general manager in the aftermath of the initial weekend of the season. It's only one game.
| | | |
| --- | --- | --- |
| | " | It's where you finish the trip and not how you start it. " |
| | | —Bucs S Dwight Smith, following the impressive Week 1 win over Philadelphia |
And, indeed, from a CD player tucked in the back of a Buffalo player's locker stall after the game emanated the soulfully velvet tones of the late Barry White, reminding everyone within earshot that you've got to have staying power. A selection very appropriate to the moment, since the Bills' 31-0 shellacking of the Patriots won't mean much three months from now, should the Buffalo defense suddenly revert to its 2002 form.
But for one week, at least, the investment of Bills owner Ralph Wilson, a $21.8 million outlay to four new defensive starters in 2003 to subsidize a unit far too porous against the run only a year ago, appears to have been money well spent. "A lot better than the stock market," gushed Wilson, the Bills owner who desperately wants to win a Super Bowl title and is willing to pay the price.
As is the case with the Dow-Jones, though, last weekend offered just a brief glimpse of how some teams' offseason stock maneuvers might pan out. The same day trader who is quick with the computer mouse, and believes he can discern a trend even before it fully develops, could yet see Sunday's gains morph into December's losses.
On opening day, even as impressive as some franchises and individual players were, the NFL remains a four-month futures market.
"It's where you finish the trip," admonished Tampa Bay safety Dwight Smith on Monday night, "and not how you start it."
Still, when one considers the performance of the rebuilt Buffalo defense or the improved defenses in Kansas City and Seattle, the first impression is that those clubs succeeded in the offseason in addressing their most notable shortcomings. Projecting the outcome of the 2003 campaign, using just last weekend's Kodak moment as the prism through which all things are filtered, is a dicey gambit.
But one might deduce that some teams certainly took a first step forward in validating the roster alterations they enacted in the spring and summer. And some might predict a few other moves -- perhaps the Chicago Bears' acquisition of quarterback Kordell Stewart, the choice of Kyle Boller as the starter in Baltimore, or Arizona's addition of Emmitt Smith -- will turn out poorly.
Great care should be taken, though, in such projections.
At first glance, for instance, the decision by Cleveland Browns coach Butch Davis to dump his entire veteran linebacker corps in the offseason, and to go with three second-year youngsters as starters, seemed hardly a ringing success. But the trio of Ben Taylor, Andra Davis and Kevin Bentley actually played well in their first NFL starts. The three helped keep the Indianapolis Colts out of the end zone and, in a 9-6 defeat, the group totaled 22 tackles. Taylor had 11 tackles, an interception and a pass defensed. The loss aside, the Cleveland linebackers certainly offered hope for the future.
On the flip side, Denver coach Mike Shanahan, nonplussed by the abysmal performance of Jake Plummer, had better hope his quarterback gets better than he was at Cincinnati last Sunday afternoon. Plummer completed just 12 of 25 passes for 115 yards, had three interceptions, a passer rating of 26.7, and completed but three passes to wide receivers. More so than most opening week performances, we feel this one augurs poorly for the long run, but we have long espoused that Plummer will not flourish in his new address.
Said tight end Shannon Sharpe: "It's one game. You don't bring in the jury and ask them for their verdict just yet, OK?"
Fair enough but, based on first impressions, here's how some of the more high-profile offseason moves might work out:
Having seen the Buffalo defense four times in preseason, including a scrimmage in which the Bills dominated the Browns, it's difficult to believe the unit won't be vastly improved over a year ago. The additions of tackle Sam Adams, linebackers Jeff Posey and Takeo Spikes and strong safety Lawyer Milloy were huge individually and even more significant collectively. The Bills could be a top 10 defense, and Spikes will finally merit the attention he deserves, along with a Pro Bowl berth.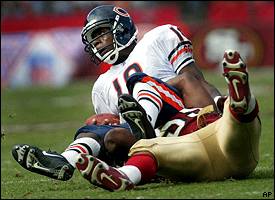 Kordell Stewart threw three interceptions in his first game with the Bears.
Some franchises might need an exorcist even more than a new head coach. Marvin Lewis reshaped the Cincinnati defense, with four new front seven starters, and the club still surrendered 184 rushing yards. The crystal ball says the Bengals defense will get better, but not until the second half of the season.
Stewart will continue to struggle in Chicago and, by late November, first-rounder Rex Grossman will get some starts, as general manager Jerry Angelo begins looking toward a future that doesn't include current head coach Dick Jauron. The change of scenery simply isn't enough to heal the scars Stewart suffered in the past. Thankfully, for the Bears, they didn't over-invest in the veteran quarterback. Nor will a new locale, and a new offense, keep Plummer from heaving more interceptions than touchdown passes. Maybe Shanahan doesn't know quarterbacks as well as everyone thinks, huh?
Most observers feel that Ravens rookie quarterback Boller will be a star in the league, and we tend to agree, in the long run. He'd better be good because, given Brian Billick's track record at choosing quarterbacks, he's on his final chance. Boller will suffer typical rookie quarterback growing pains, but will be markedly better by the second half of the year, although the Ravens will fall shy of the playoff berth some pundits have predicted.
Emmitt Smith will put a few more fannies in the seats at Sun Devil Stadium, and will rush for 1,000 yards, in what will be his final NFL season. What neither he nor veteran quarterback Jeff Blake will do, however, is put enough wins on the board to save the job of classy head coach Dave McGinnis. The Cardinals are better. The investments in Blake and Smith were good ones. Just not good enough.
The additions of end Vonnie Holliday, linebacker Shawn Barber and cornerback Dexter McCleon to the Kansas City defense appear well-advised. Enough to catapult the Chiefs' once-bedraggled unit into the top statistical half of the defensive rankings? Maybe so. Barber is very active and was flying all over the field on Sunday afternoon. McCleon is better than some of the defensive backs now lining up for the St. Louis team that cut him. On Holliday, well, we'll withhold judgement. Sure, he had three sacks Sunday, but that is his track record. The guy gets sacks in bunches and then disappears for a long stretch and does nothing but play the run.
At least for this week, it seems, the Dan Snyder bashers are silenced. Virtually every one of the veterans he imported in the offseason contributed nicely to last Thursday's victory over the New York Jets. And the way Laveranues Coles played, especially in a first half when he dominated the secondary of his onetime employers, no one is quibbling about the gaudy $13 million signing bonus he received. If young quarterback Patrick Ramsey plays well, Coles will be a Pro Bowl player.
Junior Seau and Sammy Knight combined for 15 tackles in Miami's ignominious loss to Houston on Sunday so, on paper at least, they played well. But neither authored a truly big play, so we'll keep watching to see what they do in coming weeks. They were meant to be the final puzzle pieces for the Dolphins defense. But after Sunday, the team looks like a scrambled jig-saw.
Statistically, the New Orleans defense surrendered just 270 yards in a 27-10 defeat at Seattle, and our suspicion is that the unit simply needs some more time together. It's hard to mix and match so many new starters and have the work in progress accelerated. This is another case where the jury is still out.

Len Pasquarelli is a senior writer for ESPN.com.
EDITORS' PICKS
Odd jobs and a stint with NFL Europe's Rhein Fire prepped Jim Tomsula for his role as the 49ers' coach.
Gutierrez »

The league's extensive analysis of in-game data may yield endless possibilities for the future of the game.
Seifert »

If Adrian Peterson's court victory doesn't mean he's been reinstated, what does it mean? We sort it all out.
Seifert »
Nike Toddler Home Game Jersey Kansas City Chiefs Alex Smith #11 Shop »

MOST SENT STORIES ON ESPN.COM