Players returning from injury could help
Some contending teams could get a boost from players coming off the physically unable to perform list.
Updated:
October 17, 2003, 6:40 PM ET
By
Len Pasquarelli
| ESPN.com
For the Carolina Panthers fans, who fret over the lack of vertical dimension in the team's usually moribund passing attack, help might be on the way. There could be, in a couple of weeks, some boost to the running games of the Minnesota Vikings and Buffalo Bills. And the New England Patriots, who have started the same offensive line combination just twice in six games, will maybe add some experienced reinforcements next month.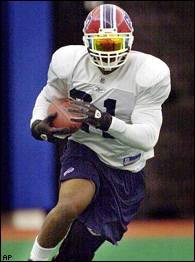 Willis McGahee began practicing this week for the Bills.
The operative terms here, of course, are
might
,
could
and
maybe
.
But those are the terms typically inherent to the NFL's physically unable to perform list, a kind of life-in-limbo existence for the players assigned there, but also a potential source of late-season succor for franchises able to take advantage of it.
Players on the so-called PUP list characteristically are those not fully rehabilitated in camp from injuries suffered the previous season or sustained in the offseason. Unlike players who are on injured reserve, they are not sidelined for the entire year, but cannot practice the first six weeks of the season. After the sixth weekend, teams have a three-week window in which to evaluate PUP players, and then to make one of three choices: place the player on injured reserve, elevate him to the active roster, or waive him.
This was the first week in which PUP players were permitted, by rule, to participate in practices. There were, not surprisingly, a few setbacks. It is clear, for instance, Chicago offensive tackle and 2002 first-round draft choice Marc Colombo is nowhere near ready to return and could miss the entire season rehabilitating from a knee injury. Cornerback Juran Bolden might be close to getting back for the Atlanta Falcons, but his return isn't apt to serve as catalyst for a turnaround. Detroit Lions defensive tackle Luther Elliss, who is trying to return from a torn pectoral muscle, was told he shouldn't begin practicing again because the team is top-heavy at the position.
But there are also early indications are that some clubs, particularly a group that figures to remain in playoff contention, might benefit from the late-season returns players who spent the first six weeks of the campaign in treatment.
In a league where trades seem to be taboo (as exemplified by the fact there were zero deals at this week's deadline), and where the list of unemployed veterans is incredibly threadbare, the physically unable to perform list offers a relatively forgotten method for realizing a late-year roster boost. It's a crap-shoot, to be sure, but there are some general managers and coaches who have crossed their fingers the PUP list might still provide a player who makes some degree of difference in the playoff stretch run.
Indeed, a few teams gambled that injured players might be able to return at some point in the year, and avoided placing them on season-ending injured reserve. That was the case with the Panthers, who toyed with the notion of relegating wide receiver Kevin Dyson to the injured reserve list when he tore his left Achilles tendon during the spring, but opted instead to take a chance on PUP-ing him.
If the speedy wide receiver returns to practice next week, as is anticipated, Carolina could win that gamble. And the Panthers might even win a few more games, too, by being able to add a deep threat to an offense that is dramatically skewed toward the run. When the club signed Dyson to a one-year, $1 million contract as an unrestricted free agent, it was with the idea that the former Tennessee Titans starter could stretch the field. Now it's not such a stretch to envision that Dyson, a sixth-year veteran whose career has been stymied by a series of injuries, might contribute to the club's push for a division title.
SIDE LINES
On-Line
Left tackle Matt Light is the lone New England Patriots offensive lineman to start all six games this season at the same position. That dubious streak will continue Sunday when the Pats travel to Miami for a crucial AFC East matchup, a game in which Light will be involved in one of the marquee one-on-one battles, lining up against Dolphins right defensive end Jason Taylor. The two have waged some interesting wars over the past two seasons but, at Pro Player Stadium last Oct. 6, Taylor dominated the Pats' weakside pass protector. Taylor set the tone with two sacks on the opening series of the contest, once on a nasty bull-rush, the other time streaking off the edge to strip Tom Brady of the ball. While he has just one sack this season, Taylor seems to be warming up for the Sunday encounter, as he had six tackles, one sack and a forced fumble in last weekend's victory at Jacksonville. Light, meanwhile, has had a steady season to this point, both in pass protection and the running game.
The List
Through six games, the Oakland Raiders have been penalized 67 times for 560 yards, both league highs. Oakland is on pace for 179 penalties and 1,493 penalty yards, which would obliterate the current NFL record of 158 penalties and 1,304 yards, established by the Kansas City Chiefs in 1998. Here is a list of the Raiders' infractions:
Penalty -- No. -- Yards
False start -- 17 -- 85
Offensive holding -- 11 -- 111
Encroachment/offsides -- 9 -- 45
Defensive/special teams holding --6--45
Defensive pass interference -- 5 -- 89
Illegal block -- 5 -- 59
Personal foul -- 5 -- 68
Intentional grounding -- 3 -- 29
Offensive pass interference -- 1 -- 7
Others -- 5 -- 22

Stat of the Week
The Green Bay receivers have been a bit inconsistent in terms of production this year, but at least the group seems to be over the "dropsies" that plagued it in 2002. The Packers have just five dropped passes in six games, on pace for just 13 drops for the season. In 2002, the team had 48 drops.
Stat of the Weak
In five games, the Philadelphia wide receiver corps -- James Thrash, Todd Pinkston, Freddie Mitchell and Billy McMullen -- has an aggregate 41 catches for 461 yards and zero touchdowns. Last season, through five contests, the Eagles wideouts had notched 60 catches for 799 yards and eight scores. The only two touchdown passes by Donovan McNabb have been to running backs, one each to Duce Staley and Jon Ritchie. There are three individual wide receivers in the NFL who have as many catches as the Philadelphia contingent, and seven who have more yards.
The Last Word
| | |
| --- | --- |
| | |
| | Gannon |
Oakland quarterback Rich Gannon on the team's flag daze: "I'm a realist. If you go out and look at the film and you expect anything else . . . in other words, if you commit 19 penalties on the road against Cleveland and you walk out of the locker room and go, 'We should have won,' then you're sniffing glue or something. I don't know what to tell you. You have to be out of your mind. That's not the way it is. I'm not trying to be funny, but that's the truth. I live in the real world. I look at the film and I see what we're doing, and I see the mistakes we're making. You can't win that way. It's that simple."
"It would be a big bonus," said general manager Marty Hurney. "It's still too early to say what will happen. But (Dyson) has made tremendous progress. And it's why we decided not to 'I.R.' him when (the injury) occurred. Our doctors felt there was still a chance that he could come back this year. We figured that it was a chance worth taking."
The injury is, essentially, healed. Dyson has run nearly full-speed the last few weeks but still must regain his stamina. If he can do that, however, Carolina might regain a veteran player from whom it expected big things this season. And the Panthers are hardly the lone club that figures to benefit over the next month from getting PUP players, or players who are currently on the non-football injury list, back onto the active roster.
A few other teams who are now closely monitoring the progress of their PUP players:
Buffalo: First-round draft choice Willis McGahee began practicing this week and, while the former University of Miami tailback exhibited some rust, the odds have increased that he will play at some point in 2003. A few months ago, that didn't seem to be the case, but the Buffalo rushing attack has been akin to running in quicksand and the Bills' backfield has been ravaged by injuries. The club's medical staff seems to be in agreement on the incredible rehabilitation from a catastrophic knee injury and it's better than 50-50 now that McGahee will see action.
New England: The first of the Patriots' three physically unable to perform players, rookie linebacker Tully Banta-Cain, began practicing this week. Two veterans who had been projected during the offseason as the starters on the right side of the offensive line, tackle Kenyatta Jones and guard Stephen Neal, could get on the field next week. All three of the players would be welcome reinforcements for a New England team that somehow has managed to stay afloat despite a spate of injuries. Jones started 11 games in 2002 but has suffered through knee problems. He is a physical drive-blocker, though, whose return could help the Patriots' rushing attack. Banta-Cain is a former college defensive end who was moved to linebacker in mini-camps. He is the kind of hybrid defender who fits well into the 3-4 front and whose innate pass-rush skills might help compensate for the loss of Rosevelt Colvin to a hip injury.
Minnesota: While there has been little drop-off by a Vikings offense that last season very quietly led the NFL in rushing, the return of Pro Bowl performer Michael Bennett from a stress fracture to his left foot would certainly return big-play potential to a ground game that has been more about power in the first five contests. Bennett possesses unique long speed, in 2002 becoming the first player in league history to author 60-yard runs in three straight games, and he would make even scarier an already potent offense. Bennett began making hard cuts on his foot Thursday, reported no pain, and almost certainly will be elevated to the active roster in the next week or two.
St. Louis: Versatile second-year defensive back James Whitley started just one game for the Rams in 2002 but demonstrated solid skills in "sub" packages and contributed nicely on special teams as well. He was scheduled to challenge for more playing time this year, until he dropped a weight on his foot this spring, and began a long rehabilitation. With the St. Louis secondary limping through injuries, and forced to shuffle bodies, he will be welcomed back, and soon.
Seattle: Fifth-year veteran defensive end Lamar King has never lived up to his status as a first-round choice in the 1999 draft but every team, especially at this time of the season, would kill to get a front four player with fresh legs. King hasn't played since December, and isn't fully recovered yet from knee surgery, but he began practicing this week and is likely to be activated at some point in the next three weeks. King has played primarily at end but can also move inside and log some snaps at tackle.

Around the league

Earlier this week, we cited the work of little-known Cleveland Browns offensive line coach Larry Zierlein, who, in the face of injuries, has somehow held together a unit that consisted of one first-rounder (center Jeff Faine) surrounded by fourth- and seventh-round picks and a couple of undrafted free agents. Well, the task just got a lot more difficult for Zierlein, with the news that Faine and starting left guard Shaun O'Hara will be lost for an undetermined amount of time to knee injuries. O'Hara has already undergone surgery to repair a ligament and, while Faine probably won't go under the knife, don't expect him back soon. Cleveland sources told ESPN.com that both players probably will miss three or four weeks as they recover from the ligament damage. Former third-round pick Melvin Fowler, who lost out in the competition for the left guard spot in camp, will move in to the center position. Chad Beasley, a former seventh-round pick of Minnesota, who signed with Cleveland after the Vikings waived him in 2002, will start at left guard. "It's been a real cut-and-paste deal for us," acknowledged right tackle Ryan Tucker, "but we're just trying to hang in there and make it work."
| | |
| --- | --- |
| | |
| | Couch |
No one hopes the Browns can continue to "make it work" more than quarterback Tim Couch, who is 2-1 since taking over for the injured Kelly Holcomb, and who will be tough for coach Butch Davis to replace if he keeps winning. Teammates and coaches credit Couch for maintaining professionalism when he lost the No. 1 job to Holcomb, but also feel the three-week hiatus from the starting lineup might have helped the former No. 1 overall pick better understand his role in the offense. One assistant coach allowed that Couch was "in a pretty deep funk" immediately after Davis chose Holcomb as the starter. But he emphasized that, by observing, Couch discovered the Browns have enough offensive weapons that he can simply "manage" games now, as opposed to feeling that he had to win them on his own. "It's different now for Tim," said the assistant. "There was a time, definitely, when this team didn't surround him with much. Now there are plenty of playmakers here. He doesn't have to press as much." Couch has conceded he is playing with more patience and poise and not trying to force the action.
Despite denials from a few team officials, it's true that Arizona Cardinals offensive coordinator Jerry Sullivan recently offered his resignation to coach Dave McGinnis. Of course, McGinnis rejected it, justifiably unwilling to lay blame for the team's shabby performances on the Cardinals' sixth different offensive coordinator in nine years. The truth of the matter is, Sullivan, one of the game's good guys, understood going into the season that it would be difficult for an undermanned unit to click. In fact, sources said that Sullivan recommended to Cardinals management at the end of last season that the organization attempt to re-sign quarterback Jake Plummer, rather than permit him to exit as an unrestricted free agent. His rationale: Insiders say that Sullivan, while not overly enamored with the error-prone Plummer, felt he was still better than anyone that the Cardinals could import as a free agent. McGinnis is highly regarded by players and is well-liked by the community. But the sparse fans in the Valley of the Sun continue to avoid Sun Devil Stadium and, with Arizona not winning, no one will be surprised if there is a coaching change at year's end.
It's long been expected that, when Dan Reeves departed the Falcons, owner Arthur Blank will seek a hot, young coach as a replacement. Blank is a marketing mogul, Atlanta is a city that considers itself a Mecca for young up-and-comers, and there is a need to keep building on the hipper clientele the franchise has developed. Blank has made it a point to heed his players and, if that's the case, his next coach will be a high-profile name, but one with a fresher face. Several players have complained lately that Reeves is too "old school" and that his methods have grown archaic. The changes Reeves enacted on offense last season, to be more conducive with the skills of Mike Vick, would argue to the contrary. But it's becoming increasingly clear that the Reeves message, in the midst of a five-game losing streak, is getting lost in all the locker room grumbling. The players need to quit making excuses, and starting making plays, for sure. But if the belief that the Falcons need a younger head coach becomes more prevalent, Blank will probably listen, and take that into account if Reeves departs at the end of this campaign. And if the year ends with the team in chaos, don't be surprised if Blank makes another run at Tampa Bay general manager Rich McKay, his first choice more than a year ago to come in an oversee the football operation.
Word is that New York Jets defensive tackle Josh Evans, under indefinite suspension for a repeat violation of the NFL's substance abuse policy, has been a model citizen to date in the program. It's suspected by many, and hinted at by a couple sources in the NFL office, that Evans will be reinstated sometime next month. On the flip side, league officials even for deep background won't address the status of Oakland Raiders defensive tackle Darrell Russell, also serving a drug-related suspension. There have been reports Russell recently parted ways with agent Leigh Steinberg and that he is seeking new representation. There is virtually no way Russell will return to the Raiders but, even with his track record of indiscretions, there are at least two franchises quietly keeping close tabs on him.
There are rumblings that the Carolina Panthers might soon initiate contract extension discussions with head coach John Fox and, given the club's performance to date, why not? Fox signed a three-year contract in 2002 that pays him an average of $1 million. Without an extension, he would enter 2004 as a lame duck of sorts, and it's difficult to imagine the Carolina brass permitting that to happen. There are a lot of NFL coaches making a ton more money than Fox and getting far less production. It's believed that general manager Marty Hurney will also be going into the final season of his contract, which is worth about $700,000-$750,000 annually, in 2004.
On the subject of the Raiders, the lack of concentration exhibited by the league's most penalized team could land second-year head coach Bill Callahan on the hot seat. Callahan is hardly the NFL's highest-paid coach and that means owner Al Davis wouldn't owe him a fortune if he opted to make a change at the conclusion of this season. The flag daze in which the Raiders have operated through six games is maddening to the coaching staff but no one seems capable of stemming the epidemic. And it's largely veteran players (what else on this aging roster?) who have been most culpable. Offensive tackle Barry Sims has been charged with seven false-start infractions. Fellow offensive lineman Matt Stinchcomb has drawn three holding penalties, a flag for illegal use of hands, and one false start infraction. Defensive tackle Rod Coleman has had three roughing the passer calls and one penalty for unnecessary roughness. Rod Woodson has been assessed a couple of pass interference flags. Younger players, like offensive tackle Langston Walker and tight end Doug Jolley, both second-year veterans, have had their share of problems. Jolley has been hit with four holding calls and two false starts. Walker has been caught twice for holding and one for tripping. In all, there are nine Raiders players who have each been assessed 25 yards or more in penalties. Coleman leads the way with 53 yards, followed by Jolley (50), Stinchcomb (45), Woodson and cornerback Terrance Shaw (36 yards each), Sims (35), Walker (31) and quarterback Rich Gannon (29).
While the Dallas Cowboys did attempt to acquire a backup tailback before the Tuesday trade deadline, there is absolutely no truth to the rumors which emanated from "Big D" that the club explored the possibility of dealing for Corey Dillon of Cincinnati or Warrick Dunn of Atlanta. At least according to a Cowboys official who typically is pretty candid with us about personnel moves. "Nothing to it," said the team official. "We never made a call about either of those guys." Fact is, had the Cowboys executed a trade, it would have been for a younger tailback. The two players Dallas personnel staffers had targeted, and in order of preference, were Kevan Barlow of San Francisco and Miami's Leonard Henry. The enigmatic Barlow, who views himself as a future star in San Francisco but who can't seem to stay healthy long enough to make much of a dent, might eventually (like perhaps by next summer) have challenged Troy Hambrick for the starting job. Henry was seen as a third-down back and utilitarian performer. With no deals consummated, Hambrick will continue to get the bulk of the carries, Aveion Cason will be the change-of-pace back and coach Bill Parcells will keep finding ways to get the solid Richie Anderson involved. As for the rumors the Cowboys tried to pry Dunn away from Atlanta, in exchange for second-year wide receiver Antonio Bryant, well, that was probably nothing more than a figment of the imagination of an agent who feels his pass-catching client isn't getting the playing time he deserves. But here's what none of the rumormongers considered: For the Falcons to have traded Dunn, the team would have had to assume an additional salary cap hit of nearly $3 million this season. Trading the tailback would have meant Atlanta had signing bonus "acceleration" and a 2003 cap charge of $6.12 million. The current charge for Dunn is $3.185 million. The Falcons are just $607,000 under the cap, so any extra hit would be tough for them to absorb. As for the Dillon whispers, well, as we noted here last week and again in the "Morning After" on Monday, the Bengals aren't likely to deal him until the offseason. Dillon has the remainder of this season to demonstrate he has bought into the Marvin Lewis approach. If he doesn't, the Bengals will dangle him, although there might not be much market for a back who is 29 years old now.
One general manager's take on the baseball league championship series: "You know, watching Dusty Baker and that (Grady) Little guy, it just showed me that every sport must have problems with their head coach and game management. It's the biggest skill that is lacking in the head coaches in our league, even though few people have the (fortitude) to challenge coaches on it, and baseball must have the same thing going on. Look, I'm no baseball expert, OK? But for those two (managers) to leave those starting pitchers in the game, when a blind man could see they were spent, was absurd. Maybe every sport ought to have some kind of manual to teach these guys how to control a game."
In announcing on Thursday that cornerback Will Peterson will miss the next 6-8 weeks with a back injury, New York Giants officials were probably being a lot more optimistic in public than they are privately. In fact, if the third-year veteran returns at all this season, it will be surprising. There is a strong possibility the Giants will place Peterson on injured reserve, even by as early as next week, prematurely ending his season. That will certainly be the case if New York suffers any more injuries in the secondary. The Giants personnel department is scouring around, looking for a veteran cornerback, but there just isn't much left out there in the unemployment line.
Green Bay coach Mike Sherman deserves a lot of credit for essentially conceding that the Packers made a huge mistake in signing defensive end Joe Johnson as an unrestricted free agent in the spring of 2002. OK, sure, Sherman and his staff deserve the blame, too, for investing a $6.5 million signing bonus on Johnson, a player many teams considered in decline during his last two seasons in New Orleans, where he was beginning to get just a bit too brittle. But most teams would compound the error by keeping the player around and trying to justify the investment. That isn't going to happen in Green Bay where, after his latest season-ending injury, Johnson has played his last game for the Packers. The quadriceps injury, which follows a torn triceps that limited Johnson to just five games in 2002, will earn the veteran end a pink slip at the end of the year. It's just a matter of when the Packers release Johnson, before next June 1, or after, which would permit the club to amortize out his signing bonus over two seasons. The Packers will have paid Johnson a shade over $10 million in two seasons. Their return: Just 496 snaps, 23 total tackles, and two sacks. Chalk it up as one of the worst free agent acquisitions in recent years. And laud Sherman for having the temerity to admit it.
| | |
| --- | --- |
| | |
| | Harrison |
When the New England Patriots signed strong safety Rodney Harrison as an unrestricted free agent this spring, many observers believed that coach Bill Belichick and personnel chief Scott Pioli had made a poor call, since the two-time Pro Bowl performer was seen as a veteran in decline. Then, then the Pats released free safety Lawyer Milloy only five days before the start of the season, the critics grew even louder. Minus his safety net, the naysayers suggested, Harrison would struggle mightily. But six games into the season, no one is panning Harrison any more, as the crafty Belichick has found a way to get the most out of the 30-year-old safety. Of course, Belichick, the league's most creative defensive mind, always claimed that Harrison still had something left in the tank. Harrison has 50 tackles and two interceptions, has played the pass better than in the past several seasons, has even taken over the free safety slot in some coverage packages. Harrison figures to be a key player on Sunday, when the Pats travel to Miami, and take on the Dolphins and tailback Ricky Williams. If the Patriots commit eight players to the run, and simply dare Miami quarterback Jay Fiedler to beat them through the air, Harrison probably will go back to the role he played in San Diego, aligned close to the line of scrimmage and "in the box." By the way, Harrison was fined $10,000 last week for a recent hit against Tennessee wide receiver Drew Bennett, but he has never allowed such sanctions to be a distraction and he rarely pulls away from the big hit.
The Chicago Bears staff gave former first-round wide receiver David Terrell more play time opportunities lately, he hasn't produced, and he's now back on the bench. There is a chance Ahmad Merritt, mostly a return man who has played very little at wide receiver, could move ahead of Terrell on the depth chart. And there's a very good chance that, no matter who is coaching the Bears in '04, Terrell won't be back with the club. The former Michigan star has just 10 catches for 73 yards.
Punts: Most scouts feel that University of Miami tight end Kellen Winslow Jr. will be a first-round choice if he foregoes his remaining eligibility after this year and enters the draft. But a lot of talent evaluators feel that, at just 235 pounds, Winslow will have to be in the right system to make an immediate impact. "For all the hype he gets," said one area scout, "he can't block much at all. Then again, he isn't asked to block much in that offense, and he will have to get better in general at that skill." . . . Safeties tend not to get noticed much in the NFL, but personnel guys have lauded the play of a few youngsters, none more so than Ed Reed of Baltimore and Roy Williams of Dallas, a couple second-year players. Williams was a player who benefited from media hype in 2002 but wasn't nearly as good as some folks (including himself) believed. Now he's become a true playmaker. . . . If the lagging Philadelphia Eagles are to get back into the playoff chase, the schedule certainly appears to afford them an opportunity. Over the next six weeks, Philadelphia plays teams that currently have an aggregate record of 11-22. . . . Somewhat dubious move by league officials, who this week fined Warren Sapp $50,000, then announced the Tampa Bay defensive tackle has been hired to provide analysis for the "NFL Network," which will debut in a couple weeks. Notable, too, is how the league ignored Sapp's reference to NFL officials as "slave masters" last week. . . . Colts coach Tony Dungy had his team back in pads this week after last Sunday's shoddy tackling performance. The Colts had not been in pads for a few weeks but allowed Carolina tailbacks Stephen Davis and DeShaun Foster to run through them in the Oct. 12 overtime defeat. . . . It looks like Phoenix will be awarded the rights to host the 2008 Super Bowl when owners meet Oct. 29-30 in Chicago. It is at that meeting that commissioner Paul Tagliabue will broach to the membership the possibility for shortening the preseason schedule. The concept has not, to this point, generated much support among owners.

Len Pasquarelli is a senior NFL writer for ESPN.com.
EDITORS' PICKS
How much does the combine matter in draft analysis? Look at Kevin White's surge up Mel Kiper's board.
Mock 3.0

Mastery of the salary cap's intricacies, with its spending limits and minimums, is a necessity in today's NFL.
Ashley Fox »

Durable, fiery and talented, Ndamukong Suh would thrive on any NFL team. We size up his leading suitors.
Dominik


MOST SENT STORIES ON ESPN.COM