Freeney capitalizes on quick steps
It's a lightning-quick second step that has already made Colts DE Dwight Freeney one of the league's premier pass rushers.
Updated:
November 7, 2003, 5:00 PM ET
By
Len Pasquarelli
| ESPN.com
For years, when the topic has turned to the desire for quickness at the defensive end position, league scouts have spoken about the significance of a prospect's first step. That barometer isn't apt to change any time soon, but -- given the recent success of Indianapolis defensive right end Dwight Freeney -- the assessment process might be revisited.
The league's leading rookie sacker in 2002, and currently on a pass-rush rage with six sacks in his last three outings, Freeney is a blur. Just ask overmatched Miami Dolphins left offensive tackle Wade Smith, transformed into a dreidel in cleats last week, as Freeney beat him for three sacks and also forced an intentional grounding penalty on one of his many forays into the backfield.
No doubt, Smith will attest, Freeney has an incredible first step. But it's actually a more explosive second step, Freeney told ESPN.com this week, that is critical to his status as one of the NFL's premier "edge" rushers.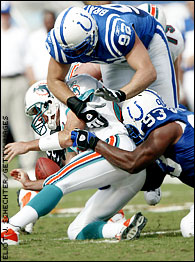 Getty ImagesFreeney, right, kept the pressure on Brian Griese on Sunday.
"The first step, really, all that does is set up the second step," Freeney explained. "Truth is, the faster you get that second foot onto the ground, the quicker you will be. For me, I need that second step, because it's what carries me into the backfield. I think if scouts realized how important the second step is, they'd look at it much more, and use that step as a (yardstick) for measuring quickness."
Freeney didn't always pay such unwavering attention to first and second steps, to the technical minutiae players must naturally master to set themselves apart from their peers, and to the nuances not even some coaches understand. But under the tutelage of strength and conditioning coach William Hicks of Syracuse, who has prepared dozens of players for the draft and whose star pupils also include current St. Louis wide receiver Torry Holt (during a previous stint at North Carolina State), Freeney became a believer in doing the little things well.
And those little things included a lightning-quick second step, developing deceptive strength, learning the techniques that allowed him to overcome his lack of size. Hicks pointed out earlier this week that Freeney isn't necessarily a little man, but that a lack of height worried some NFL teams, then quickly emphasized that the defensive end has tremendous strength.
In working with Freeney, the strength coach concentrated on pure power, translated at base levels into violence. He developed Freeney's core strength -- the power exerted by a player's trunk, from his navel to the top of his knees -- and his ability to "bend" toward the pocket and the quarterback. Widely regarded as a one-dimensional speed-rusher, Freeney has knocked offensive linemen back on their heels with a bull-rush move that belies his rather minute stature, and he continues to be able to squeeze through blockers because of his strength.
"We wanted every move to be a violent move," Hicks explained. "I mean, power, just by definition, has nothing to do with size. The formula is weight, times distance, divided by time. So it's more about creating momentum than it is about size. The hits that hurt are by the safeties, linebackers, people like that. Offensive linemen, for instance, do not create great power, because they aren't traveling very far. Now, Dwight, he has power. And he has that great second step."
Both those qualities are reflected in the production of Freeney, who was clocked at a mind-boggling 4.38 seconds in the 40-yard dash before the draft, and who has changed the minds of a lot of skeptics who wondered how the Colts could select him with the 11th overall choice in the 2002 lottery. Freeney has 20 sacks and 13 forced fumbles in just 1½ seasons, and the connection between those two figures is hardly coincidence, since Hicks taught the defensive end that going for the football naturally carries him to the passer.
High-energy Colts defensive line coach John Teerlinck, one of the best pass-rush teachers in the game, has certainly reinforced the killer instinct Freeney possesses. Of course, it certainly doesn't hurt, either, that Freeney combines natural athleticism with work ethic.
"A lot of people," Hicks said, "are freaks of nature. Dwight Freeney is pretty much a freak of training. He takes the stuff you tell him, assimilates it, then applies it."
SIDE LINES
On-Line
Left offensive tackle Kenyatta Walker will have to enjoy a solid performance if the Bucs are to gain revenge over the Carolina Panthers for a Sept. 14 overtime defeat. Panthers right defensive end Michael Rucker is operating at less than 100 percent because of an ankle injury, but he remains the NFL's top sacker (10), and is a viable midseason candidate for defensive player of the year honors. Rucker is an excellent two-way defender, since he also plays the run tough, and has developed an impressive array of pass-rush moves. He didn't register any sacks in the earlier meeting, but has been superb ever since.
The List
The Pittsburgh Steelers' 2-6 start is the second-worst in franchise history and marks the first time under coach Bill Cowher that the club has been under .500 at the halfway point of a campaign. Here is a look at the Steelers' record under Cowher at midseason: Year Record
2002 5-3
2001 6-2
2000 5-2
1999 5-3
1998 5-3
1997 6-2
1996 6-2
1995 4-4
1994 4-4
1993 5-3
1992 6-2

Stat of the Week
With the Tampa Bay Bucs at 4-4 and the Oakland Raiders sporting a 2-6 mark, neither team would be in the playoffs if the season ended today. If, indeed, neither franchise qualifies for postseason play, they will join a rather dubious group. There have been 19 teams that appeared in the Super Bowl and then failed to reach the playoffs in the season following their championship game berth. But only three times have both Super Bowl combatants not gone to the playoffs in the ensuing season. Two of those instances have occurred the past five years. Washington and Denver didn't advance to postseason in 1988, after playing in Super Bowl XXII, but there was just a 10-team playoff pool then. Under the 12-team pool, Denver and Atlanta struck out in 1999 after battling in Super Bowl XXXIII and New England and St. Louis didn't go to the playoffs in 2002 after appearing in Super Bowl XXXVI.
Stat of the Weak
The Buffalo Bills, who wanted to create more takeaways in 2003, have now gone an amazing 35 consecutive games without an interception by a safety. The last pickoff by a Bills safety came in a 13-10 victory at Jacksonville on Oct. 18, 2001, when Travares Tillman pilfered a Mark Brunell pass. The four players who have started at safety for the Bills since 2002 all have long interception droughts. Pierson Prioleau has gone 37 games without a pick, Lawyer Milloy is at 26 games, and Izell Reese and Coy Wire have each played 24 straight contests without an interception.
The Last Word
| | |
| --- | --- |
| | |
| | R. Woodson |
Oakland Raiders free safety Rod Woodson, upon being asked if coach Bill Callahan has "lost" the team, as asserted by cornerback Charles Woodson: "As long as (Callahan) comes here to 1220 Harbor Bay, he'll find the team. I'm pretty sure you can't lose 53 guys. We're not playing hide-and-seek here."
Between his eye-blink second step, and a natural skill for "bending" to the passer, Freeney has already established himself as a young and emerging star. Last week's tour-de-force performance won't hurt his image in that regard. A lot of players can "corner" to the quarterback or "flatten out" toward the pocket, but Freeney is constantly in attack mode, and is still working on improving some technical elements. What he doesn't need to be, though, is any bigger or quicker.
"(To) tell the truth, my (lack of height) actually helps, because I've got a lower center of gravity than most of the guys I line up across from," Freeney said. "And I feel like, if I get up under your pads, I'm going to whip you. Yeah, I know I'm not the textbook pass-rush guy everyone has drawn up on the computer. But I think I've broken the mold a little bit and forced (scouts) to rethink some things."
Around the league

EDITORS' PICKS
Many teams created buzz, but who has done the best work in free agency? Our experts hand out grades.
Sando

Mark Ingram had a breakout 2014. That's not the only reason the Saints RB is feeling blessed these days.
Triplett »

Darrelle Revis is just what the Jets' D needed. Which other '15 acquisitions will pay immediate dividends?
Williamson

MOST SENT STORIES ON ESPN.COM