Size won't stand in Vilma's way
Jonathan Vilma might be a little short by NFL linebacker standards, but the former Miami standout is a playmaker.
Updated:
February 23, 2004, 11:00 AM ET
By
Len Pasquarelli
| ESPN.com
INDIANAPOLIS -- Smart enough to know that size really does matter, especially in the career into which he will shortly (no pun intended) step, Jonathan Vilma made sure that he stood ramrod tall during a Sunday media session here.
No bending over the podium for the University of Miami middle linebacker. Certainly no slouching into the microphone. Appear too short at the NFL combine, even for a media crowd that has no vote in any teams' draft room during the first round or any other stanza for that matter, and perception might suddenly become reality.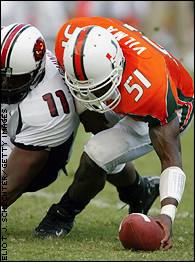 Jonathan Vilma is expected to be a first-round pick in the upcoming draft.
The reality for Vilma, a human tackling machine during his three seasons as a starter for the Hurricanes, is that he is almost certainly too productive a defender for teams to make his lack of prototype size a factor in evaluating his talents. Then again, at 6-feet-0½ and 230 pounds, Vilma is still the round peg looking for an NFL round hole to plug.
"Different teams are saying different things about where they feel I would fit best," said Vilma, one of about a half-dozen former Hurricanes standouts projected as a first-round choice on April 24. "Some coaches seem to think I'll be fine in the middle. And others kind of hinted I might be better moving (to outside linebacker). I guess it just depends on who takes me where they need me to play."
If he doesn't quite dovetail with the computer-generated model of what a middle 'backer is supposed to be at the NFL level, Vilma clearly possesses the tools to be an impact starter as a rookie. There have been middle linebackers with similar dimensions -- Zach Thomas of Miami and Denver's Al Wilson among the NFL's contemporary players at the position -- who have excelled.
And if Vilma doesn't fit into what a team wants in the middle, several personnel chiefs insisted over the weekend he will be able to play one of the outside spots.
"He is a heck of a player," said Houston general manager Charley Casserly. "We're in a 3-4 defense, so we're a little bit different. But if I'm in a 4-3, I'd probably look at him as a weakside 'backer, and cover him up, and then the guy might make every tackle. You watch their tapes and their games, and this guy makes every tackle, it seems. (He is) highly instinctive (and has) great football smarts."
Vilma's aptitude extends beyond the field, however, as indicated by a 3.5 grade-point average and a degree in finance. He spent last summer as an intern in the client wealth management division of Lehman Brothers so it's a pretty good bet that when he pockets his first NFL signing bonus, he'll know where to invest it.
His father is an accountant, his mother a social worker, both from very educated families in Haiti, and they stressed early on to Vilma football would be just a temporary pursuit in the big picture. The son heeded the message and, the same qualities that placed him with some of the great linebackers in Miami history are simply reflections of his work in the classroom. One professor, who taught an organizational behavior class in which Vilma earned as "A" as a junior termed him "prepared, very analytical and (with) wonderful interpersonal skills."
All of those components are evidenced when watching tape of Vilma, who plays with an economy of motion, rarely makes a misread, and is usually in the frame when the film stops. In the 4-3 scheme deployed by Hurricanes coordinator Randy Shannon, the middle linebacker rarely comes off the field, even on third down, and Vilma has demonstrated the kind of range that should enable him to be a three-down player in the pros as well. He can run from sideline to sideline, isn't awkward playing in reverse, and is a sure tackler.
Once again, linebacker is hardly a deep position in the draft, and that certainly will work in Vilma's favor as well. The other top prospects include his former Miami teammate, D.J. Williams, Karlos Dansby and Dontarrious Thomas of Auburn, Oklahoma's Teddy Lehman, Michael Boulware of Florida State and a pair of Georgia Tech standouts, Daryl Smith and Keyaron Fox.
Asked where he felt he rated among the group of prospects, Vilma was characteristically modest and suggested that he only wants to measure up to his own potential.
"What's coming up for me is a big step," Vilma said. "It's something I've thought about for a long time and, now that it's near, I need to work even harder to make it a reality."
Around the combine

Apologies to agent David Dunn and his firm, Athletes First, for a report in the Friday combine notebook that the prominent player representative had been suspended for three years by the NFL Players Association at their annual session here. In fact, there have been no sanctions against Dunn, who continues to conduct business as usual. In the wake of the lawsuit against him by former partner Leigh Steinberg, the union sought to take disciplinary action against Dunn, but was twice precluded from doing so by a bankruptcy court and the matter is under appeal. Dunn continues to represent and impressive clientele and last year negotiated the contract for No. 1 overall pick Carson Palmer, a deal that the NFLPA valued up to $49 million over six years.

Scout's Take
Observations from two NFC scouts:

"I saw where one of your (scouting friends) was touting Lousaka Polite from Pitt as his sleeper, late-round fullback. Good call. I can't disagree with that. But the player we like at the position is Troy Fleming (of Tennessee). You might like him to be a little bit bigger, but he's got enough size, and he's got tools. He kind of reminds me of (former Vols back) Shawn Bryson in some ways, like a 'tweener' guy, but he is probably better suited than was Bryson to play the NFL fullback style. He doesn't mind blocking and it looks like he catches the ball well. And he seems, just from talking to him, to be a motivated kid. The kind of kid who, you know, will do whatever it takes to get a roster spot."

"(LSU) wide receiver Michael Clayton is going to have to run better in his campus workout or he might get lost in the shuffle, because there are so many good players at the position. I mean, he's got size and all, and looks really smooth. But he only ran in the 4.6s (on Sunday) and you could tell he was really pressing. Maybe it was nerves, I don't know, because you watch him on tape, and he sure plays faster than that. I'll be interested to see how he does when he has his pro day."

"Like a lot of teams, we're probably going to take a quarterback in the middle rounds and one guy who has really impressed us is (Matt) Schaub (of Virginia). Maybe not the strongest arm, but good size and accuracy, and a smart player. He's got a football background in his family and played for (Cavaliers' head coach) Al Groh, so you know he has been well-schooled. You might have to take a shot on him in the third round, because he might not last until the second day. We're definitely going to do a lot more homework on him. For us, he's started to separate himself from the pack a little in the group of three or four guys we kind of had bunched together when we came here."

"I'm sure you've written a ton already about (Iowa offensive tackle Robert) Gallery, so I'm probably weighing in late on the kid. But, holy cow, what a prospect! On the field, he's got in all, and he's so cooperative for a guy who knows that he's going to be taken in the top 10. Off the field, he just blows you away with his manners and just the way that he carries himself. I can't see him sliding below the top five."

"There's only one question I have about (Miami, Fla., safety) Sean Taylor and that's the fact he isn't the surest tackler back there. I mean, sometimes he's just coming so full-bore, and is so hell-bent on making the huge hit, he doesn't wrap up. But other than that, I think he's going to be an all-timer at the position. We could be talking a Ronnie Lott-type guy here, and that's not just (hyperbole)."
-- Len Pasquarelli
One of the more intriguing defensive linemen here is University of Oregon tackle Igor Olshansky, a powerful-looking interior lineman who performed 41 "repetitions" of the standard 225-pound bench press over the weekend. Born in the Ukraine, he did not come to America until he was 7 years old, when his parents emigrated to the Bay Area. A thoughtful and articulate young man, Olshansky spoke at length about how he became interested in football, came to love the contact involved in the sport, how he decided to give up basketball to pursue a career on the gridiron. Two scouts employed the same term, "raw," to describe Olshansky's football tools, but both acknowledged that he will be a first-day choice. "A lot of natural strength," said one scout of the 6-feet-5 and 311-pounder. "You watch him on tape and there are times he is just tossing people. But he needs a lot more technique, has to learn to use his hands better, if he's going to be really good at our level. From what you see, though, he's an excellent worker and he wants to be good, and that's always a plus."
Speaking of using one's hands well, LSU defensive tackle Chuck Lavalais offered a virtual dissertation on that very subject during his media session. In fact, he noted that he felt two elements, his hand strength and his passion for studying video of opponents, were components that would aid him at the next level. "I've always been very aware of the fact you need to get your hands on an opponent first," Lavalais said. "In college, you can get away with just bullying people, and technique isn't as important. But I know, just from watching NFL games on Sunday that, if you don't use your hands well, you're going to get buried. You win the hand-battle, you control your opponent, and you're able to move him around. A blocker gets his hands on your first and, man, it's all over."
New York Jets coach Herm Edwards, who ducked into the media room here for a short visit on Sunday, hinted a determination on the future of quarterback Vinny Testaverde may be imminent. Edwards said that Jets officials plan to meet with Testaverde, and some other veteran players who could be salary cap casualties, the middle of this week. "We'll sit down with those guys on Wednesday and Thursday and share some ideas with them," Edwards said. "We've talked to a few of them but nothing has been done yet." Releasing Testaverde would have a negative impact on the New York salary cap and the club may request that he restructure his contract instead. Edwards also confirmed that defensive end John Abraham, a two-time Pro Bowl performer, will play some at linebacker in the scheme that will be incorporated by new coordinator Donnie Henderson.
While the Tampa Bay Bucs continue to evaluate potential quarterback scenarios, it seems the team has concluded that Oakland starter Rich Gannon, who missed much of last season with a shoulder injury, will not be available after all. It seems the Raiders still regard Gannon as their best option at quarterback, even if they use the second overall pick in the draft on a prospect at the position. Oakland owner Al Davis, as Bucs coach Jon Gruden knows, disdains playing rookie quarterbacks. Noted one Tampa Bay wag of the Bucs officials: "They may not know football, but they know Al."
One of the fast-risers at the cornerback position is Will Poole of Southern California and, beyond his obvious physical abilities, he has impressed scouts with his candor about some off-field incidents in his past. Poole was dismissed from the Boston College squad for off-field violations of team rules, sat out a season, then attended Ventura Junior College before Trojans coach Pete Carroll brought him into his program. But all accounts, Poole, somewhat undersized but blessed with a 40-inch vertical jump, was a solid citizen during his time at USC. "When I meet with teams, I just look their scouts in the eyes and tell them the truth," Poole said. "I lay it out for them. Did I make mistakes? Yeah. Have I learned from them? You bet." Poole began the season projected as a late-round pick. He is now destined to be chosen in the first round, it seems, and figures to be among the top three cornerbacks on most teams' draft boards.
Look for tailback Michael Turner of Northern Illinois to be chosen as early as the bottom half of the second round, higher than some of the more notable names at the position. Turner has the prototype size teams seem to be looking for now at tailback, just shy of 5-feet-11 and about 228 pounds, and is really chiseled. While he might not be the most elusive runner, he does possess good instincts and vision, and is a complete back. He catches the ball well, is a good blocker and a willing worker.
Florida State linebacker Michael Boulware, the brother of Baltimore Ravens standout Peter Boulware, is certainly aware he has a family reputation to uphold. "I think every team I meet with," said the younger Boulware, "brings (Peter's) name up, like the very first thing in the interview. That's fine. I'm proud of what he has accomplished. If I can be even close to as good as he is, then it will mean I'm a good player." Michael Boulware probably doesn't have his brother's blitz skills, his innate quickness coming off the corner and closing on the quarterback, but he might be better in coverage situations than was his older sibling coming out of the Seminoles program. Although he is a bit undersized, scouts like Michael Boulware and some feel he can play the strongside, lining up over the tight end, and might be able to contribute in "nickel" situations as well.
There seems to be some disagreement over where UCLA defensive back Matt Ware will play in the NFL, with several teams feeling he projects best to cornerback and some others insisting his best position is safety. Ware checked in at 6-feet-2 3/8 and weighed in the 215-pound range, and his physical dimensions alone are why personnel directors want to get a look at him on the corner. As usual, there aren't many bigger cornerbacks in the draft pool and, if Ware runs as well as some scouts think he will, he could start out on the edge and then work his way inside if he can't handle that corner spot.
Houston general manager Charley Casserly said he remained very confident that he will be able to trade quarterback Drew Henson before the former University of Michigan star is forced to re-enter the draft. Casserly expects to begin granting permission to audition Henson to the two or three teams who have met the Texans' demands for compensation. Casserly noted that, while other teams would suggest he wasn't being objective, Henson threw the ball better in his recent workout than any of the quarterbacks did here during the throwing drills on Sunday afternoon.
San Diego general manager A.J. Smith debunked the notion the Chargers will not take a quarterback because they still feel stung by their experiences with Ryan Leaf, whom they chose in the '98 draft. Smith insisted the Chargers will consider a quarterback at the top spot in the draft. And he noted that he isn't concerned about how incumbent starter Drew Brees feels about the possibility of the Chargers choosing a signal-caller. "We're looking for an upgrade," Smith said. "We've stated we're looking for a quarterback, either in free agency, or in the draft. (Brees) is a big boy. He can handle these things."

Momentum meter

Lee Evans, WR, Wisconsin: Wisconsin wide receiver Lee Evans, featured in the Friday combine notebook, followed up strong interview sessions with a scintillating Saturday workout that could move him up in the crowded field of prospects at his position. Just as he had predicted, Evans, who persevered through a pair of surgeries on his left knee following a torn anterior cruciate ligament in the spring of 2002, blistered the 40-yard sprint. He ran in the mid- to high-4.3s, looked very fluid, and forced people to pay attention. Another wideout who helped himself was Carlos Francis of Texas Tech, who also ran in the 4.3s and was probably the fastest player in the weekend field. Francis, though, is only in the 5-feet-9 range and might be more a special teams player.
John Navarre, QB, Michigan: Michigan quarterback John Navarre wasn't particularly good in the post-season all-star games and continued that poor performance on Saturday in the throwing drills at the RCA Dome. He has nice size, good smarts and seems to be a solid leader, but Navarre simply doesn't throw the ball well, is inaccurate and really struggles at times on the deep passes. The scouts like his attitude but really don't seem to know where he fits in now with a pretty deep quarterback pool. There was a pretty strong consensus on Sunday, though, that Navarre is definitely sliding.
The last word
"Not much really. The biggest change is nobody works out anymore. I don't know why we're here, but basically nobody's going to work out and then we're going to tour the country and see everybody work out. I haven't quite figured out that part yet." -- Redskins coach Joe Gibbs on how the combine changed during his 11-season hiatus from the league
Len Pasquarelli is a senior writer for ESPN.com.
EDITORS' PICKS
2015 contract

How will free agency unfold in 2015? We have biggest needs, top targets and predictions for every team.
Buyer's guides

First LeSean McCoy, now Matt Cassel. The Bills aren't waiting for free agency to upgrade their offense.
Rodak »

MOST SENT STORIES ON ESPN.COM