Top UFAs still on the board
Check out ESPN.com's list of the top 30 unrestricted free agents.
Updated:
March 23, 2004, 11:50 PM ET
By
Len Pasquarelli
| ESPN.com
Top 30 free agents
Want to start a quick debate on the quality of players about to dive into the unrestricted free agent pool on Wednesday morning?
Chat with Pasquarelli
Len Pasquarelli stopped by today to answer user questions about free agency and everything else that's going on in the NFL. Click here to see what Len had to say.
Just mention to league talent scouts Buffalo Bills cornerback Antoine Winfield, a former first-round draft pick and four-year starter likely to have a new address in 2004, and then get out of the way. Just a few minutes into any discussion of Winfield, assuming you have a representative cross-section of scouts, and the most hackneyed but undeniable truism of free agency will become clear.
As usual, beauty is in the eye of the beholder, and that will be the case again this year.
"One team might view a player a certain way, because he seems a good fit in their system, and another might not have even passing interest in the very same player," acknowledged Houston Texans general manager Charley Casserly last week. "Sometimes it's a matter of apples and oranges."
The one thing upon which most general managers and coaches concur is that the '04 free agent pool, at least among the unrestricted veterans, is once again a shallow one. Now a dozen years into the player movement system, teams have finally grown wiser in dealing with their own best players, extending contracts before they expire, retaining the nucleus group essential to the viability of every franchise.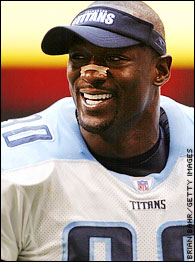 Getty ImagesJevon Kearse should bolster the Eagles' pass rush.
That kind of enlightenment, coupled with the use of "franchise" and "transition" markers has left an unrestricted talent pool filled with more suspects than prospects. Ignore those evaluations of television talking heads, many of whom have characterized the unrestricted free agent group as one of the best ever, because the people who evaluate talent as their livelihood certainly don't agree with that ill-advised assessment.
Of course, that doesn't mean there won't be some early deals, and some players who have already booked visits for Wednesday, the first day of the signing period. But big-money deals, particularly after the opening week of free agency, figure to be scarce.
What will be in abundance, at least at the outset of free agency, are cornerbacks. There are big, physical corners, small quick cover guys, players with great promise but whose careers have been detoured by injuries. Of the players evaluated by ESPN.com as the top 30 unrestricted veterans, 21 are on the defensive side of the football, and eight of those are cornerbacks.
And that's where Winfield comes in because he is a prime example of how teams will differ in their views at the cornerback position. The general managers who like Winfield a lot, and there are plenty of them, point to his aggressiveness and his ability to play bigger than his size. His detractors quickly note that he has just six interceptions in five seasons, doesn't jump in front of many balls, doesn't hold the ones on which he gets his hands.
Winfield figures to be a hot commodity when the flag comes down on free agency at one minute after midnight Wednesday, but there are also teams who needs cornerbacks and don't even have him on a short list of candidates. But such is free agency, where some good decisions can catapult a team toward the playoffs, and bad ones usually result in salary cap catastrophes.
"In theory at least," said one veteran personnel director, "there wasn't supposed to be this kind of unevenness to free agency. You were supposed to be buying proven commodities, you know, guys with NFL track records. It wasn't supposed to be like the draft, where you basically were choosing unknowns, but you see as many bad decision now (in free agency) as you do in the draft. There's kind of a 'buyer beware' element to it."
With that in mind, here is how ESPN.com has ranked the top 30 unrestricted free agents who were available as of Tuesday afternoon, and exclusive of veterans designated either as "franchise" or "transition" players:


Top 30 UFAs
Player
Team
Exp.
Comment/Prediction

1. DE -- Jevon Kearse
Titans
5
Despite missing 14 games the last two seasons because of injuries, everyone still covets a big-time pass-rusher, and Kearse, who averaged a dozen sacks in his first three years, is a proven commodity when healthy. Any team interested will give him a thorough physical, but word is he's close to 100 percent.

Likely landing spot: Washington or Chicago.

Signed with: Philadelphia

2. DE -- Grant Wistrom
Rams
6
Isn't the pure outside rusher that Kearse is but most coaches feel he is a better two-way defender than the Titans star. At age 27, still plays with a ton of enthusiasm and his motor never stops. Has played left end, as well, can still anchor against the run. Double-digit sacks only once, but great intangibles.

Likely landing spot: St. Louis or Kansas City.

Signed with: Seattle

3. OG -- Damien Woody
Patriots
5
We wouldn't normally rate an offensive lineman, especially an insider player, this high. But in a thin talent pool, Woody, who has started at center and guard and can be a very effective blocker when his weight is under control, will be a premium player. Former first-rounder still flashes plenty of athleticism.

Likely landing spot: Miami or Buffalo.

Signed with: Detroit

4. QB -- Jeff Garcia
49ers
5
Not many quarterbacks have posted the kind of prolific numbers Garcia put up over the past five seasons, but the salary cap made it impossible to keep him. Suitors will note that, despite playing just five years, Garcia is 34 years old. He might find the open market a bit cruel, but someone will be rewarded for signing him.

Likely landing spot: Tampa Bay.

Signed with: Browns

5. DT -- Rod Coleman
Raiders
5
Voided final two seasons of his contract with the Raiders and figures to be one of most hotly pursued defenders early in the free agency. Terrific inside rusher, he led all tackles in sacks two years ago, with 11. Even in a "down" year in 2003, he managed to collect 5½ sacks and improved versus the run.

Likely landing spot: Tampa Bay or Atlanta.

Signed with: Atlanta.

6. DT -- Robaire Smith
Titans
4
Former sixth-round pick started only two regular-season games before 2003 but has emerged as a solid interior force and, at just 26 years old, his best football probably is still ahead of him. Plays even bigger than his size against the run and can compress the pocket at times with quickness.

Likely landing spot: Tennessee, Oakland, Tampa Bay.

Signed with: Houston

7. CB -- Troy Vincent
Eagles
12
Yeah, we know, he's 32 years old now, and has lost a half-step. But he probably still has a couple more good seasons in him at cornerback, can eventually move inside and finish career at safety, and will bring some team lots of intangibles and locker room class. Worth a look for a team on the cusp.

Likely landing spot: Philadelphia, Carolina, Cincinnati.

Signed with: Buffalo


8. OT -- Todd Wade
Dolphins
4
A starter since his rookie year which means that, at the relatively young age of 27, he has logged plenty of snaps. Not exactly the prototype strongside blocker, because his feet are a little better than most right tackles. He's not quite nifty enough, though, to play the blindside spot, as some coaches feel.

Likely landing spot: Baltimore, Arizona, Miami.

Signed with: Houston

9. DT -- Warren Sapp
Bucs
9
Even his detractors acknowledge that Sapp still has enough left in the tank to be a force for a few more seasons. Look at the tape and, certainly in some stretches, Sapp remains a defender who commands double-team attention and can still disrupt offensive slow. His pride could be a catalyst, too, in keeping him viable.

Likely landing spot: Tampa Bay.

Signed with: Oakland

10. RB -- Duce Staley
Eagles
7
A onetime workhorse, the fact coach Andy Reid used him in a tailback-by-committee arrangement the past two seasons should actually help Staley, who isn't as football-old as his chronological age of 29. He won't break the bank, but demonstrated in the playoffs that he still is a nifty two-way back.

Likely landing spot: Dallas, Tampa Bay, Detroit.

Signed with: Pittsburgh


11. DT -- Ted Washington
Pats
13
How do we put a 370-pound nose tackle, who is 35 years old and averaged fewer than three tackles per game in 2003, among the top 30. Hey, slide in a videotape of the Super Bowl victory over Carolina, watch the 31 snaps Washington logged, and try to suggest the guy isn't still a dominant inside force.

Likely landing spot: New England, Oakland.

Signed with: Oakland

12. CB -- Ahmed Plummer
49ers
4
A four-year starter with 12 interceptions, Plummer isn't the most physical cover guy around but he gets his hands on a lot of balls, as evidenced by 60 passes defensed in his career. Only 27 years old and plays with nice intensity and awareness. Better than average on-ball player in all kinds of cover schemes.

Likely landing spot: Atlanta, Washington.

Signed with: San Francisco

13. WR -- Darrell Jackson
Seahawks
4
Never regarded as a prototype "lead" receiver but it's hard to ignore his numbers, with a pair of 1,000-yard seasons and plenty of big plays. Not very fast but is elusive, gets good run-after-catch yardage and explodes out of cuts. Surprisingly has 15 catches of 40-plus yards, but also has a lot of drops.

Likely landing spot: Baltimore, New York Jets, Seattle.

Signed with: Seahawks

14. LB -- Marcus
Washington
Colts
4
Very nice two-way player and appears ready to emerge as Pro Bowl-caliber performer, so any team that signs him is getting Washington at the prime time of his career. Three-year starter with 18 career sacks, can play either outside 'backer spot, but might be suited best for the strongside position.

Likely landing spot: Washington, San Diego, Philadelphia.

Signed with: Washington

15. CB -- Antoine Winfield
Bills
5
An enigmatic outside defender who plays bigger than his size and forces the run nicely, but who rarely seems to author a big, game-altering accomplishment. Tough and scrappy and a nose for the ball but just awful hands and drops too many would-be interceptions. A guy on whom teams are split.

Likely landing spot: Washington, Minnesota, Cincinnati.

Signed with: Minnesota

16. TE -- Jim Kleinsasser
Vikings
5
Strong in-line blocker, a player who can really seal off the corner, but also come down inside on "wham" action and create space. More valuable than his receiving totals, but those have begun to rise as well, and had a career-best 46 catches in 2003. His loss could really affect Vikings running game.

Likely landing spot: Minnesota, Washington.

Signed with: Minnesota

17. CB -- Fernando Bryant
Jaguars
5
Only eight months ago, it looked like he and the Jaguars were headed for divorce, but the team would like to keep him now. His interception numbers aren't great, and he's never had more than two "picks" in a season, but he doesn't allow big plays. A second-tier corner who will get action.

Likely landing spot: Jacksonville, Miami, Minnesota.

Signed with: Detroit

18. DT -- Cornelius Griffin
Giants
4
The position he plays, and the fact he has been a starter, certainly push his rating higher than it should be. In truth, he's been kind of a disappointment since his rookie season, when it appeared he would quickly emerge as a real force. Nice feet for a 300-pounder, has 12½ career sacks, but five came as rookie.

Likely landing spot: Washington.

Signed with: Washington

19. LB -- Barrett Green
Lions
4
Performance often overshadowed by the fact the Lions have been such a bad team, but he is athletic, moves well through the trash and gets to the football. A starter for the past 2½ seasons and has averaged over 80 tackles the last three years. Doesn't blitz much but a very good player in coverage.

Likely landing spot: Cincinnati, Detroit, San Diego.

Signed by: N.Y. Giants

20. RB -- Thomas Jones
Bucs
4
Hard to believe that, after the three disappointing seasons Jones posted in Arizona, that he is receiving so much interest. But the former first-rounder certainly resurrected his career by rushing for 627 yards with Tampa Bay in 2003 and his telephone will be ringing early Wednesday when free agency starts.

Likely landing spot: Tampa Bay, Dallas, Chicago.

Signed with: Chicago

21. CB -- Shawn Springs
Seahawks
7
Hard to believe that it has taken Springs, the third player chosen overall in 1997, seven seasons to get his first shot at the free agent market. Once a great cover defender, he has been haunted by injuries, and they have taken a toll. But some teams are hot on him and hope they can sign him and keep him healthy.

Likely landing spot: Miami, Buffalo.

Signed with: Washington

22. OT -- Matt Stinchcomb
Raiders
5
Has been a full-time starter only two of his five years in league, but he has lined up and started at every position on the offensive front, and teams like his athleticism. Former first-rounder has good enough feet, needs to play with more passion. Bucs have already projected him as their starting left tackle.

Likely landing spot: Tampa Bay, Atlanta.

Signed with: Tampa Bay

23. CB -- Bobby Taylor
Eagles
9
Missed much of 2003 with a broken foot and never really regained his form. Big, physical corner and will support the run, uses his hands well, but clearly is a step slower at this point of his career. Wants to get out of shadow of Troy Vincent and has burned some bridges.

Likely landing spot: Cincinnati, Arizona, Pittsburgh.

Signed with: Seattle

24. LB -- Carlos Emmons
Eagles
8
Might be a defender whose value is more with his current team than to a new franchise. Knows the Eagles defense and, while his numbers don't always reflect it, has been very productive in the scheme. Very physical and will man-handle the tight end. Is 30 years old and coming off a broken fibula.

Likely landing spot: Philadelphia or New Orleans.

Signed with: New York Giants

25. FS -- Deon Grant
Jaguars
4
For a player who was long regarded as too soft, Grant made a quantum leap in 2003, and now suddenly rates as one of the better hybrid safeties in the league. Has never played as fast as his stopwatch time, been as physical as his size or flashed natural instincts, but his '03 performance has created a market.

Likely landing spot: Carolina or Washington.

26. CB -- Mario Edwards
Cowboys
4
The skeptics might point out that, since the Cowboys and Bill Parcells aren't trying very hard to keep Edwards, he can't be that good. OK, so he doesn't run all that well and there are occasions in which the four-year veteran doesn't seem too instinctive. But he is solid enough to aid a good team and at a modest price.

Likely landing spot: Cincinnati, Buffalo.

27. CB -- Fred Thomas
Saints
8
When the Saints signed him in 2000, they just figured they were adding a "nickel" corner, but he has turned out to be more than that. At 30, he's a little older than you like and a bit smaller, but Thomas is a late bloomer. Over the last two years, he has nine interceptions, 36 passes defensed and has played the run well.

Likely landing spot: New Orleans.

Signed with: New Orleans

28. OT -- Derrick Deese
49ers
12
Released earlier this week as another San Francisco salary cap purge and, given his tenure and age (33), some teams might just dismiss him out of hand. But if a team really needs a veteran to come in and protect its quarterback for a year or two, he might be the guy. Has played and started at every line position.

Likely landing spot: Tampa Bay.

Signed with: Tampa Bay

29. LB -- Ian Gold
Broncos
4
Coming off a major knee injury, one that limited him to six games in 2003, so he must be cleared medically. But if a team hits on him, it could be getting a superb athlete, a player who has great quickness and innate ability to chase down plays. Had 99 tackles and 6½ sacks as starter in 2002.

Likely landing spot: Denver, Seattle, Green Bay.

30. LB -- Dhani Jones
Giants
4
Sometimes looks the part more than he plays it but, like Gold, could really emerge as an excellent player in the right conditions. Had 118 tackles as a starter in 2003 but still needs to cut down on missteps and somehow discover an economy of motion. Very bight and seems to want to be more than just average.

Likely landing spot: New York Giants.

Signed with: Philadelphia

Len Pasquarelli is a senior NFL writer for ESPN.com.
EDITORS' PICKS
Marcus Mariota still doesn't trump Jameis Winston, but he makes a lot of sense for Tennessee at No. 2.
McShay

Shane Ray transformed himself in many ways to become a top prospect.
Merrill »

The Saints are positioned to land impact players early in the draft. Who else is in a favorable situation?
Barnwell »

MOST SENT STORIES ON ESPN.COM