CBs big winners in free agency
A quick look at the winners and losers after the first few days of free agency.
Updated:
March 8, 2004, 2:09 PM ET
By
Len Pasquarelli
| ESPN.com
In most neighborhoods, the traditional mom-and-pop market down the street has been rendered passÚ, victimized by grocery store conglomerates or by all those mass discount outlets which decided in recent years to also become food purveyors.
But in the NFL universe, this is a halcyon time for the corner market, as indicated by its overwhelming popularity in the opening days of this year's free agent period.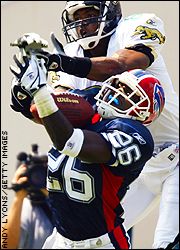 Antoine Winfield, who had one INT for the Bills last season, is headed to Minnesota.
Less than a week into
any
free agency period, it is typically a difficult and tricky business to begin identifying the trends, to discern the tea leaves or consult a crystal ball about a general direction for the unrestricted market.
Make no mistake, however, about the early winners in free agency for 2004.
If you can backpedal, possess a detectable pulse, and the roster notation in front of your name in the game program reads "CB," then chances are pretty good that your cell phone or that of your agent has been ringing off the hook since last Wednesday morning.
And that you have already signed a big-money contract.
"Sometimes in free agency, a certain position picks up some momentum, and then just explodes," said Miami Dolphins general manager Rick Spielman. "This year, cornerback has been that position, and people have reacted. If you were a team that needed a corner, you had no choice but to jump in, especially after the first couple guys signed deals."
Indeed, several general managers and personnel directors echoed those sentiments, with some of them rationalizing the cornerback spending spree and explaining the early blitz as part of a chain reaction. Once the cornerback market got going, it sped ahead on its own impetus, leaving some other positions in a lingering state of inertia.
That three high-profile cornerbacks went off the market even before free agency opened for business, either by trade (Champ Bailey from Washington to Denver) or "franchise" designations (Baltimore's Chris McAlister along with Charles Woodson of Oakland), was hardly surprising. What was stunning, though, was how much the unavailability of The Big Three escalated the value, at the pay window and on the field, of corners left behind in the unrestricted talent pool.
The corner snowball got rolling downhill and, once it accelerated to dizzying degrees, it became impossible to stop. Cornerbacks who were projected to be middle-level targets in free agency, and expected to perhaps earn signing bonuses of $4 million, suddenly were priorities for franchises with porous secondaries. Not only did their importance grow, but so did the signing bonuses, with desperate teams raising the ante.
Fast-food giant McDonald's might be doing away with the super-sizing concept, but it didn't take long for NFL franchises to jump in and fill the breach. At least when it came to cornerback deals struck between Wednesday morning and Sunday evening.
Prominent player agent Jimmy Sexton was a one-man wrecking crew, negotiating new contracts for three cornerback clients, deals that totaled more than $19 million in signing bonuses and nearly $60 million in total value.
Eight unrestricted free agent cornerbacks had either switched teams or re-signed with their own franchises as of Sunday evening. The average signing money, fueled by three bonuses in excess of $10 million, was an amazing $8.95 million. The average per-year value of the eight deals was $4.2 million. And those numbers don't include the $18 million signing bonus and $63 million contract that Bailey received in the new contract he signed with the Broncos. Or the riches that still await Woodson and McAlister if they eventually agree to long-term deals.
Oh, yeah, here's another average that demonstrated just how frenetic cornerback-needy teams became once the position became a hot spot: 1.7. What's that number? Well, it's how many interceptions the eight aforementioned corners averaged per season over the course of their careers.
Three of the cornerbacks haven't ever registered more than two interceptions in a single season. Two others have never posted more than three "picks" in a year. Fernando Bryant, with five interceptions in five campaigns, got a $7.25 million signing bonus and six-year deal worth $24 million for jumping from Jacksonville to Detroit. The Minnesota Vikings rewarded Antoine Winfield with $10.8 million in upfront money, and a six-year contract worth $34.8 million, despite having just six interceptions in five years with Buffalo.
Still on the market
Given the early gold rush at cornerback, there probably aren't many monster deals left to be struck at the position, but the Philadelphia Eagles tandem of Troy Vincent and Bobby Taylor could still net big-money contracts.

Vincent has been considering offers from the Buffalo Bills and Cincinnati Bengals and might still schedule a few more visits. One of the NFL's classiest performers, Vincent, at age 32, likely can play two more seasons at cornerback before moving inside to conclude his brilliant career at safety. The 12-year veteran could lend a huge boost, both on and off the field, especially to a team that is close to contending for a playoff spot.

Taylor, 30, is tentatively scheduled to meet with Seattle Seahawks officials on Monday and might be a candidate to replace the departed Shawn Springs there. Although the nine-year veteran has suffered through a stretch of injuries, and most scouts feel that he has lost a half-step, he can still be an effective player. Taylor has rare size and can play the aggressive style preferred by Seattle coordinator Ray Rhodes, the man who chose him in the second round of the 1995 draft.

By the way, in a statistical anomaly, Vincent and Taylor combined for 71 interceptions in their shared Eagles tenures. That is precisely how many aggregate interceptions the eight free agents cornerbacks who had either switched teams or re-signed with their franchises so far have for their careers.

One other corner who should merit interest is Mario Edwards of Dallas. He doesn't have great speed and isn't an instinctive playmaker, but could still start in some defenses.

-- Len Pasquarelli
Said one very good unrestricted free agent safety, still waiting to arrange his first visit, and watching money evaporate as teams stoke the cornerback market: "There's an old saying that a safety is just a cornerback who can't run very well. Well, if I was maybe a couple tenths of a second faster, I'd be a rich man right now, given the way the corner market has taken off in such a short period. Those guys are the big winners so far."
Here are a few other winners, and some losers too, in the opening days of free agency:
Winners
Agents: If you've got a business card, cell phone and fancy suit -- and, oh, yeah, a client who is being haggled over by a couple teams -- you are a lucky man, indeed. The money at the outset of free agency has been far bigger than any guessed. Drew Rosenhaus cut record deals for tailback Clinton Portis (technically, he was traded, not a free agent) and for defensive end Jevon Kearse. Tom Condon and Ken Kremer of IMG negotiated the biggest contract in NFL history, for Peyton Manning, among the agreements they struck. And they were hardly the only player representatives who cashed in big-time. Give some agents high grades for striking before the money, and negotiating wiggle room, runs out.
New Orleans: The Saints landed two of the best middle-level players in free agency, tailback Aaron Stecker and defensive tackle Brian Young, and spent just a little more than $5 million on signing bonuses to acquire the pair. Both are not only good players but also solid citizens who will bring character to an underachieving franchise.
Offensive tackles: When a right tackle gets huge money, as did Todd Wade who collected a $10 million signing bonus from the Houston Texans, you know the position is on a roll. So far, three different tackles have pocketed signing bonuses of $10 million or more. Heck, the Detroit Lions gave Damien Woody $9 million upfront, the most ever paid to an interior lineman, so there appears to be a trickle-down effect, too.
Detroit Lions: Sure they overpay. But, hey, they're the Lions. All things being equal moneywise, if you're a free agent with other suitors, are you really going to sign with the Lions unless they blow you away with a fat signing bonus? They got Woody and corner Fernando Bryant, and the two will bring veteran leadership to promising units.

Losers



The "Patriots way": Plenty of scribes, this one included, penned columns suggesting that, in a copycat league, teams would attempt to emulate the New England Patriots and exercise fiscal restraint. We should have known better. Within the next few weeks, a sense of responsibility will settle onto the signing period. But, at least right out of the chute, it seems no one learned any lessons from the past and are attempting to out-do each other with misplaced largesse.
Tennessee Titans: General manager Floyd Reese and coach Jeff Fisher are too good for anyone to begin feeling sorry for the Titans or holding telethons for the franchise. This will still be a competitive team because the football people work well together and always seem to find a way to get things done. But the Titans lost two defensive line starters, end Jevon Kearse and tackle Robaire Smith, and traded talented wideout Justin McCareins to the New York Jets. Not exactly the way you want to start the offseason.
Washington Redskins fans: Enjoy the next three years, and pray that Joe Gibbs can win a Super Bowl in that stretch, OK? Because about three years down the road, the Redskins will be a salary cap mess, perhaps beyond fixing. The Skins are all about flash and dash and, of course, cash. All of which means that owner Dan Snyder hasn't learned yet that you can't buy a Super Bowl championship.
The Pittsburgh Steelers and linebacker Jason Gildon: Take the hint, Jason, and either reduce your salary or plan on being released. First, the Steelers entertained free agent Marcus Washington of Indianapolis, projecting him as the guy to replace Gildon. Alas, he signed with the Redskins instead. Then the Pittsburgh coaches planned to bring in Carlos Emmons for a visit, but the former Eagles star signed with the Giants before ever getting on a plane to The Steel City. The Steelers ended up re-signing one of their own, Clark Haggans, but overpaid to keep him.

Len Pasquarelli is a senior NFL writer for ESPN.com.
SPONSORED HEADLINES
MORE NFL HEADLINES
MOST SENT STORIES ON ESPN.COM
EDITORS' PICKS
The Eagles and Cowboys collide in Big D with control of the division at stake.
Boxscore »

Matthew Stafford passed for a season-high 390 yards as Detroit cruised to a 34-17 win over the Bears.
Recap »

The Seahawks and 49ers battle in what could turn out to be a playoff elimination game.
Preview »