Cats, Bucs have four projected new starters
Every team in the NFC South has made major changes along the offensive line this offseason.
Updated:
June 17, 2004, 11:09 AM ET
By
Len Pasquarelli
| ESPN.com
One starting guard retired after 13 NFL seasons and the other defected to the Miami Dolphins as an unrestricted free agent. The left tackle, a two-time Pro Bowl performer, was released for salary cap reasons. And the first-round prize from 2003, who started every game at right tackle as a rookie, including a stellar outing in Super Bowl XXXVIII, is moving to the left side.
Makes you wonder if center Jeff Mitchell, the only Carolina Panthers starting blocker in 2003 who will line up at the same position in 2004 for the NFC champions, feels like a stranger when he swivels his head from side to side. Makes you wonder, too, if Panthers line coach Mike Maser has contemplated cyanide as he works to rebuild the unit.
"The whole idea of continuity," said Maser, understating the obvious, "is a pretty difficult thing to think about at this stage of the game."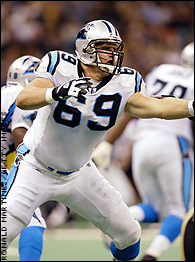 Panthers second-year lineman Jordan Gross is moving from right tackle to left tackle.
In a division that features some of the league's premier line mentors -- Maser, Bill Muir (Tampa Bay), Alex Gibbs (Atlanta) and Jack Henry (New Orleans) -- his counterparts in the NFC South might sympathize. Commiseration will have to wait, however, since all the other NFC South offensive line coaches are currently preoccupied by their own major refurbishing projects.
Remember the old cigarette commercial, from the era when tobacco advertisements were still permitted on television, and which suggested "It's what's up-front that counts?" Well, in the NFC South, the common-thread pursuit just six weeks before training camps open is trying to discern who is up-front, and where they will align.
Around the division, calliope music should have accompanied most mini-camp practices this spring, given the carousel atmosphere that has surrounded the offensive line units of the four NFC South franchises. When the melody concludes in the high-stakes game of offensive line musical chairs, every line coach wants his five best blockers sitting in five starting chairs, but the process of identifying those individuals is hardly complete.
But consider where things stand at this juncture: Of the 20 projected first-unit blockers for the four NFC South teams, 13 are either new starters or holdover players lining up this season in new positions.
One would think that, coming off its stirring conference championship season, Carolina would be a model of stability. Instead, the Panthers are one of two division entries that will have four new starters each. The only NFC South franchise that figures to have fewer than three offensive line changes is Atlanta, and the Falcons' lack of alteration is offset by the addition of Gibbs and his implementation of a dramatically different blocking scheme.
During the era of free agency, NFL teams have averaged slightly more than two offensive line changes per season, according to figures compiled by ESPN.com. But even by those standards, what is transpiring in the NFC South is an incredible collective reformation. It is, for sure, an overhaul that could help determine the balance of power in the division.
"People used to talk about stability, continuity, cohesiveness, all those things when they talked about offensive line play," said Bob Whitfield of Atlanta, likely to be a backup this year after serving as a fixture at left tackle for a dozen seasons. "But free agency pretty much put an end to all that. I mean, if you can keep a line together for a couple of years anymore, that's a lot. What's happening this year, though, is just crazy, man."
Indeed, while the upstart Panthers are the consensus favorites to repeat as the division champions, their continued improvement on offense, catalyzed by the emergence of quarterback Jake Delhomme as a legitimate playmaker in the second half of the 2003 season, could well hinge on how quickly the revamped line comes together. Fact is, the NFC South is a far more competitive division than most pundits predicted that it would be following realignment, and offensive line play could be a key determinant in which of the four teams claims the crown in 2004.
Here is a pre-camp look at how the four units stack up:
Atlanta: Inarguably the most noted addition is Gibbs, who came out of semi-retirement to join the staff of first-year coach Jim Mora. So how accomplished is Gibbs? The Falcons helped lure him to Atlanta by making Gibbs the first $1 million-a-year line tutor in league history. How detested is the longtime Denver assistant? Other coaches complain annually about the dubious tactics, with cut-blocks and roll-ups, that he is alleged to teach his charges.

Gibbs prefers smaller and quicker blockers, guys who can get out and block at the second level, and, from a physical dimension, he's got some candidates on the roster. His scheme should make better players of center Todd McClure and right tackle Todd Weiner.

From a personnel standpoint, the alterations figure to be on the left side. The unheralded Kevin Shaffer, who finished 2003 as the starting left tackle after Whitfield broke his leg, could retain the No. 1 job. The left guard spot could go to either Eric Beverly or to Steve Herndon, both of whom were signed as unrestricted free agents.
Carolina: Given their stellar performance in 2003, it is surprising the Panthers didn't have a single lineman in the Pro Bowl, although center Mitchell, left guard Jeno James and rookie right tackle Jordan Gross all played at an all-star level. This offseason, James signed with the Dolphins in free agency and running mate Kevin Donnalley retired. The Panthers released veteran left tackle Todd Steussie, partly because of an exorbitant cap number, and in part to allow Gross to move to the left side, his more natural position.

Adam Meadows, a starter at right tackle for most of his seven seasons in Indianapolis, was signed as a free agent and, if healthy, is a good fit. The problem is figuring out the best tandem for the guard spots. Second-year veteran Bruce Nelson, who played sparingly in 2003 because of injuries but is admired by the Carolina staff for his aggressiveness, had surgery last month to repair a damaged hip. The starters for now are Doug Brzezinski and Tutan Reyes. The former has 22 starts but only six of those are in the last four years. The latter has appeared in one game in four seasons.

Veterans Travis Claridge and Rich Tylski could contend for starting guard spots, but there is little depth at tackle. Said Mitchell: "When you lose three out of five starters, it's like you're battling from behind. But we'll be fine. We've got a lot of talent."
New Orleans: One of the NFL's deepest and most versatile offensive lines, the Saints' unit will have just one new starter nominally, but the entire interior threesome will undergo a shakeup.
| | | |
| --- | --- | --- |
| | " | People used to talk about stability, continuity, cohesiveness, all those things when they talked about offensive line play. But free agency pretty much put an end to all that." |
| | | —Falcons lineman Bob Whitfield |
Despite being the division's only offensive lineman voted to the Pro Bowl in 2003, right guard LeCharles Bentley will move to center, the position at which he starred in college at Ohio State. Left guard Kendyl Jacox flips to the right side. Second-year pro Montrae Holland, a guy with balky knees but a bad-ass attitude Saints coaches love, is elevated to the starting job at left guard.
The impressive depth includes veterans Jerry Fontenot, Spencer Folau and Jamar Nesbit, all of whom have been starters at various junctures of their professional careers, and also promising second-year tackle Jon Stinchcomb.
Tampa Bay: For two seasons, Muir and head coach Jon Gruden gritted their teeth and played with a collection of blockers each man disdained. So you just knew once general manager Rich McKay departed, and Gruden could do just about anything he wanted in terms of personnel, the offensive line would undergo a bigger facelift than you might see on that "Extreme Makeover" television show.

The Bucs signed four veteran free agents -- Derrick Deese (San Francisco), Steussie (Carolina), Matt Stinchcomb (Oakland) and Matt O'Dwyer (Cincinnati) -- and all of them could start. If that's the case, the only holdover starter from the 2003 lineup would be center John Wade, and even he isn't totally secure.

"Competition in camp is going to be something," Gruden acknowledged. "We're a lot better in terms of depth now. There are a lot of guys here who can play. Every practice is going to be a battle [for the starting spots]."

So top heavy were the Bucs that they shipped Roman Oben, the starter at left tackle for the last two years and in Super Bowl XXXVII, to San Diego last week for a fifth-round draft choice. Another former starter, left guard Kerry Jenkins, took a pay cut to keep a spot on the roster. Onetime first-round tackle Kenyatta Walker and former second-round guard Cosey Coleman, both starters in the past, will have to hustle in camp to even earn spots on the regular-season roster.

For now the projected starters are tackles Deese (left) and Steussie (right), center Wade and guards Stinchcomb (left) and O'Dwyer (right). But, the venerable Deese cautioned, stay tuned. "It's still like a big jigsaw puzzle they're trying to fit together," he said.

He was speaking, of course, about the Bucs, but could have been addressing the offensive line situations across the entire division.

Len Pasquarelli is a senior NFL writer for ESPN.com.
SPONSORED HEADLINES
MORE NFL HEADLINES
MOST SENT STORIES ON ESPN.COM
EDITORS' PICKS
A Mark Sanchez turnover helped Washington grab an early lead on Philly.
Game Day Live

San Diego, trying to make another late playoff push, needs Philip Rivers to get hot.
Preview »

Will the Colts or Cowboys win on Sunday? We pick every Week 16 game.
NFL Nation »