Defense starts fast, doesn't let up
The Colts' speedy front 7 was too much for QB David Carr and the Texans to handle on Sunday.
Originally Published:
November 14, 2004
By
Len Pasquarelli
| ESPN.com
INDIANAPOLIS -- At the halfway point in each of his first two seasons here, Indianapolis Colts coach Tony Dungy insisted that his defenses characteristically improve once the calendar turns to November and the playoff stretch run commences.
That wasn't quite the case in 2002 or in 2003 but, in a suffocating performance during Sunday's 49-14 rout of the allegedly emerging Houston Texans, the Colts defense might well have served notice that this season will be different. Indeed, if the third time around is a charm, the Colts defense sounded an ear-splitting alarm in transforming quarterback David Carr and his Houston offensive teammates into overmatched scrimmage partners.
Speed kills, and while the Indianapolis offense validates that hackneyed notion on a near weekly basis, its undersized defensive counterparts delivered a loud message about its own brand of quickness on Sunday by playing the entire contest in overdrive.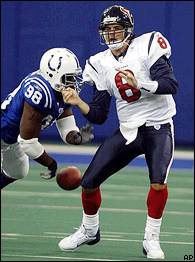 Robert Mathis' constant pressure on David Carr led to three forced fumbles.
On the first defensive snap of the second half of the season, Colts right end
Dwight Freeney
roared around Texans left offensive tackle
Seth Wand
and mercilessly unloaded on Carr, just as he set up in the pocket. Carr lost the ball and, although the officials ruled that the play was a forward pass and not a fumble (the first of many dubious calls in a game where the zebras were conspicuous to the point of nettlesome), the tone was set. The Texans' developing young quarterback was suddenly a
piñata
and the Colts front seven broke out their whipping sticks.
"The first play, man, Dwight comes in and smashes (Carr), and its like, 'OK, guys, the sack parade is on.' It definitely got things rolling. We were confident coming in here that we were playing better, that we were starting to pick it up, and that we were set to have a good game. But that was like pouring gasoline on the fire," said Colts weak-side linebacker Cato June, who recorded a game-high 13 tackles and two of his team's eight passed defensed.
We don't want to dwell too much on Freeney jump-starting the Indianapolis defensive effort because, after we suggested in print last week that the third-year veteran dominated Minnesota standout left tackle Bryant McKinnie in the Monday night victory here, a top Colts official publicly took us to task for that assessment. Maybe next time, we'll take the easy cop-out route, and tell the boss we can't write until after we review the videotape.
Truth be told, though, no one needed to resort to celluloid documentation here on Sunday to understand that the Colts defense played with the kind of warp-speed Dungy expects from his unit. And that the Texans at times, especially on the offensive line, were more like mannequins trying to block the high-energy Indianapolis front.
In all, the Colts sacked Carr five times, and forced him into three interceptions and also three fumbles. Rookie strong safety Bob Sanders, the second-round draft pick who started his second game in a row, turned one of the fumbles into a 37-yard touchdown return. The final Indianapolis touchdown came on a 77-yard interception return by rookie corner Von Hutchins, a sixth-round draft choice.
The two scores boosted the number of defensive touchdowns for the Colts to three for the season, and there could be more to come, especially if the Indianapolis front seven plays with the kind of eye-blink speed it manifested in the team's second straight victory.
It is easy, and somewhat justifiable, to chastise the Colts defense, which entered the game statistically ranked 31st in the league. But had the NFL opted to stage a track meet here on Sunday, matching up the myriad of offensive weapons possessed by a Houston offense that was No. 8 in the league against the Indianapolis defense, the outcome might have been as lopsided as the final score.
The Colts were here, there and everywhere against the Texans. At least a step quicker on virtually every play. Almost always faster to the point of attack. Particularly notable was the performance of "nickel" defensive end Robert Mathis, the second-year rush specialist who posted three sacks, and forced all three of Carr's fumbles.
Aligned against right tackle Marcus Spears, playing in place of the injured Todd Wade, and benefiting from the fact the Texans usually played their tight end on the other side to chip on Freeney on passing plays, Mathis certainly personified the huge speed advantage enjoyed throughout by the Indianapolis defense. With the bull's eye squarely on Carr, all the Colts down linemen took turns harassing the Texans young star.
Beyond the five sacks he suffered, Carr was knocked down at least five more times, and unofficially, 13 of his 41 pass attempts (not counting bootlegs) came when he was flushed from the pocket and forced to throw on the run. Nearly as impressive as the Indianapolis pass rush was the play of its entire front seven versus the run.
On his first seven rushes, tailback Domanick Davis eked out a measly eight yards. And of his 98 yards for the afternoon, 75 came after the Colts led 35-0 early in the third quarter, and played relatively soft upfront the rest of the day.
"They were fast, really fast, into the hole sometimes before I got there," Davis allowed. "It's tough to play anyone when you get that far (behind). But their defense plays a step quicker when it's playing with a lead. And they seem a step quicker at home. They were flying all over the place, getting to the ball, making plays."
Dungy acknowledged that his players feel faster on the antiquated AstroTurf carpet of the RCA Dome and several defenders agreed. Never mind that visiting teams ought to be a step quicker here, too, because the road-runner Colts usually enjoy a psychological edge at home as well. And Dungy, who built a Super Bowl-caliber defense in Tampa Bay with smaller and quicker players, plays right into that.
"The last two weeks, our speed has shown up," conceded Dungy. "We would like to be able to use our speed."
With the offense scoring on three of its first five possessions, and quarterback Peyton Manning tossing five touchdown passes for a third time this season as he continues on a pace to destroy Dan Marino's touchdown pass record, the Indianapolis defense was able to pin back its ears and attack the line of scrimmage. The only two Houston touchdowns, in fact, came after uncharacteristic Manning interceptions, on possessions that started in Colts territory.
| | | |
| --- | --- | --- |
| | " | The first play, man, Dwight comes in and smashes (Carr), and its like, 'OK, guys, the sack parade is on.' It definitely got things rolling. We were confident coming in here that we were playing better, that we were starting to pick it up, and that we were set to have a good game. " |
| | | —Colts WLB Cato June |
"I just think we like being in that attack mode," said Mathis, a far better pass rusher than he is a talker. "When we're able to use our speed, it's tough to keep us from penetrating, really. But the bottom line is, if you can't run, you can't play this defense. It's made for guys like me. It's made to put pressure on the other guy. I mean, speed forces you into a lot of mistakes, and we saw that today. Now we want to keep showing people that speed."
There will probably be some games in the second half of the schedule in which the Colts' smallish front seven finds the line of scrimmage more terrifying than it did Sunday, and in which its youthful secondary is overmatched. But to those who suggest Indianapolis will never get things right defensively, despite Dungy's insistence to the contrary, and that the Colts will only go as deep in the playoffs as it offense takes it, some grist for the future.
Of the team's 11 defensive starters on Sunday, 10 are home-grown products. The lone free agent was tackle Montae Reagor. Left end Raheem Brock was originally drafted by Philadelphia in the seventh round in 2002, but the Eagles rescinded his rights before ever signing him. Cornerback Nick Harper played one season in the CFL before signing with Indianapolis as a free agent in 2000. The other eight starters were all Colts draft picks.
And of the 11 starters, seven have never played for a head coach other than Dungy, which means they were inculcated into his system from the outset of their NFL careers.
Part of that, of course, is that the Colts can't afford high-priced free agents, because so much of their salary cap is devoted to offensive players. But the element that isn't much mentioned is that Dungy prefers, in his words, to "grow" his defense, even if that means some obvious growing pains.
"You look around and, for the most part, what you see are our type of guys, players who have come up in this system," said June, a former college safety who last season made the switch to linebacker. "Players who can run, and run, and then run some more."
Len Pasquarelli is a senior NFL writer for ESPN.com. To check out Len's chat archive, click here .
EDITORS' PICKS
Odd jobs and a stint with NFL Europe's Rhein Fire prepped Jim Tomsula for his role as the 49ers' coach.
Gutierrez »

If Adrian Peterson's court victory doesn't mean he's been reinstated, what does it mean? We sort it all out.
Seifert »

Is Jameis Winston still the top pick? Here's how the combine impacted Todd McShay's first-round outlook.
Mock 3.0
Nike Women's Indianapolis Colts Rewind Rally White Funnel Neck Hoodie Shop »

MOST SENT STORIES ON ESPN.COM