Stokley continues to shine
Brandon Stokley might be the No. 3 WR, but he's been a big key to Indy's offensive success this season.
Originally Published:
November 14, 2004
By
Len Pasquarelli
| ESPN.com
INDIANAPOLIS -- He is making a league-minimum base salary of $535,000 this season, and making a lot more big plays than several NFL receivers who are earning several times that much, but Indianapolis Colts wideout Brandon Stokley made it clear Sunday that he can't even begin to see himself in another offense that better suits his skills.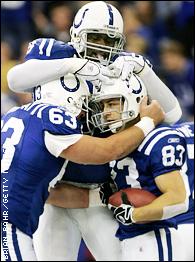 Getty ImagesBrandon Stokley has been getting congratulated by his teammates a lot this season.
"This place and this offense, well, they're perfect for me," said Stokley, who has already voided the segment of his contract that extends beyond this season, making him eligible for unrestricted free agency in the spring. "It's like I'm in heaven, really, and I can't ask for a better situation. I know I've got it pretty good here."
OK, so maybe, tempted by the lure of free agency and perhaps the promise of some fast-talkin' general manager who thinks Stokley can line up as a No. 2 receiver, the sixth-year veteran bolts Indianapolis next spring for a bigger paycheck. Says here, and this is just a suggestion, that Stokley would be crazy to ever abandon this offense.
And it says, too, that even though Indianapolis will have far more significant free agent concerns, with the potential for wide receiver Marvin Harrison and running back Edgerrin James to hit the open market, the Colts would be nuts to allow Stokley to escape.
His performance on Sunday offered yet another reason why Stokley is the square peg in the round hole in the Colts' offense -- he had five catches for 132 yards and scored a pair of touchdowns -- and why he is fast becoming one of the NFL's premier slot receivers.
Flanked by Harrison and Reggie Wayne, and with James now softening up defenses with the run again, Stokley has flourished big-time in the Colts offense. He now has 41 catches for a team-best 665 yards and five touchdowns and Sunday was this third 100-yard outing of the season.
More important, he has provided Peyton Manning, whose five touchdown passes Sunday raised his league-leading total to 31, with the additional option every quarterback covets. Most league defenses don't have even two cornerbacks sufficiently skilled to try to keep up with Harrison and the ever-emerging Wayne. But add Stokley to the equation, and the task of stopping the Indianapolis passing game is nearly impossible.
"We played (poorly)," acknowledged Houston cornerback Aaron Glenn, "but they just seem to have weapons all over the place. It's so hard to keep them all under wraps. You concentrate on Marvin and Wayne and then that No. 83 guy (Stokley) makes all kinds of plays. With him, it's even tougher to keep them down."
Fact is, about the only thing that slowed the Indianapolis offense was its own mistakes (seven penalties, including three false-start calls on one series), and the game officials. The crew, led by referee Bill Carollo, was ponderously slow. And there were a trio of replay challenges in the first half that really forced things to drag.
Houston coach Dom Capers actually used all three first-half timeouts on one Colts offensive series. Two of the timeouts came on instant replay challenges, plays where it seemed Capers had no chance of overturning the on-field call, that were upheld. And he actually used one timeout to stop the clock so he could make the second replay challenge.
| | | |
| --- | --- | --- |
| | " | This place and this offense, well, they're perfect for me. It's like I'm in heaven, really, and I can't ask for a better situation. I know I've got it pretty good here. " |
| | | — Brandon Stokley, Colts WR |
Manning completed 18 of 27 attempts for 320 yards, with the five touchdown passes and a pair of uncharacteristic interceptions, for a quarterback rating of 115.7. Harrison had just two catches for 22 yards, and likely wasn't happy about that production, but Manning certainly spread the ball around.
In addition to Stokley's standout performance, which included a 69-yard touchdown catch on the first possession of the second half, tight end Dallas Clark had a big day. The two-year veteran grabbed three catches for 102 yards and two touchdowns. His biggest play was an 80-yard touchdown, when Manning was flushed out of the pocket to his right, and Texans free safety Marcus Coleman whiffed badly on an interception attempt.
In recent weeks, Manning has begun going to his tight ends again, and that just further complicates things for opposition defensive coordinators.
Sunday marked the fourth straight game in which Clark, who had but two receptions for 68 yards in the first five outings of the year, posted three catches. He has 264 yards (a healthy 22.0-yard average) and four touchdowns on those dozen catches. Fellow tight end Marcus Pollard has 10 catches for 119 yards and three scores in that same period, after only eight receptions for 56 yards the first five games.
"Definitely, there are a lot of weapons here," agreed Stokley, who began his career with Baltimore but was signed by the Colts in 2003, in part because Manning, who used him as an instructor as his annual passing game, lobbied for him. "Peyton is doing a great job of spreading it around. All you can ask is to get your share, you know?"
Right now, Stokley is certainly his share, and making the most of his opportunities.
Len Pasquarelli is a senior NFL writer for ESPN.com. To check out Len's chat archive, click here .
SPONSORED HEADLINES
MORE NFL HEADLINES
MOST SENT STORIES ON ESPN.COM
EDITORS' PICKS
Before earning Seattle's reverence, Pete Carroll endured New England's scorn while trying to replace a legend.
Ashley Fox »

Michael Irvin picked seven Cowboys for his Pro Bowl team, but Cris Carter has Andrew Luck and J.J. Watt.
Preview »

Bill Belichick denied any team wrongdoings and offered other potential reasons for the deflated footballs.
Story »