TE's pact has clause prohibiting 'hazardous activities'
The Browns have an avenue to seek financial recourse on TE Kellen Winslow's contract following his motorcycle accident.
Updated:
May 6, 2005, 11:46 AM ET
By
Len Pasquarelli
| ESPN.com
Whether the Cleveland Browns attempt to recover a portion of Kellen Winslow's bonus money, or perhaps even terminate the landmark contract he signed in 2004 as a first-round draft choice, might depend on whether the injured tight end plays in 2005.
Williams sympathetic
Jason Williams won't ride a motorcycle again.

The former Duke and Bulls guard, who was injured in a motorcycle accident in 2003, talked to Doug Gottlieb on ESPN Radio's AllNight show and said he was sympathetic to Kellen Winslow.

"When I crashed my bike ... the instant thought wasn't that I was going to die or I wasn't going to stay alive, it was that I threw it all away," Wiliams said. "It wasn't until I got to the hospital when I saw the 15 to 20 doctors waiting for me in the emergency room where it actually clicked to me that I wanted to stay alive."

Williams said players shrug off contract language and warnings.

"A lot of these guys in the league ride motorcycles. I mean, even the best of the best guys ride motorcycles. You see guys riding them to games, you see guys riding them around. You can tell guys that it's dangerous but when it really comes down to it, these guys are grown men."

He has been rebuilding the strength he lost while recuperating from his injuries and hopes to make an NBA comeback this fall.
And whether the former University of Miami star plays at all this season could depend on if the worst fears of Browns officials – that injuries Winslow sustained in a Sunday motorcycle accident include a torn anterior cruciate ligament in his right knee – are realized.
A number of media reports indicate that Winslow did tear the ligament, in the same leg he fractured in the second game of the '04 season, and that the surgery required to repair the damage will sideline him for all of 2005. However, none of those reports has come from the team – which, except for two short press releases, has largely reserved comment on the specifics of Winslow's injuries.
Because the injuries occurred in a non-football activity, the Browns are not compelled by league guidelines to detail them. A team spokesman reiterated Wednesday that the Browns are respecting the wishes of the Winslow family in terms of confidentiality.
Two team sources have told ESPN.com, however, that Cleveland officials fear Winslow will miss the 2005 season because of the knee injury. One of them said the club "strongly suspects" an anterior cruciate tear, based on the degree of swelling in the knee. Because of that swelling, though, not even the Cleveland medical staff might be certain yet about the damage to the knee. There are times when an MRI exam is rendered meaningless because excessive swelling does not permit a clear reading of the test.
If the team has conducted an MRI exam and is aware of ligament damage, officials are not saying at this point.
The one element that is clear, based on a copy of Winslow's contract obtained by ESPN.com, is that the Browns have an avenue to seek financial recourse on what was a six-year contract with a maximum value of $40 million when it was signed. But sources from the NFL Management Council, the league's labor arm, and the NFL Players Association acknowledged that the Browns probably will not attempt to enforce the penalty elements of Winslow's contract if he is able to play this season.
2004 SEASON STATISTICS

Rec
Yds
TD
Avg
Long
YAC
5
50
0
10.0
21
22
And even if he isn't, the sources said, Cleveland officials will exercise deliberation in deciding whether to seek repayment of portions of Winslow's signing bonus and option bonus.
"[The Browns] could make the case that, just by riding the motorcycle, he is in breach of the contract," said one league source with experience in such cases. "The language in his contract is pretty explicit. On the other hand, if Winslow plays, he could argue that there was no viable consequence to the accident, since the Browns were really not deprived of his services. It's a pretty dicey thing, either way. If this guy is a part of your future, to what extent do you want to alienate him? There's got to kind of be a combination of sense and sensitivity here, you know?"
At least twice in Winslow's contract – in the "optional extension agreement" and in the "signing, reporting and playing bonus addendum" – there is specific language regarding the off-field activities in which the player is precluded from participating. The sections of both addendums are similar in verbiage and refer to "hazardous activities" that "involve a significant risk of personal injury ... including, but not limited to skydiving, hang gliding, mountain climbing, auto racing, motorcycling, scuba diving and skiing."
The bonus addendum stipulates that, if Winslow defaults on the contract between Feb. 2, 2005 and Feb. 1, 2006, "the player shall forfeit and immediately return and refund to [the] club," $5 million of his original $6 million signing bonus. In the case of the optional extension agreement, Winslow could be asked to relinquish all of the $4,412,500 option payment if he defaults on or before Feb. 1, 2006.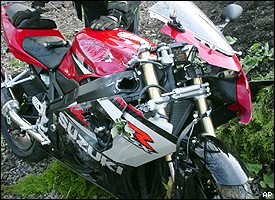 AP Photo/Westlake Police Dept.Kellen Winslow's injuries from his motorcycle accident may cost him millions.
The option payment extends the contract through the 2010 season. The Browns already paid Winslow $2 million of the $4,412,500 to exercise the option. The balance is due on July 15, 2006.
The contract, executed on Aug. 11, 2004, also reads: "It is further understood and agreed that [the] player's waiver of rights to certain unpaid amounts, and [the] player's obligation to repay certain amounts of [these bonuses] are express provisions of this contract and, but for the provisions herein contained, [the] club would not have executed this contract."
The total value of what started as a contract with a maximum worth of $40 million was already reduced to about $29.4 million last season when Winslow fractured his right ankle in the second game of the year. That injury precluded him from reaching a one-time incentive that would have paid Winslow $5.37 million and also would have triggered escalators that would have raised future base salaries by $5.215 million.
Len Pasquarelli is a senior writer for ESPN.com.
SPONSORED HEADLINES
MORE NFL HEADLINES
MOST SENT STORIES ON ESPN.COM
EDITORS' PICKS
The deck is stacked against a championship repeat. Can the Seahawks overcome the Pats and history?
Garber »

Aaron Rodgers secured his place in NFL history by becoming the ninth player to win multiple MVP awards.
Demovsky »

Patriots pastor Jack Easterby is a "godsend" whom many players say is a big reason the team has thrived.
Wickersham »