Cancer, steroids are centerpiece of latest woes
One year after a Super Bowl appearance, another dark cloud is hovering over the Panthers franchise.
Updated:
May 10, 2005, 9:29 PM ET
By
Len Pasquarelli
| ESPN.com
At entrance to Bank of America Stadium, the home of the Carolina Panthers, a tandem of bare-fanged panther statues stands as gatekeepers. Impressive in size, imposing in stance, those panthers might be sufficiently menacing, even in their silence, to frighten any unsuspecting toddlers that happen by.
In hindsight, after 10 seasons in which triumph too frequently has been overshadowed by tragedy, one can't help but wonder if Panthers owner Jerry Richardson might have been better served by stationing a legion of exorcists as stadium sentries. Certainly there have been times when even the most loyal Panthers fans, and probably some players as well, must have wondered if the franchise is possessed by fiendish demons.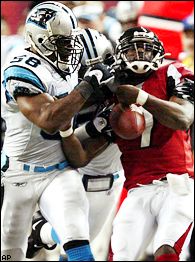 APLB Mark Fields, left, is about to miss a second full season because of Hodgkin's disease.
This could definitely be one of those times, with a steroid controversy swirling around three players, the death of linebackers coach Sam Mills last month after a two-year battle with intestinal cancer, and last week's revelation by weakside linebacker
Mark Fields
that he will miss the 2005 season as he confronts Hodgkin's disease for the second time in two years.
"It's [silly] to even think about," said former Panthers wide receiver Muhsin Muhammad, who played in Carolina in nine of the franchise's 10 seasons of existence before signing with Chicago as a free agent two months ago. "But maybe there is some kind of curse. I mean, every time things are going good, it seems like something bad happens to [offset] the positives. It's kind of strange, all the things that have happened."
Team officials dismiss such irrational rhetoric. But as Exhibit A in the contention that bad things happen even to those with the best intentions, we offer Panthers owner and founder Jerry Richardson. A pillar of the NFL fraternity and, more significantly, the Carolinas, the stately and gentlemanly Richardson is, as folks like to say in the South, "good people."
Yet despite Richardson's diligence in trying to surround himself with good people, bad things happen to the Panthers, often with no rhyme, reason or discernable pattern.
Bad news, as the Panthers have discovered over the years, tends to arrive in waves. And just as the team has appeared poised to wave goodbye to one crisis, another one always seems to well up. Not even the vigilance of the Richardson family, or the mostly steadfast approach of the football operations tandem of head coach John Fox and general manager Marty Hurney, who have stressed character and accountability in their players, has been able to chase bad news away from the front door.
A current Panthers veteran, who has witnessed what he termed a "scary" litany of woes during his tenure with the franchise, acknowledged he often wonders when the next plague might be visited upon the franchise.
"One thing I've learned here is that you better enjoy the good times when they [occur]," he said. "Because in the back of your mind, you're sort of wondering, 'Well, when is the next shoe going to fall?' You hate to think that way, but you can't help it. It just seems like bad luck is part of the history of this team. People tend to overlook the successes because all the other [stuff] gets in the way."
There might be a healthy dash of hyperbole there, but after an inspiring first few years that included a trip to the NFC Championship Game in just their second season of existence, the Panthers have suffered far more than their share of misery. The recent steroid investigation, coupled with the re-emergence of cancer in the team's collective consciousness, is merely the latest of unfortunate occurrences.
It comes at a time when the Panthers, under the stewardship of Hurney and Fox, should be cloaked in optimism. In football-related matters, at least, Carolina has enjoyed a strong offseason. There have been nice additions at key areas of need, a seemingly solid draft, and many of the players who missed significant time in 2004 because of injuries are in the final stages of rehabilitation. Put those players into the lineup of a team that in 2004 lost four times by three points or fewer and rallied to win six of its last eight games after a disastrous 1-7 start, and there is reason to believe the Panthers will rebound.
Still, one has to wonder about the potential for distraction, given what has occurred with this franchise in recent months – and recent years.
In the summer of 1997, during a training camp that should have been a time when the Panthers built upon the foundation laid by their recent NFC title game appearance, starting quarterback Kerry Collins became embroiled in an incident with ugly racial implications. It was an incident that commenced a downward spiral for Collins, the team's first-ever draft choice, and a guy who departed ignominiously just a year later, quitting in midseason, suggesting to head coach Dom Capers that his heart was no longer in the game.
For some veteran observers of the Panthers, it was also the incident that signaled a run of incredibly bad karma.
The events (in no particular order): First-round wide receiver Rae Carruth was convicted of murdering his former girlfriend. Former Panthers tailback Fred Lane, once suspended for grabbing his crotch following a meaningless touchdown in a loss, was shot to death by his estranged wife in the foyer of their Charlotte home. Linebacker Kevin Greene, in a sideline rage, had to have his hands pried from the neck of assistant coach Kevin Steele.
Richardson was forced to fire Capers, a man everyone figured might be coach for life in Carolina, and not long after rewarding him a lucrative contract extension. His successor, former San Francisco coach George Seifert, lasted just three seasons and averaged 5.3 victories, after eight years with the 49ers in which he never won fewer than 10.
| | | |
| --- | --- | --- |
| | " | It's [silly] to even think about. But maybe there is some kind of curse. I mean, every time things are going good, it seems like something bad happens to [offset] the positives. It's kind of strange, all the things that have happened." |
| | | —Former Panthers WR Muhsin Muhammad |
There was also a spate of DUIs. First-round cornerback Rashard Anderson was suspended for a repeat violation of the NFL substance abuse policy, and four years later, still hasn't met stipulations for reinstatement. Wide receiver Steve Smith, currently the most electrifying big-play performer on the team, once slugged a teammate during a film review session. Last season, coming off a Super Bowl XXXVIII appearance that really should have been a springboard for continued success, injuries to several key performers sent the Panthers into a swan dive.
Now, unwitting or not, the franchise is again under the microscope because of the steroid investigation. And again in mourning because of the insidious cancer that took the life of its most beloved star and threatens the career of another standout performer.
There have been isolated times in which the Panthers could only blame themselves for their setbacks. Yet many of the wounds were anything but self-inflicted. Even the critics who contend, years after the fact, that the Panthers should have conducted more thorough background checks on Carruth, for instance, allow that not even the most astute FBI profiler could have predicted the wide receiver would be convicted of murder.
Sometimes, as the history of the Panthers has often demonstrated, due diligence simply isn't enough.
"Stuff like that, you can't always see it coming," said veteran safety Mike Minter last summer, long before this recent string of misfortune. "Things happen.
"But for whatever reason, they seem to happen around here more often, you know?"
Len Pasquarelli is a senior writer for ESPN.com.
SPONSORED HEADLINES
MORE NFL HEADLINES
MOST SENT STORIES ON ESPN.COM
EDITORS' PICKS
NFL Nation reporters offer live updates, and our fantasy gurus have the info you need.
Game Day HQ

Philip Rivers led the Chargers to an OT win to keep their playoff hopes alive.
Williams »

A stunning loss to the Redskins put the QB-needy Eagles on the brink of playoff elimination.
Sheridan »