Bears D causes early turnover to set tone
Bears defenders don't know the meaning of "laissez faire," but they definitely knew how to get their hands on Chris Simms.
Updated:
November 28, 2005, 3:46 PM ET
By
Len Pasquarelli
| ESPN.com
TAMPA, Fla. -- When quizzed Sunday afternoon, not a single starter on the Chicago Bears defensive line knew the meaning of laissez faire, the term used a few weeks ago by ESPN studio analyst Steve Young to describe the upbringing of Bucs starting quarterback Chris Simms.
Loosely translated for the uninitiated and those not forced to fulfill a French requirement in high school, it means "hands off." And that pretty much helps explain why the Bears' front four had no familiarity whatsoever with laissez faire, since Chicago's aggressive line is definitely a hands-on bunch.
Especially when it comes to getting their hands all over a quarterback.
Led by right end Alex Brown, who claimed poaching rights in the Tampa Bay backfield Sunday, the Bears pummeled Simms in a 13-10 victory, their seventh straight and longest such streak since 1986. And in yet another statement game against a club from the supposedly potent NFC South -- the Bears have now defeated New Orleans, Carolina and Tampa Bay in the past month and play host to Atlanta on Dec. 18 -- Chicago served notice it might be a far better team than even its truest believers might have suspected.
In a tour de force performance, Brown posted two tackles, two sacks for 16 yards of losses, five hurries, three other hits on Simms, four pass deflections and a forced fumble. Brown also forced an 18-yard penalty for intentional grounding when he enveloped Simms in the third quarter. The performance gave Brown, who had no sacks in the first six games this season and just one through the first nine, four sacks in the last two games.
Brown and left end Adewale Ogunleye, who also took down Simms twice, have combined for nine sacks the last two weeks. In those two games, the Bears had 12 sacks, all by defensive linemen.
"I just think that if teams are going to try to block us one-on-one, they're going to lose that gamble," Ogunleye said. "The last two weeks, Alex is playing like the best end in the league, no doubt. I think we're all feeling it right now. The deeper we get into the season, the higher the stakes get, and we're raising the level of our play to meet those stakes. We are all making plays, individually and as a group, and it feels great."
No individual play was bigger than the sack-and-strip authored by Brown on Tampa Bay's first offensive possession of the game. In a moment that set the tone for himself and the Bears' defense, Brown beat the block of Bucs tight end Anthony Becht, roared into the backfield and knocked the ball away from Simms. Defensive tackle Tommie Harris recovered at the Tampa Bay 1-yard line and, on the ensuing snap, the Bears scored on a touchdown pass to wide-open tight end John Gilmore.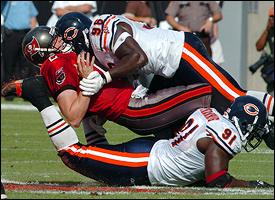 AP PhotoAlex Brown (96) takes down Chris Simms in the second quarter.
Simms said the pass was supposed to go to tight end
Alex Smith
, but the play was essentially disrupted from the outset because of Brown's penetration.
"It put us in a hole right off the bat," Simms said, "and that's not where you want to be against that kind of defense."
Given that everyone anticipated points would be at a premium in a game that featured two stingy defenses, the initial score was particularly significant.
"You're talking about a game," said Bears running back Thomas Jones, "where we knew that every inch would count, not just every yard. So getting easy points like that, especially so early in the game, it was huge. But that's what our defense does. You don't want to take anything for granted, but they give us a short field a couple times a game anymore, and so you're not surprised when it happens."
Said head coach Lovie Smith: "We seem to figure out how to score just enough points."
And that's in large part because the Bears seem to figure that their defense, the league's top-rated unit, will regularly come to the aid of a no-frills, low-risk offense.
Indeed, the rudimentary Chicago offense, which seems to do just enough to win games -- it managed only 239 yards, 15 first downs and one touchdown -- feeds off the opportunities the voracious defense provides it. The early touchdown, coming after a takeaway, was reminiscent of last week's victory over Carolina, when the Bears' first scoring drive, of just 8 yards, followed a Nathan Vasher interception.
Chicago now has 17 offensive touchdowns in 11 games and, remarkably, the average length of those scoring drives is a mere 50.4 yards. Five of the touchdown drives have been for 25 yards or less and four are for 10 yards or fewer, three of 3 yards or less. Not surprisingly, given that the Bears insulate rookie quarterback Kyle Orton as if he were an expensive crystal vase, asking him to manage games more than win them, nine of Chicago's offensive touchdowns have come after the defense authored a takeaway or turned the ball over on downs.
Even with the stellar play of the defense, the Bears still needed some good fortune. When Bucs kicker Matt Bryant pushed a game-tying 29-yard field-goal attempt a few feet right with just 2:47 left, the victory was secured. Bryant had provided the Bucs the consistency they lacked the past few years in the placement game, converting 14-of-16 attempts before Sunday, but his miss proved critical when the Bears bled all but the final 15 seconds off the clock.
The missed kick came after Tampa Bay failed to convert on third-and-2 from the Chicago 11-yard line, when Ogunleye beat Bucs right tackle Kenyatta Walker with an outside speed rush and forced an errant Simms throw. Ogunleye, who has nine sacks and six in the last four games, took advantage of the fact the Bucs' linemen were forced to alter their blocking scheme to try to keep Brown out of Simms' face.
Early on, Tampa Bay was sliding its pass protection toward Ogunleye, trying to help Walker contain him. But after Brown so thoroughly dominated left tackle Anthony Davis in the first half, beating him with a variety of moves and regularly slapping away Simms' pass attempts, the protection calls were directed more his way.
| | | |
| --- | --- | --- |
| | " | I just think that if teams are going to try to block us one-on-one, they're going to lose that gamble. " |
| | | —Bears DE Adewale Ogunleye |
"I don't think it matters to any of us who's getting to the quarterback, because we're a line that shares in each other's success," said Brown, a former University of Florida star who proudly donned a Gators baseball cap for interviews in celebration of Saturday's rout of archrival Florida State and who had a large contingent of family members at Raymond James Stadium. "We embrace all sacks and we embrace all victories. Winning is all that matters. And right now, I don't see a lot of teams with seven-game winning streaks, like we've got. We feel like if the game is close, like today, we'll somehow [prevail]."
Chicago is 4-1 this season in games decided by seven points or less and 2-1 in contests where the margin was three points or fewer. The seven-game winning streak includes only two double-digit victories, with an average margin of 8.4 points.
As the game ended, fittingly on an Ogunleye sack, Bears general manager Jerry Angelo stopped pacing long enough to smile and accept a congratulatory handshake.
"Whew!" exhaled Angelo, whose legion of critics has certainly been silenced by the recent streak of success. "Every week is like four hours of eating glass."
Yeah, if you're the opposition offense, it is.
Smith has taken the scheme he learned while a linebackers coach here with the Bucs, combined it with a bunch of aggressive young defenders and fashioned the elements into a truly dominating unit. Comparisons to the 1985 Chicago defense, which spearheaded the franchise's Super Bowl XX victory, remain more the stuff of hyperbole than history. But it's hard to ignore that the '05 Bears have surrendered only 120 points in 11 games and are on pace to establish a new league record for points allowed in a 16-game season -- or that the unit has permitted a mere 10 touchdowns.
The Bears had allowed an average of 252.1 yards per game. While the Bucs topped that slightly Sunday, eking out 275 yards and 15 first downs, the most important numbers were the ones on the scoreboard at the end of another Bears victory, a pumped-up Brown emphasized. The four-year veteran might not have recognized the term laissez faire, but he understood well that the Bears are on an impressive roll.
"I guess, in any language, we're playing really well," Brown said. "I mean, the word 'win,' that translates pretty nicely into whatever you're talking, right?"
Len Pasquarelli is a senior NFL writer for ESPN.com. To check out Len's chat archive, click here
.
EDITORS' PICKS
Shane Ray transformed himself in many ways to become a top prospect.
Merrill »

The Saints are positioned to land impact players early in the draft. Who else is in a favorable situation?
Barnwell »

Darrelle Revis is just what the Jets' D needed. Which other '15 acquisitions will pay immediate dividends?
Williamson

MOST SENT STORIES ON ESPN.COM