Film study leads to 65-yard TD pass
Peyton Manning saw something in film of the Jaguars' Week 3 win over the Jets that led to his 65-yard TD pass to Marvin Harrison in the second quarter.
Updated:
December 12, 2005, 1:08 AM ET
By
Len Pasquarelli
| ESPN.com
JACKSONVILLE, Fla. -- Every quarterback in the NFL watches film of opponents during the week of preparation for a game.
But, as was demonstrated here Sunday when the Indianapolis Colts pushed their record to 13-0 with a 26-18 victory, Peyton Manning apparently reviews more videotape, perhaps the most of any quarterback in the league, in readying himself for a game.
Asked about the genesis of a 65-yard touchdown pass to wide receiver Marvin Harrison in the second quarter, why the particular route was called and how he knew his longtime partner might be able to beat Rashean Mathis on the play, Manning referenced a play that the Jacksonville Jaguars standout cornerback had made in an overtime victory against the New York Jets.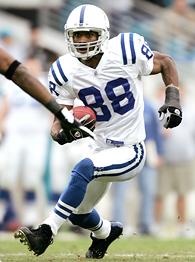 Allen Kee/WireImage.comMarvin Harrison caught six passes for 137 yards and two TDs.
"I saw [Mathis] make an interception in overtime on an 'out' route the Jets ran," Manning said. "I kind of filed it away. In that situation [on Sunday], we just felt like we might be able to get Mathis, who is a great corner, to bite on the 'out' route, and then have Marvin turn it into a 'stop-and-go' [route] deep. And it worked. I just told [Harrison], 'Pump it and then go by him.' And that's what we did."
Actually, it was Manning who pumped, and then Harrison who went, streaking past a flatfooted Mathis for his second touchdown reception of the game.
On the first-and-10 play from the Indianapolis 35-yard line, Manning faked to tailback Edgerrin James, freezing the free safety, and then pumped once, as Harrison temporarily throttled down, feigning the "out" route. Then Harrison slanted quickly up the seam, and into the clear by 10 yards. Manning was, not surprisingly, perfect.
And, of course, so was his recall of the interception that Mathis made against the Jets, as the Jacksonville cornerback stole a Chad Pennington pass intended for wide receiver Justin McCareins. The interception did not lead to a score, although the Jags eventually won 26-20 on a 36-yard touchdown catch by Jimmy Smith.
But here's the kicker: The Jaguars-Jets game was played in Giants Stadium on Sept. 25 in Week 3 of the season. Which means that Manning had to go back nearly three months to review the video of the contest. Most quarterbacks watch just three or four games' worth of film in getting ready for a matchup. But, then again, Manning isn't most quarterbacks.
"I watch 'em all," Manning said. "Every one of them. You just never know when you're going to pick up something that might help you. I watch the defense, that's it. I couldn't tell you who the Jets' receiver was in that game, but I knew Mathis, and I knew the play that he made."
And that knowledge, and unparalleled attention to detail, helped Manning and Harrison make a big play on Sunday afternoon.
One more element of the game that Manning revealed: When the Jaguars opted to kick deep to the Colts after cutting a onetime 23-point deficit to just eight points, instead of trying an onside kick with only 1:54 remaining, the Colts quarterback reminded all of his offensive teammates that the Jacksonville coaches were challenging them. Manning isn't always known for his outward fieriness, but he went up and down the sideline after the deep kick, telling his teammates that the Jaguars coaches clearly felt they could stop the Colts and get the ball back.
"I definitely made sure they knew we were being challenged," Manning said.
The big reason he and the rest of the Indianapolis offense withstood the challenge came three plays later, as Manning completed a 12-yard pass to tight end Dallas Clark on a critical third-and-seven play from the Colts' 23-yard line to snuff out Jacksonville's comeback attempt. The pass completion allowed the Colts to run out the clock with two kneel-downs.
On the play, Manning was under a pretty good pass rush, and throwing a bit off his back foot, but still delivered the ball to Clark, who had found a void in the Jags' secondary.
"That's all about trust," Manning said. "Dallas ran a great route to get open, and I just put the ball up, and trusted he would be there. I didn't even see the catch. That's just a great feeling for a quarterback. You don't see the pass [completion], but you hear [making the sound of a sigh] from the crowd, and you know it was complete."
Len Pasquarelli is a senior NFL writer for ESPN.com. To check out Len's chat archive, click here
.
SPONSORED HEADLINES
MORE NFL HEADLINES
MOST SENT STORIES ON ESPN.COM
EDITORS' PICKS
The deck is stacked against a championship repeat. Can the Seahawks overcome the Pats and history?
Garber »

Who'll take Lombardi home from Arizona, the Seahawks or Patriots? Our experts make their predictions.
ESPN.com picks »

Panned at first, Seattle's 2012 draft class became a driving force in the team's unexpected rise to power.
Merrill »
Nike Men's Alternate Limited Jersey Denver Broncos Peyton Manning #18 Shop »