Young fans introduced to NFL through Madden games
John Madden, a new inductee into the Hall of Fame, is probably more associated to video games than his coaching days with the Raiders.
Updated:
February 4, 2006, 4:42 PM ET
By
Len Pasquarelli
| ESPN.com
DETROIT -- Never underestimate the importance of a catchy promotional tag-line, like the one used by EA Sports: "It's in the game."
In part, because he's in the game, or at least lends his famous name to it, former Oakland Raiders coach and current Monday Night Football analyst John Madden is in the Pro Football Hall of Fame as well.
One of six men selected on Saturday to be inducted as the Hall of Fame class for 2006 -- with the enshrinement coming this summer -- Madden's impressive credentials as coach of the Raiders for 10 largely successfully seasons obviously merited him a bronze bust in the football museum. It's also likely, however, that Madden's popularity as a broadcaster, an ambassador for the game for more than a quarter-century now, and, yes, having his surname attached to the popular computer game, didn't hurt his chances.
"I haven't taken a normal breath since (the announcement) or had a normal thought," Madden said. "I'm in shock. On the way over (to the press conference), I said, 'They can't take this away, can they?' "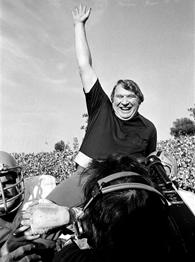 AP PhotoLong before video games and broadcasting, Madden had established himself in football.
Without breaching the Hall of Fame's confidentiality guidelines, by which myself and the other 38 selectors are bound, it is fair to report that Madden's overall popularity -- and the persona that he has enjoyed since his retirement following the 1978 season -- was a small part of the discussion of his career during a four-plus-hour selection meeting. The point was made that the younger generation of football fans was introduced to the NFL because of the computer game (Madden has lent his name to computer football games since 1989, and his EA Madden 2006 is another big seller).
For that generation, Madden is, essentially, the face of the NFL.
Still, it was Madden's coaching resume in Oakland that first earned him a nomination from the Senior Committee, which examines the credentials of men who have been out of the game for 25 years or more, and which ultimately won him at least 80 percent of the votes of the 39 selectors. In a long day of debate, and some spirited give-and-take during which the group of finalists was first reduced to 10 and then to six, it was impossible to counter the compelling arguments for Madden's inclusion into an elite fraternity.
Madden, who was only 42 years old when he retired and who maintained his promise never to return to the sideline, compiled a 112-39-7 record 1969-78. That included a victory over the Minnesota Vikings in Super Bowl XI at the end of the 1976 season.
Perhaps one of Madden's most remarkable accomplishments was his 36-16-2 record, a winning percentage of .685, in games against 10 other Hall of Fame coaches. Madden had an overall .739 mark. Although his playoff record was a modest 9-7, Madden faced some of the league's premier teams of that era in the postseason. His five first losses in the playoffs were, in fact, all to franchises that subsequently won the Super Bowl.
Now it will be interesting to see if Madden 2007 features his induction ceremony.
One of the themes that resonated throughout Saturday's deliberations, which were some of the longest ever, was the overall strength of the class of finalists. Selectors agreed it was one of the deepest classes of candidates and that the process was a difficult one.
Among the other men chosen for the Hall, one who had to overcome a long wait and some self-generated controversy was former New York Giants inside linebacker Harry Carson. The 13-year veteran, who retired after the 1988 season, had twice before made it to the final six in the selection process, and fallen short each time.
Carson last year wrote a letter to Hall of Fame officials, probably out of frustration and disappointment, requesting to be removed from the ballot. That stance may have hurt him with some selectors. Saturday, there was a strong presentation for Carson, whose candidacy received considerable discussion.
In the end, perseverance paid off.
Len Pasquarelli is a senior NFL writer for ESPN.com. To check out Len's chat archive, click here
.
SPONSORED HEADLINES
MORE NFL HEADLINES
MOST SENT STORIES ON ESPN.COM
EDITORS' PICKS
Ian O'Connor: Robert Kraft's defense of the Pats while the NFL continues its Deflategate probe puts his legacy at risk.
O'Connor »

How many players away is your team from competing for the Super Bowl? Our analytics have the answer.
Missing Pieces »

A master at tuning out noise, Bill Belichick will likely use the deflation controversy to fuel his players' fire.
MacMullan »