Benson expects bigger things in second season
Cedric Benson was among a number of first-round picks who struggled in 2005. He should have plenty of opportunities to make amends in Year 2.
Updated:
June 2, 2006, 2:35 PM ET
By
Len Pasquarelli
| ESPN.com
On Nov. 28, 2003, in a victory over archrival Texas A&M, Texas tailback Cedric Benson rushed for 283 yards. Nearly two full years later, as the first-round selection of the Chicago Bears in the 2005 draft, Benson rang up 79 yards against the New Orleans Saints, a relatively modest outing but still the best performance of his rookie NFL season.
There's a lot of wiggle room between 79 yards and 283 yards and, as Benson prepares for his second NFL campaign, Bears officials hope he finds some of it.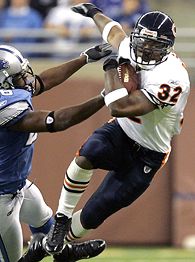 AP Photo/Paul SancyaCedric Benson is excited to finally be alone in the backfield.
Chicago coaches don't expect Benson, the fourth overall choice in the '05 lottery, to run for 283 yards in a game. Maybe ever. Heck, the franchise record, held by late Hall of Fame tailback Walter Payton, is 275 yards. At the same time, the Bears expect more than the 272 yards on 67 carries Benson registered as a rookie last season.
A lot more.
Not surprisingly, so does Benson, who finished his career at Texas having rushed for more than 1,000 yards in all four seasons and as the sixth-leading runner in Division I history.
"No more excuses," Benson said last week. "Time to produce. Time to be the player that I know I can be this time around. I know I can play in this league, so now I have to go out and show people."
In that regard, Benson, the second of the three celebrated tailbacks chosen in the top five picks in the 2005 draft, but by far the least productive in his debut season, has plenty of company among his fellow first-round selections. The collectively good news for the first-rounders from the Class of 2005 is that not many of them need to fret very much about the dread "sophomore jinx." The bad news is that so many of them were freshman flops and contributed little to their respective teams' fortunes.
As a group, the 32 first-round selections averaged 13.1 appearances but just 7.8 starts. Only 11 of the first-round picks played in all 16 games, and just three -- linebackers Derrick Johnson of Kansas City and DeMarcus Ware of Dallas, along with New England guard Logan Mankins -- started in every game. Less than half the first-round class, 14 players, logged double-digit starts. Nine players started three or fewer games. Three of them recorded no starts, and Washington Redskins quarterback Jason Campbell, the latter of the team's two selections in the opening stanza, never left the sideline for a single snap.
The first round included a Merriman (Shawne, San Diego linebacker and defensive rookie of the year), but not much merriment. There was a Cadillac (Tampa Bay tailback and offensive rookie of the year Carnell Williams), but few smooth rides for the first-round rookies. In a league that expects immediate gratification, the 2005 first-rounders now are being counted on to produce a delayed reaction of sorts, and to make a favorable second impression, at least.
There were some rookies who had immediate breakout seasons -- Merriman, Williams, Miami tailback Ronnie Brown, Mankins, New Orleans tackle Jammal Brown, Pittsburgh tight end Heath Miller and San Diego defensive end Luis Castillo, among them -- but for the most part, the first round went bust. Another top pick who flashed great potential was Cleveland wide receiver Braylon Edwards, but his season was truncated by a knee injury that might keep him off the field until October.
"A lot of us have a lot of making up to do," allowed Thomas Davis of Carolina, who will move from safety to linebacker for 2006 after starting the 2005 opener at the former position, then being benched.
The guess is that many of the second-year first-rounders, with Benson perhaps foremost among them, will get plenty of opportunities this season to make amends.
With Benson having missed all of training camp because of a contract impasse, his rookie season got off to a rocky start and he never really recovered. Mired behind starter Thomas Jones and backup Adrian Peterson on the Bears' depth chart, he played in only nine games, started just one and logged fewer than 70 rushes. Just when it appeared Benson was gaining some momentum, with the performance against New Orleans followed by a 50-yard outing against San Francisco, he suffered a sprained medial collateral ligament in his right knee and was sidelined for the final six games of the year.
"It wasn't a wasted season," Benson said, "but I've got to build on the little bit of success I had last year."
The construction job has moved forward nicely this spring, with Benson diligent in his workouts and in his conditioning, and there is considerable reason to expect he will justify his lofty draft status. Jones has been absent from many of the Bears' recent workouts, including their organized team activities sessions, was the subject of offseason trade rumors and is said to want his contract enhanced. So some uncertainty surrounds the Chicago starter, a work horse who rushed for a career-best 1,335 yards in 2005.
"No more excuses. Time to produce. Time to be the player that I know I can be this time around. I know I can play in this league, so now I have to go out and show people."
Cedric Benson, Bears running back
But even if Jones reports to camp on time, Benson is going to have his playing time increased in 2006 and is going to get carries. Not even the return to health of quarterback Rex Grossman, who missed all but two regular-season games in 2005 with a broken ankle, an injury that forced rookie Kyle Orton into the lineup, will keep the Bears from running the ball.
Chicago ran on 52.1 percent of its 937 offensive snaps in 2005, the highest quota in the NFC and the third highest in the league. The Bears might not reach that same level with Grossman back in the lineup but still will be a run-first offense. And, barring some unforeseen circumstance, Benson will play an expanded role in the Chicago attack.
He won't be the only first-round choice from 2005 who suffered a disappointing first season but will be relied on to make a quantum leap in '06. There's an old adage that every player, no matter his status, makes his biggest advance from a learning standpoint between his first and second seasons.
Nearly half the league's franchises are banking on that axiom to hold true.
The departure of Nate Burleson from Minnesota in free agency, just a year after the Vikings traded away Randy Moss, means the learning curve for wide receiver Troy Williamson, the seventh overall choice in 2005, has to be accelerated. Despite the presence of veterans Travis Taylor, Marcus Robinson and Koren Robinson, first-year coach Brad Childress needs Williamson to improve on a rookie performance in which he had just 24 receptions. Likewise, the retirement of Jimmy Smith in Jacksonville means Matt Jones has to grow into a presence at wide receiver.
Arizona cornerback Antrel Rolle was limited by knee surgery to just five games in '05 and, despite starting 13 contests as a rookie, Tennessee counterpart Pacman Jones was stunted by immaturity. Rolle recently underwent an arthroscopic procedure to clean out some debris from his knee, and he should be recovered by the start of training camp. There are few indications, though, that Jones, who spent much of the spring practicing away from his Titans teammates, is ready to move forward.
In a munchkin-sized Indianapolis secondary, cornerback Marlin Jackson is a giant, and the Colts expect him to begin playing like one. St. Louis wants to run more under first-year coach Scott Linehan, and that means right tackle Alex Barron has to start knocking defenders off the line of scrimmage. With San Francisco's acquisition of Trent Dilfer, Alex Smith will have the tutelage of a veteran quarterback, and the 49ers are banking on that to improve the performance of the 2005 draft's first overall pick. Cincinnati coaches are looking to linebacker David Pollack, who is recovering from a foot injury suffered during an offseason basketball game, to help upgrade a No. 28-ranked defense.
Indeed, one of the overriding themes of training camps this summer will be the focus on how well the 2005 first-round choices might perform in their second season in the league.
"That first-round [status] carries a price tag, and a lot of us, for whatever reason, maybe didn't live up to it," Pollack acknowledged. "What's that whole deal about how you don't get a second chance to make a good first impression? Well, we're getting a second chance, and have to make the most of it."
Len Pasquarelli is a senior NFL writer for ESPN.com. To check out Len's chat archive, click here
.
SPONSORED HEADLINES
MORE NFL HEADLINES
MOST SENT STORIES ON ESPN.COM