Traditional QB model being phased out
The high number of offseason QB changes has contributed to an overall lack of stability at the game's most prominent position.
Originally Published:
September 1, 2006
By
Len Pasquarelli
| ESPN.com
In their opening-game victory over the Denver Broncos last season, the Miami Dolphins' quarterback depth chart included Gus Frerotte as the starter, A.J. Feeley as the primary backup and Sage Rosenfels as the No. 3 or "emergency" passer.
INSIDE TIP SHEET
Always known as a cheap organization, the Bengals have opened up their coffers recently to retain key players. Len Pasquarelli addresses this and more Inside Tip Sheet.
• Inside Tip Sheet
Heading into this season, Frerotte is the backup to
Marc Bulger
in St. Louis and Rosenfels is in Houston as the caddie to starter
David Carr
. The suddenly much-traveled Feeley, dealt by Miami to San Diego at the 2005 trading deadline, then released by the Chargers this week and signed by Philadelphia, is working for his third different team in a little more than 10 months.
In their places are Daunte Culpepper, Joey Harrington and Cleo Lemon, all acquired in trades. In fact, Lemon, who will be the team's No. 3 quarterback this season, came to Miami in the Feeley deal.
"It's unusual to have turnover in the league but, yeah, that kind of wholesale [makeover] at the quarterback position is probably pretty rare," acknowledged Dolphins head coach Nick Saban early in training camp. "That's a lot of movement. But [deals] were there for us and we felt that all them, when we [completed] them, made us a much better and deeper football team."
Granted, the complete overhaul of the Miami signal-calling corps is a bit of an aberration -- the Dolphins are the lone team in the NFL in 2006 that has completely revamped its quarterback depth chart from top to bottom since the outset of the 2005 campaign -- but Saban's club isn't the only franchise that had a lot of offseason movement at the game's most high profile and conspicuous position.
In what appears to be an offseason unparalleled in terms of quarterback movement, the carousel of change has operated at warp-speed, spinning out of control at times, and the volume on the calliope has been cranked to the max. Most of the past several offseasons have included a high-stakes game of quarterback musical chairs. But there might not be enough overstuffed recliners in a La-Z-Boy warehouse to handle what has transpired leaguewide since the end of the 2005 season.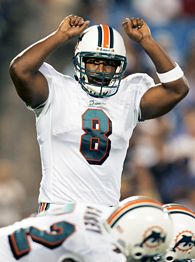 Streeter Lecka/Getty ImagesPrized acquisition Daunte Culpepper heads a completely revamped QB corps in Miami.
With roster cuts coming this weekend, and possibly a few more trades like the one that sent backup Brooks Bollinger from the New York Jets to the Minnesota Vikings on Thursday evening, there could still be a little more scrambling before the music stops completely.
Incumbent starter Billy Volek is all but certain to be traded or released by Tennessee before the Saturday afternoon deadline for cutting rosters to the 53-player limit for the season. There will be quarterbacks cut who will be more attractive to other teams than the ones already on their roster. If those players are claimed on waivers or sign as "street" free agents with new teams, the domino effect means the movement numbers will rise. And they are already at stratospheric levels.
Consider this: Of the 102 quarterbacks who finished the 2005 season either on active rosters or one of the NFL's several injury lists, 48 of them, nearly half, are with new franchises or out of the league entirely. As of Friday morning, there were 91 veteran quarterbacks, players with at least one year of experience, on the 32 league rosters. And the Bollinger deal means that 36 of them are with new teams in 2006.
Just four teams -- Jacksonville, Carolina, Seattle and the New York Giants -- have the same quarterback depth charts now as they had at the conclusion of the 2005 season.
"That [stability] at the position, I think, is part of what makes us a good team," Jacksonville coach Jack Del Rio said of a depth chart that includes starter Byron Leftwich, veteran backup David Garrard and Quinn Gray in the No. 3 slot.
But obviously, there aren't a lot of coaches who share Del Rio's penchant for continuity, since there figures to be 11 franchises on opening day with No. 1 quarterbacks different than the ones with whom they kicked off the '05 campaign. Almost as significant, more than twice that many teams, 23 in all, likely will have new No. 2 quarterbacks.
Translation: A lot of teams are just an injury away from having to play with a quarterback working in a new city, with new teammates and in a new offense. No matter how many offseason practice sessions a team has been through, no matter how many snaps an offense has worked in camp and the preseason, changing quarterbacks is always a tricky proposition. And it's made even more perilous when changing to a quarterback who has changed teams.
Not all that long ago, opining that teams should rearrange the quarterback furniture would be akin to suggesting the solar system might really have only eight planets. But just as Pluto got booted out of the planetary fraternity, quarterbacks are getting kicked to the curb, or to other teams, with regularity now. And the process isn't merely a function of free agency, although the system clearly provided the impetus for so much quarterback shuffling, most league observers agree. Since the end of last season, there have been 11 trades of veteran quarterbacks, five of them involving former first-rounders.
"When you see guys like Culpepper or [Steve] McNair or Joey Harrington changing teams, big-time players or prospects, that pretty much tells you something about the climate now," Tampa Bay coach Jon Gruden said. "It's kind of become a 'nothing lasts forever' league now at quarterback. What's that thing they talk about, the winds of change? This has been more like a twister. But I think the really noticeable thing, too, is how often teams are changing backups. It seems like people are always breaking in a No. 2 guy anymore, you know?"
No one, it seems, should know that like Gruden does. A coach who absolutely loves to collect quarterbacks -- perhaps the most surprising development of the summer came when the Bucs coach invited Rich Gannon to address his team and didn't try to coax the onetime league most valuable player out of retirement -- seems to be forever reshuffling the deck.
When starter Brian Griese went down with a season-ending knee injury in 2005, and the Bucs elevated Chris Simms to the No. 1 spot, Gruden acquired Tim Rattay from San Francisco in a trade-deadline deal. That followed the draft-day acquisition of Luke McCown from Cleveland. Then, this spring, Tampa Bay signed veteran free agent Jay Fiedler, even though he was still rehabilitating from shoulder surgery, and couldn't throw. The Bucs invested a sixth-round choice this year in Bruce Gradkowski, who might well win the backup job. They released Fiedler this week, without him having thrown a single pass in camp, but could re-sign him later in the fall if his arm regains enough strength.
It used to be that the model depth chart included a veteran starter, an experienced backup who perhaps had been a starter previously in his career or might be one in the future, and a young, developmental-type passer. That model, though, has gotten mangled as the position continues to lose stability.
And just how little stability is there? Just nine teams, little more than one-quarter of the league's franchises, will start the same quarterback next weekend with whom they opened the 2003 season.
Said one NFC pro personnel director: "Never did I think the whole 'instant gratification' mentality would trickle down to [the quarterback] position. I always figured it would be, you know, like the last bastion of stability and sanity. It's not quite a disposable position yet, like wide receiver is becoming, but it's getting there and that's scary. Be honest, did you ever think you'd see something like what happened at Tennessee this week? And without an injury being involved? That might be an extreme example, but it's still a sign, a bad sign, of what we've gotten to."
He was referring, of course, to the decision by the Titans, who were alarmed by Volek's preseason play, to sign veteran free agent Kerry Collins less than two weeks before the Sept. 10 season opener. There seems little doubt that the Tennessee staff is preparing Collins, who is getting a crash course and trying to digest at least the Cliff's Notes version of offensive coordinator Norm Chow's design, to be the starter. And even less doubt the Titans are readying Volek for the chopping block.
That would leave the Titans with a depth chart comprised of three quarterbacks -- Collins, first-round draft pick Vince Young and third-year veteran Matt Mauck -- who have combined for one regular-season start in a Titans uniform. Then again, that's one more start than the new Miami trio has recorded in a Dolphins uniform, and a lot of people think Saban's team can go deep into the playoffs, maybe to the Super Bowl.
History has often demonstrated that, just because the grass appears a lot greener on the other side of the quarterback street, doesn't mean a greened-up depth chart will guarantee success. Too many moving parts tends to complicate matters, and allows for breakdowns, so it will be interesting to see just what is wrought this season by the volume of movement at the quarterback position.
The pundits, and maybe some football organizations caught up in the wildly spinning quarterback carousel, might do well to note this: The last veteran quarterback to win a Super Bowl in his first season with a new team was Trent Dilfer with Baltimore in 2000.
In an oddity that might be more appropriate for the current climate, Dilfer was gone within three months of claiming that Super Bowl ring. He has been with three teams since then.
And the Ravens haven't been back to the Super Bowl since.
Len Pasquarelli is a senior NFL writer for ESPN.com. To check out Len's chat archive, click here
.
EDITORS' PICKS
How much does the combine matter in draft analysis? Look at Kevin White's surge up Mel Kiper's board.
Mock 3.0

Mastery of the salary cap's intricacies, with its spending limits and minimums, is a necessity in today's NFL.
Ashley Fox »

The QB position remains a black hole for Cleveland. We identify teams' top needs heading into free agency.
NFL Nation »

MOST SENT STORIES ON ESPN.COM