Payton, Linehan at the head of the class
It's never too early to look at how the first-year head coaches are faring this season.
Updated:
October 12, 2006, 9:45 AM ET
By
Len Pasquarelli
| ESPN.com
There isn't much, not even the 4-1 record and first-place status in the NFC South, that has surprised New Orleans Saints general manager Mickey Loomis about the performance of first-year coach Sean Payton at this relatively early juncture of the season.
The manner in which Payton has so quickly captured the confidence of a team that all but came apart at the seams in the wake of its Hurricane Katrina-related displacement last season? Not a surprise. That Payton's staffing selections, particularly those of first-time coordinators Doug Marrone (offense) and Gary Gibbs (defense), have proven to be brilliant? Loomis isn't shocked. That the Saints already have one more win in 2006 than they did all of last season? Loomis says, with a straight face, that he felt in camp that the Saints would be "a little bit undersold" by the pundits.
So there's been nothing surprising about Payton so far?
"Well, I've probably been a little surprised by the fire that he has [demonstrated] on the sideline during games," Loomis said, laughing. "I knew he was a passionate guy. But when you're interviewing a guy for a [head coaching] job, you can't predict what his demeanor might be like during games. He's really been a fiery guy. He's really into the game. Now, that can be a bad thing for some teams, I guess. But for us, given where we're coming from, it's been a big plus."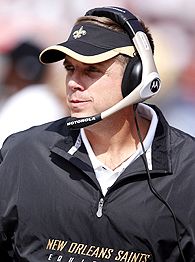 Matthew Emmons/US PresswireSean Payton brought out the best in Brees.
Indeed, there have been almost nothing but pluses for the Saints and their rookie coach so far in 2006.
Take a quick glance at Payton, and the person he most resembles is actor Frankie Muniz from the onetime Fox sitcom "Malcolm in the Middle." There's been nothing middle ground, though, about Payton and what he has accomplished with a New Orleans franchise coming off a dismal 2005 season on and off the field. Of the seven rookie head coaches in the league this season, Payton is one of two -- Scott Linehan of the St. Louis Rams is the other -- who currently has his team in first place.
The aggregate record of the first-year head coaches is 15-19, and Payton and Linehan have accounted for more than half those victories. Props to Linehan, too, who didn't exactly inherit a day at the beach in taking over an often dysfunctional Rams franchise. But even what has transpired in St. Louis, where the Rams are actually winning games on defense, for gosh sakes, pales in relative comparison to what Payton has wrought with the Saints.
New Orleans is a team that was chided, including by yours truly, in training camp. There were monumental concerns about the offensive line and about the ability of the defensive front seven to stop the run. But the offense ranks No. 7 overall in the league, and while New Orleans is just 23rd versus the run, the overall defensive rating of No. 13 is more than respectable. In a city that welcomes any shred of optimism, the Saints have provided a beacon of hope.
The schedule, Loomis noted, will become demonstrably more difficult, beginning Sunday when the Saints host the Philadelphia Eagles. But with the club performing with so much confidence in itself and seemingly in its youthful coach -- and with some magic, like Reggie Bush's electrifying 65-yard punt return Sunday -- all things suddenly seem possible for the Saints.
"I think our players bought into [Payton] in camp," Loomis said. "When he said something, he meant it, and they found that out pretty quickly. He hasn't wavered on anything. That's been a key to what we've been able to do to this point. From my standpoint, where my first priority was getting a head coach whose philosophy was the same as mine, it's been great."
And so the progress report for Payton at this point of the season, by just about any measure, has been excellent.
How about the progress reports for the other half-dozen first-year coaches? Here's a look:
Scott Linehan, St. Louis (4-1)


He has stressed the running game (third-year tailback Steven Jackson, the new offensive centerpiece, is tied for the NFL lead in rushing) and protecting the football, and the combination has paid off nicely. The Rams are a whopping plus-12 in turnover differential. Part of it is that quarterback Marc Bulger, who isn't getting hit as often in a more balanced attack, has yet to throw an interception. The other part is the aggressive, takeaway-minded defense that coordinator Jim Haslett has installed. St. Louis is flying a little below the radar screen so far, not getting nearly as much national attention as New Orleans, but gets a chance to upgrade its Q rating Sunday, when it hosts Seattle.
Progress report: Excellent.
Brad Childress, Minnesota (3-2)


Maybe even more important than a winning record is that Childress, a thoughtful and impressive guy if you just sit down for five minutes with him, has restored discipline and order to a franchise sorely lacking in both commodities last year. Childress benched two starters (safety Dwight Smith and cornerback Fred Smoot) for violations of team policy. He has preached the importance of running the ball and, unlike his mentor, Philadelphia head coach Andy Reid, has made that more than just a lip-service thing. And the Vikings, ranked No. 7 in the league, have played defense. It was, in fact, two defensive touchdowns that rallied Minnesota from a big fourth-quarter deficit against Detroit on Sunday.
Progress report: Very good.
Eric Mangini, New York Jets (2-3)


Until last week's 41-0 shellacking at Jacksonville, the Jets had been well-coached and surprisingly competitive. It will be interesting now to see how Mangini and his team respond to their first mini-crisis. There has been some sniping about Mangini's methods and philosophies and New York has suffered from not having the appropriate personnel to play the 3-4 front that Mangini prefers. The Jets rank 29th in overall defense and are 28th against the run. Minus tailback Curtis Martin, the Jets have used a committee approach, with three different starters already, and the result is a No. 25 ranking.
Progess report: Good.

Gary Kubiak, Houston (1-3)


The fact that onetime human piņata David Carr leads the NFL in quarterback rating and is taking much better care of the ball (seven touchdown passes and just two interceptions) is testimony to Kubiak's ability to tutor the game's most critical position. Carr has still been sacked more than anyone would like, but that is more a function of a reshuffled offensive line than to his past indecision. The major problems have come in the running game (ranked 29th), where the Texans clearly miss tailback Domanick Davis, lost for the season to a knee injury, and in general on defense (No. 32 against the pass and overall). It's a much more fundamentally sound team, but there are still holes.
Progress report: Average.
Mike McCarthy, Green Bay (1-4)

For all the scrutiny of quarterback Brett Favre, the Packers still rank ninth in total offense and third in the league in passing offense. But there is no rushing game to make things any easier for Favre, who turned 37 earlier this week, and the young players in the interior offensive line have appeared lost at times. Despite spending a ton of money on the secondary in recent years, the Packers are 31st versus the pass. Starting cornerbacks Al Harris and Charles Woodson both look as if they've lost a step. If there is good news, it's that McCarthy and has staff have gone into just about every contest with a solid game plan and have tried to adhere to it.
Progress report: Below average.
Rod Marinelli, Detroit (0-5)


Good guy, bad team, miserable situation. Marinelli is a terrific guy and communicator, a man who speaks forcefully yet softly, and makes listeners lean forward to hear him. Alas, leaning is about the only forward motion for the winless and toothless Lions. Here was my theory on Marinelli going into the season: His emotion and rah-rah approach would be welcomed by the Lions if they won a few games early. But if they started slowly, the same guys who vowed to throw themselves on the grenade in camp would quickly lose such inclinations. There have been a few flashes on offense, where the Mike Martz-designed passing game has made Jon Kitna look good at times. But on defense, which is Marinelli's area of expertise, the Lions have only six sacks, the third-fewest in the league. And the Detroit secondary, which is 30th leaguewide, has just one interception.
Progress report: Abysmal.
Len Pasquarelli is a senior writer at ESPN.com.
The Rookies
With the season more than a quarter of the way over for most teams, we decided it was time to check in on the NFL's seven rookie head coaches.
•
Pasquarelli: Progress report
•
Smith: Linehan has Rams on right path
•
SN: Payton at head of class
•
Motion: First-year head coaches
•
Newhouse: Leading Rams back
•
1st and 15: New coaches
Nike Men's Home Game Jersey St. Louis Rams Greg Robinson #79 Shop »

MOST SENT STORIES ON ESPN.COM