Belichick constantly adjusting Pats' game plan
One of the keys to Bill Belichick's success with the Patriots has been his ability to adjust his game plan from week to week, writes Len Pasquarelli.
Updated:
November 2, 2006, 2:20 PM ET
By
Len Pasquarelli
| ESPN.com
For his choice of sartorial statement on Monday night, New England Patriots coach Bill Belichick opted for the plain, gray sweatshirt look.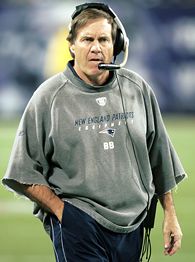 Mark Brettingen/WireImage.comBill Belichick has become known for his sideline sweatshirts.
The familiar hood? Gone. Absent, too, were the sleeves of the sweatshirt, cut off, noticeably raggedly, at the elbow. And the collar was badly stretched out of shape. It was an ensemble likely to earn Belichick a phone call from the NFL's fashion police, who prefer that everyone, coaches included, dresses in sterile lockstep.
But it was also a choice of attire that reveals a lot about the big-picture Belichick, the best coach of this era, and about his philosophies.
It made sense to go hoodless on Monday, in the 68-degree, climate-controlled environs of the Metrodome. And it made sense, too, Belichick and his staff reasoned in divining their offensive game plan, to feature a spread offense against a Minnesota Vikings defense that entered the game ranked first in the league against the run, and primed for a New England attack that has the tailback tandem of Corey Dillon and first-round draft choice Laurence Maroney.
And so, on 51 of the 58 snaps in which Tom Brady was on the field, New England lined up with three, four or five wide receivers, forced the Minnesota linebackers into untenable coverage matchups and allowed its pinpoint-accurate quarterback to shred the Vikings in what looked more like a seven-on-seven drill than a prime-time game.
Brady completed passes to 10 different receivers and the diversity of the passing attack left even the most veteran Minnesota defensive backs in awe. Cornerback Antoine Winfield, one of few Minnesota defenders who was at least in the same area code as the Patriots' receivers for much of the rout, noted that the blip on the radar screen grew a lot bigger Monday night for a New England team that has flown mostly below the public consciousness despite a 6-1 record.
The blip figures to grow exponentially on Sunday evening, when the Pats host the unbeaten Indianapolis Colts in a big-time AFC showdown featuring former division rivals and teams that respect, but don't very much like, one another.
Bet the mortgage that Belichick, for a game in which the temperatures are expected to be in the high 30s at kickoff, will be back to the familiar, hooded sweatshirt. Don't lay any wagers, though, on what manner of offensive strategy New England will conjure up for the game.
"We do what we have to do to win in a [given] week."
Bill Belichick, Patriots coach
Why? Because although Belichick is strictly an off-the-rack guy when it comes to his choice of attire, his approach to every game is definitely made to order.
"We do what we have to do to win in a [given] week," Belichick said late Monday, after his team had laid waste to the upstart Vikings.
Simple, right? But, apparently, not quite simple enough for most to have realized that this relatively rudimentary mind-set is the essence of Belichick's coaching genius. Most outsiders view the Patriots' coach as ramrod rigid and incredibly intractable. Truth be told, he is more chameleon than conformist, and his team follows that lead.
It's his ability to adapt on a weekly basis that has made Belichick so successful.
The beauty of the Colts, and of Peyton Manning, the game's most studious quarterback, is that every opponent knows what they are going to do, and still can't conjure up an antidote. Spread the field with three wide receivers and one tailback, run the off-tackle stretch play, get the ball outside to Marvin Harrison or Reggie Wayne, or down the seam to Dallas Clark. It's a formula for success for Indianapolis, and a recipe for disaster for opponents.
No one, though, can make such blanket assumptions about the New England offense, or about how it will attack the Colts on Sunday night. Against the NFL's worst run defense, the easy assumption is that the Pats will abandon the throw-on-every-down approach used on Monday night, and will pound the ball right at the suspect Indianapolis front seven. But to assume even the most assumable things against the Patriots and Belichick is to wander into a well-set trap.
Because while Belichick's clothes may be Kmart, his game plans are definitely Neiman Marcus.
Len Pasquarelli is a senior writer at ESPN.com.
EDITORS' PICKS
K.C.'s two-headed RB monster of Jamaal Charles and Knile Davis devoured the Pats.
Teicher »

Dennis Allen is out as coach. Is GM Reggie McKenzie on the hot seat?
Bill Williamson »

Benching EJ Manuel lifts a weight off Bills coach Doug Marrone's shoulders.
Rodak »
ESPN FAN SHOP