Saints return to their winning ways at Atlanta's expense
New Orleans' win over Atlanta showed the Saints are still the story in the NFC South while the Falcons are just flipping and free-falling, writes Len Pasquarelli.
Updated:
November 27, 2006, 2:39 PM ET
By
Len Pasquarelli
| ESPN.com
ATLANTA -- Losers of three of their previous four outings, and with suspicions in some corners of the NFL that the league's feel-good saga for 2006 was about to become a felt-good story over the latter part of the season, the New Orleans Saints arrived here Sunday morning intent on stopping the bleeding.
Fortunately, the Atlanta Falcons have recently become the NFL's most effective tourniquet.
So by the time the Saints exited the Georgia Dome, having dispatched the Falcons 31-13 and seen on the out-of-town scoreboard that the Carolina Panthers were upset by the Washington Redskins, the New Orleans pulse was beating strong again in the NFC South. At 7-4, the Saints own a one-game lead over the confounding Panthers and a two-game edge over the Falcons, whose four-game skid has put them on life support.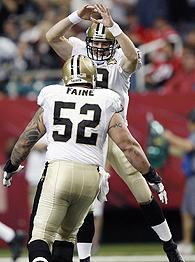 Paul Abell/US PRESSWIREDrew Brees (top) on this season: "We know that we have work cut out for us. "
Most of all, though, the Saints displayed that they still own some of the magic that marked the early part of their season, when they jumped to a 5-1 start.
If the loss means the Falcons now face a near-impossible road to the playoffs, even in a conference that lacks quality at the top, it also demonstrated that New Orleans' two-game losing streak was just a detour. And that the Saints have found their way again.
"I don't know if we felt the magic was slipping away from us or not," Saints tailback Deuce McAllister said. "But we knew we had to play better. I don't think we were as desperate, really, as the Falcons were. But we knew we had to stop beating ourselves. We were giving games away, you know, and we hadn't done that earlier in the year. It was time to quit being sinners and to be the Saints again."
Arguably the NFL's most surprising team, led by candidates for most valuable player (quarterback Drew Brees) and coach of the year (rookie Sean Payton), New Orleans played like a bunch of holy terrors in sweeping the divisional series from the Falcons for only the second time in the past dozen years. It didn't hurt that the Falcons, inept and poorly designed on the offensive side of the ball, performed hellishly on a day when jeers rained down incessantly from the Georgia Dome crowd.
There was a palpable sense of desperation last week in Atlanta, and, perhaps more worrisome for head coach Jim Mora, some internal suggestions that things were beginning to fray at the seams. The situation worsened when Mora's father, former NFL coach Jim Mora Sr., agreed with the assessment of a radio partner that Falcons quarterback Michael Vick is a "coach-killer." And then things were further exacerbated when, in an interview with the Atlanta Journal-Constitution, owner Arthur Blank allowed that a non-playoff year will not be acceptable and that every level of the organization will come under review.
Mora the younger, who in recent weeks has chosen to refer to losses as "tests of adversity" -- his team has now suffered four straight such alleged character builders after opening the season 5-2 -- finally got around to actually using the term "defeat" on Sunday afternoon. And a thorough beating it was, as the Falcons, for all their alleged desperation during the week of preparation, played with little sense of urgency.
There was no such lack of resolve from the surprising Saints, who sensed that if they jumped up early on the Falcons, their opponents might crumble. Credit the Falcons, who never totally collapsed, for hanging around a lot longer in the game than they should have. Still, while the Saints were pulling together, the Falcons continued to come apart.
The level of frustration became more evident when Vick shot his middle finger to the home crowd as he left the field to a chorus of boos.
"It was huge to get up on them early," said right offensive tackle Jon Stinchcomb, referring to the 76-yard touchdown pass from Brees to wide receiver Devery Henderson on the Saints' third offensive snap, making it 7-0 only 1:35 into the contest. "And it was a big play for us, too. We needed to get back to being ourselves this week, and in our practices, we did that. We're a nose-to-the-grindstone kind of team. It's what we have to be to succeed. You know, the sum means a lot more to us than the individual stuff. I think you saw that today."
Even playing without star rookie wide receiver Marques Colston (sprained ankle), the New Orleans offense was efficient, as Brees completed 21 of 30 passes for 349 yards, two touchdowns, no interceptions, and a passer rating of 131.1. It marked his fourth straight 300-yard passing game and his seventh of the season, as he connected on five completions of 20-plus yards and two of 40 or more yards. One of the completions was a 48-yard Hail Mary pass to wideout Terrance Copper on the final play of the first half.
New Orleans managed only 95 rushing yards on 25 carries, but it was enough to keep Atlanta honest.
"The emphasis today was to be aggressive," Brees said. "We had a mindset coming in that we wanted to be physical. We wanted to take our shots and capitalize on them, and we accomplished that. It was a huge, huge win for us, and we know it. I think it restored some of our faith that we're doing things the right way here, even if we stumbled some the last couple games. We played solid on both sides of the ball."
Indeed, while the Saints allowed Vick to frolic through the secondary for 166 rushing yards on only 12 carries, the defense clamped down on the rest of the Falcons' directionless attack. Vick completed only 9 of 21 passes, watched his receivers drop at least five catchable balls and was sacked three times. Atlanta tailbacks Warrick Dunn (who has now gone six games without a 100-yard performance) and Jerious Norwood averaged only 3.3 yards per carry.
After Vick ran for 127 yards on nine carries in the first half, he carried only three times in the final two quarters as New Orleans made some nifty adjustments. The Saints, who played a lot of run fronts in the first half to slow the league's top-rated rushing game, brought some blitzes at Vick from different angles off the edge. And they also used left defensive end Charles Grant as a spy on occasion.
The only Falcons touchdown came on Dunn's 1-yard run in the third quarter. But the Falcons have now scored only five touchdowns in their four-game losing streak, and coordinator Greg Knapp is coming under heavy fire locally.
In the New Orleans locker room, though, the Saints could have cared less about Atlanta's continuing woes. Happy to have slammed the brakes on their own skid, New Orleans players seemed girded now to motor into the playoffs, something that seemed unthinkable not all that long ago, and coming out of their disastrous 2005 season.
"It's a five-game season now, but we got ourselves righted, and we're ready now for the playoff stretch run," said right defensive end Will Smith, who had a powerful performance with five tackles, two sacks, three quarterback hurries, a forced fumble and a pass deflection. "We created problems for ourselves with the way we had played lately. But that was on us. We beat ourselves. Today, we put some stitches on the wound, you know? We feel good again."
Len Pasquarelli is a senior writer at ESPN.com.
SPONSORED HEADLINES
MORE NFL HEADLINES
MOST SENT STORIES ON ESPN.COM
EDITORS' PICKS
Can the Lions win in Green Bay? Here are all our Week 17 picks.
NFL Nation »

J.J. Watt isn't just a trendy MVP pick. There's a smart argument to be made for why he deserves the award.
Sando

Viewer's Guide: Can Detroit's defense overcome Green Bay's Lambeau advantage? Here are the Week 17 trends to track.
Graphic »