McNeill key to Chargers' offensive success
Chargers OT Marcus McNeill won't win rookie of the year honors, but he deserves to be in the debate, writes Len Pasquarelli.
• Tip Sheet notes
Originally Published:
December 22, 2006
By
Len Pasquarelli
| ESPN.com
When it comes to electing the NFL's rookies of the year on both sides of the ball, statistics typically influence the voting, and this season won't be any different.
INSIDE TIP SHEET
Jim Mora's future is in the air in Atlanta, but the fact that he's the one who can save it is just one of the many Inside Tip Sheet notes from Len Pasquarelli.
• Inside Tip Sheet
So be prepared, over the next week or two, to be inundated by these kinds of numbers: Tennessee quarterback
Vince Young
is 7-4 as a starter, has won seven of his last nine starts, and needs 38 yards to become the first rookie at his position to rush for 500 yards.
Reggie Bush
of New Orleans has established a record for receptions by a first-year running back, and Saints teammate
Marques Colston
is only the 10th rookie since 1970 to register 1,000 receiving yards. Houston middle linebacker
DeMeco Ryans
has the second-most tackles in the NFL and Chicago defensive end and situational pass-rusher
Mark Anderson
has 10 sacks. Indianapolis running back
Joseph Addai
has 71 fewer rushing yards than the man he ostensibly replaced,
Edgerrin James
, but owns a 1.4-yard edge in average yards per carry and has 102 fewer rushes.
And, oh, yeah, Bears special-teams ace Devin Hester has six returns for touchdowns.
Lost among those staggering statistics is the lonely number zero, as in the number of holding penalties assessed against San Diego first-year left offensive tackle Marcus McNeill, who won't win rookie of the year honors, but who legitimately deserves to be in the debate.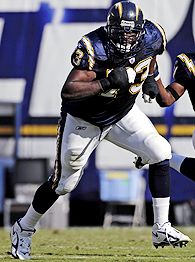 Matt A. Brown/Icon SMIMarcus McNeill has already established himself as one of the league's elite left tackles.
Simply breathe the initials "LT" in San Diego and, justifiably, everyone thinks of Chargers record-setting tailback LaDainian Tomlinson, the league's presumptive most valuable player. But the "LT" designation in any NFL lineup is league shorthand for "left tackle" as well, and McNeill, a second-round heist for San Diego general manager A.J. Smith, has helped carve out a lot of rushing yards for a Chargers offense with a preference for running left, and has been a key part of a unit that has protected Philip Rivers extremely well.
In this week's Pro Bowl balloting, McNeill was chosen as a first alternate, which essentially means he garnered the fourth-most votes among all AFC tackles.
The 2006 rookie class has provided a pretty nice season of replenishment at some positions. All three first-round quarterbacks -- Young, Matt Leinart (Arizona) and Jay Cutler (Denver) -- have displayed promise. Addai leads a very solid group of first-year tailbacks. And Ryans is part of a linebacker class that includes future stars such as Green Bay's A.J. Hawk, Thomas Howard of Oakland and Detroit's Ernie Sims.
But the position that has arguably benefited the most from an infusion of rookie talent is the offensive line. And although he was only the seventh lineman chosen in April, the 50th prospect selected overall, McNeill has clearly been the best of the bunch.
"Think about where we'd be if he wasn't … No, on second thought, don't think about where we'd be," head coach Marty Schottenheimer told the San Diego Union-Tribune recently, when asked about the role the rookie left tackle has played in the Chargers' success. "I don't know, has there ever been an offensive tackle [elected] rookie of the year?"
For the record, there hasn't, and there won't be this season, either. Which doesn't mean McNeill shouldn't be on the short list of viable candidates.
He has started all 14 games on one of the NFL's top-shelf, and youngest, line units. Beyond the fact he's yet to be flagged for a holding call, McNeill unofficially has surrendered only two sacks and, in the running game, has consistently knocked defenders off the line of scrimmage. And that's despite playing the early part of the season with a broken left hand. A San Diego coaching staff that once feared it might have to provide McNeill with some assistance on the weak side, by using a tight end to help in obvious pass-blocking situations, long ago quit fretting about that.
All-Rookie Offensive Line
Despite being just the seventh offensive lineman selected in the 2006 draft, San Diego left tackle Marcus McNeill has emerged as the league's top rookie blocker. Here's a look at who would fill the other four spots of an all-rookie line unit:

• LG Daryn Colledge (Green Bay): A second-round choice, the former Boise State standout primarily played left tackle in college, but the Packers' coaches felt he could move inside, even though he lacked the kind of beef teams typically want at the guard position. Colledge has started 14 games, all but one at left guard, and has demonstrated good improvement as the season progressed. Although he's got a tough-guy attitude, he could probably use a little more muscle.
• C Nick Mangold (New York Jets): Part of the Jets' offensive line tandem in the first round, along with left tackle D'Brickashaw Ferguson, the 29th pick overall, and has started every game. Regarded as one of the top center prospects in the last decade or so, and he hasn't disappointed. Smart and technically sound, uses his hands well, and is a very aware player. Figures to be a Pro Bowl snapper in the near future.
• RG Jahri Evans (New Orleans): Played at tiny Bloomsburg (Pa.) State, a school far more renowned for its wrestling program, and was originally admitted on an academic scholarship. Played mostly at right tackle in college, but most scouts projected him as an inside prospect before the draft, because of his build and his in-line strength. Has started every game. Can beat up on people, but to suggest he's simply a mauler does not do justice to his overall skills. Not a great pass protector yet, but better than a lot of people anticipated him being at this early juncture of his career.
• RT Jeremy Trueblood (Tampa Bay): Gets the nod here over Ryan O'Callaghan of New England because, with 11 starts, he has gotten more playing time. Still has a ways to go, but has the body, the temperament and the tools to be a good right tackle. Long arms and a big physique, can knock defenders off the line when he is fired up, but needs to improve his footwork and his consistency. Has discovered, painfully on occasion, that you can't get by just enveloping people with your size at the NFL level.
--Len Pasquarelli
It took only a few regular-season games, after McNeill won the starting job in training camp, to realize that he didn't need much help at all.
Said Oakland defensive end and 2005 league sack champion Derrick Burgess: "He is really, really good. I mean, he sure doesn't play like a rookie. To think he's going to keep getting better, that's pretty scary."
Scary is what many league personnel directors considered McNeill when they perused the medical dossier from his college career. Despite starting 40 games at Auburn, including six as a true freshman, McNeill was dogged before the draft by reports of chronic back problems, and, indeed, does have indications of the condition spinal stenosis, an abnormally narrow spinal column.
Those concerns are what dropped McNeill, generally regarded as the second-best tackle prospect in the draft class, behind only Virginia's D'Brickashaw Ferguson, into the second round. McNeill was able to jump through all the medical hoops the Chargers put in front of him, and navigate every hurdle the San Diego scouts laid out, including an extensive battery of tests and at least two MRIs on his back. Convinced they could live with some of the medical red flags, the Chargers' brass decided McNeill was simply too good to pass on at the 50th overall slot.
It isn't often that a team wins a Super Bowl starting a rookie at left tackle. But New England did it in 2001, with Matt Light at the most critical offensive line position, and the Chargers could repeat that rare feat.
"I'm not one of those guys with the chip on his shoulder, who says, you know, 'I'm going to get even with all of those teams that didn't want me.' That's not my style," said McNeill, who is the son of a high school coach, knows the game, and impressed the Chargers with his character and demeanor. "Maybe it was a bit disappointing to not be drafted in the first round. But when you get down to just playing football, you get over that kind of stuff. Everything happens for a reason. I think things worked out pretty well for me."
Until surrendering three sacks to Buffalo end Aaron Schobel two weeks ago, Ferguson, chosen by the New York Jets with the fourth overall pick, had played pretty well, too. But not nearly as well in all facets of the game as McNeill, who has quickly developed into an excellent two-way blocker, has played.
McNeill definitely leads an excellent group of rookie offensive linemen, and that includes several other promising left tackles.
Besides McNeill and Ferguson, Cincinnati rookie Andrew Whitworth has held up well in starting 11 games after Bengals standout left tackle Levi Jones was sidelined by a knee injury. It's unusual to have so many solid young left tackles come into the NFL in the same year. Or, for that matter, so many offensive linemen in general who have made a relatively facile transition to the NFL level.
By unofficial count, 16 rookie linemen have started at least five games this season and 11 have started in 10 games or more.
The Green Bay trio of Daryn Colledge, Jason Spitz and Tony Moll has combined for 36 starts. Despite the problems Tampa Bay has encountered this season, the Bucs will benefit down the road from having two rookies on the right side of their line, guard Davin Joseph and tackle Jeremy Trueblood, combine for 21 starts in 2006. Ferguson and fellow Jets first-rounder Nick Mangold, who has started every game at center, figure to be the mainstays on the New York line for the next 10 to 12 seasons. In the not-too-distant future, the bookend tackles in Houston will probably be Eric Winston, who has started five games, and Charles Spencer, who started the first three games of the year before suffering a season-ending broken left tibia.
That's a lot of good linemen from one draft class. But none can touch the overall excellence that McNeill has demonstrated for a Chargers team that was seeking to solidify the key left tackle position.
"His ability to step in and play arguably one of the most difficult positions in the game of football has been remarkable," Schottenheimer said.
Len Pasquarelli is a senior writer at ESPN.com.
EDITORS' PICKS
Poland's Babatunde Aiyegbusi has limited experience, but at 6-9, 351 pounds, he has the NFL's attention.
Wright »

Extra points will likely be different in 2015, but how? NFL Nation reporters dissect the proposed changes.
Roundtable »

Many teams created buzz, but who has done the best work in free agency? Our experts hand out grades.
Sando

MOST SENT STORIES ON ESPN.COM