When it comes to free agency, coaches play it safe
Don't expect to see Lovie Smith, Jeff Fisher or Marty Schottenheimer joining Bill Cowher on the open market after the '07 season, writes Len Pasquarelli.
Updated:
January 12, 2007, 6:33 PM ET
By
Len Pasquarelli
| ESPN.com
When wielded appropriately, and beyond the veil of blatant posturing, the threat of unrestricted free agency has been an effective tool for NFL players in driving the payroll spiral ever upward.
Not so, however, for the league's coaches. But one has to question, at least in a few cases, if next season won't include a change in how some head coaches approach their pending free agency.
Everyone knows that former Pittsburgh sideline boss Bill Cowher will be an unrestricted free-agent coach if he simply sits out the 2007 season, the final year of his contract with the Steelers. But he could be joined in the candidate pool by a number of attractive coaches, all of them with NFL experience and all of them exceedingly successful, if a few simply allow their contracts to lapse.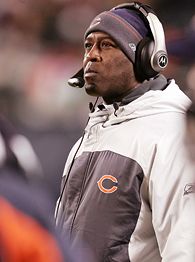 Jonathan Daniel/Getty ImagesLovie Smith has just one year left on his contract with the Bears.
Tennessee's Jeff Fisher, Chicago's Lovie Smith and San Diego's Marty Schottenheimer are scheduled to enter the final season of their respective contracts in 2007. The Titans recently exercised their option on Fisher's contract for 2007 and have initiated discussions on a long-term deal. Chicago officials are said to be close to consummating an extension for Smith, one of the NFL's lowest-paid coaches. The fate of Schottenheimer, who has a frosty relationship with general manager A.J. Smith, is uncertain and could be tied to how far the Chargers advance in the playoffs.
But what if Fisher, whose contract value for 2007 is tied to a formula based on the NFL's highest-paid head coaches that is believed to be in the $5.4 million range, decided to rebuff all extension overtures from owner Bud Adams and just work out the final season of his current deal? Or how about if Smith becomes miffed by the deliberate manner in which Chicago management has handled his situation and does the same thing?
You don't think Fisher and Smith, no matter how their teams performed in 2007, wouldn't have multiple suitors after next season? In terms of hot commodities, they would rank behind only Cowher in the free-agent coaching market.
Don't count on it happening, though. Unlike players, who seize every ounce of leverage available to them, coaches aren't inclined to dangle the threat of free agency.
"For lack of a better term, I call it the 'insecurity syndrome,' because that's what it really comes down to," said one agent who represents high-profile coaches in college and the pros. "These guys are accustomed now to living with a sword hanging over them. Insecurity is their way of life. So no matter how successful they are, if an owner puts a one- or two-year extension on the bargaining table, they grab for it. You can [advise] them otherwise, but it won't matter. Anything that gives them a little more security, that extends their shelf life even a little bit, they're taking it."
That's not to suggest that coaches are taken in, or taken advantage of, in extension negotiations. But by shunning the free-agent bargaining chip and choosing to keep a trump card in their pocket, coaches surrender a degree of leverage in dealing with owners. And they do so, in part, because they fear owners will just move on to someone else.
Such a premise has some merit, but it's hardly foolproof. And one need look no further than the current hiring cycle, in which most of the candidates for the four remaining vacancies lack real sizzle. Granted, there are some former head coaches who have garnered interviews for some of the openings. But if you were, say, Raiders owner Al Davis, wouldn't you be more excited by the prospect of hiring Fisher rather than signing Jim Fassel? Wouldn't a proven commodity such as Schottenheimer, whose 205 victories are the fifth most in NFL history, be attractive?
Those kinds of successful coaches, however, are rarely in the unemployment line. And part of the reason is because they have for so long ignored the free agency option.
Said one former head coach: "We all [contend] we have some idea of our worth. But there's one way to really find out your value, by becoming a free-agent coach. Yet guys are afraid to step out and do it. Guys just don't have the balls to do it."
The 2007 season, with so many potential big-name free-agent head coaches, offers a rare opportunity. But if history is any indication, don't expect coaches to take advantage of it.
Len Pasquarelli is a senior writer for ESPN.com.
SPONSORED HEADLINES
MORE NFL HEADLINES
MOST SENT STORIES ON ESPN.COM