Commentary
Finding that quarterback of the future involves a little luck
Originally Published:
August 3, 2007
By
Len Pasquarelli
| ESPN.com
Even before the final selection was made in the 1999 NFL draft, a lottery in which five passers went off the board among the initial dozen selections, then-San Diego Chargers general manager Bobby Beathard offered a bold assessment of the quarterback quintet.
Kiper: Reviewing the notes
Draft expert Mel Kiper Jr. takes a look back at his draft notes on some notable quarterbacks.
Akili Smith: He was a one-year wonder at Oregon, and that's what I said in the report. Prior to that, this is a player who had a sixth- to seventh-round grade going into his senior year. He went from being off the charts to being a first-round pick -- and a very high pick. Two weeks before the draft, some of the insiders were saying that the Cleveland Browns might have been leaning toward Smith over Tim Couch with the No. 1 overall pick. His delivery was a little unorthodox but overall he had some physical skills to indicate he could play in the NFL.
Cade McNown: I debated the scenario with Joe Theismann about McNown going to Chicago. My point was you have a QB with an average to below-average arm coming from UCLA. The worst possible scenario would have McNown going to the Midwest to a cold-weather city in Chicago where you have to deal with the wind. And, you also have to go to Green Bay once a year. I thought for a team like the Bears to pick a QB with questionable arm strength was very debatable.
Ryan Leaf: He didn't throw a tight spiral, but in Leaf's case he had a big, strong arm. He wasn't the ultimate team leader, but he was tough, hung in the pocket and carried that team on his shoulders to the Rose Bowl. It was split as to who the best QB was in that draft was that year. I went with Peyton Manning, but it was no slam dunk. There were a number of teams that thought Leaf was a better prospect than Manning. Of course, he had problems with media and that spilled over to his teammates; his performance level wasn't very good and he will go down as one of the biggest busts in NFL draft history.
Marc Bulger: He was a late-round pick (6th round) by the Saints. He did a pretty good job at West Virginia for Don Nehlen and his father played at Notre Dame, so he had good blood lines. He ended up in St. Louis where he played for Mike Martz. He waited in the wings, got his chance and ended up shining for Martz. Bulger was poised in the pocket and has pinpoint accuracy. He isn't going to wow you over physically, but his arm is good enough and what he does great is hits his receivers in stride and gives his receivers an opportunity to maximize that catch, which is why his accuracy was ideal for Martz' system.
Tom Brady: I checked back over the 30 years I've been doing draft reports and I usually grade 15-20 QBs a year. Of all the QBs over the last 30 years, Tom Brady was the slowest (in terms of 40 time) and had the worst vertical leap of any QB I've ever written up. However, Brady came out of Michigan and what he had going for him was the Big Ten opposition and pressure-packed environment he played in. He had some huge games against some quality teams his senior year. He didn't wow you over and needed protection because he wasn't the most gifted athlete. But this is where pocket awareness can make up for a slow 40 time, and he more than made up for it by the way he slides and moves instinctively around the pocket.
Two of the signal-callers, opined Beathard, one of the best talent evaluators in league history and a man some feel merits strong Hall of Fame consideration, would be gone from the NFL in a few years. Two more likely would have representative but fairly unspectacular careers, Beathard noted, and one probably would be a frequent Pro Bowl performer.
Eight years later, history shows that Beathard's prediction wasn't exactly right-on, but it wasn't too far off, either.
Less than four years after that much-hyped 1999 draft class made headlines, three of the quarterbacks taken in the first round -- Tim Couch (No. 1 overall), Akili Smith (No. 3) and Cade McNown (No. 12) -- were out of the league. Couch, who did not play in the league the past three seasons because of shoulder problems, launched a comeback with the Jacksonville Jaguars last week. Smith is a backup in the CFL, and McNown has long since retired.
Now with his third franchise in three seasons, Daunte Culpepper (No. 11) probably deserves an asterisk next to his name because he was on his way to a very good career until tearing three ligaments in his right knee in an October 2005 game. Even Donovan McNabb (No. 2), the best of the bunch from the '99 draft class and a quarterback who seemed destined to lead the Philadelphia Eagles to a Super Bowl someday, comes complete with a caveat, having finished three of the past five seasons on injured reserve.
So was Beathard remarkably prescient or just playing the odds in assessing those first-round quarterbacks before they had taken their initial snap in the league?
Probably a little of both.
Having scouted the prospects, Beathard certainly knew the intimate details of their strengths and weaknesses and possessed some instincts about their potential. And having experienced the highs and lows of quarterback-related decisions -- e.g., winning three Super Bowls in Washington with castoffs such as Joe Theismann and Doug Williams and late-round draft pick Mark Rypien, then bombing out monumentally on the selection of Ryan Leaf in San Diego with the second overall pick in 1998 -- he also understood firsthand what a crapshoot it can be to invest a high pick on a quarterback.
"You hold your breath with any first-round pick," said one current college scouting director, who acknowledged his track record includes as many misses as hits at the game's most crucial position. "But at quarterback, it's more than holding your breath. You get a big knot in your stomach when you're turning in the [draft] card with the guy's name on it. I mean, there have been times where, we've made a decision [on a quarterback], our guy in New York is going up to turn in the pick, and I wished I could reach out and tackle him because I was already having [reservations]. It shouldn't be such a hard position to grade, should it? But, hey, it is."
Truth be told, there are other positions, such as defensive tackle or even wide receiver, with failure rates even higher than the one at quarterback.
But the football world pays significantly less attention, and the fans are inordinately more forgiving, when a team's first-round safety goes bust than when a quarterback turns out to be a lemon. Longtime Bengals fans will remember the shortcomings of first-round passers such as Smith and David Klingler (1992) long after they've forgotten that Cincinnati chose flops such as defensive end John Copeland (1993) or linebacker Joe Kelly (1986).
It's difficult for team management, too, to adopt selective amnesia when it misses miserably on a quarterback prospect.
"That's painful for any team," said former Buffalo Bills general manager Tom Donahoe. "It sets your franchise back. It's tough recovering from that."
It's expensive, too.
Cincinnati spent more than $12 million on Smith, who started only 12 games, before it cut him. But that was just the tip of the financial iceberg. Because of Smith's failures, the club was forced to sign Jon Kitna as a free agent. Then, four years after taking Smith third overall in 1999, had to use the first overall choice in 2003 to take Carson Palmer, who was awarded a pricey rookie contract and, subsequently, an even more lucrative contract extension.
The Bears suffered a similar fate. After McNown bombed, Chicago chose Rex Grossman in the first round of the 2003 draft. San Diego grabbed Drew Brees in the second round of the 2001 draft. The Chargers took Eli Manning, then traded him for Philip Rivers in a historic swap during the 2004 draft, essentially because of the Leaf fiasco.
Had Smith, McNown or Leaf been the quarterback those teams believed each to be when they picked, the subsequent maneuvers would have been unnecessary.
Noted former Green Bay general manager Ron Wolf: "When you miss [on a quarterback], you're always trying to make up for it, to compensate, and that complicates things. Most times, it just makes matters worse."
But why do some quarterbacks with obvious physical talents strike out in the NFL when others who might not possess similar skill sets prosper?
Well, there's an adage oft-cited by scouts that suggests: "The tape doesn't lie." Essentially, scouts pore over video of prospects, track their college performances and, even with evaluation tools such as the combine and individual workouts, put more stock in the film review than in any other component of grading a player. Although it's true that a player can't hide physical flaws on tape, at least not given the miles of videos scouts peruse, there are some qualities that can't be captured on celluloid.
"To me, maybe the most important thing to have is mental toughness, and it's probably the element that is most overlooked," Tampa Bay quarterback Jeff Garcia, who entered the NFL as a free agent from the CFL at age 29, said last week. "It's an incredibly hard position to play. You've got so much information to formulate and formulate it quickly. So mental aptitude is critical. But the ability to overcome adversity, to hang in and get things turned around for you and your team, that's even [more important]. I'm not saying that's why so many guys fail, but I think it's a big reason."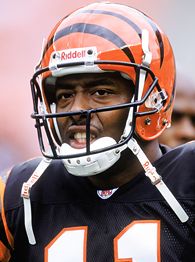 Paul Spinelli/Getty ImagesAkili Smith turned out to be a one-year wonder in college, becoming a bust in the pros.
Think about Smith in Cincinnati. In college, Smith had just one big season at Oregon, and he played in a system there that seemed to enhance his particular skills and camouflage some of his weaknesses. There wasn't really a solid foundation to his game. When challenged to step up at the NFL level, the one-year college wonder left coaches and teams wondering why he wasn't capable of delivering results.
Certainly the low-round selections who have achieved success in recent seasons -- Tom Brady in New England (sixth round), Marc Bulger in St. Louis (sixth round), and Jake Delhomme of Carolina (free agent), to cite a few -- are blessed with mental toughness. Bulger bombed with two teams, and was a practice squad afterthought, before landing in St. Louis, earning a roster spot and recently a $65 million contract extension. Delhomme played sparingly in New Orleans before signing with the Panthers.
"Some of it is just playing time, getting an opportunity and taking advantage of it, but a lot of it is just believing in yourself, riding out the tough times and never losing faith," Delhomme said this week. "You've got to be wired a certain way, you know? If not, then you just become one of those [failure] statistics."
Actually, those statistics probably aren't as dismal as most people think.
Consider this: Of the 32 projected starters in the league for the 2007 season, 18 of them are former first-round choices and 23 are first-day selections. Nineteen of the 32 are still playing with their original franchises.
But here's another number that indicates a quarterback doesn't necessarily have to be a high-round selection to become a top-shelf player: Of the dozen starting quarterbacks in the past six Super Bowls, only four were first-round choices. There were just as many starting Super Bowl quarterbacks taken in the fourth round or lateras in the first, and half as many came into the NFL as undrafted free agents.
Brady, who owns three Super Bowl rings and could challenge for a fourth this season, is perhaps the prime example of a low-round pick who not only made good but carved out fortune, fame and maybe a niche in the Hall of Fame for himself. Had it not been for a severe internal injury suffered by then-New England starter Drew Bledsoe in 2001, Brady might have been holding a clipboard -- instead of hoisting a Vince Lombardi Trophy -- for a long time.
"Sometimes, you've got to be lucky," Brady said during a June minicamp. "Sometimes, the breaks just have to go your way."
Sometimes, it seems, that's also true in selecting quarterbacks.
Len Pasquarelli is a senior writer with ESPN.com.
SPONSORED HEADLINES
MORE NFL HEADLINES
MOST SENT STORIES ON ESPN.COM
Evolution of Quarterbacks

Monday
• Pat Forde: QBs earn respect the hard way
• Bruce Feldman: Irish eyes smile on Crist
• Tom Luginbill: How to evaluate HS QBs


• Zoom Galleries: Dayne Crist | Elite 11
Tuesday
•
Mark Schlabach: Newton on Florida fast track
•
Ivan Maisel: Early USC guys get only "little idea"
•
ESPNU Podcast: Talking quarterbacks

Wednesday
•
Mark Schlabach: UGA's early enrollment success
•
Jim Donnan: Multiple variables in adjusting for QB
•
Video breakdown: Stafford in HS vs. College

Thursday
•
Len Pasquarelli: Eagles' Kolb looks to shed label
•
Todd McShay: Evaluating college QBs for NFL

Friday
•
Len Pasquarelli: Need some luck in QB hunt
•
Len Pasquarelli: Bulger slipped through cracks
•
Floyd Reese: Why we chose Young over McNair
•
NFL podcast: QBs that are now, next

ESPN FAN SHOP