Commentary
For the Colts, it's finally time to focus on the Pats
It wasn't all that pretty, but the Colts took care of Carolina ... and can now focus on their big showdown against the Pats.
Originally Published:
October 28, 2007
By
Len Pasquarelli
| ESPN.com
CHARLOTTE, N.C. -- Six dropped passes. Two fumbles. Several untimely penalties. Missed tackles on defense. And, uncharacteristically, a lot of misfires by quarterback Peyton Manning, who finished with a completion quota of less than 50 percent for the first time in 19 regular-season outings, along with a rare sub-100.0 efficiency rating.
That's how the Indianapolis Colts prepared for the Big Game -- next Sunday's highly anticipated and already overhyped matchup against the similarly undefeated New England Patriots at the RCA Dome.
Oh, did we mention that the Colts, after stumbling around early, summarily dispatched the Carolina Panthers, 31-7, to stretch their pre-November winning streak in the past three years to 20 games while becoming just the second franchise in NFL history to start three straight campaigns with a 7-0 record?
[+] Enlarge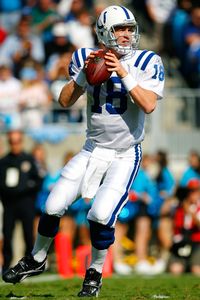 Joe Robbins/Getty ImagesPeyton Manning wasn't at his best, but he did finally beat the Panthers for the first time.
On a day when the Colts were about as sloppy as a toddler eating spaghetti with his fingers, the defending Super Bowl champs finally can look forward. Yep, the subject relegated to the Colts' collective subconscious for the first eight weeks of the season, the forbidden talking point, is now more than just a blip on the radar screen. It's finally grist for discussion.
Although not much discussion from Indianapolis players.
Following the lead of coach Tony Dungy, who cautioned his troops before the media entered the locker room about getting too caught up in the Patriots hoopla, most of the Colts firmly toed the party line.
Still, the moment mandated that the Pats could not be ignored completely, with even Dungy grudgingly acknowledging that this week will be "a circus."
Asked whether he felt his teammates were lying a bit when they insisted they hadn't thought much yet about New England, typically candid Manning allowed: "Uh, yeah, probably."
That concession was more on-target than Manning was much of the day, as he completed just 14 of 30 passes for 254 yards and two touchdowns. Wideout Reggie Wayne, who accounted for half those completions and 168 yards, was the lone Indianapolis receiver to come up big.
Harassed throughout by a Carolina defense that brought pressure inside, and betrayed by a butterfingered receiving corps attempting to compensate for the absence of Marvin Harrison (bruised knee), Manning nonetheless registered a few milestones.
With a beautiful pump-and-go bomb to Wayne for 59 yards in the third quarter, Manning surpassed legendary Johnny Unitas for most touchdown passes in franchise history. And the victory over the Panthers made him the first quarterback in league annals to post wins against 31 other teams, a feat New England's Tom Brady equaled a few hours later in a 52-7 rout over the Redskins.
In addition, Dungy became the winningest coach in Colts history, surpassing Don Shula's mark of 73 wins.
But in at least a few corners of the Indianapolis locker room, it was the showdown with the Patriots that loomed as history in the making.
"I'm sure it's going to be crazy," defensive end Dwight Freeney said about the Patriots game.
" … To this point, it's like they've been doing their thing and we've been doing ours, and none of the players from either team were going to get caught up discussing it. But now, it's almost here, and you can't ignore it. I mean, we'll take a little time to appreciate this [victory], for sure. But by, oh, maybe one minute after midnight tonight, we'll start thinking about [New England]."
Said standout Colts middle linebacker Gary Brackett, who had a game-high 12 tackles: "It's been a long time coming, but the two parallel lines are about to come together now."
To a man, however, Indianapolis players and coaches debunked the suggestion that their flat start to the Carolina game was caused by a premature fixation on the Pats, who have lost to the Colts in the teams' past three meetings, including in last season's AFC Championship Game.
Dungy allowed that he might check out the Patriots-Redskins game before leaving the stadium but said he probably would then take a nap on the plane trip home. Certainly, his team seemed to sleepwalk in the first half before making some halftime adjustments, then running away from an overmatched opponent that has lost five straight home games by an average of 19.6 points.
The Colts attributed their early problems -- they allowed Carolina to march 80 yards on 18 plays for a TD on the opening drive and failed to get into the end zone themselves until Joseph Addai scored with 1:33 remaining in the first half -- on a schedule that had them scrambling all week.
After beating the Jaguars on "Monday Night Football," Indianapolis had a short work week to prepare for a Carolina team it hadn't played since 2003. And the Panthers were, as Dungy pointed out, coming off a bye, having had two weeks to prepare for the Colts.
Still, once the Colts regained their equilibrium -- limiting the Panthers to seven first downs in the middle two quarters, shutting down wide receiver Steve Smith with more Cover 2 looks than they typically play, and generating just enough offense with Wayne and Addai -- the game became a mismatch.
"We found our focus," Dungy said. "And I think we'll have good focus next week."
And they don't have to hide it.
"It's like, for two months, they've been the unmentionable [topic]," cornerback Marlin Jackson said. "We had to go seven weeks or whatever, and rightly so, focusing on that week's opponent. And I think it's a real strength of this team, and of how the coaches handle us, that we've been able to do that and do it well.
"You always knew what [the Patriots] were doing, but it was kind of, 'OK, let's take care of our own business and concentrate on us, and not worry about anything else.' But that's over with now.
"Finally, the blinders are off."
Len Pasquarelli is a senior writer for ESPN.com.
SPONSORED HEADLINES
MORE NFL HEADLINES
MOST SENT STORIES ON ESPN.COM
PATRIOTS BEAT COLTS, 24-20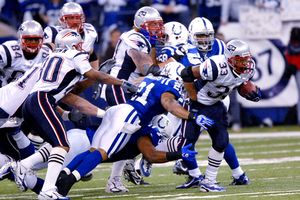 It's a battle of unbeatens ... and a possible AFC title game preview. It's Brady vs. Manning. Belichick vs. Dungy. It's 8-0 New England vs. 7-0 Indianapolis in Week 9 at the RCA Dome.
Sunday Countdown, (ESPN, 11 a.m. ET)
• In a report by Greg Garber, Hall of Fame QBs weigh in on the matchup of future Hall of Fame QBs Peyton Manning and Tom Brady. Also, special guest analyst Bill Parcells joins the crew to help cover every crucial angle of the epic matchup.
Commentary/features
•
Predictions: ESPN experts make their picks
•
Pasquarelli: Colts, Patriots take different paths
•
Clayton: Colts face Pats' big weapons
•
Sando: Manning or Brady? Experts make the call
•
Garber: Hall of Famers assess Manning, Brady
•
Drehs: Colts' Sanders a small wonder
•
EA Sports video: How they use Sanders
•
Chadiha: NFL's Top 5 rivalries
•
Power rankings: Pats No. 1, Colts No. 2
•
AccuScore: Pats have the edge
•
Clayton: Belichick seeks to run it up
•
Pasquarelli: Colts can finally focus on Pats
•
TMQ: It's an NFL battle of good vs. evil
Page 2
•
Got a problem? Ask coach Belichick
•
Inside the brain of ... Adam Vinatieri
•
Hill: Just call him Suge Belichick
•
Gallo: Secrets facts about Colts and Pats
•
Animation: Belichick's Cleveland years
Video
•
Colts, Patriots gamebreakers
•
EA Sports: How Colts use Sanders
•
Colts relishing underdog role
•
Cowboys' Crayton wants Colts to beat Pats
•
Keyshawn on Pats-Colts
•
Schlereth: Belichick breaking unwritten rules
•
Ismail: Colts, Pats right there together
•
Fassel: Teams must block out hype
•
Colts' Jackson ready for the Pats
Audio
•
Mike & Mike: Jimmy Johnson's preview
•
Jaws: Previewing Super Bowl XLI½

•
Freeney: Colts won't change approach

•
Patriots-Colts debate
•
Crayton: Colts have a great shot

•
Phil Simms on Brady-Manning

•
Jaws: QBs are pleasure to watch

Scouts Inc.
•
Horton: Both offensive lines are underrated
•
Green: Addai is offensive X-factor
•
Kidd: Maroney gives Pats another weapon
•
Maalouf: Pats have edge in punt game
•
Six keys to beating the Pats and Colts
•
Pats vs. Colts: Tale of the tape
•
Take 2: Pats-Cowboys scouting report
•
Colts' secondary will get physical
•
Cowboys' safeties are vulnerable
•
Follow this red-zone checklist
•
Wayne emerging as Colts' No. 1 receiver
•
Patriots-Colts scouting report
•
Seymour's return big for Pats
•
Clark, Welker play big roles
SportsNation
•
Who will win? Who's the better QB?
•
Where does the Colts-Pats rivalry rank?
Community
•
Got an opinion on the game? Let's hear it
•
Colts good, Patriots evil?
•
Sound off on Belichick's no-mercy approach
Manning vs. Brady: Previous results
•
Sept. 30, 2001 (at NE):
Patriots 44, Colts 13
•
Oct. 21, 2001 (at Indy):
Patriots 38, Colts 17
•
Nov. 30, 2003 (at Indy):
Patriots 38, Colts 34
•
Jan. 18, 2004 (at NE):
Patriots 24, Colts 14 *
•
Sept. 9, 2004 (at NE):
Patriots 27, Colts 24
•
Jan. 16, 2005 (at NE):
Patriots 20, Colts 3 **
•
Nov. 7, 2005 (at NE):
Colts 40, Patriots 21
•
Nov. 5, 2006 (at NE):
Colts 27, Patriots 20
•
Jan. 21, 2007 (at Indy):
Colts 38, Patriots 34 *
* = AFC championship game
** = AFC divisional playoffs
2007 Results
NEW ENGLAND (8-0)
•
Game 1:
Patriots 38, Jets 14
•
Game 2:
Patriots 38, Chargers 14
•
Game 3:
Patriots 38, Bills 7
•
Game 4:
Patriots 34, Bengals 14
•
Game 5:
Patriots 34, Browns 17
•
Game 6:
Patriots 48, Cowboys 27
•
Game 7:
Patriots 49, Dolphins 28
•
Game 8:
Patriots 52, Redskins 7
•
Patriots clubhouse page
INDIANAPOLIS (7-0)
•
Game 1:
Colts 41, Saints 0
•
Game 2:
Colts 22, Titans 20
•
Game 3:
Colts 30, Texans 24
•
Game 4:
Colts 38, Broncos 20
•
Game 5:
Colts 33, Bucs 14
•
Game 6:
Colts 29, Jaguars 7
•
Game 7:
Colts 31, Panthers 7
•
Colts clubhouse page