Commentary
Beyond three Patriots, some surprising midseason stars on offense
Originally Published:
November 7, 2007
By
Len Pasquarelli
| ESPN.com
My midseason offensive All-Pro team (which includes special teams) is heavy on Patriots. For my defensive midseason All-Pro team, click here.
Offense

Wide receiver
Randy Moss, New England Patriots

Reasoning: In only nine games, the resurgent Moss has one more touchdown catch (12) than he did in 29 games with the Oakland Raiders the past two years combined. Thought to have lost a step at age 30, Moss has five receptions of 40 yards or more. That's tied for the most in the league.
---

Wide receiver
Braylon Edwards, Cleveland Browns

Reasoning: The third-year veteran has become the deep threat the Browns envisioned when they selected him with the third overall pick in the 2005 draft. Edwards has nine touchdown catches, and his impressive 17.5-yard average is the best among players with more than 30 receptions.
---

Tight end
Antonio Gates, San Diego Chargers

Reasoning: His numbers have fallen off a bit in the past three weeks, but Gates still is the best upfield threat among tight ends, as evidenced by his 13.8-yard average and nine receptions of 20 yards or more. The former college basketball standout has six games with 75-plus receiving yards.
---

Left tackle
Matt Light, New England Patriots

Reasoning: There are three New England offensive linemen having Pro Bowl-caliber seasons, but Light is the biggest reason quarterback Tom Brady has been sacked just once every 30.9 "dropbacks." Not as nifty or quick-footed as some left tackles, but a relentless, blue-collar guy who hangs tough.
---
Left guard
Eric Steinbach, Cleveland Browns

Reasoning: One of the few big-money guards of the past two seasons who actually is living up to his paycheck, Steinbach has solidified the Browns' blocking unit. Cleveland is averaging more than 5 yards per carry on plays run over him, and Steinbach has improved his pass-protection skills.
---

Center
Andre Gurode, Dallas Cowboys

Reasoning: Only a year ago, Gurode was best known as the guy who had his helmet-less head stomped on by Tennessee Titans defensive tackle Albert Haynesworth. Now he is playing at an All-Pro level as an in-line blocker and demonstrating the kind of quickness that allows him to block at the second level.
---

Right guard
Chris Snee, New York Giants

Reasoning: A tough, gritty player who really reflects the term "in-line" blocker and who has the traditional mind-set of a guard. Can dominate in stretches and has overcome some of the inconsistencies of his earlier seasons. Has made pretty solid strides in his pass-protection techniques.
---

Right tackle
Mark Tauscher, Green Bay Packers

Reasoning: It's definitely a down season for right tackles around the league, and that helps Tauscher's cause some, but he remains a steady player and a stalwart strongside presence. Green Bay doesn't run the ball well but ranks No. 5 in the league in total offense, and Tauscher protects better than most right tackles.
---

Quarterback
Tom Brady, New England Patriots

Reasoning: Everyone always wondered how much better the two-time Super Bowl MVP would be with upgraded receivers. Now, he's scary and threatening to shatter virtually every major passing record. Perhaps most remarkable is his 7.5-to-1 ratio of touchdown passes to interceptions.
---

Running back
Adrian Peterson, Minnesota Vikings

Reasoning: A big, upright-running tailback who reminds people of Eric Dickerson, Peterson could threaten the single-season rushing record set by the Hall of Fame back in 1984. The former Oklahoma star is averaging an eye-popping 6.6 yards and has five runs of more than 40 yards, while no one else has more than two.
---

Running back
Brian Westbrook, Philadelphia Eagles

Reasoning: The mighty-mite tailback essentially is the Philadelphia offense, and he might be the NFL's most complete back. Westbrook is second among running backs in receptions and is on pace for a career-best 2,270-yard season in terms of total yards from scrimmage.
---
Special teams

Kicker
Rob Bironas, Tennessee Titans

Reasoning: Leads the league in field goals (20), including a league single-game-record eight 3-pointers in an Oct. 21 victory over the Houston Texans. Bironas has converted 90.9 percent of his attempts. That includes six of seven conversions on field goal tries of 40 yards or more. Very strong leg, as indicated by seven touchbacks.
---

Kickoff returner
Leon Washington, New York Jets

Reasoning: Got the job full time when 2006 return champion and Pro Bowl performer Justin Miller suffered a season-ending injury, and has responded well. Washington is averaging 33.5 yards per return and has three runbacks for scores, with four returns of 40 yards or more.
---

Punt returner
Devin Hester, Chicago Bears

Reasoning: The gold standard against whom all other kick return specialists are judged, Hester remains a threat every time he touches the ball. He has scored twice on punt returns and is averaging a robust 19.6 yards per runback. Just for good measure, he also has scored on a kickoff return.
---

Punter
Andy Lee, San Francisco 49ers

Reasoning: One of the few bright spots in a dismal season for the 49ers, Lee has punted more than anyone in the league but still ranks third in gross average (49.9 yards) and second in net average (43.6). Has a league-high 19 punts inside the 20-yard line, and the only blemish is his 10 touchbacks.
---
Len Pasquarelli is a senior writer for ESPN.com.
SPONSORED HEADLINES
MORE NFL HEADLINES
MOST SENT STORIES ON ESPN.COM
MIDSEASON REPORT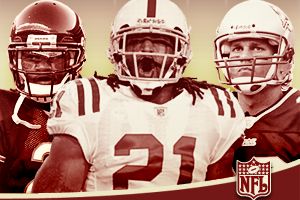 We've reached the midway point of the 2007 NFL season. Time for a review of the first half ... and a sneak peek at the second half.
Looking Back
•
ALL-PROS:
Len Pasquarelli selects his top players on offense and defense, as well as top special teams performers.
Offense/ST
|
Defense
•
TEAM GRADES:
Who passed? Who failed? Scouts Inc. analyzes every team's first half and hands out the grades.
AFC
|
NFC

• Jeffri Chadiha picks out the surprises and disappointments on each team and also predicts each team's season record.
Story
• Scouts Inc.'s Jeremy Green hands out his midseason awards.
Audio

• ESPN experts pick the midseason award winners.
Story
Looking Ahead
• Which games will be most intriguing in the second half? John Clayton picks out his top ones.
Story
• Who'll make the playoffs? Gary Horton makes his predictions ... all the way up to the Super Bowl winner.
Story

SportsNation
•
Vote: First-half player awards
•
Vote: Make your league predictions
•
Vote: Who's an unwatchable pretender?
Fantasy
ESPN.com's fantasy football experts tackled the midseason last week prior to Week 9. Here's what they wrote:
•
Ken Daube: Midseason top 100 players
•
Redrafting at the halfway point