Commentary
T.O. shows his 'patience' against the Giants
Terrell Owens started off slowly against the Giants, but he finished big as the Cowboys won the NFC East showdown.
Originally Published:
November 11, 2007
By
Len Pasquarelli
| ESPN.com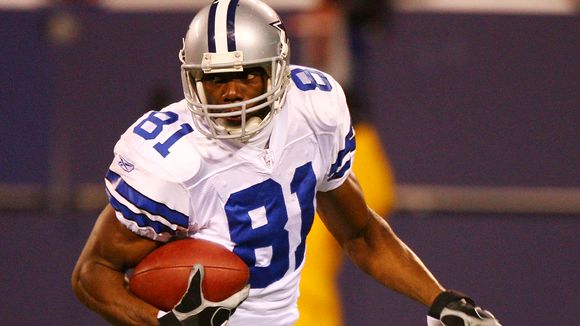 Al Bello/Getty ImagesTerrell Owens caught touchdown passes of 25 and 50 yards in the second half to lead the Cowboys to Sunday's big win at New York.
EAST RUTHERFORD, N.J. -- Thanks to a bye week,
Randy Moss
had the day off. That left
Terrell Owens
, who has obsessed this season over the glittering accomplishments of the
New England Patriots
star, taking center stage Sunday among the league's wide receivers.
And, as usual, he eventually took the New York Giants' secondary to school.
Limited to an innocuous three catches for 31 yards in the first half, Owens scored twice after the intermission, both on plays on which he ran through the New York coverage for long receptions, to lead the Dallas Cowboys to a 31-20 victory. That gave 8-1 Dallas a two-game lead in the NFC East standings, as well as the tiebreaker against the 6-3 Giants.
The win also left the Cowboys tied with the Green Bay Packers for the best record in the conference and further validated their stature as a legitimate Super Bowl XLII contender. And it reminded the rest of the league that the Cowboys -- who have scored 30 or more points in six games this season, have yet to be held to fewer than 24 points and are averaging 32.9 points per outing -- own an explosive offense with a ton of playmakers.
T.O. Against The Giants
Here's how Terrell Owens has performed in his nine games against the Giants.
Year
Team
Catches
Yds
TDs
1998
SF
5
140
1
2002
SF
4
41
0
2002
SF
9
177
2
2004
Phi.
8
68
3
2004
Phi.
4
61
0
2006
Dal.
6
98
1
2006
Dal.
8
84
0
2007
Dal.
3
47
2
2007
Dal.
6
125
2
TOTALS
53
841
11
"We don't have a good offense, we have a great offense," gushed Cowboys coach Wade Phillips, a guy who earned his NFL stripes as a defensive coordinator and rarely is moved to such braggadocio. "We have the ability to score a lot of points. ... And we have a lot of people who can make big plays."
Not the least of whom is Owens, who -- when he isn't posting signs about Moss being the "other 81," as he did prior to the Cowboys' game against the Patriots earlier this season -- keeps reminding offensive coordinator Jason Garrett of the many ways the Patriots feature Moss in their passing game. The message seems to have gotten through.
Like the Patriots, who spread the ball around better than any other team in the league, the Cowboys won't force the ball to Owens simply to get him involved. That was manifested early in Sunday's game when No. 2 receiver Patrick Crayton was the focus of quarterback Tony Romo. But there are going to be times, Phillips and Garrett said, when Owens either gets single coverage or a mismatch is created in the secondary that allows the five-time Pro Bowler to shake free.
There was one example of each of those circumstances in the second half, and Romo and Owens took full advantage of them.
"Sooner or later," Owens said, pulling on a gray blazer over a natty argyle sweater Sunday evening, "it's going to be there for us. It's just a matter of time. And I think [Romo] does a great job of sensing when those times as there. Look, I feel like I can make plays any time, anywhere on the field, whatever the situation. But it has to come within the [framework] of our offense ... and those two touchdowns definitely did."
On the first score, which snapped the 17-17 tie midway through the third quarter, Owens was on the backside of the play and drew only single coverage from New York cornerback Sam Madison. The result: a 25-yard scoring pass on which Owens made just one subtle move, then streaked by Madison, easily beating him to the right corner of the end zone.
The second touchdown, which essentially sealed the outcome with 10:43 left, came on a terrific call by Garrett and a cleverly designed play on which the combination of routes run by Owens and tight end Jason Witten forced the New York secondary into a quick -- and as it turned out, flawed -- choice.
On the play, Owens and Witten both ran patterns up the left seam. When Madison jumped the tight end's rout, Owens was left covered by the much-slower Gibril Wilson. The wideout torched the Giants free safety for a 50-yard touchdown catch.
"With all the people we've got, we can absolutely get a defense back on its heels," Owens said. "And when we do ... well, you saw the results, right?"
With his three receptions for 94 yards in the second half, Owens finished with six catches for 125 yards and two touchdowns. It marked his third straight 100-yard performance -- the first time he has done that since 2004, when he was with the Philadelphia Eagles.
But that such a productive game would come against the Giants, who came in riding a six-game winning streak and could have pulled themselves into a division tie had they won Sunday, was hardly surprising.
In his 12-year career, Owens basically has owned the New York secondary.
Owens, 33, now has faced the Giants nine times and has 53 catches for 841 yards and 11 touchdowns. Even more important than those individual numbers is that Owens' teams are 8-1 in the nine games.
"To me, you look at the fact that [Owens] is such a great competitor, and that's not a bad place to start," Garrett said. "And he's patient. He waits for the game to come to him ... and eventually that's going to happen."
It took awhile to happen Sunday, as the Cowboys resorted early to maximum protection schemes to slow the vaunted Giants pass rush, which had collected 26 sacks in their six-game winning streak. Dallas often kept Witten, arguably its most clutch receiver, in to help protect. And the Giants' defense, especially the linebackers, did a great job early of disguising coverages and confusing Romo and his receivers. The linebackers often would fake a blitz, then back off into underneath cover zones, where they helped to "bracket" the Dallas receivers.
Thus, Romo relied early on Crayton, who finished with five catches for 66 yards and one touchdown. But as the game wore on, the pressure of trying to hold down Owens clearly wore out the suspect Giants secondary. And Owens, who now has 50 catches for 855 yards and eight touchdowns this season, eventually served notice to Moss and the rest of a national television audience that he still is a force in the league.
"This is an offense," Owens said, "where everyone gets a piece of the pie."
Seems like against the Giants, it's Owens who always gets the biggest slice.
Len Pasquarelli is a senior writer for ESPN.com.
SPONSORED HEADLINES
MORE NFL HEADLINES
MOST SENT STORIES ON ESPN.COM
EDITORS' PICKS
How many players away is your team from competing for the Super Bowl? Our analytics have the answer.
Missing Pieces »

Because of rule changes and creative schemes, red zone play will be a major factor in Super Bowl XLIX.
Wickersham »

A master at tuning out noise, Bill Belichick will likely use the deflation controversy to fuel his players' fire.
MacMullan »
ESPN FAN SHOP