Commentary
Vick no longer top of mind in Atlanta
Michael Vick, who will be sentenced Monday for his role in a dogfighting ring, soon will be in the rearview mirror for Falcons fans and players, Len Pasquarelli writes.
Originally Published:
December 9, 2007
By
Len Pasquarelli
| ESPN.com
ATLANTA -- As miserable as the Falcons have been for most of their four-decade existence, some Atlanta fans still honor the past more than they embrace the present.
[+] Enlarge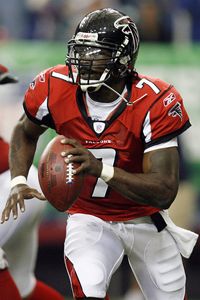 Paul Abell/US PresswireMichael Vick will be sentenced Monday for his role in a dogfighting scheme.
Several hours before a Thanksgiving game against Indianapolis, four fans queued up at a train station were dressed in regulation Falcons game jerseys. The names across the back of the shirts:
Brian Finneran
,
Peerless Price
,
Patrick Kerney
and
Michael Vick
, none of whom is on the Falcons' current roster.
But for most Falcons fans, players and media, Vick -- who will be sentenced Monday for his role in a dogfighting ring -- now is clearly part of the past. Later Monday, Atlanta (3-9) will play host to longtime rival New Orleans (5-7) in an NFC South game (ESPN, 8:30 p.m. ET).
Technically still under contract to the Falcons -- although the team is fighting to recover nearly $20 million in bonuses paid to Vick under the terms of a contract extension signed in 2004 -- the mercurial quarterback is a superstar in absentia. And because he is not in the locker room and most vestiges of his presence there have long since been removed, Vick is not in the everyday thoughts of his teammates.
"Guys still talk about him and think about him," cornerback DeAngelo Hall said last week, "but you don't hear his name brought up every day like you used to. It's not an out-of-sight and out-of-mind kind of thing. Not at all. He's still one of us and still means a lot to guys on the team. He has friends here and always will. But we've known for a long time he wasn't going to be here, and we had to play a football season without him."
Several teammates have stayed in contact with Vick, but it has been a bit more difficult since he voluntarily turned himself in and began serving his prison sentence last month. Tight end Alge Crumpler told the Atlanta Journal-Constitution last week that he recently had a long discussion with the banished quarterback. Wideout Joe Horn, arguably Vick's strongest advocate on the team during the spring and summer, has measured his words about Vick more carefully. But because Horn is having such a poor season -- the latest free-agent wide receiver on whom the Falcons appear to have struck out -- his words don't have much gravitas anyway.
"He's still a good person who made a mistake, or whatever, and he's paying for it," said Crumpler, who was Vick's most trusted receiver. "The guys who played with him and knew him, no, we haven't divorced him."
Sporting goods stores here still have a few of Vick's No. 7 jerseys hanging on racks, but not many. Mired in a losing season under first-year coach Bobby Petrino, the Falcons and their fans don't play the what-if game anymore with Vick as the centerpiece of a debate over how Atlanta might have fared in '07 with him in the lineup instead of the three journeyman quarterbacks who have tried to replace him. Fact is, fans spend more time these days wondering about how long Petrino will stick around -- his history suggests an itinerant bent -- than whether Vick will be around again.
On the city's two sports-talk radio stations, the din surrounding Vick has quieted and really only surfaces on those occasions when he is part of a court proceeding. Even his staunchest defenders, while not fully silenced, have developed the equivalent of Vick laryngitis.
Because the Falcons announce only the tickets distributed for home games, it is hard to officially quantify the impact Vick's absence has had. But the Georgia Dome crowds clearly have been well shy of capacity, and the franchise experienced its first home TV blackout since owner Arthur Blank purchased the team in 2002. Team officials are reluctant to assign blame for the failure to fill the seats, although they privately concede Vick was their biggest draw and they essentially have stopped talking about the former face of the franchise altogether.
There is no denying Vick's name -- whether it is on T-shirts, in the headlines or is part of some rant on local radio -- doesn't carry the same magic it once did.
"Some people still have, like, a fixation-type thing with him," said Fred Kalil, sports director for the local NBC affiliate. "If you're sitting on the couch, maybe paying a little bit of attention to the 6 o'clock news, and his name comes up, yeah, your ears perk up some, I'm sure. But it's not like the feeding frenzy it was for a while there. I really do think there was some legitimacy to the Vick fatigue syndrome people talked about in this city. It wore everybody out. But now it's kind of just worn out, except when there's a court date or something along those lines."
That said, there does remain a sense of borderline morbid curiosity about Vick, and that was demonstrated last week when the NBC affiliate scored high ratings for a tour of the Surry County, Va., property the quarterback once owned, which was the center of the dogfighting ring. The property recently was sold to a businessman and is scheduled to be auctioned off later this week.
Television outlets here also have focused in recent weeks on Vick's mansion in the posh Sugarloaf development, which is on the market.
Certainly the interest factor will be high Monday, when Vick is formally sentenced by Judge Henry Hudson for the charges to which he has pleaded guilty.
All the local network affiliates have dispatched reporters to Richmond for the sentencing. The independent broadcast studio ESPN usually retains for remote reports from Atlanta has blocked off its entire schedule for the day, in the event its cameras are needed. Sports-talk radio stations are gearing up for one more round of debates. And the "Monday Night Football" gang will be forced, at least one more time, to weave Vick into the discussion.
But come Tuesday morning, it seems Vick is apt to be removed from the consciousness here for quite a while.
Senior writer Len Pasquarelli covers the NFL for ESPN.com.
SPONSORED HEADLINES
MORE NFL HEADLINES
MOST SENT STORIES ON ESPN.COM
VICK SENTENCED TO 23 MONTHS

Michael Vick was sentenced to 23 months in federal prison and three years' probation for his role in a dogfighting conspiracy. The suspended Falcons quarterback is looking at a scheduled release of July 2009. Story
Update
•
GM: Falcons will attempt to trade Vick
•
Lawyer: Vick might move to halfway house
•
Former Vick estate fails to sell again
•
Vick house fails to sell at auction
•
Vick files for bankruptcy protection
•
Prosecutor: Vick's Virginia trial can wait
•
Vick ordered to repay Canadian bank $2.4 million
•
Judge denies NFL motion to reverse Vick ruling
•
Report: Vick not playing organized football in jail
•
Report: Vick passes time with prison-yard football
•
Vick's state dogfighting trial to begin June 27
•
Munson: Vick yet to enter drug treatment
The sentence
•
Vick sent to Kansas to serve rest of sentence
•
Vick asked judge for leniency before sentencing
•
Vick sentenced to 23 months
|
Document (pdf)
•
Poll: What do you think?
|
What they're saying
•
Clayton: Sentence puts career in jeopardy
•
Munson: Tough sentence by displeased judge
•
Teammates show support at Falcons game
•
Can Vick return to playing in NFL?
•
Pasquarelli: No longer top of mind in Atlanta
•
Last Vick co-defendant sentenced
•
Podcasts

:
Cossack

|
Schlereth

|
Munson/Naqi

|
Pasquarelli

•
Chat wrap: David Cornwell
Post Plea
•
NFL wants court to reverse Vick bonus ruling
•
Victory for Vick: QB can keep $20 million bonus
•
Fifth defendant in Vick case receives probation
•
Vick's house for sale for $1.1M
•
Some Falcons to visit Vick in prison
•
PETA unveils new e-card
•
Former Virginia estate fails to sell at auction
•
Out of Falcons' sight, almost out of mind
•
Judge's casework offers look at possible sentence
•
Remaining dogs placed with rescue groups
•
Source: Feds may push judge to up sentence
•
NFLPA argues Vick should not lose roster bonus
•
Vick co-defendants get 18, 21 months in prison
•
Vick agrees to put up almost $1M for dogs' care
•
Vick given April trial date on state charges
•
Vick surrenders to begin serving sentence early
•
Home at center of Vick dogfighting scandal sold
•
Vick fires one of his lawyers in dogfighting case
•
Man who sold Vick pit bull pleads guilty
•
Man connected to Vick dogfight ring pleads guilty
•
Third bank sues Vick, claims he defaulted on loan
•
Arbiter: Falcons have right to reclaim bonuses
•
PETA: Vick had class on animal cruelty
•
Evaluations show 48 of Vick's dogs placeable
•
Vick tests positive for marijuana
•
Vick supporters turn out for town meeting
•
Vick's apology notes fetch $10.2K at auction
Vick's Plea/NFL Suspension
•
Vick pleads guilty to federal dogfighting charge
•
The plea
(PDF) |
Statement of facts
(PDF)
• Vick's statement:
Watch it

|
Read it
•
Roger Cossack explains plea deal
•
Poll: Vick should be banned
•
Va. Tech, Beamer continue to support Vick
•
Vick supporters drown out protesters
•
NFL suspends Vick indefinitely
|
Goodell
(PDF)
•
Chris Mortensen on Vick's suspension
•
Vick files plea agreement admitting to dogfighting
Indictment
•
Marbury's about-face: Vick 'is 100 percent wrong'
•
National NAACP: Vick 'not a victim'
|
Audio

•
Atlanta NAACP: Vick should be allowed to return
•
Falcons come to terms with 'ex-teammate'
•
Vick timeline
|
What they're saying
•
Helyar: Even Atlanta turns against Vick
•
Goodell: Vick not overshadowing season
•
Vick co-defendant pleads guilty to charges
• Tony Taylor:
Summary of Facts
|
Plea agreement
•
Hometown residents stand by Vick
•
Falcons had planned to suspend Vick
•
Commish tells Vick to avoid camp
•
Vick indicted
|
The indictment (pdf)
|
Civil arrest warrant (pdf)
Town Hall meeting
•
Town Hall chat wrap: Chadiha
Previous columns/analysis
•
Munson: Q&A on Vick reporting to prison early
•
Munson: Looking at Judge Hudson
•
Vick's high school learning lessons
•
Bryant: Confounded by race issue
•
Munson: Q&A about local indictment
•
Munson: Next focus for Vick is length of sentence
•
Schlabach: Vick an afterthought on VT campus
•
Chadiha: Vick not running from truth
•
Hill: Coverage means bigger issues ignored
•
Wojciechowski: Pay attention to the fallen star
•
Bryant: Vick's plea deal comes with baggage
•
Bryant: In failing Vick, NFLPA fails itself
•
Munson: Vick plea means surrender
•
Forde: Vick's epic fall
•
Pasquarelli: Major blow for Falcons
•
Chadiha: Lots of lessons to be learned
•
Wojciechowski: Punishment with teeth
•
Easterbrook: Little sympathy?
•
Clayton: Vick's NFL future might be bleak
•
E-Ticket: A history of mistrust
•
Chadiha: Vick's bad choices
Antigua Men's Atlanta Falcons Black Focus Long Sleeve Shirt Shop »