Commentary
A peek into the problems a Hall of Fame voter faces Saturday
When the 2008 Hall of Fame class is announced Saturday, will the logjam of worthy pass-rushers be cleared? Voter Len Pasquarelli provides a peek into the difficult selection process
Originally Published:
February 1, 2008
By
Len Pasquarelli
| ESPN.com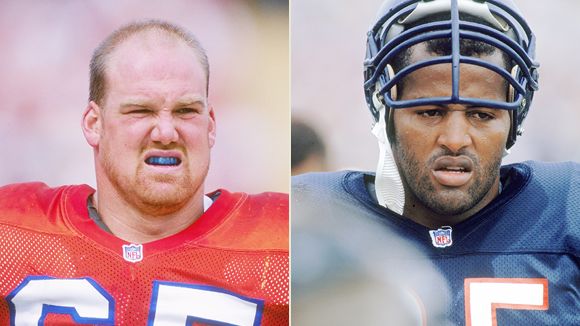 Getty ImagesFormer Vikings and Broncos offensive tackle Gary Zimmerman and former defensive lineman Richard Dent, a standout for the Bears and several other teams, are among the 17 finalists for election to the Pro Football Hall Of Fame Saturday.
PHOENIX -- The board of selectors for the Pro Football Hall of Fame will convene precisely at 7:30 a.m. Saturday to begin discussing the merits of the 17 men nominated for the Class of 2008.
As bleary-eyed and word-weary as most of the 44 selectors are likely to be from Super Bowl XLII coverage, the debate figures to be characteristically passionate, provocative, lively and, yeah, even invigorating for the media members involved in the process. A candidate must receive at least 80 percent approval for induction. After five or six hours of give-and-take, the list of 17 finalists will be whittled to 4-7 players or league contributors who will be inducted during the ceremonies this summer.
Much of the lobbying by the various supporters for the 17 finalists -- most of it discreet but some of it less than subtle -- began weeks ago and has continued through the days leading up to the selection meeting. As one of the media group privileged enough to be a Hall of Fame selector, I can't tell you how many times I've been buttonholed while walking through the media center here.
And because of the Hall of Fame's confidentiality guidelines, which are regarded about as seriously as the debate itself, I can't tell you how I'm going to vote, either.
I honestly still don't know.
To me, that is a good sign that I've done my homework and am prepared for the task at hand.
Fans who feel their favorite candidates have been egregiously wronged have called for more transparency in the process, with calls to make every secret ballot public. The day likely is coming, and soon, when the ubiquitous NFL Network forces a camera into the room as the electronic fly-on-the-wall eavesdropper. When that day arrives, every selector, including this one, will have to make a tough decision. For now, at least, we continue to toe the clear line of confidentiality demarcation.
The best way to approach the process is to enter the meeting room with as open a mind as is humanly possible -- though I'm not so naive that I think everyone, like the fans from Denver who have been bombarding selectors this week in support of linebacker Randy Gradishar and offensive tackle Gary Zimmerman, believes this. It's only human nature, of course, to harbor preconceived notions about some finalists. But I've gone into the room believing there was no way in heck I would support a certain candidate and, after listening to the presentations and discussions, voted for him.
The worst way to approach the process? By penning columns in which you try to predict who will earn induction into the Canton, Ohio, football shrine, or by setting odds as to the chances of the finalists. As much as the bosses love those kinds of columns -- and maybe the readers do, as well, because of the debate they invite -- I've yet to fall into that trap and diligently will avoid it again this year.
In candor, do I think there are some slam-dunk candidates, and even some with little chance of induction? There might be one or two in each of those disparate categories. But you won't read their names here.
What I will acknowledge about the roster of finalists in 2008 is this: In a very deep and intriguing field of finalists, one that includes nine players who were either offensive linemen or front-seven defenders, the group of pass-rushers clearly is an impressive one. And it seems it's time for the selectors to begin filtering players of that ilk into the Hall of Fame, before the logjam at the position grows even more frighteningly ponderous.
It is certainly unusual that there are three guards, a position that historically has defined anonymity in the NFL, joining Zimmerman among the offensive linemen on the ballot. But more telling is the number of defenders who gained profile in the league as outside pass-rushers: ends Richard Dent and Fred Dean and linebackers Derrick Thomas and Andre Tippett. Among them, the four collected a staggering 464 sacks.
When it comes to game-altering or momentum-shifting plays, at least the way the game is played in this modern era, there are few events more significant than dumping the quarterback. Yet for the past several years, the Hall of Fame selectors have been slow, even reluctant for some reason, to recognize defenders who built their league reputations and their hefty résumés by terrorizing quarterbacks.
Each of the four sack men included among this year's finalists has had his merits debated by the board of selectors on multiple occasions. And none has yet to be elected.
The selection of defensive players in general has been slow of late, with only 14 players from that side of the football inducted in the past 10 years, as opposed to 31 offensive players. In that stretch, there have never been more defensive than offensive players in a Hall of Fame class. Not since 2001, when there were three defenders chosen, were there as many defensive as offensive inductees.
But the process has been especially unkind to pass-rushers.
The late Reggie White, maybe the greatest pass-rusher of all-time, gained induction in 2006. Lawrence Taylor, a man who defined the position of outside linebacker as feared blitzer, was chosen in 1999. But they were the exceptions and not the rule. Each of the pass-rushers nominated this year was a game-changer. There were a few notable rushers, like former New Orleans linebacker Rickey Jackson, who didn't make it to the list of finalists but who deserve to have their day in the Hall of Fame selection room.
This is an era in which the sack plays such a huge role. The number of talented pass-rushers increases virtually every season. And, by trickle-down economics, the number of Hall of Fame-worthy sack men will grow, as well, creating a logjam at that spot and delaying induction for some players.
This should, and perhaps could, be the year that the selectors begin to address that logjam.
Senior writer Len Pasquarelli covers the NFL for ESPN.com.
SPONSORED HEADLINES
MORE NFL HEADLINES
MOST SENT STORIES ON ESPN.COM
SUPER BOWL XLII

In one of the great Super Bowl upsets, the Giants defeated the Patriots 17-14 in Super Bowl XLII in Glendale, Ariz.
Super Bowl Central

• Hashmarks blog: Mosley, Sando in Arizona


Game coverage
•
Belichick ready to move on from Super Bowl loss
•
Nevada sports books lose record $2.6M
•
View to a thrill: Record 97.5 million watch XLII
•
Giants' win shatters viewership records
•
Clayton: Can the Giants repeat?
•
Simmons: Free fallin'
•
Giants spoil Pats' perfect season
•
Wojciechowski: Blame Pats for this debacle
•
Wickersham: Brady dazed and confused
•
Clayton: Eli lets instincts take over
•
Clayton: N.Y. 'misfits' harass Brady
•
Sando: Was Brady rattled?
•
Mosley: Belichick left a second early
•
Chadiha: Ten things we learned
•
Garber: Tyree's catch one for the ages
•
Zoom galleries
1
|
2
|
Great SB upsets
•
SportsNation: Best Super Bowl?
•
SportsNation: Biggest SB upset?
•
SportsNation: Your favorite commercials?
Commentary/Features
•
Clayton: Top five contenders for the next SB
•
'72 Fins breathe sigh of relief after Giants win
•
Chadiha: Giants enjoy underdog role
•
Sando: Coughlin, Giants made it work
•
Super Bowl picks: Our experts weigh in
•
Merrill: Nine previously perfect Patriots
•
Merrill: Harrison deals with his rep just fine
•
Clayton: Giants' O-line worthy of accolades
•
Pasquarelli: Tip Sheet
•
Pasquarelli: Tip Sheet notes

•
Wojciechowski: 15 reasons Patriots will win
•
E-ticket: Patriots' man of mystery
•
Sunday Countdown
•
Clayton's First and Goal
•
Chadiha: Giants miss Shockey
•
Garber: Injured war vet inspires Giants
•
Pasquarelli: The Pats' crucial cameos
•
Garber: In Brady's world, insecurity remains
•
Merrill: Hixon's traumatizing season
•
Football Outsiders: SB numbers crunching
•
Pasquarelli: Patriots' silent sentinel
•
Wojciechowski: Unflappable Eli
•
Sando: Brady rising among all-time QBs
•
Chadiha: Giants' rookies playing prominent role
•
Fleming: Cardinals/Pottsville Curse
•
Clayton: Youth serving Giants well
•
Chadiha: Ranking the best QBs by decade
•
Klancnik: Top QBs by jersey number
•
Hashmarks: Media day coverage
|
Gallery
•
Pasquarelli: Pats' old-school LBs
•
Helyar: Marketing windfall for Eli Manning
•
Garber: Seau's ring quest
•
Pasquarelli: Bruschi's full-circle journey
•
Animated plays
•
From the research room
•
Chadiha: Pierce just wants to win
•
Wojciechowski: Explaining Bill Belichick
•
Helyar: Recession? Not at Super Bowl!
•
Giants' Snee doesn't stray from roots
•
Sando: Seymour in eye of storm
•
Merrill: Welker scales new heights for Pats
•
Pasquarelli: Brady is ready to play
•
Garber: The preservation of Plaxico
•
Pasquarelli: Hill's spirit lives on
•
Clayton: Giants' juggling act at CB works
•
Wickersham: Giant ideas
•
Klosterman: All too perfect
•
Crown Jewels: A look at Super Bowl rings
•
FB Outsiders: Giants one of worst SB teams
•
Helyar: Patriots will drive TV ratings
•
Clayton: First and goal
•
Chadiha: Giants' glory road
•
Mosley: Brady's ankle saves the week
•
Woj: Preseason predictions revisited
•
Merrill: David Woodley's dark spotlight
• Former SB QBs:
Plunkett
|
Rypien
|
Ferragamo
• More:
Morton
|
Humphries
|
Hostetler
|
Eason
•
Starting matchups of Super Bowl QBs
• Ranking the QB performances:
1-40
|
41-82
•
Jaworski: Six Super Bowl surprises

•
Joyner: Brady's bad decisions

•
Clayton: Eli's managing fine
•
Chadiha: Focused Giants
•
AccuScore simulation: Pats to prevail
•
Chadiha: First Look at the Super Bowl
•
Playoff schedule
Spy Games
News
•
Vermeil doubts spying made difference for Pats
•
Fish: Ex-Ram Warner suspicious of Pats in SB XXXVI
•&nbsp
Report: Pats taped Rams' SB walk-through
•
Specter to Goodell: Let's talk
•
Fish: Possible 'Spygate' witness surfaces
Commentary
•
Easterbrook: NFL can blame itself for scandal's timing
•
Munson: Congressional interest serious
•
Pasquarelli: Specter should stick with politics
•
Clayton: Spy saga won't distract Patriots
•
Hashmarks at Goodell's news conference
Letters
•&nbsp
Specter to Goodell (.pdf)
•&nbsp
Goodell to Specter (.pdf)
Page 2
•&nbsp
Gallo: Five stages of heartbreak for Pats' fans
•
Hill: Best Super Bowl parties
•
Hill: Teflon Tom Brady
•
Popculture roundtable on the Super Bowl
•
Hill: Raiders quit on Moss
•
Flem File at the Super Bowl
•
Fleming: Defining greatness
•
Best teams never to win a title
•
TMQ: Title-game analysis
•
Why Boston teams are so good
•
Gallo: Countdown to kickoff
•
More from Page 2
News
•
Brady ankle not on injury report
•
Brady on Plax prediction: Only 17 points for Pats?
•
Carey named first black Super Bowl referee
•
Brady practices in Pats' first Super Bowl session
•
Ross gets sick as unified Giants face flu
•
NFL not worried about spying
•
Security high for Super Bowl
•
Williams to be honored during Super Bowl
•
Bootless Brady departs for Arizona
•
Tickets reselling for average of $4,300
•
Burress: Giants' receivers are better
Scouts Inc.
•
Roundtable: Seven scouts weigh in
•
Super Bowl XLII X Factors
•
Coaching comparison: Styles vary, results same
•
Defensive line breakdowns
•
Horton: Notes from the film room (Day 5)
•
Matchups to watch in Super Bowl XLII
•
Running-game breakdown
•
Horton: Notes from the film room (Day 4)
•
QB tale of the the tape
•
Horton: Notes from the film room (Day 3)
•
Ranking NFL QBs 1-64
•
Take II on Super Bowl XLII
•
Giants' DBs overmatched or underrated?
•
Horton: Notes from film room (Day 2)
•
Horton: 10 things to watch in SB XLII
•
Horton: Notes from the film room (Day 1)
•
A tale of two underrated O-lines
•
Take I on Super Bowl XLII
•
Players ranked Nos. 1-106

SportsNation
• Vote:
Which team will win?
• Vote:
Who wins the head-to-head matchups?
• Vote:
Which team are you rooting for?
• Conversation:
Talk Super Bowl XLII
• Map:
Which states are picking the Giants?
• Quiz:
42 Super Bowl history questions
• Chat:
Buzzmaster: Hello from Arizona!
• Chat:
Buzzmaster: Live from Media Day
• Chat:
Buzzmaster: Live with oddsmaker
• Chat:
Buzzmaster: Live with Matt Hasselbeck
• Chat:
Buzzmaster: Live with Gregg Easterbrook
• Rank:
Super Bowl's best individual performances
• Rank:
Super Bowl coaches
• Rank:
Super Bowl careers
• Rank:
Super Bowl teams
• Rank:
Super Bowl games
• Rank:
Greatest all-time quarterbacks
• Vote:
Potential for QB greatness?
• Quiz:
Greatest quarterbacks
• ABCNews:
Super Bowl or Super Tuesday?
• Chat Rewind:
When did undefeated talk start?
• Vote:
Can we proposition you?
• Pulse:
What is SportsNation saying about XLII?