Commentary
Bucs' Mr. Fix-it faces big job again
Years after replacing John Lynch, S Jermaine Phillips must succeed LB Derrick Brooks
Originally Published:
March 27, 2009
By
Len Pasquarelli
| ESPN.com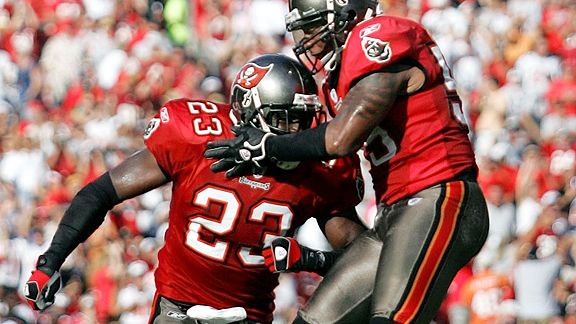 Marc Serota/Getty ImagesJermaine Phillips (left) and Derrick Brooks have been key components of the Tampa Bay defense for years. But in the offseason the Buccaneers released Brooks, and this season Phillips will be asked to replace the legendary linebacker.
Jermaine Phillips
was visiting family in Atlanta when he received a rather ominous telephone call from new
Tampa Bay Buccaneers
coach Raheem Morris.
The terse message: When you return to Tampa, swing by my office.
NFC South blog

ESPN.com's Pat Yasinskas writes about all things NFC South in his division blog.
"It was like being [summoned] to the principal's office," Phillips said, recalling the request. "All kinds of things go through your head. You wonder, 'OK, what did I do now? Why does he want to see me? Is there something wrong?' … Yeah, for sure, it was a little [unnerving] at first."
As it turns out, the session at the new principal's office was about the makeup of the Tampa Bay defense, not detention for Phillips. The request was that Phillips, who always had been an in-the-box strong safety, move to weakside linebacker to help Tampa Bay fill the huge hole created by the surprising release this offseason of 11-time Pro Bowl linebacker Derrick Brooks.

#23 S
Tampa Bay Buccaneers
2008 STATS
Tot

59

Solo

48

Ast

11

FF

1

Sack

0

Int

3
Phillips already had supplanted one future Pro Football Hall of Fame member, replacing John Lynch as Bucs safety in 2004. Now the seven-year veteran was being asked to replace another legend, as Brooks was an icon during his 14 Buccaneers seasons. This task is arguably more daunting than replacing Lynch -- the man who all but adopted Phillips and bought him his first suit -- in the Tampa Bay secondary five years ago.
But Phillips, who re-signed with the Bucs following a monthlong flirtation with free agency and visits to San Diego and Seattle, enthusiastically agreed to the move. He has aggressively attacked the linebacker spot and is looking forward to breaking in his new set of wares at a minicamp next week.
"You just take it one day at a time," said Phillips, who has 406 career tackles and 11 interceptions in 94 games, including 72 starts, at strong safety. "I've talked to a lot of people about it, but no matter the advice I've gotten, I still have to do it on the field. I'm more excited about it than I was at first. It kind of gives me a new challenge, a new mountain to climb, after seven years in the league."
Safety Alterations

Brian Urlacher (pictured) is just one of several notable college safeties who have become effective NFL linebackers.
•
Brian Urlacher
(Chicago): Played the "Lobo Back" position, a hybrid safety/linebacker spot at New Mexico. Logged as many snaps at safety as at linebacker. Has been a fixture at middle linebacker and a six-time Pro Bowl performer since the Bears selected him in the first round of the 2000 NFL draft. Won defensive rookie of the year in 2000 and defensive player of the year in 2005.
•
Thomas Davis
(Carolina): In college, split time between safety and linebacker for Georgia. There was considerable debate before the 2005 draft about which was his better position, but Panthers chose him to play safety. As a rookie, it became obvious that Davis was too stiff and not instinctive enough to play regularly at safety, and the Carolina coaches moved him to linebacker. He has started there ever since.
•
Cato June
(free agent): A hard-hitting safety at the University of Michigan who immediately switched to linebacker when the
Indianapolis Colts
drafted him in the sixth round in 2003. Although regarded as undersized, was ideal for the Tampa 2 scheme Tony Dungy created. Played his first five seasons for the Colts and was voted to the Pro Bowl in 2005. Signed with Tampa Bay as an unrestricted free agent in 2008 but released by the Bucs earlier this offseason and has yet to sign with anyone else.
•
Coy Wire
(Atlanta): An All-Pac-10 safety at Stanford, drafted by Buffalo in the third round of the 2002 lottery to play that position. The Bills moved him to linebacker after two seasons. Has stayed at linebacker with Atlanta. Started the final four games of 2008 at strongside linebacker, beating out
Michael Boley
for the position. Used mostly on first two downs, with Boley often replacing him in passing situations.
-- Len Pasquarelli
The concepts of moving from safety to linebacker and linebacker to safety, although rare at the NFL level, are not unprecedented.
Brian Urlacher played as much safety as linebacker in college but has been a fixture at middle linebacker for the Chicago Bears since he entered the league. The late Pat Tillman and former NFL standout Adam Archuleta were both All-Pac-10 linebackers who moved to safety in the pros. It has long been suggested that former Dallas Cowboys strong safety Roy L. Williams, released earlier in the spring, would be even more effective as a linebacker. Adrian Wilson of the Arizona Cardinals is one of the NFL's best blitzing safeties, and some have wondered how many quarterback sacks he could register by moving to linebacker.
Carolina Panthers veteran Thomas Davis, current free agent Cato June and the Atlanta Falcons' Coy Wire have made the successful move from college safety to linebacker in the pros.
Needless to say, there was plenty of discussion among Morris' new Tampa Bay staff before it presented the idea to Phillips, a career safety.
"The bottom line with moving Jermaine is that Jermaine Phillips is a hell of a football player," Bucs linebackers coach Joe Barry told the St. Petersburg Times. "He's a physical presence. … Jermaine is a load. He will knock you out. There is a reason that we felt comfortable even talking about this [move] with him."
Phillips' switch is hardly the only move for the Tampa Bay defense, undergoing a makeover as former assistant Morris succeeds Jon Gruden as head coach. Gone is venerable coordinator Monte Kiffin, who served 13 seasons with the Bucs, carefully nurtured the Tampa 2 scheme during that period and boasted top-10 units in 11 of his 13 seasons. Veteran coordinator Jim Bates replaces Kiffin, who will join his son Lane Kiffin's staff at the University of Tennessee. Bates brings a different and more aggressive style to the Tampa Bay defense.
The new staff would prefer to play two-year veteran Sabby Piscitelli at strong safety. Because Geno Hayes suffered a torn anterior cruciate ligament late last season and might not be sufficiently rehabilitated to return to the field once training camp starts, the Bucs were without an heir apparent to Brooks' spot.
So the move of Phillips from strong safety to weakside linebacker is born partly out of necessity as much as preference.
Of some benefit to Phillips is that, under the new staff, everyone is restarting from square one. But even with that element, Phillips' move is hardly ordinary, and it's certainly more difficult than the tasks asked of most of his teammates.
"Everything is new," said Phillips, 30, of the Bucs' fresh challenge. "The terminology is different, the language, and we can't be [content] knowing that Monte is going to make it work for us. Now, everyone has to find his comfort zone again."
Phillips, a fifth-round pick from Georgia in 2002, concedes he has a long way to go to master the linebacker skill set. But in the short time since Morris summoned him to his office, Phillips already has become comfortable with an important fact of life.
"The one thing I've learned is that no one, me included, can walk in Derrick Brooks' shoes," Phillips allowed. "No one could walk in John Lynch's shoes, either. It's impossible. You can't just step into the shoes of a man who basically defined the position. Those shoes are way too big.
"You've got to go out and make your own shoes."
Senior writer Len Pasquarelli covers the NFL for ESPN.com.
SPONSORED HEADLINES
MORE NFL HEADLINES
MOST SENT STORIES ON ESPN.COM
2009 FREE AGENCY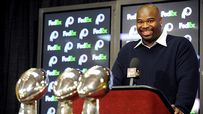 Free agency started with a bang when defensive tackle Albert Haynesworth signed a seven-year deal with Washington and the Redskins re-signed their own free agent, cornerback DeAngelo Hall.
Free-agency blog »
FA tracker »
COLUMNS/FEATURES/BLOG POSTS
FANTASY SPINS
SCOUTS INC. BREAKDOWN
SALARY CRUNCH