Commentary
QB flirtations create awkward moments
Originally Published:
May 11, 2009
By
Len Pasquarelli
| ESPN.com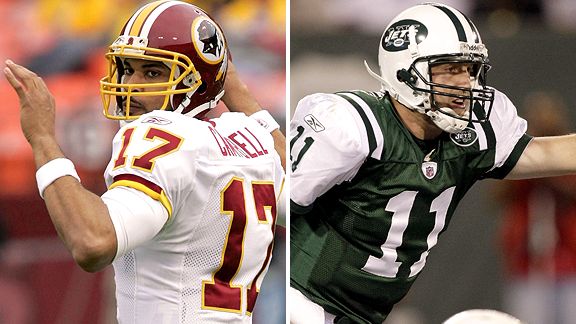 US PresswireJason Campbell, left, will try to block out the fact the Redskins spent a good part of the offseason flirting with quarterback moves. Kellen Clemens will try to beat out a highly touted rookie (Mark Sanchez) for the Jets' starting job.
Remember in the old "I Love Lucy" show, when Ricky Ricardo would arrive home at the apartment and discover that Lucy was knee-deep in one of her zany schemes?
"Lucy!" Ricky would bellow in his thick Cuban accent. "You got some 'splainin' to do."
Well, there are a number of NFL franchises that have a lot of 'splainin' to do to their presumptive starting quarterbacks before training camps open in July. In the wake of the clubs' failed attempts to trade for or draft an alternative during the offseason, some fence-mending initiated by management may be the first order of business. Before they rebuild their teams, a few clubs first have to rebuild some relationships.
The mea culpas arguably should begin with the Washington Redskins, who attempted to replace Jason Campbell, a three-year starter.
But Campbell isn't the only quarterback in the league who is owed an explanation, and maybe an apology. After the Vikings' recent flirtation with the allegedly retired Brett Favre, who might be just an elbow X-ray away from completing a deal (depending on the various reports), Tarvaris Jackson and Sage Rosenfels could be interested in hearing coach Brad Childress' rationale for the decision to pursue the future Hall of Fame signal-caller. Cleveland Browns first-year coach Eric Mangini might do well to schmooze Derek Anderson and Brady Quinn in the next few weeks.
To a lesser extent, Kellen Clemens of the New York Jets and Luke McCown of the Tampa Bay Buccaneers deserve to know the thinking of their teams in selecting Mark Sanchez (Southern California) and Josh Freeman (Kansas State), respectively, in the first round of this year's draft.
In the past six weeks, the Redskins attempted to acquire veteran Jay Cutler from Denver in a trade, and seriously considered trading up in the first round to grab Sanchez. With both of those gambits falling short of completion, the 27-year-old Campbell is left hanging, certainly the starter, but with the knowledge that the franchise tried to replace him.
It makes for an uncomfortable situation, both for Campbell and the Washington staff.
"It certainly makes things a little awkward," said Campbell, a former first-round choice (2005) who has been the Redskins' full-time starter since he took over the No. 1 job midway through 2006. "It makes it seem like some people think you aren't very good, like you're not wanted, you know? But I'm not going to hold a grudge, or make a big deal of it publicly, because if I give it too much energy, it'll keep me from being the best quarterback I can."
Washington management convened a two-hour meeting with Campbell, who has handled the situation with incredible dignity, to explain its dalliances with Cutler and Sanchez. But with Campbell going into the final year of his rookie contract, and able to become an unrestricted free agent next spring if the league and the National Football League Players Association hammer out a collective bargaining agreement extension that transforms 2010 into a "capped" season, re-signing Campbell after trying to upgrade the position might be difficult.
Because of the intangibles inherent to the position, quarterbacks usually want to feel like they are The Man, not just a man. The position generally demands an exclamation point, not a question mark. But this spring raises questions about some quarterbacks' viability, and not their stability.
Keeping the quarterback from playing with his head on a swivel, from looking over his shoulder every time he makes a mistake, figures to be an offseason priority in a few league precincts. Quarterbacks perform best when they are confident, sure of their status on the field and in the locker room, and not when they feel their position atop the depth chart is being undermined or challenged.
Coaches in the NFL, however, usually fret more about wins than bruised egos.
"It's a part of the business of the game, not a personal thing, like some guys conclude," said former Tampa Bay coach Jon Gruden, who in 2007 traded for Denver veteran Jake Plummer to compete with Jeff Garcia and Brian Griese for the starting job. "In every walk of life, people get their feelings hurt, but [quarterbacks] shouldn't react that way when the new guy shows up, even if it's human nature. It's all about the competition, and that's going to make everybody better."
Never mind that Plummer retired rather than report to the Bucs. Even though Garcia excelled in 2007, he did so cognizant of the fact Gruden might have preferred Plummer be his starter.
The perception of the incumbents, when a new, high-profile quarterback is added by a team, is that the guy is there to take a job, not compete for one.
Childress' failed (for now) mating dance with Favre was hardly intended to add a third competitor to the Jackson-Rosenfels battle this summer. The three-time most valuable player and holder of most of the NFL's passing records would have won the job essentially by acclamation.
Publicly, the Minnesota duo has chosen the high road. "Frustration is a self-inflicted wound," Rosenfels, acquired from Houston in an offseason trade, told Ross Tucker of SI.com. "For me to be frustrated would just hurt me. It's not an [emotion] that does me any good at all."
Still, there can't help but be some residual hard feelings by those starters left behind when such situations occur. Second choice doesn't always translate into second-best, but that's the perception by the quarterback when his team attempts to land a replacement, but fails.
Washington and Minnesota are the best, but not only, examples of an offseason quarterback switch, some of which failed while others succeeded.
This marks the second consecutive spring, for instance, in which Clemens had the rug yanked from under him. The Jets traded for Favre last year, and two weeks ago moved higher in the first round to grab Sanchez with the fifth overall pick in the draft. New York officials concluded last spring that Clemens wasn't the guy to move the Jets forward, and privately stopped considering him the franchise's quarterback of the future. One problem: The Jets apparently didn't inform Clemens of the change in status.
At various junctures of the offseason, the Browns reportedly marketed Anderson and Quinn, presumably to upgrade over their holdover quarterbacks. When the Bucs opted not to re-sign Garcia, the indication was that Tampa Bay would cast its lot with McCown, who has only seven career starts. McCown may well open the season, but his long-term status is muddied by the Bucs' pick of Freeman with the 17th overall choice in this year's draft. The former Kansas State star might even have a shot at unseating McCown during his rookie campaign.
It's three months before clubs go to training camp. Some teams might want to fashion an explanation, or perhaps concoct one, to sell to their remnant quarterbacks.
Len Pasquarelli, a recipient of the Pro Football Hall of Fame's McCann Award for distinguished reporting, is a senior writer for ESPN.com.
SPONSORED HEADLINES
MORE NFL HEADLINES
MOST SENT STORIES ON ESPN.COM
EDITORS' PICKS
In a win over Detroit, a hobbled Aaron Rodgers once again proved why he's MVP-worthy.
Demovsky »

Pittsburgh beat Cincinnati to win the division and earn a home playoff game.
Rapid Reaction »

The Ravens earned a playoff bid with a win over Cleveland, coupled with the Chargers' loss.
Hensley »