Commentary
Supplemental draft rarely a bargain bin
Washington hopes Jarmon proves to be rare "special draft" gem
Originally Published:
July 17, 2009
By
Len Pasquarelli
| ESPN.com
Hoping to catch lightning (or at least a lightning-quick pass-rusher) in a bottle for the second time in three months, the Washington Redskins on Thursday selected University of Kentucky defensive end Jeremy Jarmon in the NFL supplemental draft.
The Redskins, who finished with the league's fifth-worst sack total in 2008 (24 sacks), chose University of Texas defensive end/linebacker Brian Orakpo with the 13th overall pick in the April draft. To add another upfield threat, the Redskins took Jarmon in the third round of the supplemental lottery. Washington didn't have a single defender with more than four sacks in 2008.
NFC West blog

ESPN.com's Mike Sando writes about all things NFC West in his division blog.
Jarmon was the lone player selected in the supplemental draft, which included seven other prospects. By exercising a choice for him, the Redskins will forfeit their third-round pick in the 2010 draft. Washington, which rarely has a full complement of April draft choices anyway, was already without its sixth-round pick in 2010, because of last year's trade for defensive end Jason Taylor, who was released earlier this spring.
Before Thursday, the Redskins had never taken a player in the supplemental draft.
Washington officials can only hope that Jarmon is as superb a prospect as Orakpo, who caused a considerable amount of buzz during the minicamps and organized team activities in the spring. If Jarmon is even close to being that good, the Redskins will have beaten the very long odds in the supplemental draft. The lottery almost never turns out a productive player.
"I thought that it was a situation where you get a chance to get a big defensive lineman and he gets a chance to come in, learn from two veteran guys, and he's only 21 years old and he's got the size," executive vice president Vinny Cerrato told the Washington-area media after the special draft.
[+] Enlarge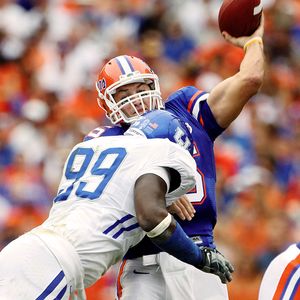 Sam Greenwood/Getty ImagesWashington hopes Kentucky's Jeremy Jarmon, pressuring Florida QB Tim Tebow here, improves its pass rush.
Normally, the only thing big about supplemental draft prospects is the sound of the enormous flop they make when they eventually are marshaled out of the league altogether. Indeed, the collective NFL résumés of the supplemental draft prospects historically have been lacking.
And that's being kind.
Of the 37 players chosen in the supplemental draft from 1977 to 2008, nine never played a single snap in an NFL regular-season game. Seventeen of them never started even one contest. Just five carved out NFL careers that included 100 or more appearances. The average career span for those previous 37 supplemental prospects is 41.8 games, or barely the equivalent of 2½ full seasons in the league. There have been no eventual Hall of Fame players chosen in the supplemental draft, although wide receiver and ESPN analyst Cris Carter has a good chance of some day being inducted to the Canton shrine. The supplemental drafts have produced only four Pro Bowl participants.
But perhaps Jarmon, who lost his final season of eligibility when he tested positive this spring for a substance banned by the NCAA, will beat that shoddy track record. Jarmon has said he tested positive for a dietary supplement.
Pasquarelli: Supplemental Draft Stars
The NFL's supplemental draft has produced some forgettable prospects during the 33 years of its existence (1977-2009). Here, though, are ESPN.com's choices for the five top players selected in the history of the supplemental draft:
There was a clear consensus among NFL teams that Jarmon was by far the top prospect from the players in the 2009 supplemental draft pool. The Philadelphia Eagles were among the several teams interested in Jarmon, and the Detroit Lions were poised to spend a fourth-rounder on him before the Redskins made their move. Four other teams, whose identities are not known, also submitted fourth-round bids.
Jarmon measured 6 feet, 3 1/8 inches and 278 pounds for his workout last week. He was timed in the 40-yard dash at between 4.75 and 4.84 seconds. Jarmon, who is expected to work at left end, also demonstrated the kind of upfield explosiveness that most teams are seeking in an outside pass-rusher.
In his three college seasons, Jarmon posted 130 tackles, 30 tackles for losses, 17½ sacks, four forced fumbles and four recoveries. An honorable mention All-SEC player last season, Jarmon recorded 13 sacks in 2007, but dropped off to just 4½ sacks in 2008. He started 31 games at Kentucky, and, on the plus side, Jarmon has already graduated with a degree in political science.
Many scouts agree that Jarmon probably would have been a second-round prospect next April had he played his final season for the Wildcats. He likely will be a situational player this season, learning from fellow rookie Orakpo and veteran ends Phillip Daniels and Andre Carter.
If Jarmon does evolve into a productive player, he will join a small subset of supplemental choices who made good.
Jared Gaither, chosen by the Baltimore Ravens in the fifth round of the 2007 supplemental draft, and the team's starter at left offensive tackle for 15 games in 2008, is among that tiny group. In fact, Gaither is the only supplemental player of real consequence chosen since 1998, when the San Diego Chargers tabbed defensive tackle Jamal Williams and the Green Bay Packers picked offensive lineman Mike Wahle, both in the second round.
If the regular draft is an inexact science, as most scouts insist, the supplemental lottery is an already-questionable experiment gone awry. It is caveat emptor taken to the highest level.
"It's iffy, to say the least," said Dallas Cowboys owner Jerry Jones, who has exercised four supplemental picks, the most of any franchise in the league.
Little wonder so few teams participate in the supplemental draft. Seven franchises have never made a supplemental pick. Fifteen others have made just one.
There have been eight first-round choices used, none since 1992. But even some of the top lottery picks -- like linebacker Brian Bosworth (Seattle Seahawks1987), and quarterbacks Steve Walsh (Dallas, 1989), Timm Rosenbach (Arizona Cardinals 1989) and Dave Brown (New York Giants, 1992) -- never approximated expectations.
Consider the 10 supplemental players selected in the past 10 years. Four are out of the NFL altogether, and another has zero starts the past two years. Tailback Tony Hollings of Georgia Tech, chosen by the Houston Texans in the second round in 2003, has not registered a rushing attempt since 2004. Offensive lineman Milford Brown (Houston in the sixth round, 2002) has played with four different teams in seven seasons.
That dubious history explains why, in the 33-year history of the supplemental draft, there have been nine occasions when not a single player was selected. There have been 12 years with just one pick, and only twice has there been more than two selections. The most prospects ever chosen in a supplemental draft was five in 1989.
Jarmon wants to help rewrite the history of the supplemental draft.
"Being on an NFL roster is something I've waited a long time for, and now it's a reality," Jarmon said. "I want to repay [the Redskins] for their confidence in me."
Around The League
Jackson trade market? Earlier this week, Michael Lombardi of the National Football Post reported that he had "been hearing talk" that Minnesota Vikings quarterback Tarvaris Jackson might ask for a trade when the team ends its soap opera/charade and signs Brett Favre. As usual, Lombardi has his antennae up in the right direction, because the rumors are more than just talk. Barring a dramatic change of heart, Jackson will indeed seek a trade when Favre ends his retirement for a second straight summer, sources say. Would there be any kind of market for Jackson's services? Probably not a huge one, but there will be some teams compelled to explore him. Jackson is only 26, has some starting experience now, and is probably better than a lot of the backups in the league. And last season, in his third year, Jackson demonstrated solid improvement in his last four starts (including the playoffs). Most notable was that Jackson's yards per attempt -- a key measuring stick for many personnel men -- improved by nearly a yard. In the first 16 starts of his career, Jackson averaged 6.2 yards per attempt. In the final four, the average rose to 7.01 yards. The former second-round draft choice certainly still has a lot to learn. But he's got a strong arm, can buy time in the pocket with his feet, and has been a starter for 20 games. Those attributes are likely to tempt some team.

[+] Enlarge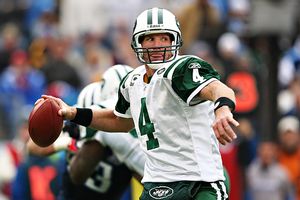 Joe Robbins/Getty ImagesWhen Brett Favre makes his inevitable second comeback, he could one day be in select Hall Of Fame company.
Dubious distinctions for Favre: When Favre ends his retirement, he will join some pretty sparse company. The Vikings will become the fourth NFL team of Favre's career, and the third in three seasons. Of the 18 "modern-day" quarterbacks in the Hall of Fame, only Warren Moon (Houston 1984-1993, Minnesota 1994-1996, Seattle 1997-1998 and Kansas City 1999-2000) played with as many as four different franchises during his NFL career. Assuming the inevitable (that Favre is inducted into the Hall of Fame), he will join nine of the 18 modern-day quarterbacks who played for more than one club. Favre already belongs to that august group, having been with Atlanta, Green Bay and the New York Jets to this point. But from the group of 18, only Moon played for more than two NFL teams during his career. Favre already has qualified for another dubious fraternity, becoming one of the standout quarterbacks who finished with a franchise other than the one for which they primarily gained their celebrity. Joe Montana finished with Kansas City, Joe Namath with the Los Angeles Rams, and Johnny Unitas with San Diego. Among the HOF quarterbacks who spent their entire careers with only one team are Troy Aikman, John Elway, Dan Fouts and Dan Marino.

[+] Enlarge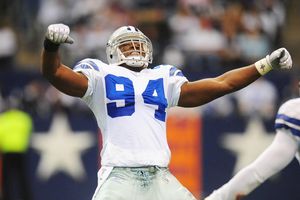 Mark J. Rebilas/US PresswireDallas Cowboys LB Demarcus Ware's next contract could make Terrell Suggs' historic deal a footnote.
Ware's deal facing roadblock: The six-year, $63 million contract signed with Baltimore by Terrell Suggs this week probably will hold onto its distinction as the richest ever for a linebacker only until Dallas gets an extension completed with DeMarcus Ware. And it looks like a deal with Ware, who is entering the final year of his current contract, could take a while. Certainly the deals by Suggs and Washington defensive tackle Albert Haynesworth have raised the ante. But the situation is this: The dollars aside, Dallas officials and Ware disagree pretty strongly over the length of the contract. Ware, of course, wants a shorter term, which will get him back to the bargaining table while still in his prime. Not surprisingly, Dallas prefers a longer contract, one for six or seven years.
Dansby dealings: The Ravens' organization beat the clock with the Suggs deal, completing it before Wednesday afternoon's deadline for signing franchise players to multiyear contracts. Arizona wasn't so lucky with its franchise defender, linebacker Karlos Dansby, and it could ultimately cost the Cardinals his future beyond 2009. Dansby signed the one-year franchise tender (for about $9.7 million) for the second year in a row. The Cardinals can't negotiate a long-term contract with him now until after the season. And once Dansby gets that close to free agency, it could be more difficult to get him to agree to a contract. Arizona could use the franchise tag for a third year in a row, but under such a scenario, he would be very pricey. According to the CBA, a team that designates a veteran as a franchise player for the third consecutive time must offer him a one-year tender for the average of the five highest-paid players in the league. Such a number could be prohibitive.
Few long-term franchise deals: The final count for franchise players: From the original group of 14, only five players signed multiple-year contracts. And that includes linebacker Leroy Hill, whose franchise tag actually was rescinded by Seattle on draft weekend, before the parties agreed to the long-term contract. The other four players signing multiple-year contracts were Kansas City quarterback Matt Cassel, New York Giants running back Brandon Jacobs, Pittsburgh offensive tackle Max Starks and Suggs. That means nine franchise players signed their one-year tenders with their respective clubs. Looks like a lot of teams will have plenty of work to do right after the 2009 season.
Arizona LT reinforcements? Coming off a division title, the NFC championship and a Super Bowl berth, the Cardinals don't figure to do much lineup-tweaking this year. At least not by choice. But one area where the team is considering a potential upgrade is at left offensive tackle. Incumbent Mike Gandy, an eight-year veteran, is solid and has started all 16 games at the position the past two seasons. But Gandy, 30, has a cap charge of $5.8 million. There are people who feel his best position is right tackle and he isn't quite worth what Arizona is paying him. The Cardinals' brass is considering free agent Levi Jones, who was released by Cincinnati earlier this spring and is a superior player to Gandy if healthy. In fact, the Cardinals have already spoken to Jones about his possible interest in the team. Jones missed just one game because of injury his first four seasons, but chronic knee problems have cost him 28 starts the past three years. Another possibility: Arizona could move starting right tackle Levi Brown, a former first-round pick, to his more natural left side, and allow youngster Brandon Keith to compete for the right tackle job. Don't discount, though, Jones' winding up with the NFC champs as the Cardinals try to improve the backside protection for 38-year-old quarterback Kurt Warner.
How Jennings and Fitzgerald are linked: Much was made of the wisdom demonstrated by agent Eugene Parker in recently landing Green Bay wide receiver Greg Jennings a three-year, $27 million extension. The rationale was that, given the short term of the deal, Jennings would get back to the negotiating table by age 28, and probably still in his prime. But there is a second reason why Parker was so sage in negotiating just a three-year extension. Arizona star Larry Fitzgerald, another Parker client, in 2008 signed a four-year, $40 million contract through 2011. At worst, the Cardinals will have to pony up even more money in 2012 when the wide receiver is a free agent, or redo Fitzgerald's current contract before then because of its structure. That means Jennings, whose contract expires after the 2012 season, will be able to bargain off of Fitzgerald's deal. No one is suggesting that Jennings is a better player than the brilliant Fitzgerald, but he is a bona fide deep threat, has a better per-catch average (16.0 yards versus 14.0 yards) than Fitzgerald and averages a touchdown reception every 7.4 catches. Fitzgerald's average is a score every 9.3 receptions.

[+] Enlarge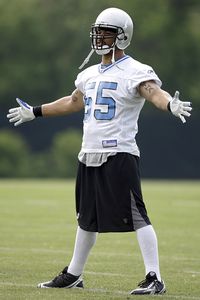 AP Photo/Paul SancyaLongtime 3-4 LB Larry Foote might have his hands full becoming a 4-3 MLB for the Lions.
Tough transition for Foote: There's been plenty of buzz about linebacker Larry Foote's presence on the Detroit roster, because he's an excellent player and the Lions definitely needed the leadership that the former Pittsburgh Steelers starter brings, as the club attempts to change the losing culture that has developed. But an element that has been overlooked in the acquisition of Foote, who signed with his hometown Lions after the Steelers released him, is that he will now have to play middle linebacker in a 4-3 defensive scheme. Foote spent the past seven years at inside linebacker in a 3-4 front, playing next to James Farrior, a Pro Bowl-caliber defender. Foote easily might make the change, but the transition is a lot tougher than people think. And Foote, who hasn't played a pure middle linebacker spot since college, will have a lot more responsibility. Fact is, we can't think of a player who has made a smooth transition from 3-4 inside linebacker to 4-3 middle linebacker. There are players, like the great Ray Lewis, who did it the opposite way, going from a 4-3 defense to a 3-4 scheme. Jonathan Vilma, a superb middle linebacker in the 4-3, never got comfortable as an inside linebacker in a 3-4. Given his impressive pedigree and his history with a winning organization, Foote likely will succeed. But the metamorphosis won't be an easy one.
Burgess trade talks still smoldering: The once roaring flames have been reduced to embers, but don't be surprised if defensive end Derrick Burgess is still traded from Oakland to New England before training camp. The Pats had only 30 sacks in 2008, and although Bill Belichick is masterful at conjuring up ways for his linebackers to make plays, New England would still like to improve a relatively toothless pass rush. The Patriots had only three players with more than three sacks last season, and one of them, linebacker Mike Vrabel (four sacks), was traded away. The two teams discussed a Burgess trade during the draft, but sources said the Raiders backed off from the deal, perhaps fearing a repeat of the Randy Moss giveaway. With the addition of former Cowboys sackman Greg Ellis, the Raiders don't need Burgess as much as they did at one point. An eight-year veteran, Burgess posted just 3½ sacks in 2008, but had 35 sacks (including 16 in 2005) the previous three years.
Costly move for Pitt pair? Tailback LeSean McCoy and basketball power forward DeJuan Blair, both from the University of Pittsburgh, could become the twin poster children for staying in school. Both players bypassed the final two seasons of their college eligibility to go into their respective drafts, feeling they would be first-round selections. Blair declared himself a "sure thing" in the first round, citing Internet reports. But the two lasted until the second round, with the Eagles snatching McCoy with the 53rd overall pick and San Antonio stopping Blair's freefall with the 37th choice. The two might have cost themselves a lot of money, particularly Blair, since second-round NBA contracts are not guaranteed. A year ago, a Pittsburgh newspaper published a feature on McCoy and Blair, heralding them as the rising young stars for the Panthers. In both football and basketball, Pitt normally doesn't recruit the kinds of players who might leave school early, and the experiences of McCoy and Blair might further validate that stance.
Punts: In four seasons with San Francisco, defensive tackle Ronald Fields started just nine games, all in 2006. But for a Denver team that is transitioning to a 3-4 defense, the 317-pound Fields, signed to a two-year contract as a free agent this spring, could be the starter at nose tackle. … Chicago quarterback Jay Cutler gets plenty of criticism for throwing 18 interceptions in 2008, while he was with the Broncos. As a longtime NFL quarterback pointed out, Cutler also threw for 4,526 yards, the third most in the league. "That means you're throwing the ball vertically a lot, challenging the small spaces [in a secondary] instead of just dumping it off, and so you're going to have [interceptions]." Cutler's average of 7.35 yards per attempt was very good. … New Orleans coaches understand they'll have to get more production from the pricey defensive end tandem of Charles Grant and Will Smith to improve the porous unit. The two had just three sacks each last season. … Cincinnati is excited by the possibilities of defensive end/linebacker Michael Johnson of Georgia Tech. Once regarded as a first-round prospect, Johnson slipped to the third round, and the Bengals happily grabbed him. A tremendous athlete who doesn't always play hard and struggles against the run sometimes because of his lack of bulk, Johnson was a standout in minicamps. The Bengals' staff has lots of plans for him. … The pace has slowed in the past two weeks, but teams are still making headway toward signing their draft choices. Through Friday morning, 125 of 256 picks had reached terms with their respective teams. Of course, the deals for only two first-rounders and four second-round picks are finished.

Len Pasquarelli, a recipient of the Pro Football Hall of Fame's McCann Award for distinguished reporting, is a senior writer for ESPN.com.
SPONSORED HEADLINES
MORE NFL HEADLINES
MOST SENT STORIES ON ESPN.COM
TRAINING CAMP PREVIEW WEEK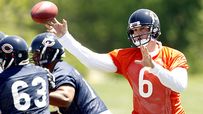 FANS' GUIDES/DATES
COLUMNS/FEATURES
DIVISION CAMP PREVIEWS
VIDEO