Commentary
Tip Sheet: Analyzing Saints' D revival
Originally Published:
October 9, 2009
By
Len Pasquarelli
| ESPN.com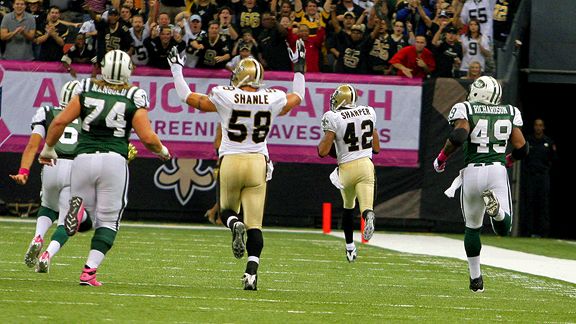 Derick Hingle/Icon SMISaints free safety Darren Sharper returns an interception 99 yards in Week 4 against the Jets. New Orleans leads the league with 13 takeaways -- 10 interceptions and three fumble recoveries.
In his 12 previous seasons in the NFL, four-time Pro Bowl free safety
Darren Sharper
had gone through hundreds of practices in which his defensive coaches bellowed at their players to strip the ball from their offensive counterparts.
INSIDE TIP SHEET
Here's some of what you'll find in this week's Tip Sheet notes.

Don't count out Shanahan

Where's the Redskins' offense?

Inside the Crabtree deal

Vikings, Favre open it up

Jaguars on the move?

Surprising lack of sacks

Falcons' offense struggling

Morstead gets his kicks

But through thousands of sometimes monotonous strip drills, Sharper had rarely witnessed the kind of obsessive emphasis first-year New Orleans defensive coordinator Gregg Williams has placed on creating takeaways. Certainly, he had never
heard
a coach or teammates so singularly fixated with creating turnovers.
"All coaches stress turnovers, so from that standpoint, it wasn't all a lot different from anything else I've experienced," said Sharper, the league's active leader in interceptions (59) and a potential Hall of Fame candidate some day. "But in our meetings, you get called out by teammates and [criticized] for missing turnover opportunities. Even in practice, if you miss a chance [for a takeaway], man, you hear about it."
Through the first four games, the undefeated Saints, who have a bye this weekend, haven't missed many opportunities.
New Orleans leads the league with 13 takeaways (10 interceptions and three fumble recoveries) and is plus-7 in takeaway/turnover differential, tied for best in the NFL. The Saints have scored three touchdowns on takeaways, including two interception returns of 90-plus yards each for touchdowns by the opportunistic Sharper. New Orleans has won or tied the takeaway/turnover differential in all four of its games.
Saints' stability

Williams
The resurgent, Gregg Williams-led New Orleans defense had only three changes in starting personnel between its opening-day lineups in 2008 and 2009. The 31 other teams averaged 3.87 personnel changes and only five had fewer than New Orleans. A look at the Saints' starting defensive lineup last season and this year:
| Pos. | 2008 | 2009 |
| --- | --- | --- |
| LE | Charles Grant | Charles Grant |
| NT | Kendrick Clancy | Remi Ayodele |
| UT | Sedrick Ellis | Sedrick Ellis |
| RE | Will Smith | Will Smith |
| SLB | Scott Fujita | Scott Fujita |
| MLB | Jonathan Vilma | Jonathan Vilma |
| WLB | Scott Shanle | Scott Shanle |
| CB | Randall Gay | Jabari Greer |
| SS | Roman Harper | Roman Harper |
| FS | Kevin Kaesviharn | Darren Sharper |
| CB | Tracy Porter | Tracy Porter |
Sharper, 33, already has a league-best five interceptions, after getting just one in 16 games with Minnesota last year. The Saints didn't register their 10th interception in 2008 until the 11th game of the season.
New Orleans' three defensive touchdowns -- the two interception returns by Sharper and a recovery in the end zone by nose tackle Remi Ayodele last week -- are as many as the Saints scored in their previous 25 games. Twenty-third in the league in total defense in 2008, New Orleans is ninth through four games this year.
It all marks quite a turnaround for the previously non-resourceful Saints, but one that Williams, arguably the franchise's premier offseason acquisition, has come to expect from his defenses. In his previous three incarnations as a coordinator -- with Tennessee in 1997, Washington in 2004 and Jacksonville in 2008 -- Williams promulgated a defensive turnaround. The units typically improved statistically under his tutelage. Washington, for instance, went from 25th in 2003 to No. 3 in 2004, but the biggest improvements were usually in takeaways and in takeaway/turnover differential.
That's been the case this season as well.
Although he announced in the spring that he wasn't in New Orleans "to be a savior," Williams has salvaged one of the NFL's most porous defenses, and he has enacted the transformation while instituting only three lineup changes.
"You want to keep talking about [the turnover mentality] until it becomes like second nature to your guys," Williams said. "Taking the ball away, and maybe being able to score when you do it … it's a big boost."
In fact, it's a very big boost.
There have been 30 non-offensive touchdowns scored in the NFL this season. Teams that score at least one non-offensive touchdown are 16-10 overall and 14-5 in the past three weeks. Last season, the NFL produced 112 non-offensive touchdowns, and the teams that scored at least one were 79-33, a .705 winning percentage. Williams' units when he has served as a coordinator produced an average increase of five takeaways in his first season with a franchise.
"I think it's OK to take a new approach every once in a while," said New Orleans coach Sean Payton, who dismissed former coordinator Gary Gibbs after three seasons to hire Williams. "Gregg has very quickly changed the attitude here. He's created a new culture."
From the first day he arrived on the job, Williams has preached his aggressive style, heavy on blitzes and on pressuring the ball. Obviously, it has paid off for a New Orleans team that sorely needed to complement its potent offense.
"In everything he does, from his personal life to the football field, [Williams] has an aggressive mindset," said Sharper, who is ninth all-time in NFL history in interceptions. "Every coach tells you he's going to put you in a position to make plays. But you've still got to make 'em, don't you?
"With Gregg, guys somehow make them."
Len Pasquarelli, a recipient of the Pro Football Hall of Fame's McCann Award for distinguished reporting, is a senior writer for ESPN.com.
SPONSORED HEADLINES
MORE NFL HEADLINES
MOST SENT STORIES ON ESPN.COM
NFL WEEK 5 PREVIEW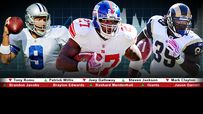 PICKS
COLUMNS/BLOG POSTS
MNF: Jets at Dolphins
FINAL WORD
POWER RANKINGS
HOT READ: Johnson, Fitzgerald duel
STOCK WATCH: Fallers, risers
ROOKIE SURPRISES
SCOUTS INC.