Commentary
Tip Sheet: QB play explains 0-5 starts
Originally Published:
October 16, 2009
By
Len Pasquarelli
| ESPN.com
This is the first season in NFL history in which four franchises had 5-0 records after five weeks of play. It's also the first season since the league implemented the 12-team playoff format 20 years ago in which there were four 0-5 clubs.
So in a league that has so conspicuously embraced competitive equality, what gives? It's difficult to believe, after all, that such disparity is suddenly rampant in the league.
INSIDE TIP SHEET
Here's some of what you'll find in this week's Tip Sheet notes.

Expect a quiet trade deadline day

No cap deterrent

No Rush to go away

Crabtree's progress

Who needs a WR?

Hart attacked

Portis slowing down

Jones-Drew's lament

Besides Troy, a key Steeler

Some raw numbers suggest such a talent gap doesn't really exist. In the seven previous seasons with a 256-game schedule (2002-08), 45.9 percent of the games were decided by seven points or less and 22.9 percent by three points or less. The close-game ratio through five weeks this year isn't that far off. Of the 76 games played, 44.7 percent (34) were determined by seven points or fewer and 21.1 percent (16) by three points or less.
Still, the average differential through five weeks is 12.8 points. There have been 39 games decided by 10 points or more and 20 in which the winning margin was 20 points or more. And the perception is that there is unusual imbalance this season between the NFL's best and worst franchises. Earlier this week, New York Giants middle linebacker Antonio Pierce compared last Sunday's 44-7 waxing of Oakland to a scrimmage.
So who or what is to blame for such inequality in 2009?
There are myriad reasons for the chasm. But in most examinations of NFL matters, it's never a bad idea to start at quarterback.
It's hardly a coincidence that three of the four quarterbacks for 5-0 teams (Brett Favre of Minnesota, Indianapolis' Peyton Manning and Eli Manning of the New York Giants) are regarded as franchise-type players. The fourth quarterback, Kyle Orton of Denver, hasn't been viewed as among that elite group, but is experiencing a career season.
The aggregate passer rating for the four 5-0 quarterbacks is 113.8. For the four 0-5 quarterbacks, the cumulative rating is 73.0.
When a team has a shot at a franchise quarterback, it had better hit, or the results can be catastrophic. Where would the Indianapolis Colts be if president Bill Polian had opted for the other guy in the close call between Peyton Manning and Ryan Leaf with the first pick in the 1998 draft? Would Atlanta have rebounded so quickly had it chosen defensive tackle Glenn Dorsey instead of Matt Ryan, as some personnel executives recommended, in 2008? And would the New Orleans Saints' offense be as potent if the club had stayed with Aaron Brooks instead of signing free agent Drew Brees in 2006?
On the flip side, all four of the 0-5 teams have made mistakes of varying severity, and that's usually a can't-do. Consider:
Kansas City: The Chiefs paid a modest price (a second-round pick) for Matt Cassel, but got a player who had never started a regular-season game before replacing an injured Tom Brady last year. They subsequently signed Cassel to a six-year, $63 million contract, with $28 million guaranteed. Surrounded by talent inferior to that with which he played in New England, Cassel hasn't played all that poorly (seven touchdowns and two interceptions), but has completed just one pass of more than 40 yards and four of more than 20 yards. Some believe the talented but often-injured Brodie Croyle could be as effective, and at a cheaper price.
St. Louis: After compiling a passer rating of 92.0-plus from 2004-06, and coming off a season in which he registered career bests in passing yards and touchdown passes, the Rams awarded Marc Bulger a six-year, $65 million contract in July 2007. But timing is everything, and the Rams gave Bulger a blockbuster deal just as he was going into decline. His quarterback rating since signing the deal is 72.0, and Bulger has missed seven of a possible 37 starts because of injury. Meanwhile, St. Louis passed on Ryan in 2008 and Mark Sanchez in 2009, picking defensive end Chris Long and offensive tackle Jason Smith, respectively.
Tampa Bay: The jury is out, and probably will be for a long time, on the decision to draft Josh Freeman in the first round this spring. Until Freeman has a chance to play, it's premature to knock that choice. But the Bucs released the productive Jeff Garcia in the spring, then signed Byron Leftwich as their "bridge" quarterback. Dubious move.
Tennessee: It's not as if the Titans made a huge mistake going to Kerry Collins in 2008; after all, Tennessee was a league-best 13-3 last year. But Collins is 36, and with some doubts about Vince Young, there is no clear-cut heir apparent. The Titans snatched Young with the third overall choice in 2006 and gave him a six-year contract (counting an option season) that could be worth $58 million. Young is due a $4.25 million roster bonus next spring and a 2010 salary of $7.5 million, and carries a prohibitive salary-cap charge of $14.21 million. Young, who has never approximated his '06 rookie of the year performance, could be tough to keep around, even if there is no salary cap next season.
Len Pasquarelli, a recipient of the Pro Football Hall of Fame's McCann Award for distinguished reporting, is a senior writer for ESPN.com.
SPONSORED HEADLINES
MORE NFL HEADLINES
MOST SENT STORIES ON ESPN.COM
NFL WEEK 6 PREVIEW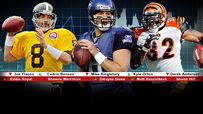 PICKS
POWER RANKINGS
FINAL WORD
FANTASY
HOT READ: CENTER STAGE
STOCK WATCH: Fallers, risers
COLUMNS/BLOG POSTS
SCOUTS INC.
ESPN FAN SHOP